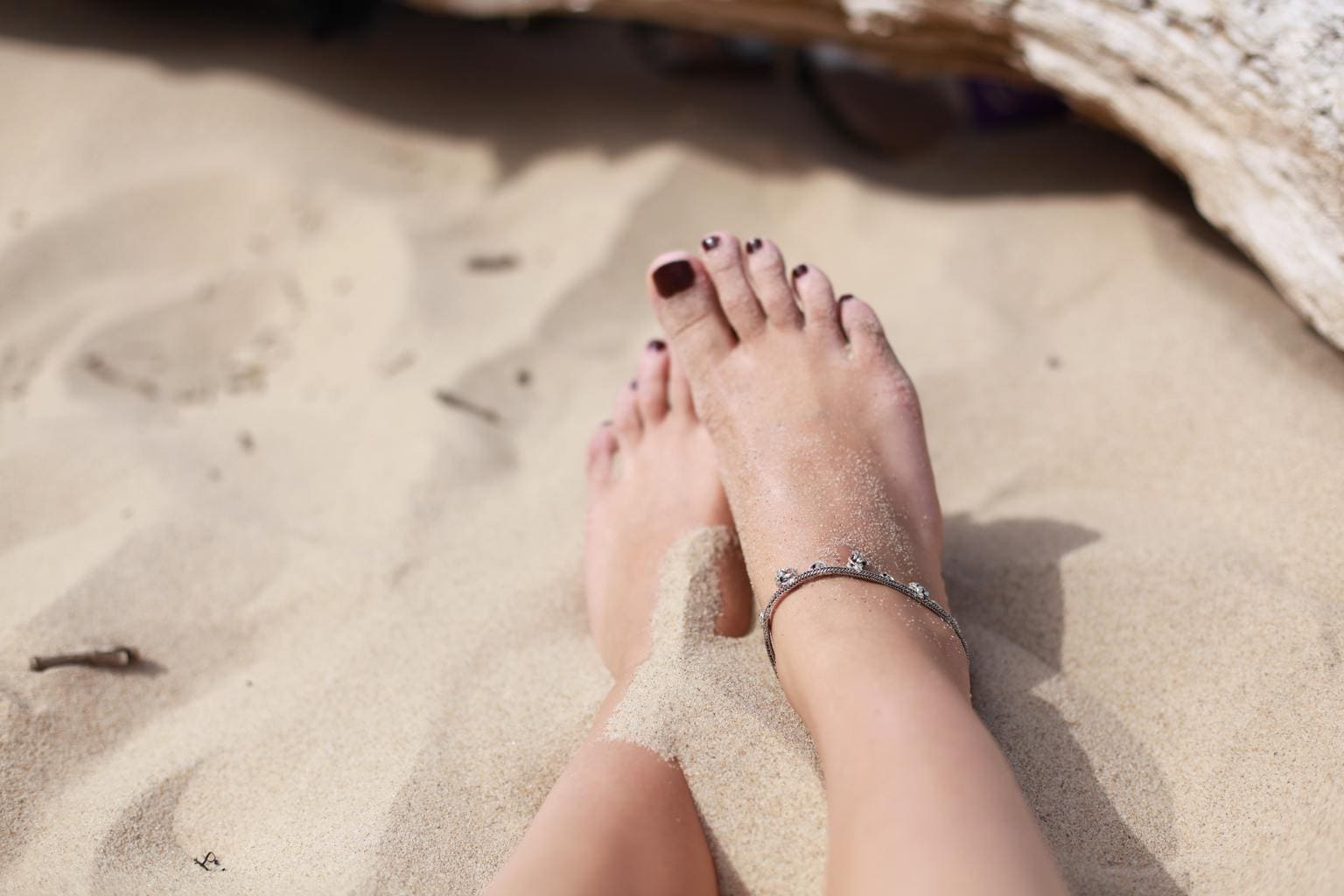 When it comes to underrated jewelry, anklets are the first thing that comes to mind. They haven't been a fashion fixture in quite a few seasons. But, after being featured on the runway and spotted on celebs, ankle bling has been making a recent comeback in the fashion world.
And since summer is the best time to rock an anklet, we've decided to round up our favorite styles for the season. Not sure how to wear them? No worries. We picked out the perfect shoes for each anklet, too!
1. Pearl Anklet + Neon Mules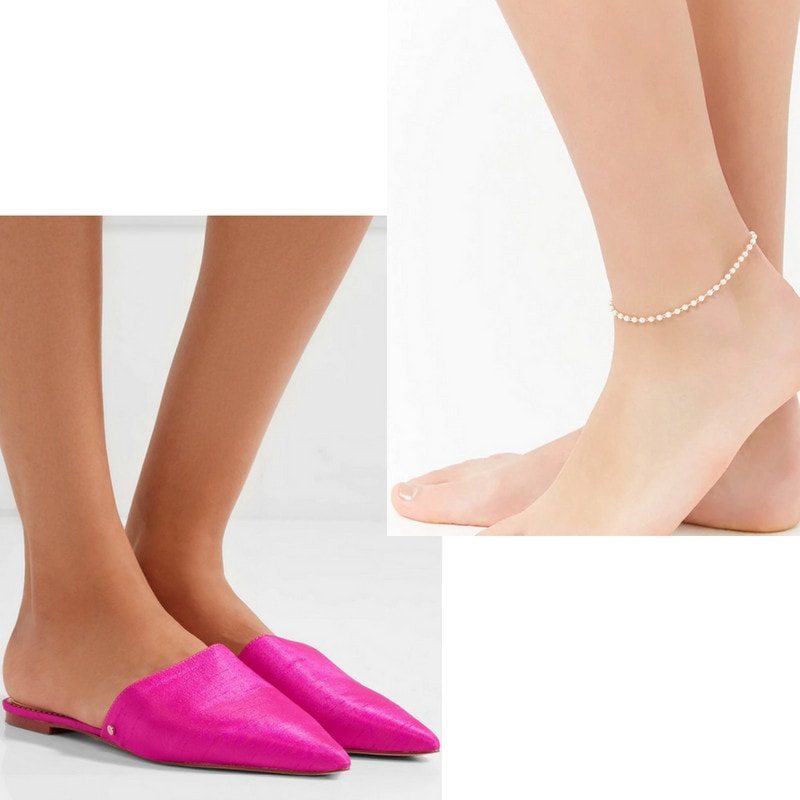 Products: Anklet – Forever 21, Shoes – Sam Edelman
This pearl anklet is timeless and demure, so I wanted to mix things up by pairing it with something bold. Enter these neon pink mules. Love, love, love this fearless, fashion-forward combo.
2. Charm Anklet + Espadrille Wedges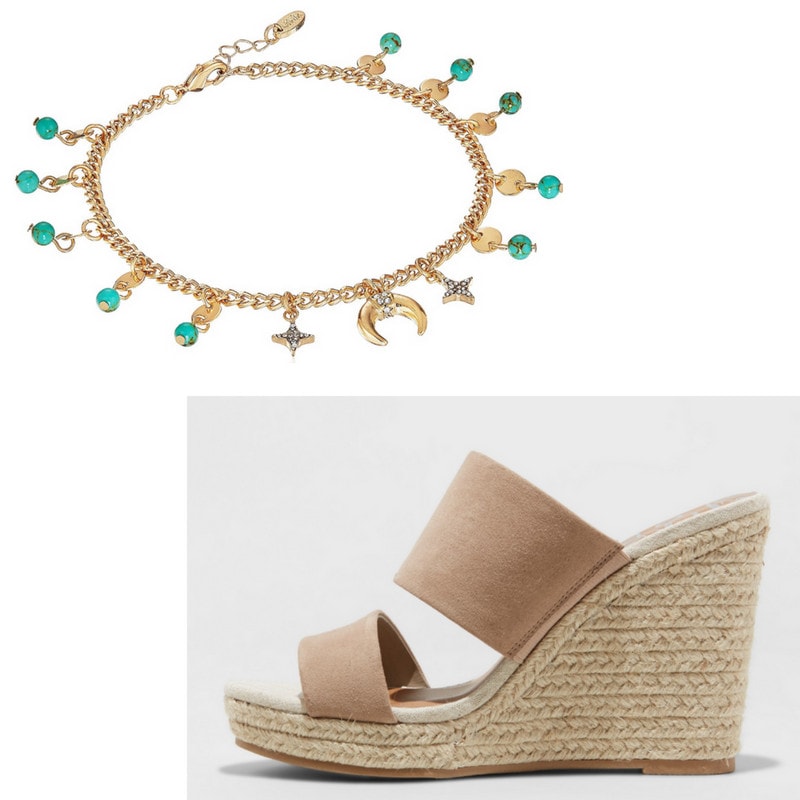 Products: Anklet – Nordstrom, Shoes – Target
Between the dangling charms and turquoise beads, this anklet draws plenty of attention. That's why we chose to pair it with a toned-down espadrille wedge. The combo is beachy, boho, and so perfect for summer.
3. Silver Chain Anklets + White Sneakers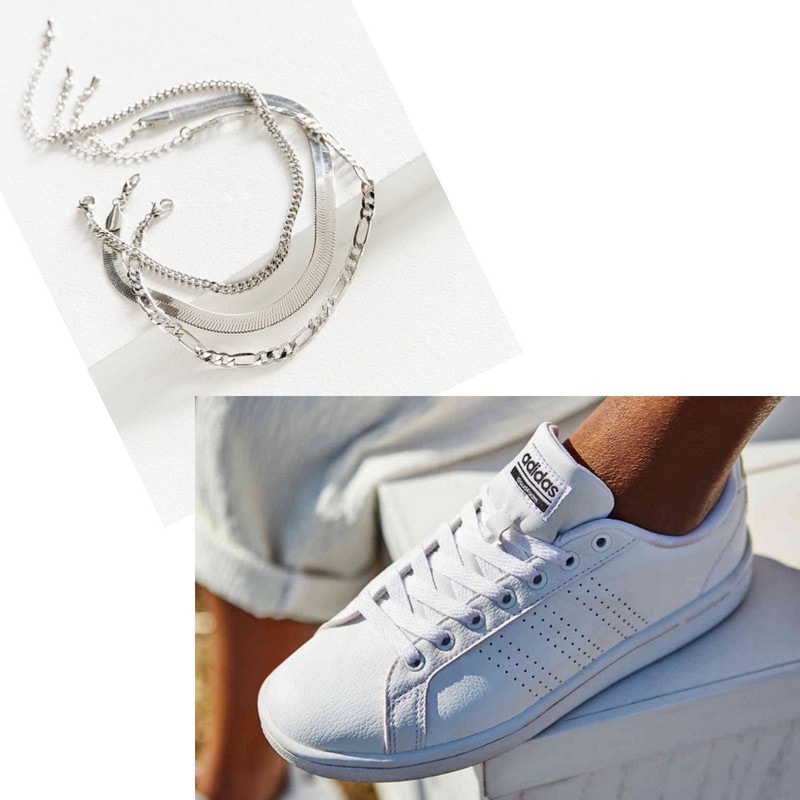 Products: Anklets – Urban Outfitters, Shoes – Adidas
The silver chain anklet is a total classic, which is why I paired this trio with a clean white sneaker. The look is casual and cool, whether you opt to wear one of the anklets or layer all three together.
4. Boho Anklet Set + Footbed Sandals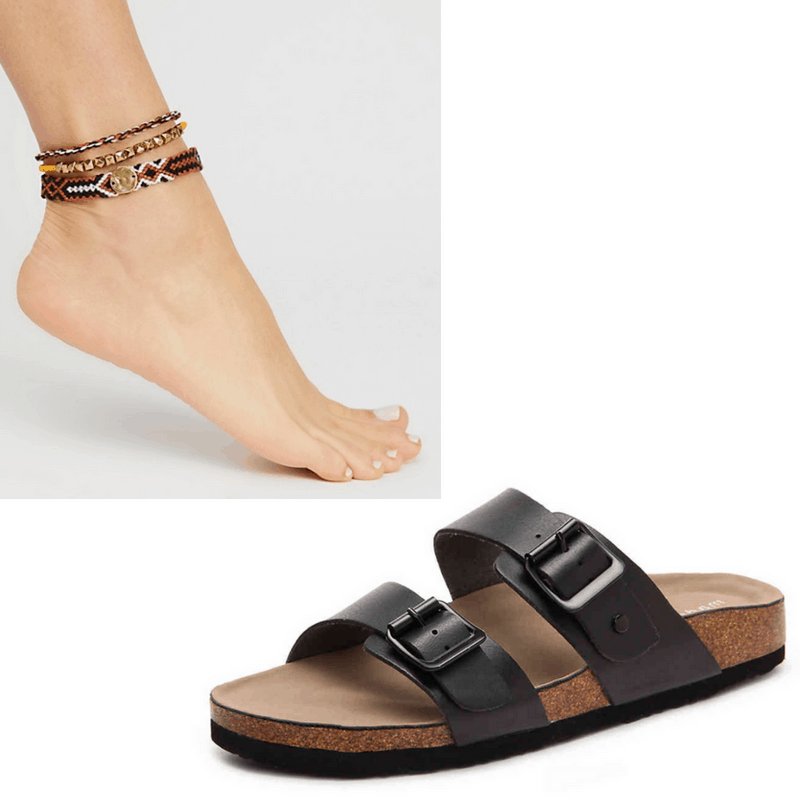 Products: Anklets – Free People, Shoes – Madden Girl
These woven anklets give me flashbacks to summer camp… but in a good way. They have a casual vibe, so be sure to pair them with something equally low-key. These comfy footbed sandals are the ideal accompaniment.
5. Tassel Anklet + Stripe Slide Sandals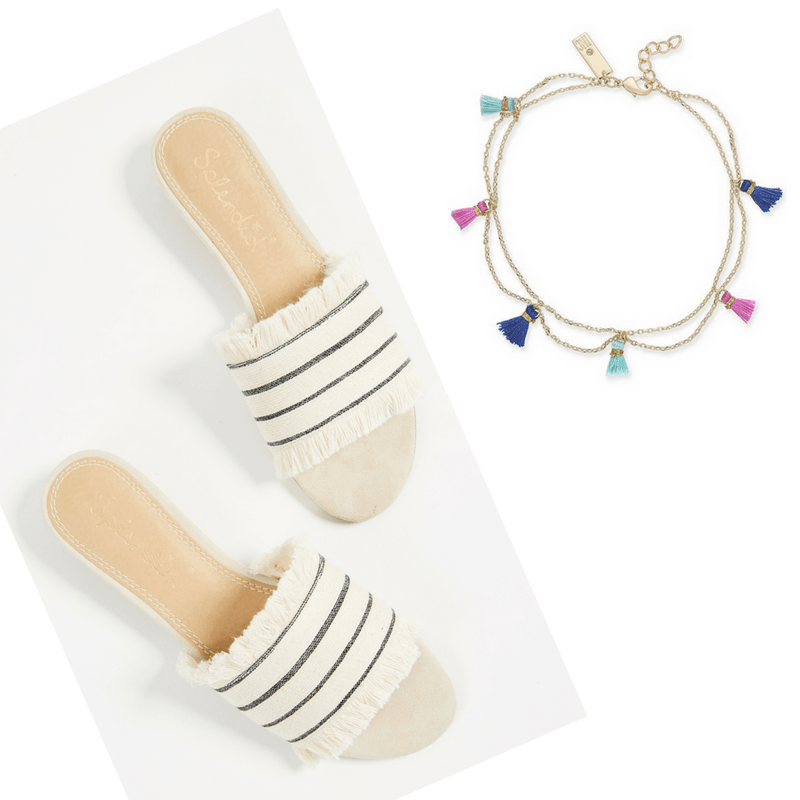 Products: Anklet – Macy's, Shoes – Splendid
This is my favorite combo of the bunch! Mixing a bright tassel anklet with cute slide-on sandals is such a fun, quirky look.
6. Disc Anklet + Block-Heel Sandals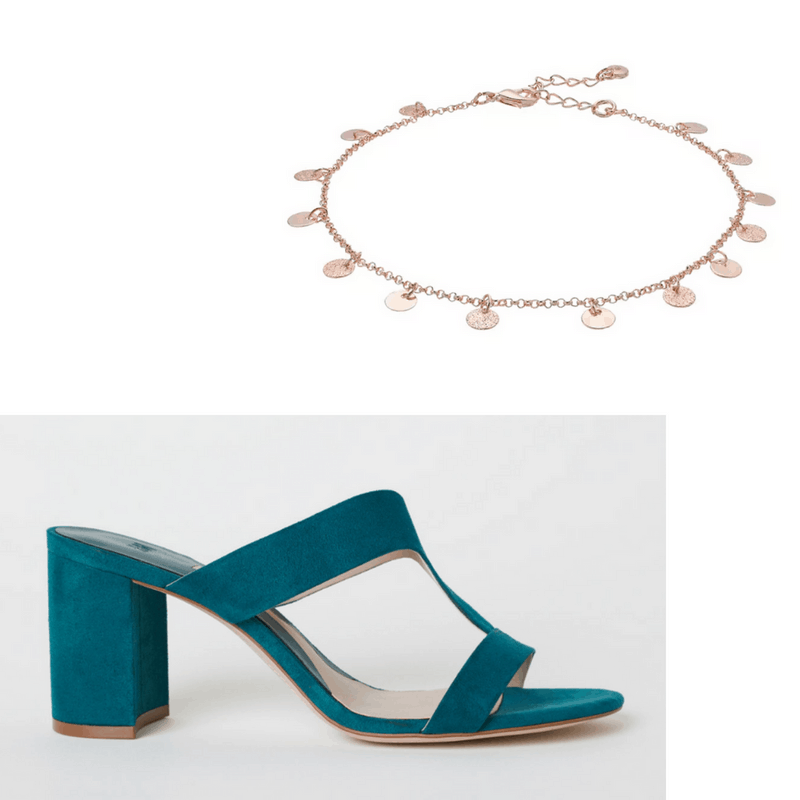 Products: Anklet – Kohl's, Shoes – H&M
This is a fabulous anklet/shoe pairing for a dressier event. The disc charms add just the right amount of sparkle and movement, plus the combination of rose gold and deep teal looks so chic.
7. Beaded Anklet + Colorful Slingbacks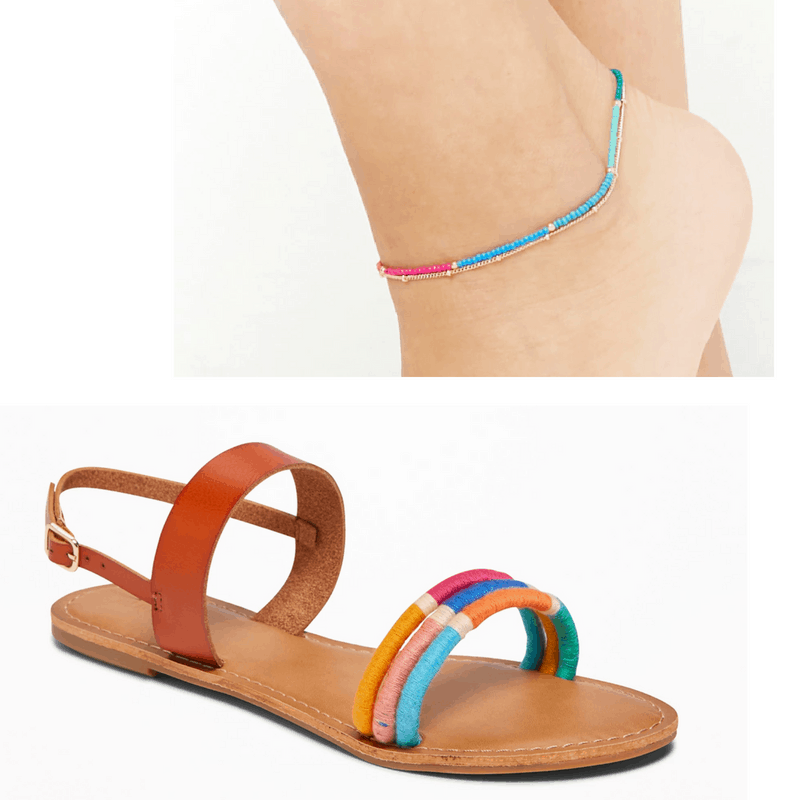 Products: Anklet – Forever 21, Shoes – Old Navy
This dainty seed bead anklet deserves a shoe to match. That's why I was so excited to find these threaded slingbacks. Each color-blocked piece echoes the other, without looking over-the-top.
Your turn!
Are you into anklets, or are they just not your thing? What's the best type of shoe to pair with an anklet? Will you be wearing an anklet this summer? We want to know what you're thinking, so remember to drop a comment.