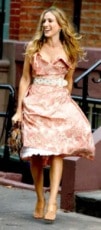 Listen up ladies: Put away your babydoll dresses and baggy empire waist tops, or at least invest in a fabulous belt to wear with them! Why? Because now it's official: the hourglass figure is back in style!
This season, designers emphasized waists with form-fitting dresses, high waisted skirts, and cute belts layered over looser ensembles on the runways.
I'm sure you've seen waist-belts before, but unlike the wide patent leather belts that were popular last year, this season's belts are thinner and more ornamented. You can also wear this look by finding a dress with a cinched waist, or layering a top and a high-waisted skirt.
Not sure how to go about it, or don't get what I mean? Keep reading, because I'm going to break this trend down and show you how to get the runway look without spending tons of money.
Runway Inspiration
Here are some examples of how the designers created this look on the fall runways, to get your fashion inspiration going! Again, these are just examples of how designers did it, feel free to interpret this trend in your own way!
P.S.: Click each photo to enlarge it.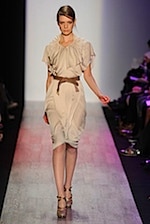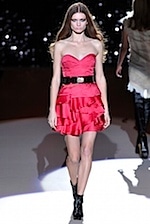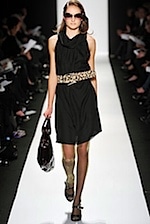 From Left: BCBG Max Azria, Temperley London, Badgley Mischka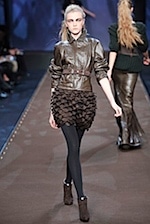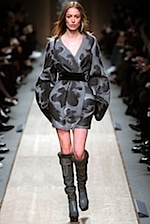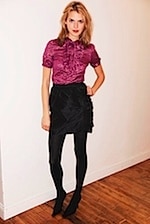 From Left: Fendi, Stella McCartney, Jovovich-Hawk
How To Wear This Runway Trend
Pulling off this look is super easy, and the best part is that it's flattering on every body type. Even the skinniest ladies can create some sexy curves with the right fashion tricks, and curvier girls can use this trend to accentuate what they already have.
There are three main ways to get a cinched waist this season. Here they are, along with tips on how best to wear each look.
1. Wear a dress or top that's tight at the waist or has a built-in belt.
This is by far the easiest & most foolproof way to wear the cinched-waist trend. Look for a dress that comes in at your natural waist, and has a roomier fit at the top and bottom. Then just throw it on, add some cute accessories and maybe some patterned tights, and you're all set.
This is my pick for the fashion novice – if you have no idea how you would match a belt with a dress, pick up a dress that has a built in belt, or that comes with it's own detachable belt. Totally idiot-proof.
Here are some cute and budget-friendly dresses that will accent your waist and create curves: From Left: Belted One-Shoulder Top ($22.99), Nine West Sleeveless Belted Shirtdress ($39.99), Grey Striped Belted Dress ($44.00)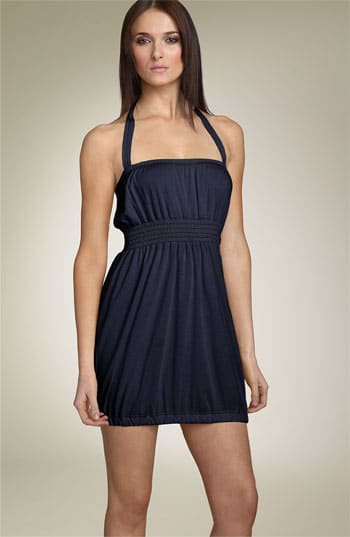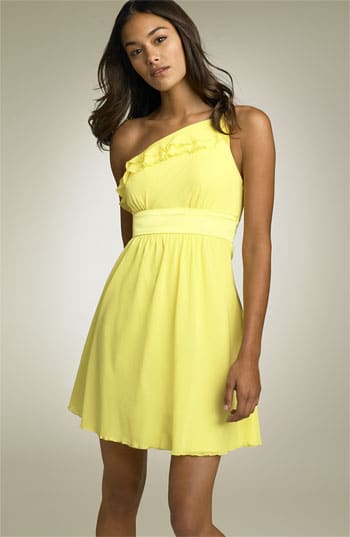 Viridis Luxe Halter Minidress ($49.90), Ruby Rox One Shoulder Minidress (Juniors) ($64.00), Belted Mini Dress in Black ($82.00)
2. Wear a belt at your natural waist.
While this takes a little more effort to put together, it's nice to have a separate belt to wear with any outfit.
This is also a look that you can probably do right now with a dress and belt that you already have in your closet! Throw on your favorite dress (it can be tight or loose, long or short – it's really up to you), and simply belt it in at the narrowest part of your waist. Big, black belts are trendy this season, as well as anything with grommets or bright colors. Mix it up and have fun with it!
If you don't have a belt that's small enough for your natural waist (below your rib cage), here are some cute and affordable options that I found in stores online:
From Left: Alfani Stitched Belt ($28.00), Lucky Brand Jeans Double-Layered Studded Belt ($48.00), Alfani Skinny Patent Perforated Belt ($32.00)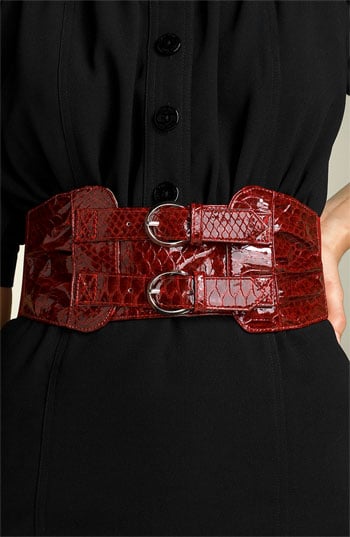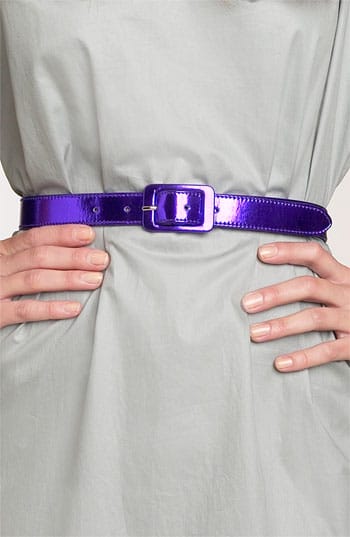 From Left: Alfani Reversible Belt ($38.00), Steve Madden Snake Embossed Double Buckle Belt ($68.00), Cara Accessories Metallic Leather Belt ($22.90)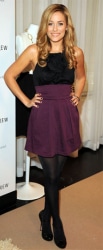 3. Wear a top tucked into high-waisted pants or a high-waisted skirt.
High-waisted mania has taken over the fashion world, and designers are making "mom jeans" and 50's skirts hot again. Those of you who are more experimental with fashion probably already do this, but if you're usually more conservative, it's still a very flattering type of outfit to consider.
I personally love the look of a high-waisted skirt with a top tucked in – it's so retro, but done right it's also very modern and totally flattering.
The key? Wear a casual tank (like this racerback tank from American Apparel) with a high-waisted skirt, and add some modern accessories like cute bangle bracelets and a fabulous shoe. The look is high-fashion, without looking like some 50's throwback or like you tried too hard. Perfect, if you ask me!
Your Thoughts?
What do you think of this fashion trend? Do you love the hourglass look, or would you rather stick to figure-forgiving babydoll dresses? Which belts do you think look the best? Let's hear your thoughts in the comments section!