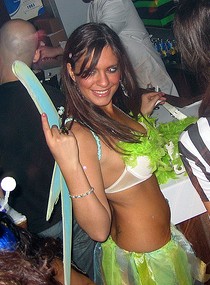 It's just like Cady said in Mean Girls,
"Halloween is the one night a year when girls can dress like a total slut and no other girls can say anything about it."
As cliche as it may be, this statement perfectly describes Halloween at college. Not only is October 31st an opportunity for girls to dress in next to nothing for a night, it's pretty much a night when slutty costumes are required dress code. After all, nobody wants to be that girl who dresses scary on Halloween when all her friends are sexy nurses and naughty school girls.
Furthermore, Halloween is no longer about costume originality for college girls. Not only are most costumes you see on campus slutty, but they're usually the exact same costumes re-used year after year.
At any typical Halloween party, you can expect to see at least one of the following costumes: sexy referee, cowgirl, sexy fairy, cheerleader, and of course sexy fireman, police officer, construction worker, army soldier, etc.
Last year's favorite, sexy pirate, could be located at least 3 times at any given party! And don't even get me started on Marie Antoinette – expect to spot this costume over and over again.
Why so much of the same? Because originality isn't easy! It seems like truly original costumes require lots of time and money, while the cheapest and easiest costumes to get are often the most played-out and ultra-sexualized. Most girls don't have the time or money to put together an amazing costume on their own. After all, Halloween does usually fall right after midterm exams!
So how can the average college chick find the middle ground at Halloween – somewhere in between slutty/cliche' and original/ugly? The answer isn't clear cut, but here are a few ideas:
Make a costume. I know this is time-consuming and sometimes expensive but it beats having the same Leg Avenue costume as every other girl you know. Check vintage stores and borrow stuff from your girlfriends.
Make fun of the slutty costumes – what about dressing up as a "slutty Halloween cliche", incorporating all the "sexy" outfits into one.
Be true to yourself. If you really truly want to dress slutty, do it up. If it's not really your thing, don't feel pressured to do it. You really don't have to dress like a slut on Halloween! For original costume ideas check out our Halloween costume idea section or just try your nearest vintage shop for tons of ideas.
What are you gonna be for Halloween this year? Do you think it's fun to dress sexy or are you against it? Let me know in the comments – I'd love to hear your opinions on this.
* Top photo by natatwo on Flickr.