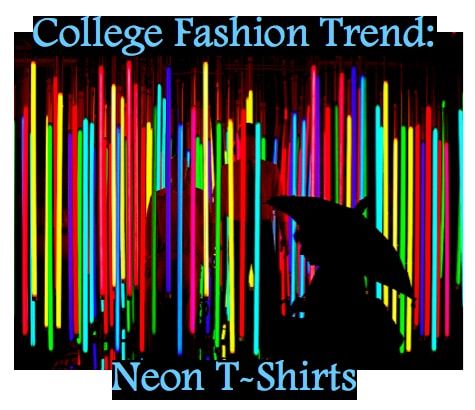 Whenever I think of neon colors, I immediately think of one of my favorite childhood toys: Lite-Bright. Remember plugging those colored pegs into the board to make luminous artwork to show your parents? Those were the days!
Now that we have grown up a bit, marketers have found another way to bring neon into our lives- neon t-shirts. Although I loved my Lite-Bright when I was little, I've had a hard time creating a stylish relationship with neon and breaking away from a wardrobe full of subtle and neutral colors. However, I think observing or embracing neon colors will help me broaden my perspective!
Neon t-shirts are available from a wide variety of stores and vary in neckline and color. I've noticed wide neck, v-neck, and crew neck versions all over campus lately…check out my examples below!
Examples: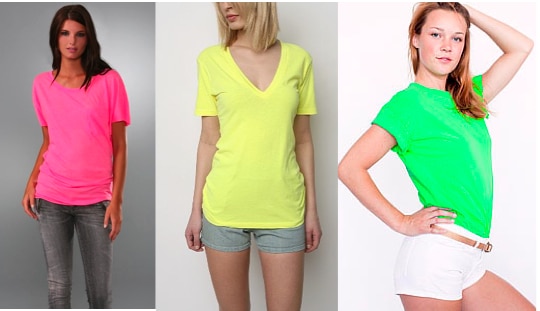 Left-to-Right: Neon Pink T- Shopbop, Neon V Neck- Urban Outfitters, Crew Neck T- American Apparel
How to Wear the Neon Trend:
This is where I get a little stuck, as I'm sure some of you do, too. How can I wear a neon t-shirt without looking like a walking highlighter? After doing some observing and researching, here are my top tips.

First, you should definitely check out the CF post on How to Find Your Perfect Colors. Start by finding a bright hue that works well with your skin tone, and go from there.

Let neon be the focal point. Stick with a neon t-shirt as your one bright statement. Use the rest of your outfit to display those neutral pieces you love.

Check out this article by Glamour for some neon wearing tips and inspirational photography! It's a great guide to get you started.
Example Ensembles:
Now that you've been briefed on how to wear the trend, its time to dig through the closet and put together some cute outfits! Here are some examples I came up with.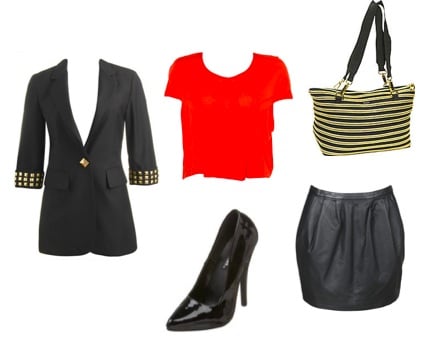 Product Information: Neon Orange/Red T- TopShop, Faux Leather Skirt- Forever 21, Studded Blazer- Arden B, Shiny Black Pump- Endless.com, Bag- eBags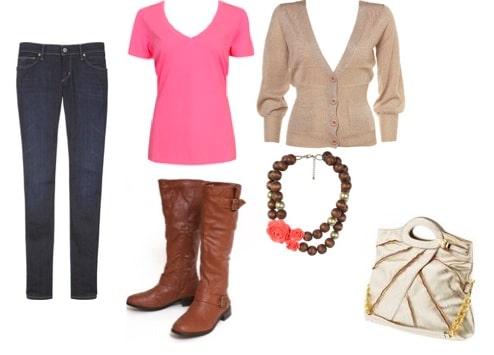 Product Information: Jeans- Citizens of Humanity at ShopBop, Pink Neon T- Forever 21, Cardigan- TopShop, Necklace- Newlook.co.uk, Bag- Piperlime
Here are two more examples from NET-A-PORTER. They make up sample outfits for all of their clothing, so it can be a great place to get designer-based inspiration!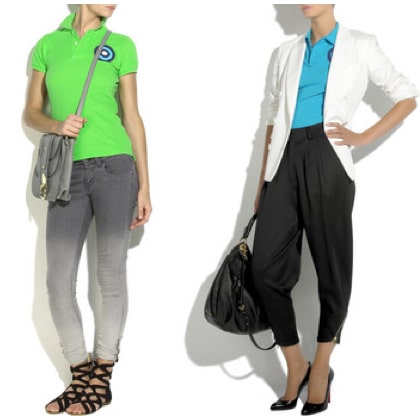 Your Thoughts?
What do you guys think of the neon trend? Is it something you'd attempt or are muted colors more your style? Tell us what you think by leaving a comment.