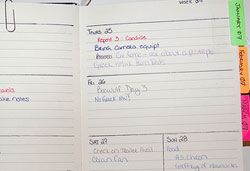 One of my favorite things about going back to college (besides seeing all my friends again) is buying cute new school supplies.
I know it's a little geeky, but there's something so refreshing about brand new notebooks and pens for school. Some of you know what I mean, right?
At the top of my list for new school supplies this year is a cute daily planner / organizer to keep track of all my assignments, appointments and errands. The only problem? Apparently stylish daily planners are tough to track down.
Luckily, I was able to find a few agendas that were good enough to share with you guys. Here are the cutest and most stylish daily planners I came across on my search for the perfect one. If you love planners like I do, you'll want to check these out.