This post may contain affiliate links, which means we may receive a commission if you purchase through our links. Please
read our full disclosure here
.
I'm pretty sure we can all agree that buying school supplies is very near the top on the list of Life's Greatest Little Pleasures. Remember getting our supply lists in elementary school and begging Mom and Dad to take us to the local office supply store? Even now, when I walk through an OfficeMax or Staples, I get thoroughly overexcited about the neatly packaged rows of pens, notebooks, and protractors.
"Not that I've needed a protractor since I was eleven – but don't they look nice, all clean and unscratched in their packets?" – Becky Bloomwood, Confessions of a Shopaholic
That being said, it's very important to stay organized during college. After all, you're there to learn! Staying on top of things will give you so much more free time and will minimize stress. And of course, if anyone can make organizing look chic and effortless, it would have to be CF readers.
In this article, we'll talk about some inexpensive and creative ways to organize your dorm room study space, ranging from keeping your literature in line to managing your writing utensils. Once your study area is organized to fit your needs and style, everyone on your floor will be trying to figure out ways to make off with your desk!
Managing Your Literature
Even if you didn't bring half your home library to college with you, there are undoubtedly textbooks, magazines, and binders floating around your dorm room. Keeping these organized will help you tremendously when you're packing your bag for a sojourn at the library, and will also help you keep track of every printed work so that you leave with the same number you came with.
Our Picks for Organizing Books and Magazines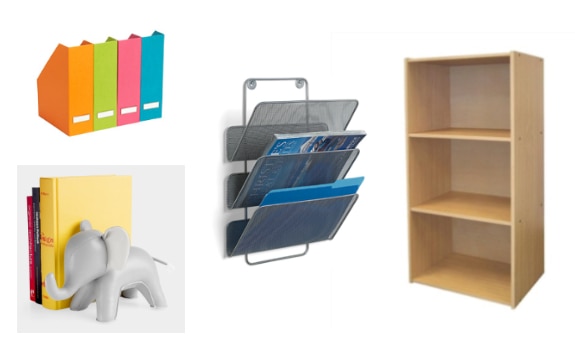 Product Information: Bright Magazine Holders, Elephant Bookend, Metal Tier, Bookshelf
These colorful magazine holders are chic and functional, and can be labeled however you want! I would recommend labeling them first by issue title, then by date.
Bookends are adorable and come in virtually every shape and size! I picked this cute elephant bookend because it's unique and is a great conversation starter.
Vertical literature organizers like this metal tier are especially handy because they use wall space. Try using these to store important papers for class, or even smaller textbooks that you can easily reach.
I can't overstress the importance of bookshelves as a simple and chic way to store literature. My bookshelf is organized by color, even though I only brought about 20 books to school with me, and looks like a scaled-down version of this image. Bonus: the bookshelf can double as a display case, and you can even group your collectibles and displays to match the colors of the books they're next to!
Pens, Pencils, Markers, Oh My!
Writing is glorious. Writing with nice pens is even better, as is coloring with brand-new markers. (Everyone can agree on that!) You probably brought nearly all of the following things to school with you: pens, mechanical pencils, highlighters, regular pencils, permanent markers, regular markers… and the list goes on and on. With all of these utensils, keeping them organized is essential, and there are plenty of ways to do so.
Chic Ways to Organize Your Writing Utensils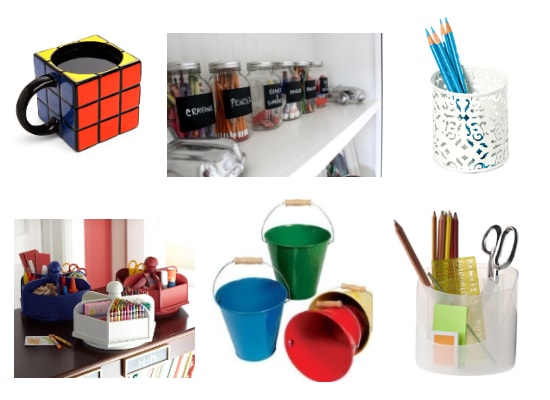 Product Information: Rubik's Cube Mug, Glass Jar Labels, Brocade Pencil Cup, Rotating Desk Caddy, Tin Buckets, Spinning Desktop Organizer
Try a unique-looking coffee mug to store your pens and pencils! This awesome Rubik's cube-inspired mug will add so much visual interest to your desk.
Glass jars lined up against the wall on your desk or dresser and labeled with chalkboard labels are absolutely fantastic and such a creative way to organize your writing utensils. They're also inexpensive and can be easily re-purposed. I really wanted to do this, but I decided on another way to store mine, which I'll talk about below.
Of course, simple pencil cups like this feminine brocade one are a sweet way to add some life to your desk.
This Pottery Barn Rotating Desk Caddy is supposed to be for younger children, but isn't it gorgeous? I took it upon myself to make my own version, learning from this DIY tutorial, and I now have a $15 (versus $35) replica living on my desk!
Tin pails are clever and unique ways to store your pens and pencils. Target has them for $1 each in the dollar section, which is where I stocked up on about 20 of them. You can also try sticking Command hooks to the wall above your desk and hanging the pails on them to hold your writing implements!
A nice spinning desktop organizer is functional and also saves space on your desk, leaving you free to spread out your books and laptop.
What do you think?
Will you be using any of these tips? How is your desk at college or home organized? Have you ever made an expensive accessory your own using DIY? What are your tips for college students seeking to stay organized during their four years? Let us know with a comment!