This post may contain affiliate links, which means we may receive a commission if you purchase through our links. Please
read our full disclosure here
.
I would hazard a guess that the time you spend at a desk in college is second only to the time you spend sleeping. Sure, classroom settings can have terrible lighting, chairs can seem to rock endlessly back and forth, and the walls can be as blank as your list of career plans after graduation (we've all been there), but that doesn't mean your own work space has to be!
Decorating and organizing your work space is just as detailed and fun as designing your room, especially when you're able to determine what pieces suit your needs and study habits best. Everyone's got the standard pencil holder and stapler handy, but what about organizing tools, inspirational pieces, and, most importantly, a sense of you?
In this edition of Dormspiration, we'll take a peek at two celebrity desk and office spaces and see what unique items said celebs put around them when it's time to get to work. Let's get started!
Drew Barrymore's Eclectic Office Space
Colorful, quirky, and filled with personality, Drew Barrymore's office space is a perfect example of a chic work zone that has inspiration in every corner. For those of us unafraid of a little organized chaos, hers is a great office to emulate in your own work space. It's one that can be easily populated with those previously homeless trinkets around your room.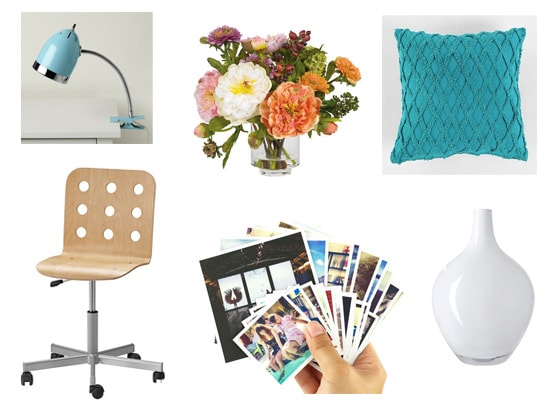 Product Information: Lamp, Silk Flowers, Cushion, Vase, Instagram Prints, Chair
Anything goes in this fun work space! Start with a Drew Barrymore-inspired nod to earthy tones and patterns with this wooden swivel chair, then add life with a simple white vase and some silk flowers (which will look good forever!).
Inject some color into the proceedings with a fun clip-on aqua lamp and a cushy chenille pillow to dress up the chair. Finish by covering the wall above your desk with square photo prints, like these gorgeous Instagram ones.
Ivanka Trump's Minimalist Desk
Sleek and shiny, Ivanka Trump's Upper East Side office reflects her careful, calculating approach to business. It's organized to a "T," but still manages to infuse color and interest into an otherwise minimal scheme. If you're a fan of maximizing work space and eliminating unnecessary clutter, perhaps hers is an office you'd like to emulate!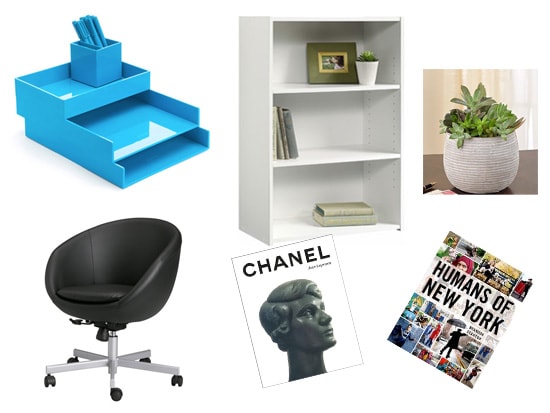 Product Information: Desk Set, Bookcase, Plant, HONY Book, Chanel Book, Swivel Chair
Create a space worthy of a budding entrepreneur with this gorgeous Poppin desk set (which comes in every color under the sun) — the sleek surfaces and geometric angles make organization easy. Use a simple white bookcase on top of your desk or even just next to it to create additional space without sacrificing function.
A succulent plant looks tidy without needing much care, and every fashionista needs a smooth-surfaced office chair that fits well with the minimalist shapes within the rest of the space. Finish off with a few coffee table books to add interest, and you've got yourself a workspace that would make Ivanka Trump proud.
What do you think?
How have you styled your office space? Do you look to celebrities for inspiration? What kind of organization tips do you have? Let us know with a comment!