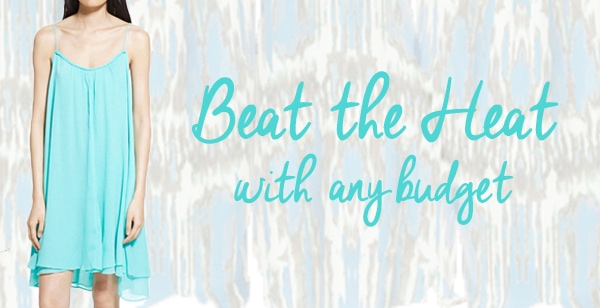 It's easy to fall in love with a designer's latest products. Affording those products is the hard part. Searching for budget-friendly options can be daunting, exhausting, and can even take the fun out of shopping. CF wants you to look and feel your best, no matter your budget, so we've done all the hard work for you. Check out the looks below and decide if you want to Save, Spend, or Splurge.
We've all heard the phrase, "less is more," especially when it comes to fashion. But between unbearable summer temperatures, getting doused in surprise showers, and combating humidity that literally makes the air heavy and wet, less is a necessity.
The Slip Dress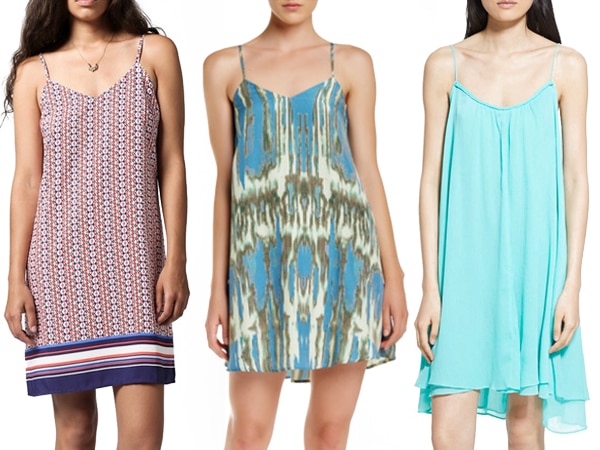 Save: Mango, Spend: Collective Concepts, Splurge: Azalea
I have one slip dress from TJ Maxx, and I actually wear it every weekend. It's a floral Matty M slip that hits right above the knee. It's great for running errands, getting coffee, walking around the park, hanging out in my apartment, or (paired with a denim vest or light jacket,) perfect for going out to dinner. It is my new go-to piece.
If I do happen to get too hot, it camouflages sweat and doesn't stick. Style it easily with minimalistic sandals and stacked rings, or throw your hair up in a headscarf to complement the slip's print.
The Office Staples
Save: Max Studio, Spend: ASOS, Splurge: Theory
The recurring problem with wearing breezy outfits to the office is that more times than not, the office is an ice box. The air conditioning is cranked to like, 52 degrees. At least that's what it feels like. So, how do you deal? You can wear "flowy" items on the days where the commute is just too unbearably hot for Editor pants. Theory does a perfect pleated pant with the right balance of "easy" and "professional," and it's never been easier to wear white!
The key to choosing these life-saving items is finding the balance of coverage and room to move. Nothing too tight, nothing that pinches, try to avoid lots of buttons and clasps, and for the love of all that is good, don't wear stilettos on hot days if you aren't required to. Whether you're a seasoned professional or a baby giraffe, walking in stilettos is exercise in itself. You'll be sweating bullets before you get off the subway. Cute flats or low block heels are a perfect replacement for the day.
The Peek-a-Bra Combo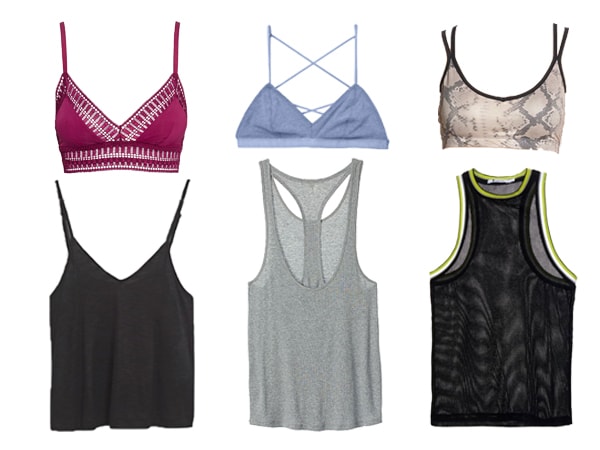 Save: Bra- H&M, Top- Madewell, Spend: Bra- Victoria's Secret, Top-Victoria's Secret, Splurge: Bra- Solow, Top- T by Alexander Wang
So it's 88% humidity and your friend wants to go have a picnic in the park. How do you constitute crawling out of your air-conditioned cove to go share a slice of watermelon under the hot, hot sun?
Anyone who has worn an underwire or padded bra on this kind of day knows the indescribably uncomfortable feeling of… there's really no reason to go into detail. No one should have to suffer through that, no matter your bra size.
Does your dilemma take place in a casual setting (i.e. low-key picnic)? Bralettes are the answer to this problem– and if you aren't comfortable in a bralette, there are plenty of cute, supportive sports bras that you should be proud to show off under an even cuter tank or muscle tee. Problem solved. Watermelon, anyone?
What do you think?
Would you wear any of these pieces to beat the heat? How would you style them? What kinds of things would you like to see in future Save, Spend, Splurge posts? Let us know in the comments below!