Almost one year ago, I was studying abroad in London, trying to take in as much of the UK as I could in a single semester. Exploring historic cities, enjoying new cuisines, and visiting world-renowned museums were all on my agenda.
I also wanted to take advantage of things that I could only get in the UK. This, in particular, meant trying out the makeup brands that my friends in England raved about.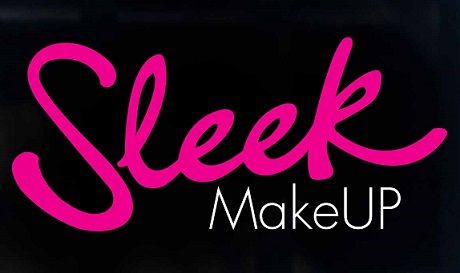 This is how I was introduced to Sleek MakeUP.
At the time, Sleek was a brand that I was not familiar with, but I was excited to try it: I had heard amazing reviews about both the quality products and the low prices associated with this budget-friendly brand.
Fast forward to a year later, and Sleek MakeUP is now available in the United States thanks to Ulta and Walgreens!
Since the brand is relatively new to the states (and still doesn't sell as wide a range of products in the US as in the UK), some beauty lovers may feel uneasy about testing out such a foreign brand.
Fear not, because I have combed through Sleek's available makeup through both the Ulta and Walgreens websites and have done the leg work for you.
Here's my roundup of Sleek MakeUP and which products are going to be worth your money:
Eyeshadow Palettes: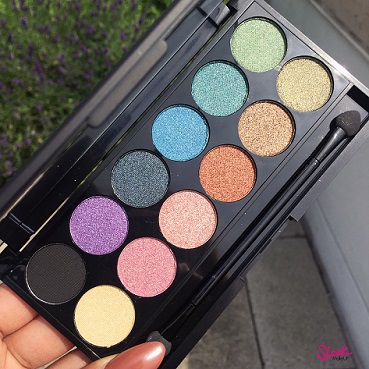 Like many budget brands, Sleek MakeUP's eyeshadow formulas can vary from smooth and highly pigmented to chalky and patchy.
Overall, however, their palettes are a great deal (12 shades for only $12.99!) and contain some really quality shades.
Most Sleek palettes come with a mix of shimmery and matte shades, and contain colors that are staples for any makeup collection. The compact and durable packaging of Sleek eyeshadow palettes also makes them a great option for traveling.

Verdict: I think it's worth it to give Sleek MakeUP's eyeshadow palettes a shot. The color selection and quality of these palettes compared to their prices makes them kind of a no-brainer.
At the very least, make sure to pick up the "Under A Spell" Palette, which is jam packed with beautiful shades that will inspire you.
Grade: A-
Blush: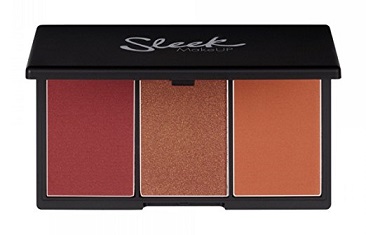 Sleek blushes are highly pigmented, so users beware.
I typically prefer blushes that are less pigmented (because I'm not out here trying to look like I just ran away from the circus) but the complementary hues and ability to blend make Sleek's blushes worth it.
If you remember to use a light touch, these blushes look stunning, and add just enough color to the face to look purposeful but not overdone. My only complaint is that some of their blush shades contain glitter, which I find annoying. (I'm 21, not 12!)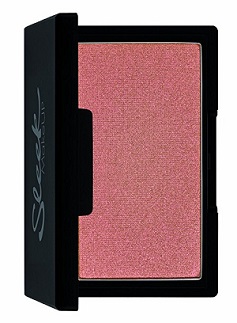 Verdict: If there's one thing that surprised me about Sleek, it's how good their blushes are. If you get a shade that complements your skin tone, I guarantee you won't be disappointed with your purchase!
Grade: A
Contour Kits:
The Sleek Cream Contour Kits are surprisingly good dupes for the Anastasia Beverly Hills contour kits.
Sleek's kits are easy to blend, have decent pigmentation, and a good selection of colors in each palette!
While they are definitely on the pricier end of Sleek's makeup range (each kit costs $15.99 a pop), you really can't beat the quality at that price-point.
There are four shade combinations for this contour kit: It's available in light, medium, dark, and extra dark. Although I'm skeptical that the "extra dark" kits are actually dark enough for deep skin tones, the other three kits look like good fits for their respective shades.
Verdict: If you've been considering a cream contour kit purchase but have held off because of high prices, then Sleek MakeUP's version is going to be your knight in shining armor.
Even if contour kits are just something you've considered lightly, the Sleek Cream Contour Kits are great for experimenting with, considering the quality you get for such a bargain price. As much as I like my ABH kit, I would still recommend Sleek to my friends!
Grade: A-
Foundation: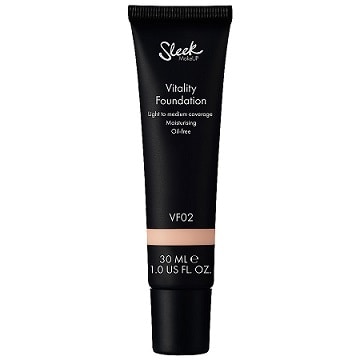 Even though Sleek foundations are not available through Ulta's website yet, Walgreens has two different foundations from the brand available: the Vitality Foundation and the Lifeproof Foundation.
Both of these foundations give a nice medium coverage to the skin and have a decent shade range to choose from.
The Vitality Foundation is better for drier skin because it contains hydrating ingredients and is more lightweight than the Lifeproof foundation, which has slightly more coverage and dries down to a more matte finish.
As with a lot of drugstore foundations, the two that are currently available in the US don't have the lasting power that higher-end foundations do. I'd say they're just OK.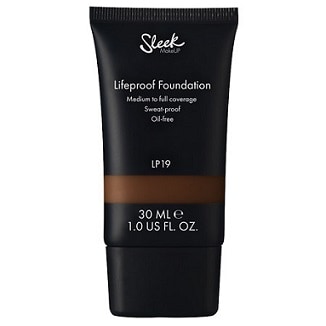 Verdict: These foundations work great if you only need them to perform well for a maximum of 5 hours. If you're looking for something that will last through the entire day while continuing to look flawless, these are not the products for you.
It might just be best to save your money on these.
Grade: C+
Mascara: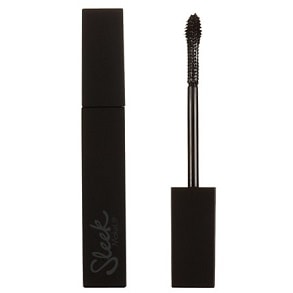 There's never been a lot of chatter, good or bad, surrounding Sleek MakeUP's mascaras or their formulas.
While they are by no means poor quality, Sleek mascaras are not exactly life-changing.
The best (and most popular) mascara they sell, the Full Fat Lash Mascara, has a unique wand that is great for applying an even coat of mascara to the lower lash line with ease. The only two other Sleek mascara's available through both Ulta and Walgreens are just okay.
Verdict: Nothing ground-breaking or earth-shattering here. Sleek mascaras are decent, but I much prefer other drugstore mascaras with similar prices, like L'Oreal's Voluminous Lash Paradise.
Grade: C
Eyebrow Products: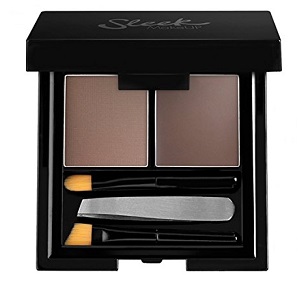 Unfortunately, Sleek only sells two types of brow products in the United States (so far).
One of these products is just a simple "Brow Kit", which comes with two shades per kit. One shade is a regular powder formula and the other is more of a pigmented wax for shaping the eyebrow (which I'm personally not a fan of). There are only 4 kit shades, making it hard to find the right color to match a larger variety of hair colors.
The other eyebrow product by Sleek, called Brow Intensity, is one of the strangest and most unique eyebrow products I've seen on the market.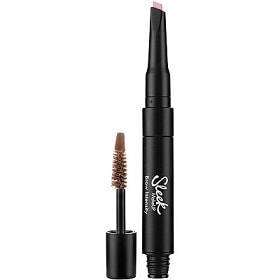 What I originally thought was just an eyebrow pencil similar to the Anastasia Beverly Hills Brow Definer, is actually so much more than that.
With the Brow Intensity, you get a highlighter pencil to define the shape of your brows, and then a pigmented brow gel on the other end with a brush that has a sponge on the very tip.
The Brow Intensity comes in 5 different shades, including black, but even the lightest shade in the bunch is too dark for blonde eyebrows.
This product is great for days when you want to quickly fill in your brows without going too in-depth with shaping and reshaping. Just fill in your brows with the sponge applicator, brush through some gel with the spoolie, then highlight the bottom edge of your eyebrows and you're ready to go!
Verdict: There are better drugstore brow kits on the market than Sleek's Brow Kit. I personally much prefer my NYX eyebrow kit over this one, for both the price and color match.
Since there really isn't any other product on the market that is comparable to Sleek's Brow Intensity, that would be a product that is worth the money if the unique applicator appeals to you.
Grade: B-
Highlighter: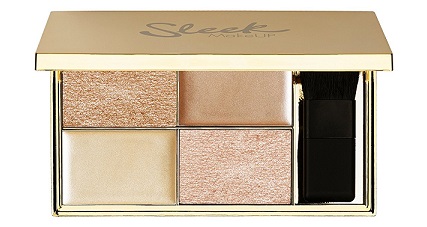 For a long while, the entire beauty community was exploding with excitement over how good the Sleek Solstice Highlighting Palette was. So naturally, I had to get my hands on it and see what all the fuss was about.
Lovers of blinding highlighters rejoice: this palette really is as good as everyone says!
Both the cream and powder formulas in the palette worked amazingly well on their own, but could also be layered to have a stunning impact.
If Precious Charms and Cleopatra's Kiss are anything like their sister palette, then it's possible Sleek holds the title for having the most affordable/potent highlighting palettes at the drugstore price-point.
Through the Ulta and Walgreens websites, Sleek also sells a Barekissed Liquid Illuminator, which is more for people who: 1. prefer liquid highlighter formulas, and 2. don't like the "brighter than the sun" reflection that some highlighters give off.
Verdict: If there's one thing Sleek is queen of, without a doubt, it's highlighters.
I don't know how other drugstore brands are failing so hard at making decent highlighters when Sleek makes it look so effortless. I can't stress enough how AMAZING these products are, and how worth the money they are. (Don't tell anyone, but I think Sleek could get away with selling their highlighting palettes for a lot more.)
The only real question here is: if you don't already own one of these highlighting palettes, what are you doing with your life?
Grade: A+
Eyeliner: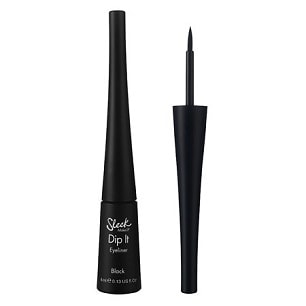 Sleek MakeUP's classic black liquid eyeliner is contained in packaging where the felt tip applicator detaches completely from the pot that holds the actual eyeliner.
This type of applicator, while not my favorite, is still able to get the job done. (I much prefer eyeliner pens, where you don't have to keep dipping into a component to get enough product onto the applicator.)
Personal preferences aside, the actual formula is surprisingly long-lasting (but not waterproof) and highly pigmented.
For a drugstore eyeliner, the Sleek MakeUP version is fairly user-friendly, making it a great option for beginners or those who are timid around liquid liners. On the eyes, the eyeliner dries into a nice and clean matte finish, which looks good with most any makeup looks.
As far as price goes, Sleek's Dip It Liquid Eyeliner is currently one of the least expensive products sold by the brand at only $6.99, which isn't atrocious for a decent drugstore liner.
Verdict: While I wouldn't necessarily use Sleek eyeliners myself, I can't say that they aren't worth the price.
For those of you that don't mind having to dip and re-dip the felt tip applicator into the product component, you might really enjoy working with this liner to achieve a sleek winged-eyeliner look.
This product totally depends on personal preference.
Grade: B-
Lip Creams: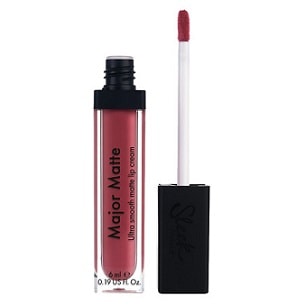 I have a love/hate relationship with the Major Matte Lip Creams in Sleek MakeUP's collection.
On the one hand, these liquid lips aren't fully opaque in one go, and often require multiple layers to avoid any streakiness on the lips.
On the other hand, the formula of the matte lip creams is actually quite comfortable to wear.
Unfortunately, the creamier matte formula that makes this lip cream so comfortable to wear also means that it isn't very long-wearing on the lips, especially if the wearer is eating or drinking.
Verdict: While it's true that these liquid lipsticks come in some beautiful and flattering colors, I can't fully recommend them due to their lack of staying power.
If you can't help yourself from purchasing a Sleek lip cream, just keep in mind that they only work for instances where you only need your lipstick to look good for an hour or two.
Grade: C-
And there you have it, a (not so) quick and painless guide to the Sleek MakeUP brand and its many products available in the United States.
Sleek's prices range from $5.99 all the way to $15.99, which puts it at the higher end of drugstore prices, but still means that it is affordable for the masses. So next time you're surfing the web in need of a new makeup brand to obsess over, give Sleek a whirl!
Have you tried Sleek MakeUP before?
What are your favorite foreign-based makeup brands? Let me know in the comments section what you think!