This post will teach you everything you need to know about Princess Diana fashion and Diana's best outfits, as seen on The Crown.
I'll admit, before this year, I had never seen an episode of The Crown. Aside from the fact that it focuses on the family that holds the crown of England, I knew very little about it. That is, until this year.
While you may think my time at home prompted my interest in the series, or perhaps the Streisand Effect (since members of the royal family tried unsuccessfully to get people to not watch the show by talking about the show), I actually started watching because of Princess Diana.
When I found out she would be featured this season, I was so excited to fast forward through the series to see all the outfits worn by one of the most iconic women in history. Diana is arguably the greatest royal fashion icon of all times, perhaps alongside Grace of Monaco. And her sense of style hasn't been lost even decades later, with the show highlighting just how exciting her outfits always were.
Looking at what Diana wore and the statements she made, it definitely feels the newer generations of royals have become more conservative in pushing the fashion envelope. But again, Diana never belonged. She was always larger than life. Even in death, her legacy is one of the most memorialized in history.
From gifting women everywhere with the revenge dress, to transforming casual into elegant, Diana redefined fashion. While always a soft-spoken woman, her clothes and the way she carried them evoked her true self. Always daring, forever elegant, and never dull.
Today we're talking all things Princess Diana fashion, as seen on The Crown.
Princess Diana Fashion: Diana's Style 101
First, a few notes on dressing like Princess Diana, the themes that permeated throughout her twenties as a royal:
The Crown truly brought forth these style tips that marked Diana's twenties as a royal and has us eagerly waiting for what comes in the next seasons (both fashion and plot-wise). In the meantime, here is some outfit inspiration from the fourth season and a bonus looking ahead.
Princess Diana Outfits: Rollerblading Look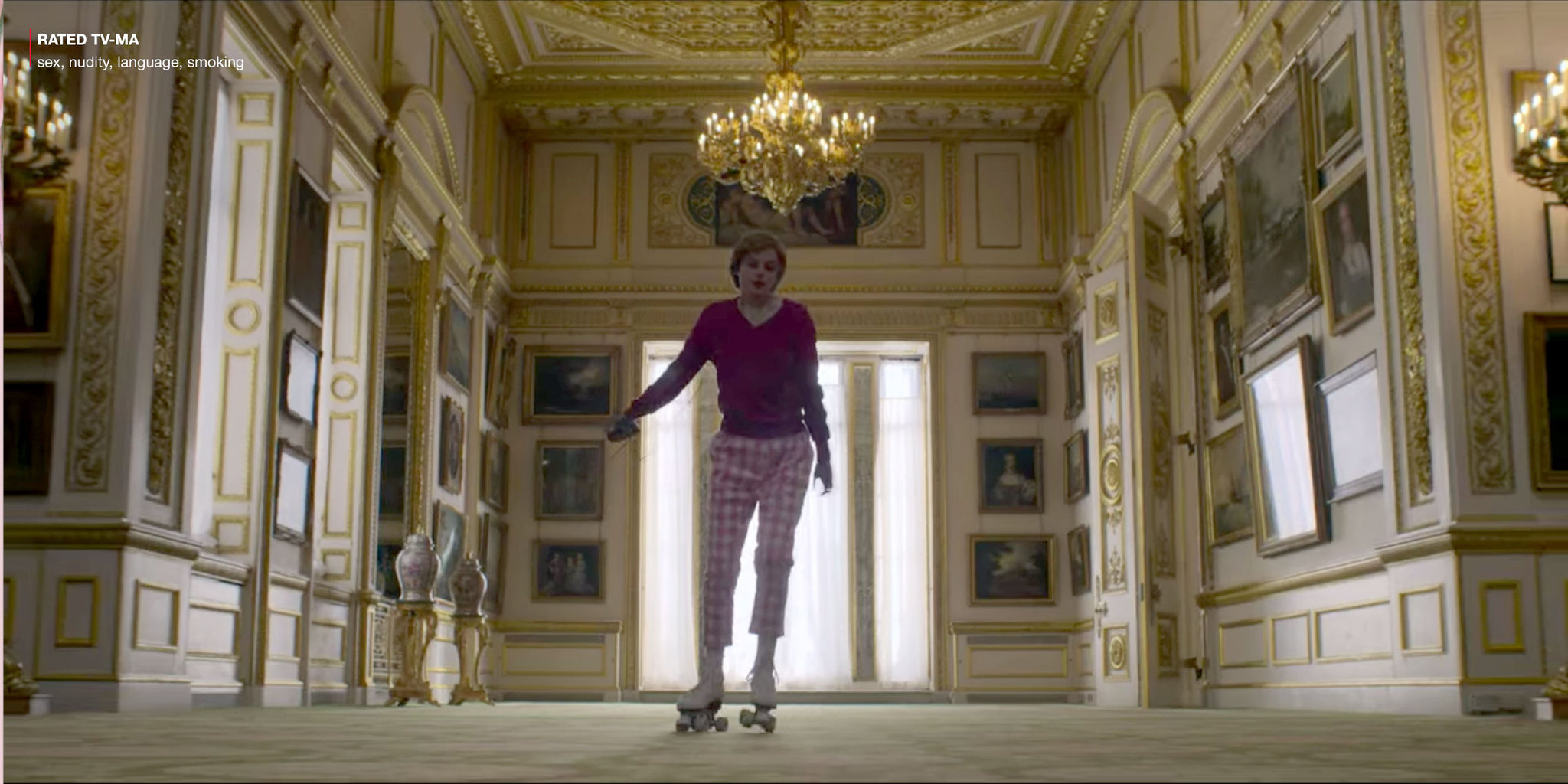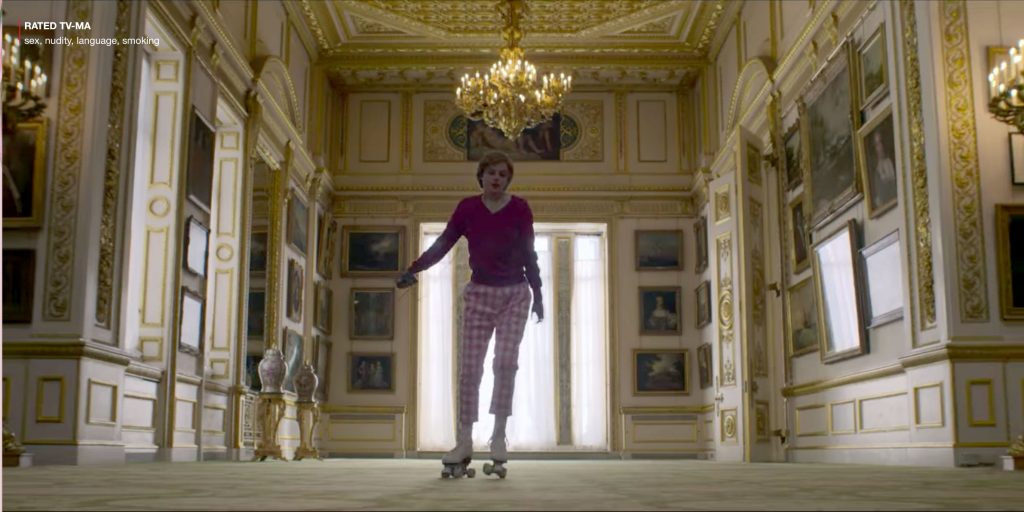 The image that shook the world marking the arrival of Diana to The Crown, was of Emma Corrin, the actress that plays Diana, rollerblading in a pink ensemble. However, while the Princess herself did wear a rather similar ensemble, she wasn't rollerblading, she was spending time with her sons.
Copy the look by wearing pink gingham pants, which are still all the rage almost forty years later, and pairing them with a darker pink cardigan over a button-down blouse.
Button-downs are the perfect trick to make a casual outfits look more elegant, and don't forget some cute hoop earrings for a youthful look.
Princess Diana Outfits: Getting Paparazzied
The first time Diana gets paparazzied (pretty sure it's a word) on The Crown, she is wearing a schoolgirl-inspired outfit. While it may not seem like a stereotypical school girl outfit, schools in England opt for navy uniforms.
Again, Diana color coordinates in different tones of blue. While I'm not the biggest fan of navy, it gets new life when paired with other blues such as the light-toned skirt and vibrant sweater.
Make sure one of your pieces always has a print, to give your outfits Princess Diana's playful take on royal fashion.
Princess Diana Outfits: Exploring the Countryside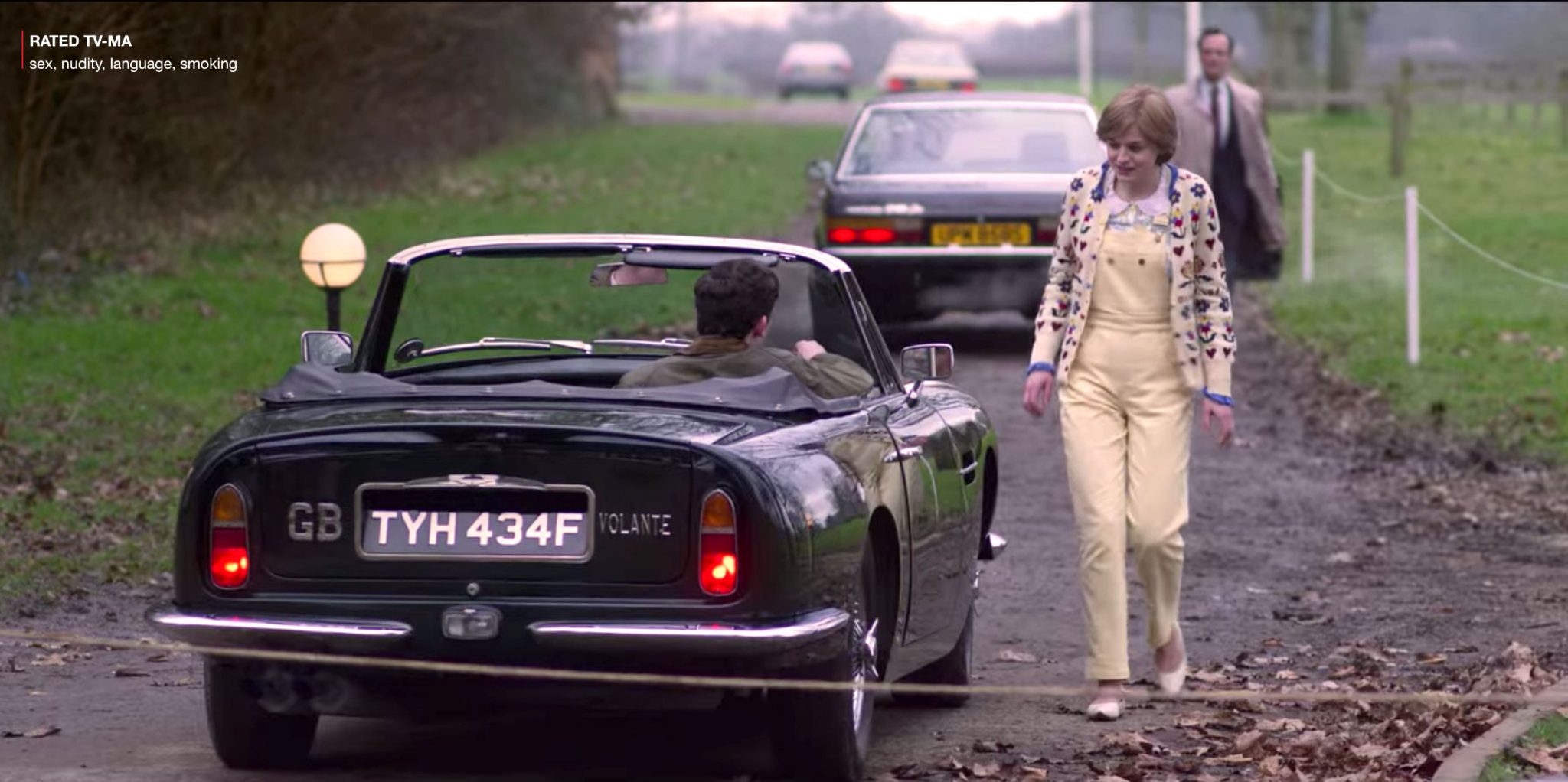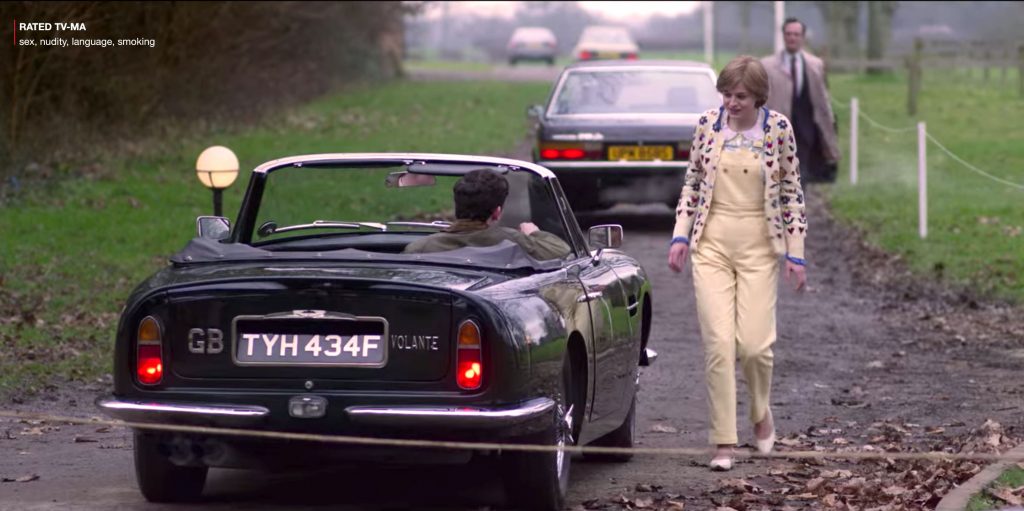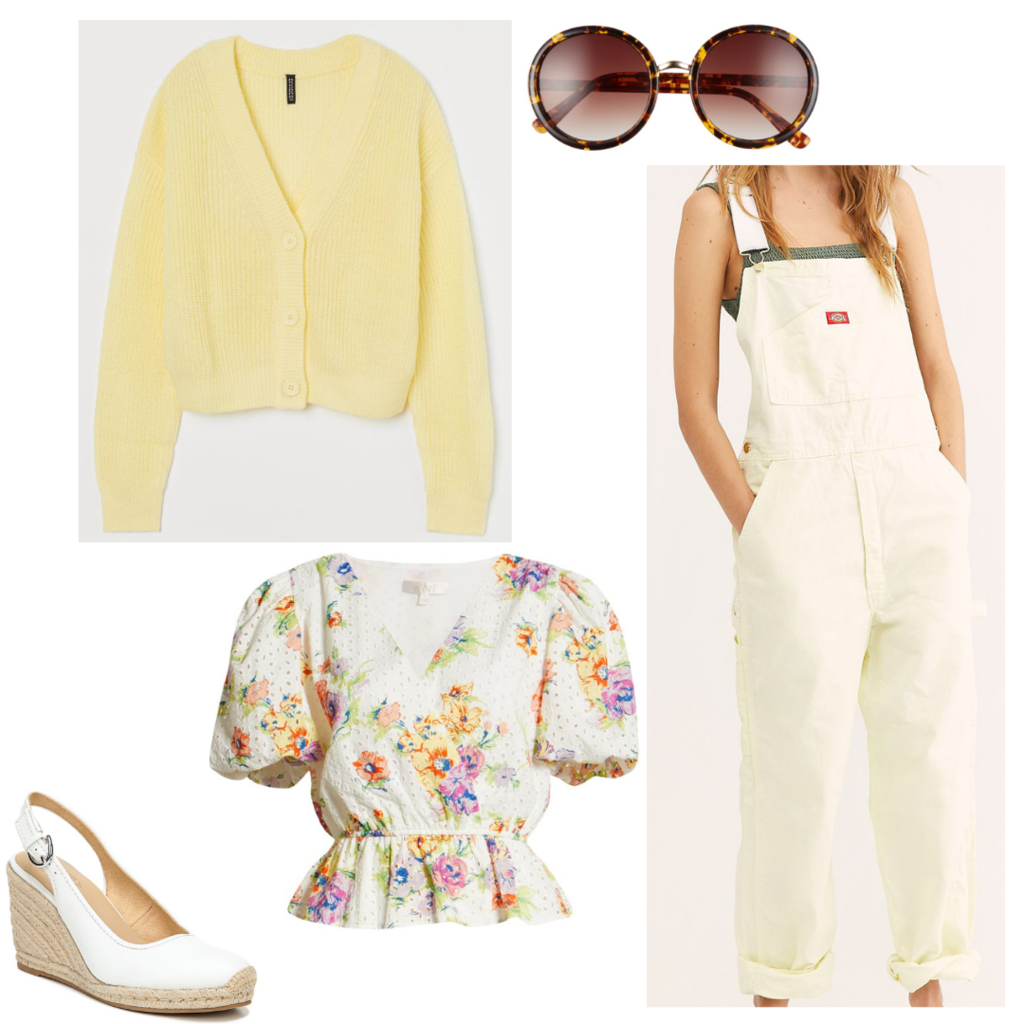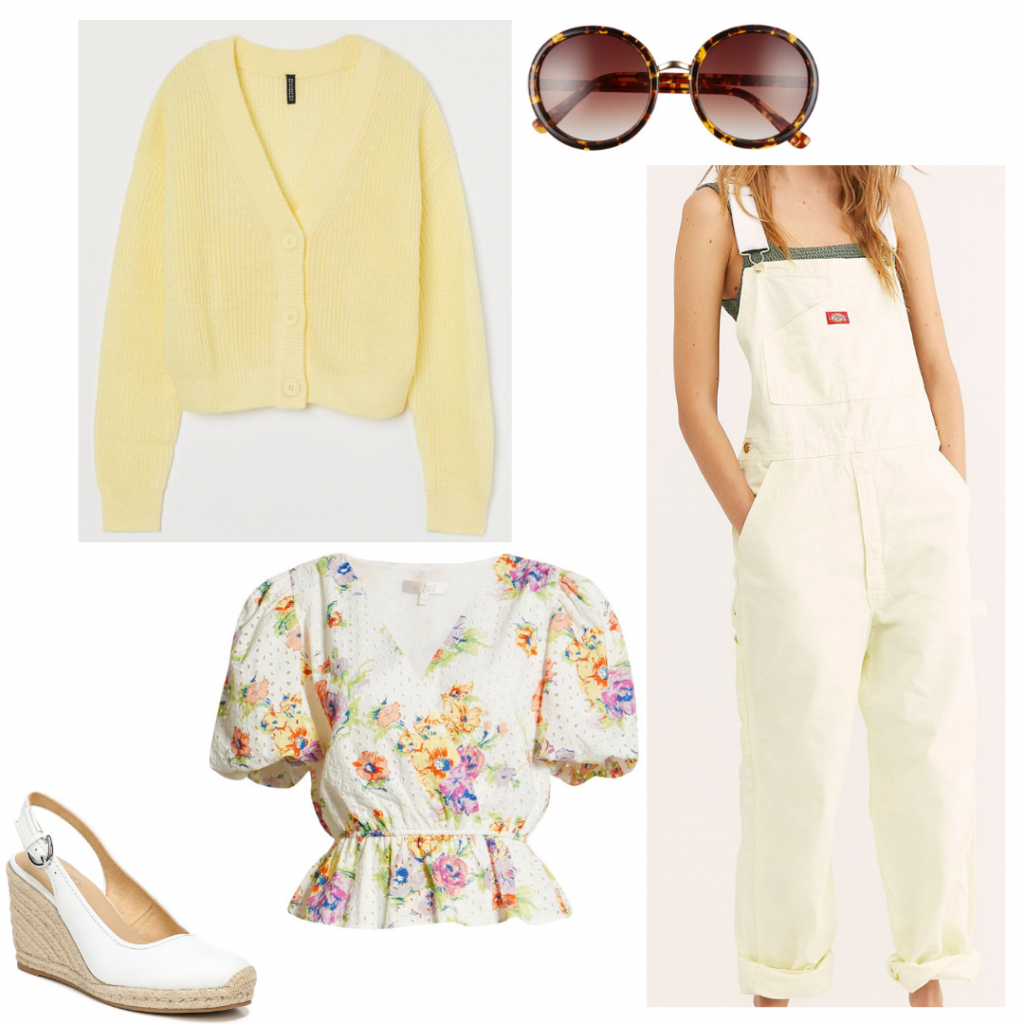 Products: Cardigan, Sunglasses, Overalls, Top, Wedges
While many blondes opt to never wear yellow, Princess Diana wasn't scared of wearing the light hue head to toe. And why should she? She looked amazing in yellow, and so can you, regardless of your hair color.
Nothing makes overalls elegant like a printed floral top and some round sunglasses. Mix your color scheme with a darker piece in the same tone, like this bright yellow cardigan.
Lastly, while Kate Middleton is often credited with pioneering wedges for royals, and she does make an amazing case for them, Diana was actually the first risk taker. She was always bridging the gap betweeen casual and elegant.
Bonus: THE Revenge Dress
You've heard of the revenge body, but you might not know of its origin in the revenge dress.
In one of the greatest fashion moments of all time (I know I say this a lot, but, like, top 10), following Prince Charles' reveal that he had an affair while married to Diana, this is how the Princess stepped out. In a head to toe, tight, black outfit.
While it's not a casual look, I cannot wait for the revenge dress to make its appearance in due time on The Crown.
So maybe you're not a princess, so what? (Actually, I don't know who reads this, maybe there is a princess among our readers!) Regardless of your royal status, you can always dress like royalty.
When copying Diana's style, it's important to remember that despite her position, Princess Diana was always Diana. Her approachability and relatability raised her from even needing the title of Princess. She is, to this day, recognized simply as Diana.
Even in the hardest of times, she had fun with her clothes, and so should you. So take this inspiration and make it your own!
What do you think of our Princess Diana fashion guide?
What is your favorite Princess Diana outfit? Which trend do you most want to try out? have you seen The Crown? Should I watch The Crown?