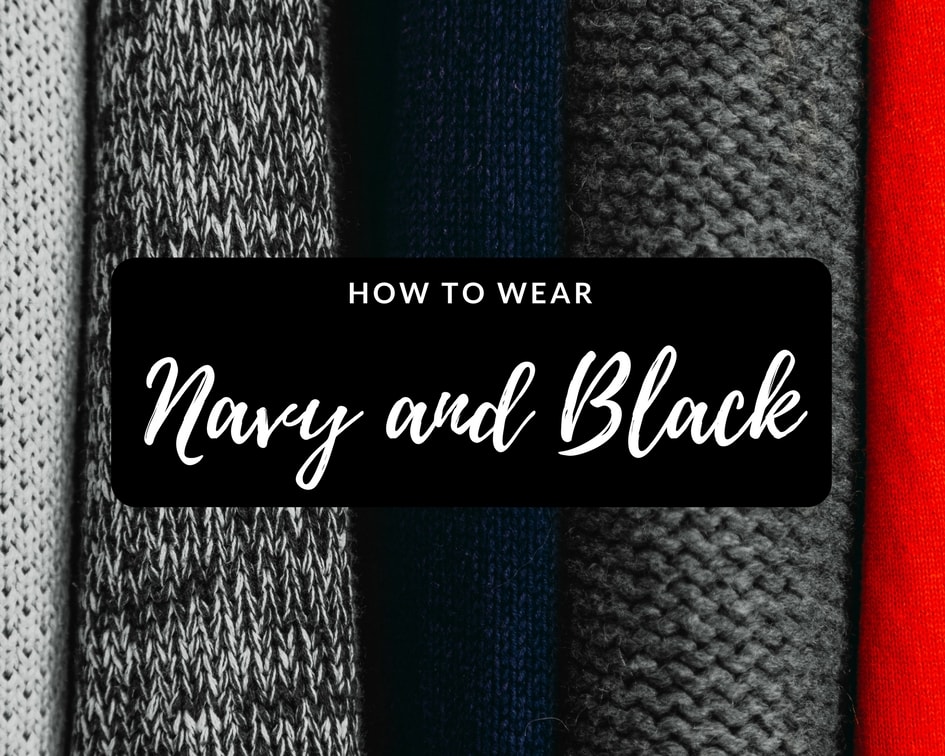 So, I don't know about you, but in my fashion career, I have been told over and over again that navy and black are not meant to be worn together. It is a "rule" of fashion that should never be broken.
Some other fashion rules you may know (both of which we've debunked) include "You can't wear white after Labor Day" or "Black should never be paired with brown."
Personal style is all about taking risks, and veering off the well-trodden path of color schemes is a good place to start. Ladies, join me; be a risk-taker and make your style your own.
Below, you'll find 3 outfits that prove navy and black really can coexist. Here's how to wear navy and black:
Navy & Black Outfit 1: Professionally Chic
Headed off to a summer internship, a part-time job, or a business casual meeting?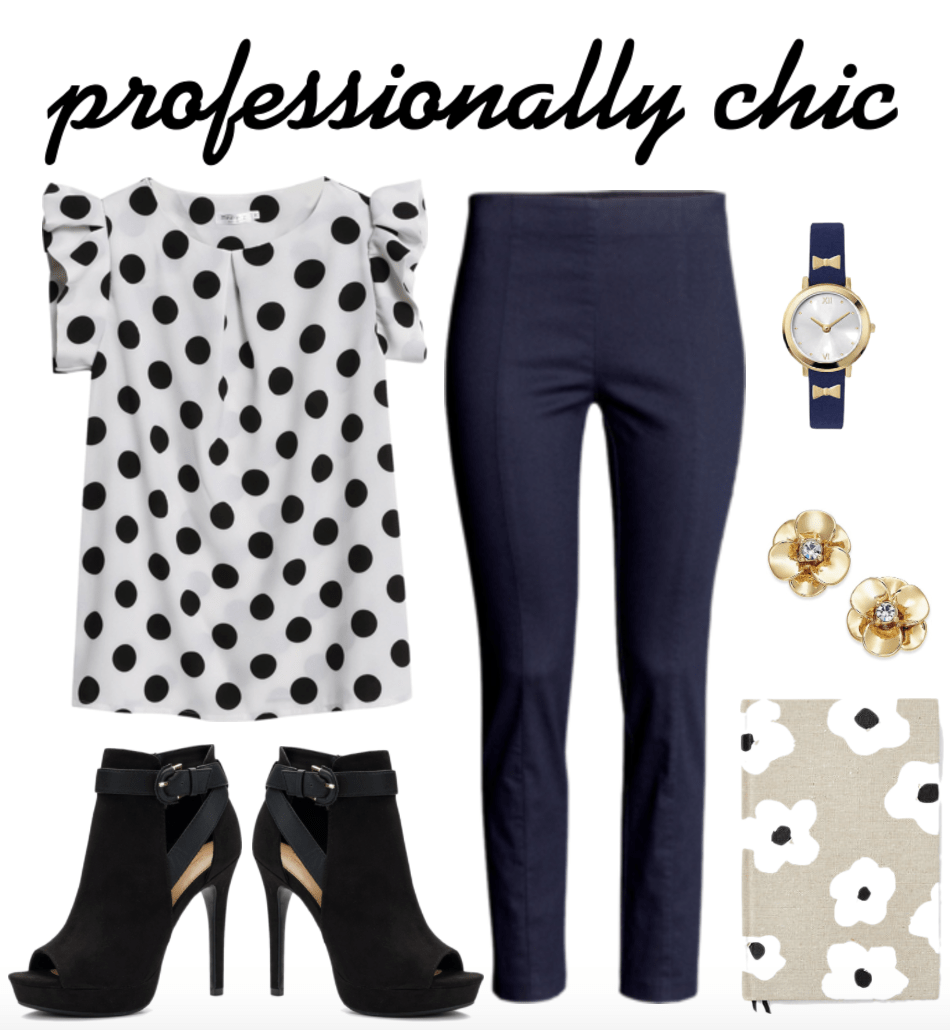 Products: Pants – H&M | Blouse – Amazon | Earrings – Amazon | Booties – Kohl's | Watch – Belk | Journal – Kate Spade
These navy cigarette pants are the perfect style for a business casual/professional setting. (As always, your office dress code may be more to the formal side, so understand your workplace before your copy this look!)
Rather than sticking to the blue theme, tuck in a black and white polka dotted blouse to add a new color into the mix.
Slip on these adorable black heeled booties to strut your stuff down the halls. For touches of glam, add some dainty Kate Spade gold floral earrings and a navy and gold watch.
Finally, to make sure you've got your life in order, carry your favorite journal, throw your hair up in a ballerina bun, and voila — you are ready to rock your workplace.
Navy & Black Outfit 2: Party Girl
End of summer bash or start of school house party, anyone?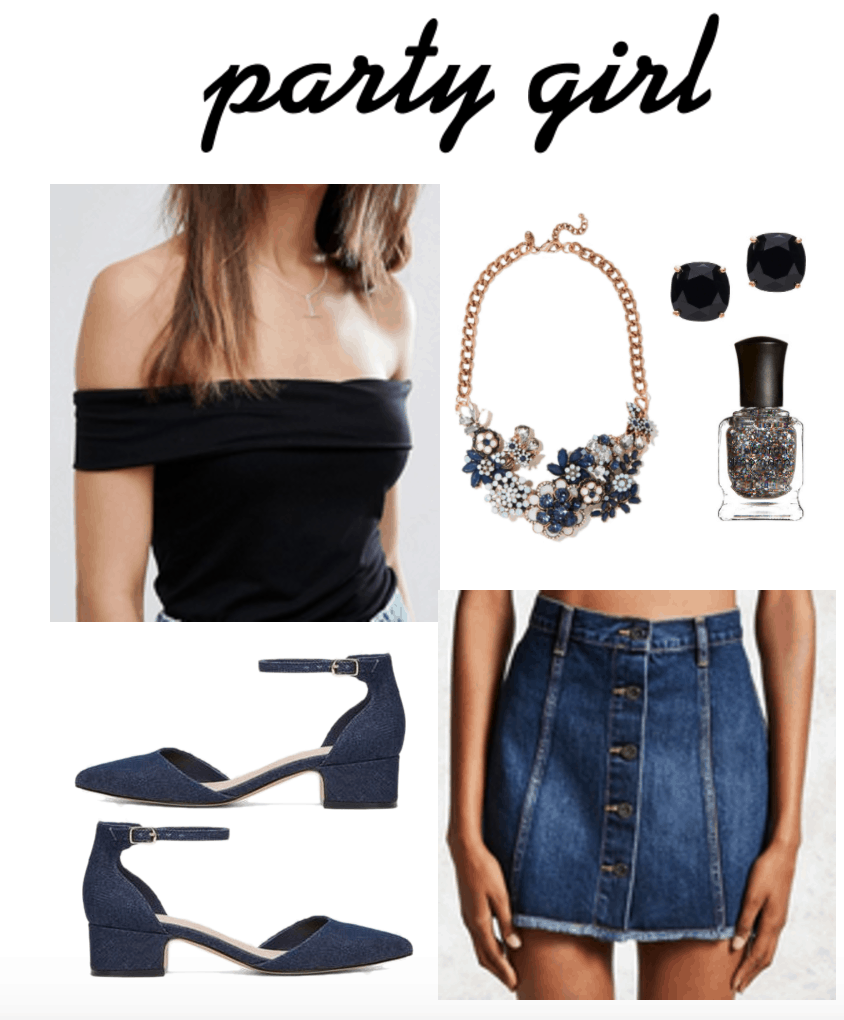 Products: Top – ASOS | Skirt – Forever 21 | Nail Polish – Nordstrom | Necklace – Charming Charlie | Heels – Aldo | Earrings – Amazon
Going to a party and don't know what to wear? Slip on a super chic dark wash denim skirt with cute button-up detailing and pair it with a black off-the-shoulder crop top.
To add a little more glitz to the look, pull on some sparkly blue T-strap sandals and a chunky statement necklace to turn heads. To add more black to the ensemble, rock some simple stud earrings.
Straighten your hair and swipe on some sparkly nail polish and you are ready to dance the night away.
Navy & Black Outfit 3: Day-Time Glam
Going to class or running some errands?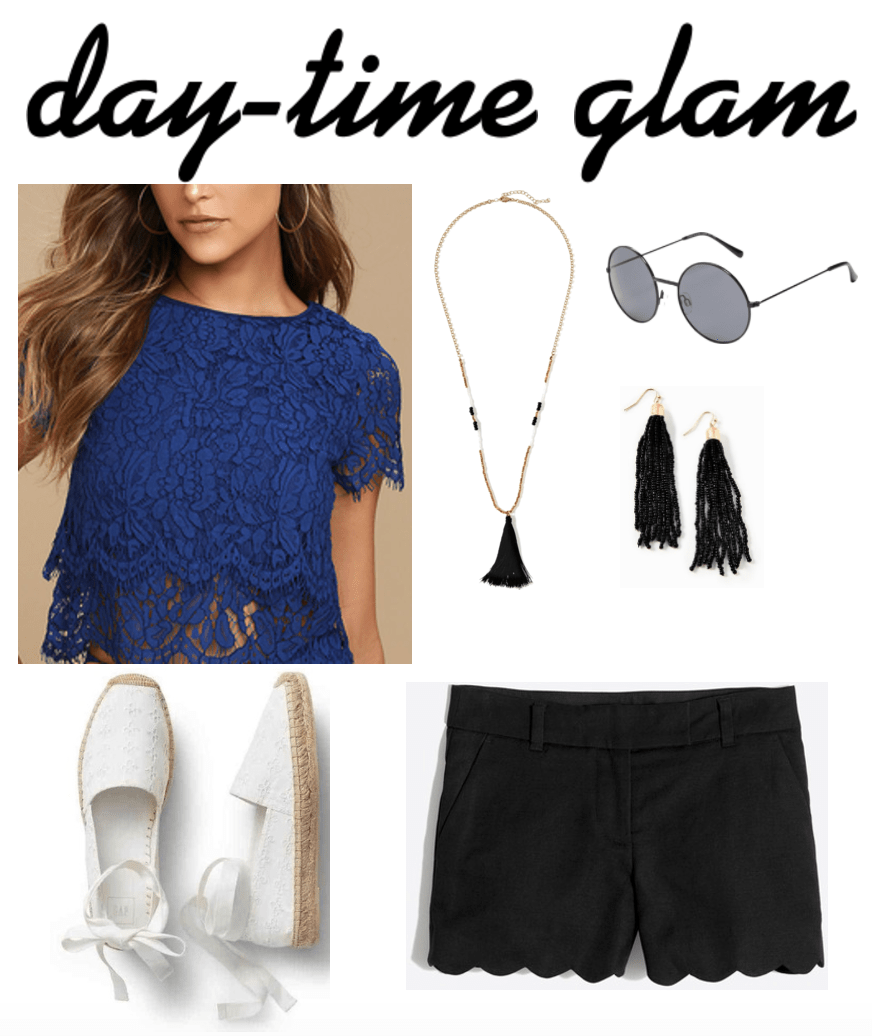 Products: Top – Lulu's | Shorts – J.Crew Factory | Espadrilles – Gap | Sunglasses – Old Navy | Necklace – Old Navy | Earrings – Old Navy
Before you stroll into the supermarket, throw on these stylin' black scalloped shorts and contrasting navy lace top. To stay comfy yet lovely, lace up a pair of ivory eyelet espadrilles on your feet.
To accessorize while keeping this look simple, throw on a pair of black round sunnies, a black and gold tassel necklace and matching tassel earrings. To finish off, throw your hair in a cutesy ponytail and you are ready to check off that to-do list.
What are your thoughts?
Do you think this fashion rule was made to be broken? How do you feel about mixing navy and black? Which outfit is your fave? Let me know in the comments below.