This post may contain affiliate links, which means we may receive a commission if you purchase through our links. Please
read our full disclosure here
.
Oh, the tried-and-true ponytail. Is there really any style more universal or widely-used? Ponytails are there for us at work, when working out, in class, and basically anytime we want to style our hair in a hurry.
However, I'll be the first to admit falling victim to the ponytail rut. We've all been there; when our ponytail looks the same day in and day out. So, I've brainstormed a few ideas to take your ponytail from boring to beautiful.
Without further ado, here are 3 simple tips to perk up that pony!
1. Add Braids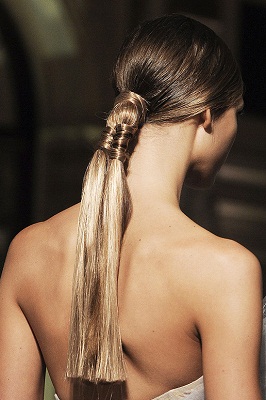 Braids have been everywhere this past year and they aren't going away anytime soon. To update both a ponytail and the braid trend, try incorporating braids into your ponytail.
If you're growing out your bangs, a great option would be to try the braided bangs look a la Lauren Conrad, then pull the ends up into a pony. This would also work well when playing sports or to keep the hair out of your eyes while working out.
A romantic and bohemian look can be achieved by adding a few thin braids randomly throughout your hair before pulling it back into a ponytail. This adds interest and personality to an otherwise boring look.
The most striking and elegant way to add a braid to a ponytail is the modified fishtail braid. This style was debuted by Marchesa during Fashion Week (seen in the photo above):
To achieve this look, start with dry and straightened hair. Pull hair into a low pony and use a small section to wrap around and conceal the hair band.
Then, about 2-3 inches down the tail, start a fishtail braid.
Continue the braid for 2 inches or more, all depending on the length of your hair.
When you've reached your desired look, insert a bobby pin up the center of the braid to secure it. Allow the rest of the ponytail to hang loose.
For an even more daring look, channel Blake Lively and consider placing the ponytail higher and braiding the entire length of your hair. This look is daring, but would look so perfectly dramatic with a great party dress. And compared to more high maintenance looks, a braid has much more staying power on a night out than curls.
2. Go Old-School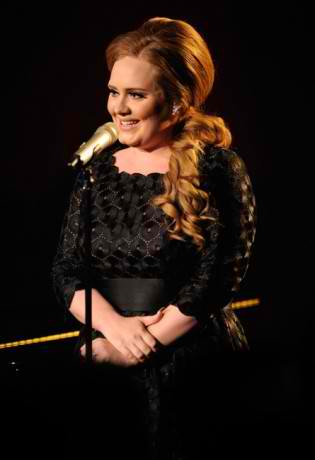 For more ponytail inspiration, look to your past. No, I'm not talking scrunchies. I'm referring to side-ponies, volume, and pull-through ponytails.
My older sisters and mother used to tease their hair, and while that look would be laughable nowadays, adding volume makes a ponytail much more glamorous. Think of Adele, whose signature voluminous ponytail has been featured on College Fashion before.
Side ponytails appear on the red carpet constantly. What keeps them from appearing juvenile is that they are low-slung and only slightly off-center. If you already wear low ponytails constantly, switch things up by wearing the ponytail higher on your crown.
3. Accessorize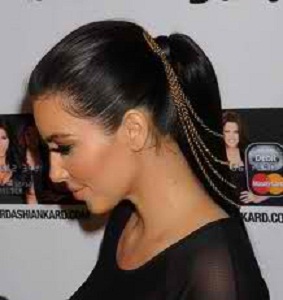 Accessories are the quickest way to update a basic ponytail. This season, the focus is on metals. Think silver, gold, and so on. Kim Kardashian's gold chain is a little over-the-top but a great inspiration you can channel into a more wearable look.
To add a little metallic shine to your ponytail, consider wrapping a thin necklace chain around the base of your ponytail, experimenting with hair tinsel, or just using a gold or silver clip instead of an elastic for a fun, sparkling look perfect for the season.
Your Thoughts?
Do often resort to the same ponytail day after day? What tips do you have to mix up your ponytail style? Be sure to leave a comment and let us know what you think!