This post may contain affiliate links, which means we may receive a commission if you purchase through our links. Please
read our full disclosure here
.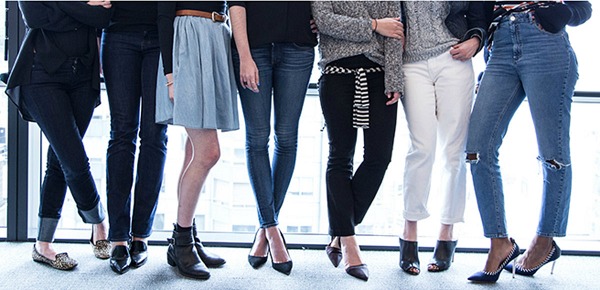 Photo: ELLE
Today's shopping post is all about the accessories – namely, transforming one outfit into three totally different looks with the swap of a handbag. And necklace. And maybe a scarf or two.
The three outfits below are takes on some recent trends I'm loving. I used the same basic pieces (graphic tee, distressed jeans, wedge booties) for each outfit to show the impact accessories can have on your look.
The Glamorous Eclectic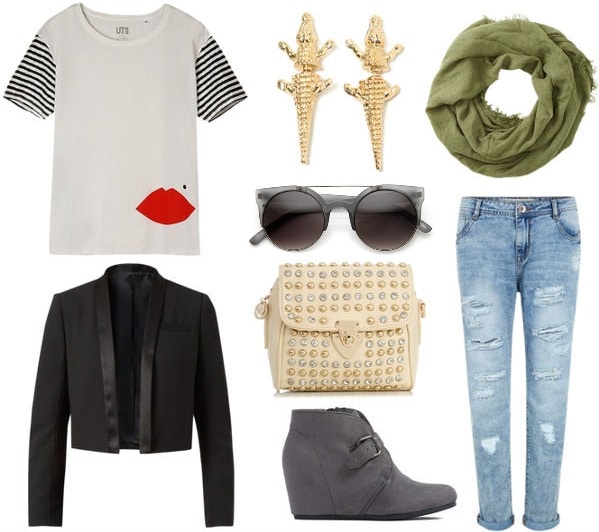 Product Info: Boots, Jeans, Tee, Blazer, Bag, Sunglasses, Earrings, Scarf
This first outfit is a toned-down "daytime glam" look, featuring sleek silhouettes and metal fixtures. See: a cropped and satin-trimmed blazer. See also: gold statement earrings and a mixed metal studded faux leather crossbody bag.
The eclectic part of this outfit is what keeps it appropriate and functional for daytime. A soft scarf with some color, cheeky earrings, and a studded bag are very personalized, one-of-a-kind looking items that are still trendy and easy to find.
The Colorful Prepster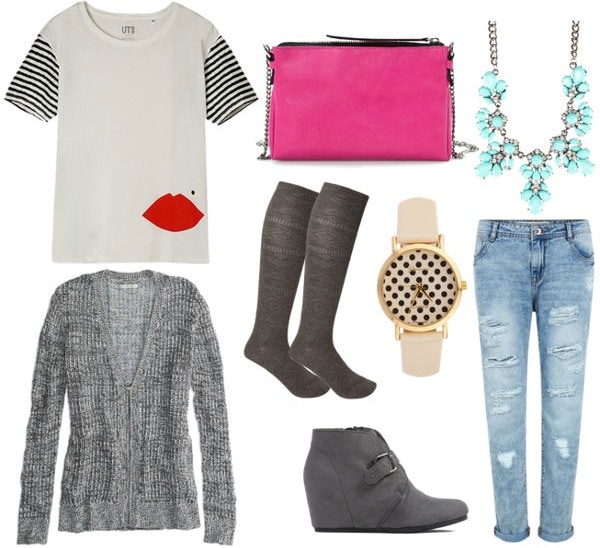 Product Info: Boots, Jeans, Tee, Sweater, Socks, Watch, Bag, Necklace
This second ensemble utilizes our same basic outfit with some decidedly preppy flair. I'm pleased to announce that bright, jeweled collar necklaces are still very much alive and well, and I loved how the austere black and red colors in the tee would look with a pop of bright blue and sparkle.
The watch's black-and-tan polka dot pattern, the bag's sleek pop of fuchsia, and the necklace's teal gemstones creates the preppiest of color combo, and the shapes of the accessories themselves are very girly and chic. Since there's so much color play going on, I opted for gray socks to scrunch down around the booties, as well as a gray cardigan to keep the rest of the outfit balanced and neutral.
The Trendy Artist in Residence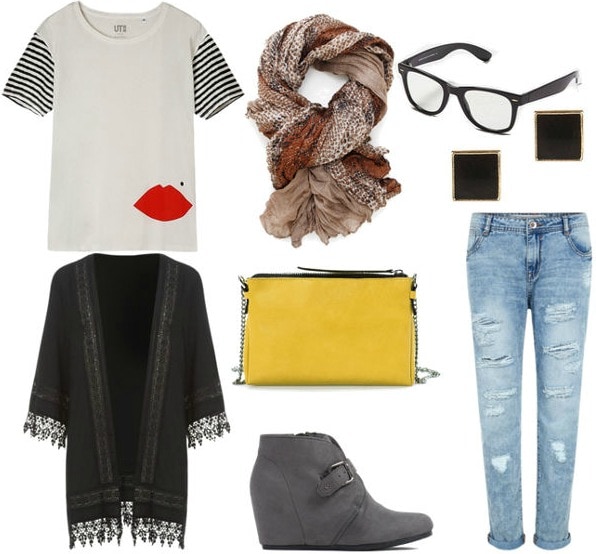 Product Info: Boots, Jeans, Tee, Bag, Scarf, Earrings, Glasses
This last look is a combo of my favorite things to wear right now. Floral kimonos were big for spring and summer, but I love how a dramatic solid-colored one looks for fall. Equally as dramatic are non-prescription glasses that will make you look as artsy and worldly as you'll feel in a flowing kimono and tattered pants. Like a world traveler with a great sense of style.
The sleek bag and circle scarf continue to play up that trendy vibe, and I really like the cool combination of yellow and snake print.
Your thoughts?
My favorite part about all these looks are how easy they will be to recreate this fall! After all, who doesn't have a favorite pair of jeans, boots, and a graphic tee they want to jazz up?
What do you think? Did any of these looks strike you in particular? Any trends you want me to touch on in future editions of "One Outfit, Three Ways"? Please let me know, and happy shopping!