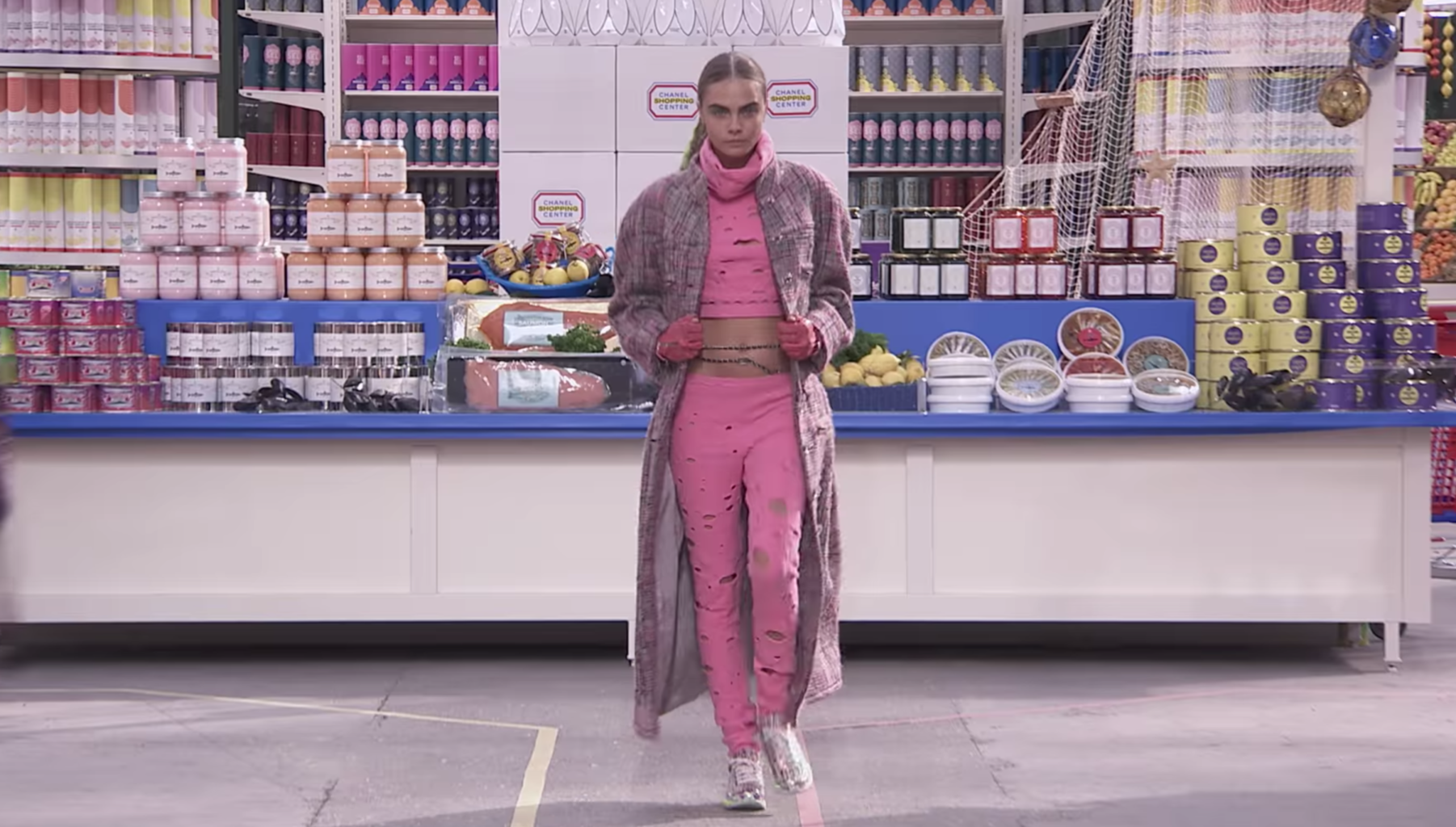 Runway shows have been a staple of the fashion industry ever since the very first one in 1943. In the years that have passed since then, runway shows have gotten increasingly elaborate, as fashion house budgets rise.
Every season, fashion houses are challenged to top themselves and we get to witness the jaw-dropping results.
Today, I'm breaking down some of the coolest runway shows to ever exist. There have been tons of awesome themed fashion shows over the years, but the five best ones actually happened during the past decade.
Also read: Outer Banks Outfit: Fashion Guide & Tips Inspired by the Netflix Show
Whether you're fashion-obsessed like me or are planning your own fashion show and need some fashion show theme ideas, I've got you covered today.
Here are the top five best fashion show themes of the past decade (but really, of all time, if you ask me):
1. Space Theme: Chanel Fall/Winter 2017
This is one of the coolest fashion show themes ever! Chanel always goes big when it comes to runway shows and they most definitely did not disappoint with the space fashion theme at their Fall/Winter 2017 show. The display included a rocket ship in the center of the venue, and Elton John's "Rocket Man" even played during the finale after Karl Lagerfeld pushed the "launch" button!
The Chanel F/W 2017 collection was full of futuristic looks that included some items that have never been seen before! Chanel truly succeeded in establishing a show-stopping collection to go along with their epic runway show.
2. Escalator Runway: Louis Vuitton Spring/Summer 2013
Okay, this one might be hard to recreate (unless you're holding a runway show at a mall), but we have to include it for its epic-ness. This next runway is show-stopping in more ways than one! If the bold color and pattern scheme wasn't enough, Louis Vuitton's Spring/Summer 2013 runway show added an entire set of escalators straight onto the runway.
Back in 2013, runway shows weren't at the level of extra that they are today, so this show was a true feat that paid off for Louis Vuitton. The show was technologically advanced, as well as visually groundbreaking. The organizers gave models a dramatic entrance while also carrying the bold designs from the collection onto the stairs, creating a balanced and cohesive look.
Collection-wise, models rocked bold checkerboard prints as well as solids in hues of black, taupe, and bright canary yellow. Both the patterns and hairstyles drew from 1960s mod and really encapsulated what Louis Vuitton was trying to accomplish.
3. Beach Theme: Tommy Hilfiger Spring/Summer 2016
The third fashion theme channels one of the best things ever, a fun day at the beach! Led by Gigi Hadid, a killer group of supermodels strutted through a makeshift beach at the Tommy Hilfiger Spring/Summer 2016 show. 
The brand built an entire mini-beach for this runway show complete with its own boardwalk that worked as the actual runway. Tommy Hilfiger drew from Jamaican influences to create this resort line and did not disappoint. The show even had a reggae soundtrack.
Collection-wise, it was mostly swimwear. But a few of the looks included actual clothing and not just a bathing suit. The use of color-blocking with various trims really accentuated the theme behind this show and tied it all together.
4. Construction Zone Theme: Moschino Spring/Summer 2016
This next show might not be as elaborate as the first few; however, the theme is so out there and different that it definitely had to qualify for our list. Back in 2016, Moschino collaborated with Jeremy Scott to produce this chic construction zone theme for their Spring/Summer 2016 runway show.
Not only did they pull out all the stops for this ultra-unique fashion show theme, they also made sure to replicate this theme in the clothes they sent down the runway! With pops of bold yellows, reds, and oranges, Jeremy Scott and Moschino truly created an experience.
Fashion-wise, the clothes stuck to the construction theme — many of the pieces looked like they were made of caution tape and even the shoes looked like they were made of traffic cones! So cool and true to Jeremy Scott's irreverent style.
5. Grocery Store Theme: Chanel Fall/Winter 2014
For the final show, I knew I wanted to end with another Chanel show. Chanel always goes above and beyond and that's why they have two shows in the top five. This show caused a lot of buzz when it happened — it was all over fashion sites and even hit the mainstream TV news!
The grocery store theme that Chanel chose for their Fall/Winter 2014 line was nothing that had never been seen before. It was show-stopping and awe-inspiring and left everyone in attendance speechless.
The set included tons of fun details, from milk cartons embellished with the classic Chanel C's to cheese labeled "Cambonay," a nod to Chanel's flagship store on Rue Cambon in Paris. Models even carried Chanel shopping baskets, which were available for sale starting at $12,500.
Fashion-wise, the looks varied, but always included classic Chanel details. The pink outfit worn by Cara Delevingne in the video thumbnail is a nod to Chanel's classic jacquard style with a touch of new age distressing. The color scheme for this show included a lot of bright pops of pink that stood out against the neutral background.
Which fashion show theme is your favorite?
I hope all enjoyed this post — those were my top 5 best fashion show themes of the 21st century! Although it was hard to choose, these themes stood out from the pack and will be remembered in the fashion industry for years to come. 
What's your favorite fashion show theme of all time? Have you ever thrown a themed fashion show? If you have any other favorite fashion shows, definitely don't hesitate to add your favs in the comments!
If you love this post on fashion show themes, you might want to read our related posts below —