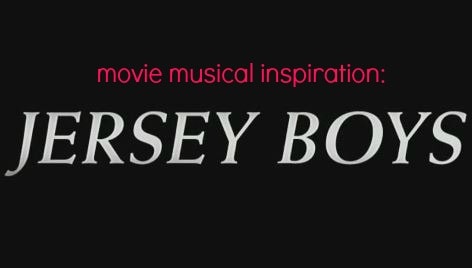 Since finals week is fast-approaching, I've decided to show you guys a few outfit ideas that will keep you cozy and comfy, whether you're downing your fourth cup of coffee for the night or yelling at the library printer that just ran out of ink. (Believe me, we've all been there.) Read on to see all the outfits, as well as some of my other finals week faves:
1. Smart Stripes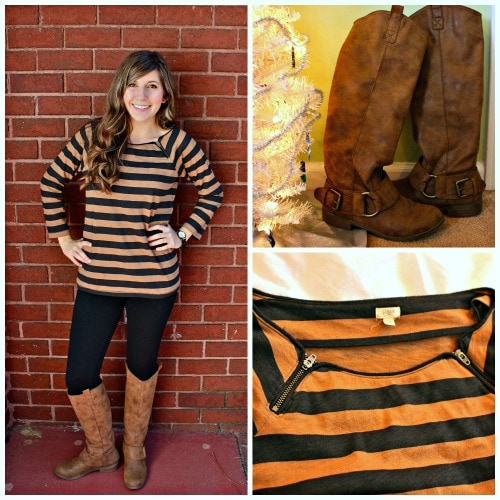 Shop this look:
Running late? You can't go wrong with a striped shirt, especially one with a classic boatneck and edgy zippers. Nothing is easier in winter – besides black pants and tall boots, which is exactly what I opted to wear with my striped top. It's like the trifecta of comfiness.
2. Snuggly Snowflake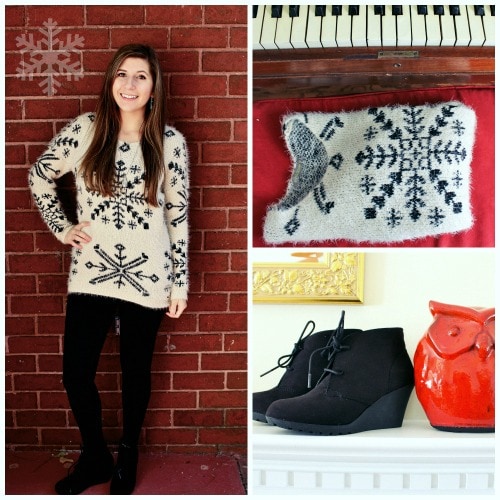 Shop this look:
What gets me through the drudge of finals is dreaming of Christmas (or any winter holiday you celebrate!). This sweater is made from the softest material in the world. To keep it comfy, I'm wearing leggings, and ankle boots with wedges. These are the comfier cousin of heeled boots!
3. Who Works Out in December?!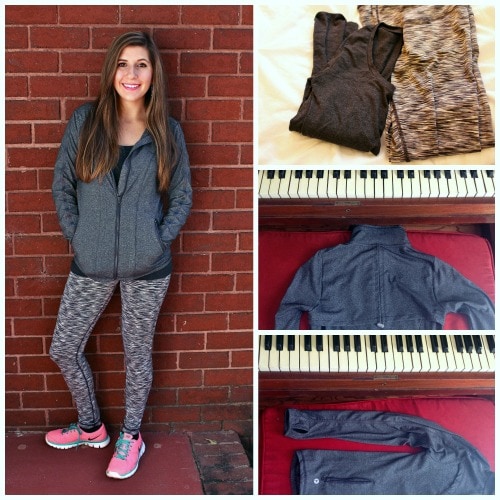 Shop this look:
I know you're thinking: who works out in December? It's time for gingerbread lattes, sugar cookies, and pumpkin bread. Exercising your mind is important, but you have to exercise your body too! You're probably going to be studying in the next two weeks, but when you take a break, instead of watching New Girl (sidenote: am I the only one that doesn't support Nick and Jess together?), I challenge you to work out. You'll feel motivated and proud of yourself! Plus, next month, after New Year's, the gym will be packed! You've got a head start if you start going now. Instead of normal black leggings, or sweats and a t-shirt, I love patterned running leggings. I also adore this jacket because it has thumb holes — it keeps your hands warm and the sleeves don't bunch up if you put a thicker jacket on top.
Bonus! A Few Finals Favorites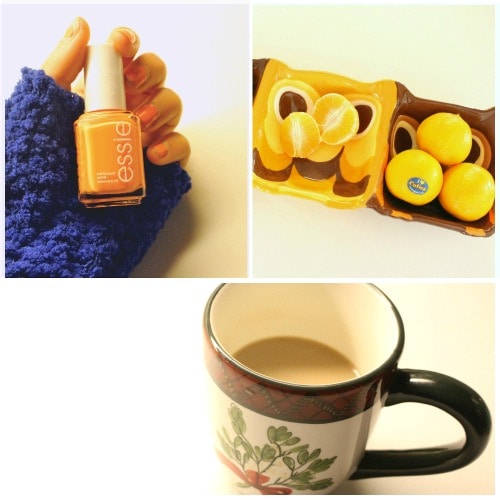 Shop my finals favorites:
I thought I'd sneak in some extra favorites! For finals, I like to wear happy nail polish shades — my all time favorite nail polish is a creamy, orange-y peach color from Essie called Tart Deco.My favorite snacks to eat on the go are clementines, and holiday mugs make coffee taste better for late study sessions.
Thoughts?
Which of the outfits above are your favorite? Are you one of those people who wear exercise clothes to class without actually exercising? Lastly, how do you study for finals? Tell me what you think by leaving a comment!