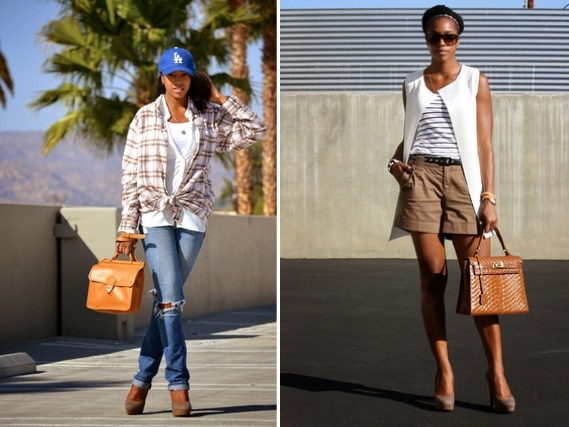 Photos Courtesy of Marquise Christina Brown
According to an inspirational Instagram post, Diana Vreeland once said, "It's not about what you wear, but the way you wear it." When you click through her blog Honey In My Heels, it's clear that Marquise C. Brown has style – but her confidence is what shines through best of all.
Here, Marquise shares which blogger inspired her to start blogging, how her internship in London shaped her style, and what it's like to be a fashion design major!
The Interview:
College Fashion: Tell us a little bit about yourself.
Marquise C. Brown: My name is a Marquise C. Brown. I am an LA-based actress, fashion blogger, founder of the blog Honey In My Heels, and fashion designer.
CF: How would you define your style?
MB: My style is eclectic with a hint of vintage inspiration.
CF: How did you find your style?
MB: My style has always been pretty eclectic, but over time, and a lot of style experimentation, I've had the opportunity to discover which silhouettes work best for my body type.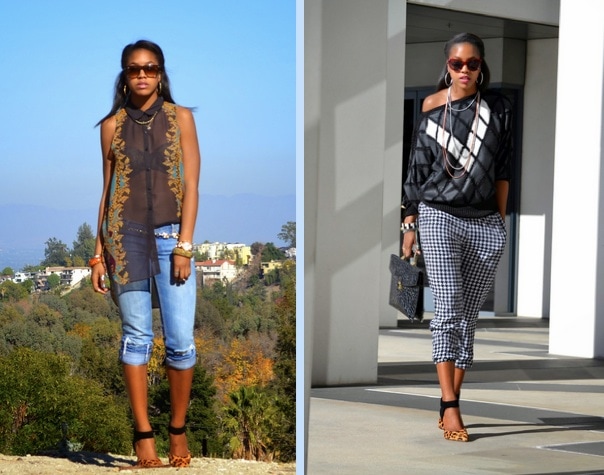 Photos Courtesy of Marquise Christina Brown
CF: What inspired you to start a style blog? What motivates you?
MB: After completing a month fashion design internship in London, and seeing their street style, I finally understood that fashion and style are open to interpretation. I came back to Los Angeles inspired and ready to start making my mark within the fashion industry.
I stumbled upon the blog Song of Style and knew that THAT was my next step, and it has been an enjoyable, enlightening journey ever since! I'm motivated by the opportunity to share my style with others and I hope through Honey In My Heels I am able to inspire someone else to pursue their passion.
CF: Did you go to college? If so, where did you go to school and what did you study? What was your college experience like?
MB: Yes, I studied fashion design at Woodbury University in Burbank, CA. My college experience was unforgettable – it was filled with late nights in our design studios, which allowed my to create invaluable lasting relationships.
CF: Where do you like to shop?
MB: I shop from various stores, like H&M, ASOS, Nordstrom, Topshop, DSW, … the list goes on :). I also like to pop my head into my local thrift stores to find some unique vintage pieces.
CF: What advice do you have for being stylish on a college budget?
MB: Shop the sales! The sale section was my best friend when I was in college, and still is to this day. Also, check out some consignment stores, like Buffalo Exchange or Crossroads Trading Co. I've found garments in there that have still had tags on them (not every time, but it's happened).
CF: What are your favorite pieces in your wardrobe?
MB: My favorite pieces in my wardrobe right now would be my collection of baseball hats, this vintage Nine West leather crossbody bag that I found during one of my thrifting ventures, as well as a leather front Bailey 44 dress that I recently purchased from a sample sale.
CF: Who/what inspires you most?
MB: My late grandmother was a fashion maven back in the day. My mother would tell me stories about how my grandmother would make new church dresses and general clothing for my mother and aunt quite frequently. When she passed, she left me with all of her supplies and fabric, which initially sparked my desire to pursue fashion design. In conjunction with my sentimental inspiration, I'm inspired by textures, traveling, menswear, the '70s, '80s and the '90s.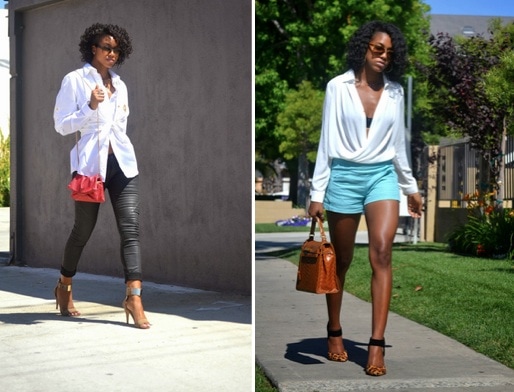 Photos Courtesy of Marquise Christina Brown
CF: Any advice for new bloggers or college students starting a blog?
MB: Have fun with it, be true to yourself, and don't be afraid to experiment with different styles until you find what feels comfortable for you.
CF: What's writing a blog really like? Could you describe a typical day?
MB: My days usually start at 6:30/7am and don't typically end until 11pm/12am. I start with a workout, which I find to help with the long hours I spend in front of the computer. After my workout, I head back to my home office to either work on a new post, research new trends, pin images, answer emails, plan new posts, update all of the social blogger platforms that I am affiliated with (there are quite a few), and if I have an audition that day, well, my typical day isn't so typical.
Your Thoughts?
Does Marquise's story inspire you? Have you ever visited Honey in Heels? Who should I interview next? Tell me in the comments section!