The 54th annual Grammy Awards were held last night, and all the biggest stars in music were out to celebrate. As such, we have tons of fashion to discuss! Let's get to it; below are our picks for our favorite (and least-favorite) looks of the night.
Top 5 Best-Dressed
Here are my picks for best dressed at this year's Grammy Awards, in no particular order:
Adele in Custom Giorgo Armani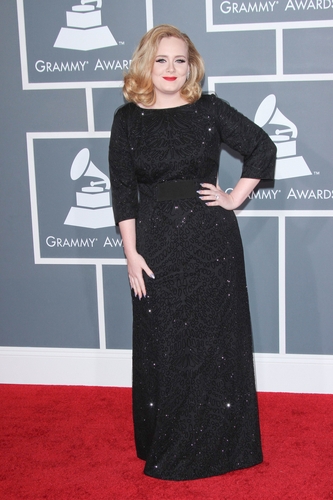 Photo: PR Photos
What a night for Adele — she won a total of six Grammys last night, including album of the year for 21! She definitely didn't disappoint in the fashion department either with this lovely custom three-quarter sleeved black sequin gown by Armani. But pictures don't do this dress justice — it looked so sparkly and glamorous as Adele was walking down the red carpet. She completed her look with a retro-inspired hairdo and a classic red lip.
Carrie Underwood in Gomez-Gracia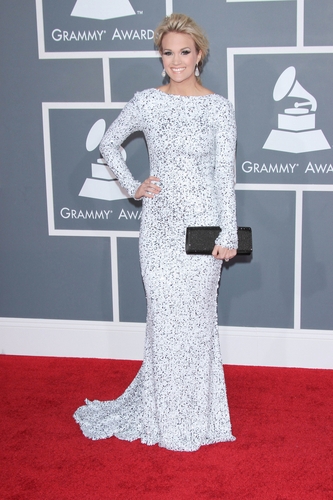 Photo: PR Photos
Carrie Underwood chose to wear a gorgeous white Gomez-Garcia gown and looked positively ethereal. While the dress looked a little conservative in the front, the cut-out back showed some skin and added a hint of sex appeal. Carrie also wore her hair pulled back into a soft and romantic 'do and accessorized with statement earrings and a black clutch.
Corinne Bailey Rae in Christian Siriano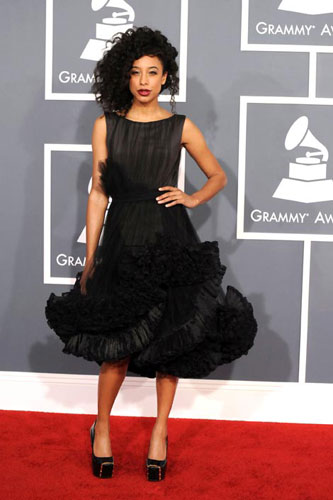 Photo: ELLE
"Best R&B Performance" winner Corinne Bailey Rae went with a fun and flirty black ruffled cocktail dress designed by Christian Siriano. This LBD had a classic-meets-quirky vibe, which Corinne complemented beautifully with sky-high platforms, a bold lip and side-swept hair.
Taylor Swift in Zuhair Murad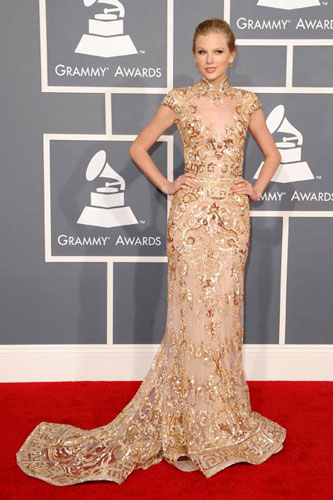 Photo: ELLE
T. Swift wears lots (and I do mean lots) of sparkly dresses, but this one really knocked it out of the ballpark for me — she looked amazing! This high-neck Zuhair Murad gown had some really interesting cut-outs and the beadwork looked absolutely exquisite. Taylor wore her hair in a no-frills bun and only accessorized with a pair delicate drop earrings, allowing her gown to be the true focus of the look.
Rihanna in Custom Armani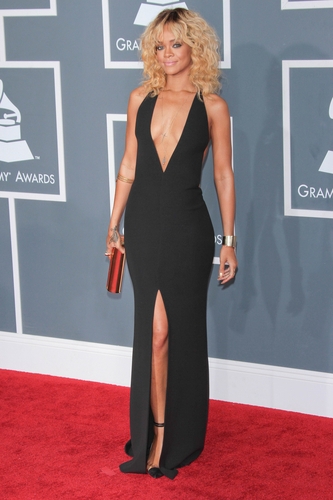 Photo: PR Photos
Rihanna absolutely killed it last night in this sleek custom-made Armani gown. The dress was backless, had a plunging neckline and a thigh-high slit, so there was a lot going on, but Rihanna pulled it off flawlessly, managing to look both sultry and glam. To finish her look, Rihanna left her hair down and accessorized with some gold jewelry and a matching clutch.
Other Notable Ensembles
Whether you loved 'em or hated 'em, here are four more looks that made a stir on the red carpet last night:
Fergie in Jean Paul Gaultier Couture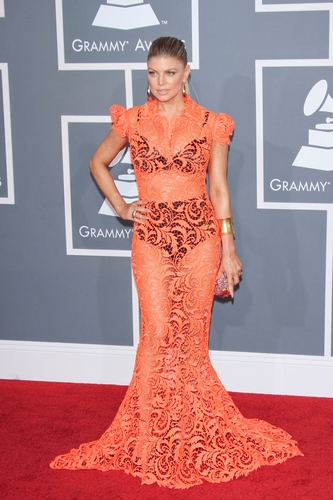 Photo: PR Photos
First of all, love that Fergie wore a super-trendy tangerine gown, but the rest of her look was sort of — uh— see through, leaving little to the imagination. Her jet black lingerie was on full display, which had many fashion commentators on the fence. Personally, we would have preferred this dress it if had been lined — what about you?
Jessie J in Julien Macdonald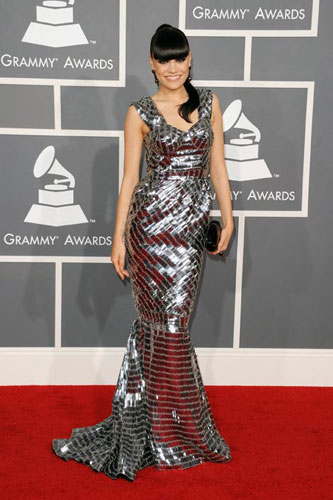 Photo: ELLE
Singer Jessie J rocked this pretty silver number designed by Julien Macdonald. The dress was covered in tiny reflective panels which gave off a sort of disco ball effect (but in a very chic way). This was another dress that looked even better on screen than in photos, as the silver panels bounced light to create a gorgeous sparkle. Jessie completed this look with a sleek ponytail and a simple black box clutch.
Katy Perry in Elie Saab Haute Couture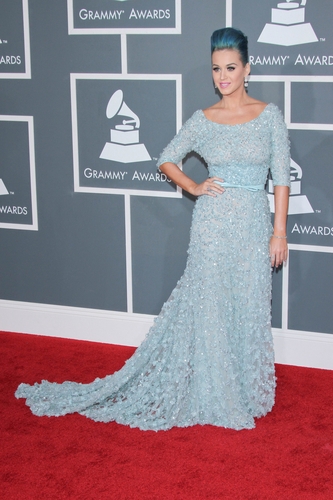 Photo: PR Photos
Katy usually tends to wear costume-y ensembles on the red carpet, but this time she went in a more glamourous direction by choosing this lovely Elie Saab gown. The backless baby blue appliqué gown featured a long train and Katy also styled her blue locks into a voluminous updo. What do you think — is color-coordinating your dress to your 'do a good or bad thing?
Lady Gaga in Custom Versace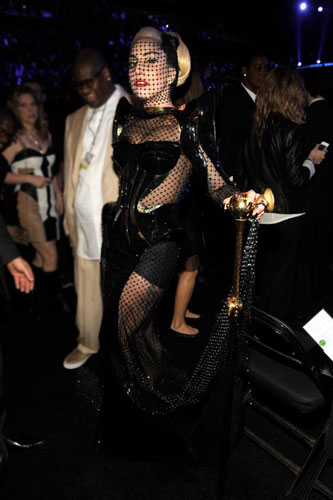 Photo: ELLE
Okay, technically Lady Gaga didn't walk the red carpet last night, but we can't have a fashion recap without mentioning one of Gaga's one-of-a-kind looks, right? At the ceremony, Gaga was spotted wearing this black fishnet ensemble complete with a gold accents and a matching scepter. While this look would be considered tame next to last year's egg costume, it's still pretty out there — what did you think of Gaga's look?
Least Favorite Look
You know we can't love everything we see on the red carpet. Here's one look that I wasn't a fan of at last night's event.
Nicki Minaj in Custom Versace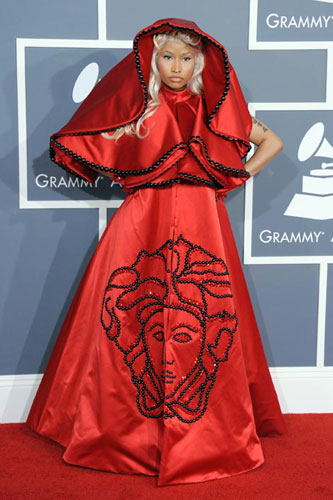 Photo: ELLE
Nicki's known for wearing lots of statement-making ensembles, but this one was just bizarre. She showed up on the red carpet in this oversized red hooded cape and brought along a man dressed as the pope for good measure. Now, I love me some risky and experimental fashion, but this was way too over-the-top for me. What did you think Nicki's look?
Your thoughts?
Now that you know what we think, tell us your opinion. Did you watch the Grammys last night? Who wins your pick for best-dressed? Any looks you didn't like? Be sure to leave a comment and let us know what you think!