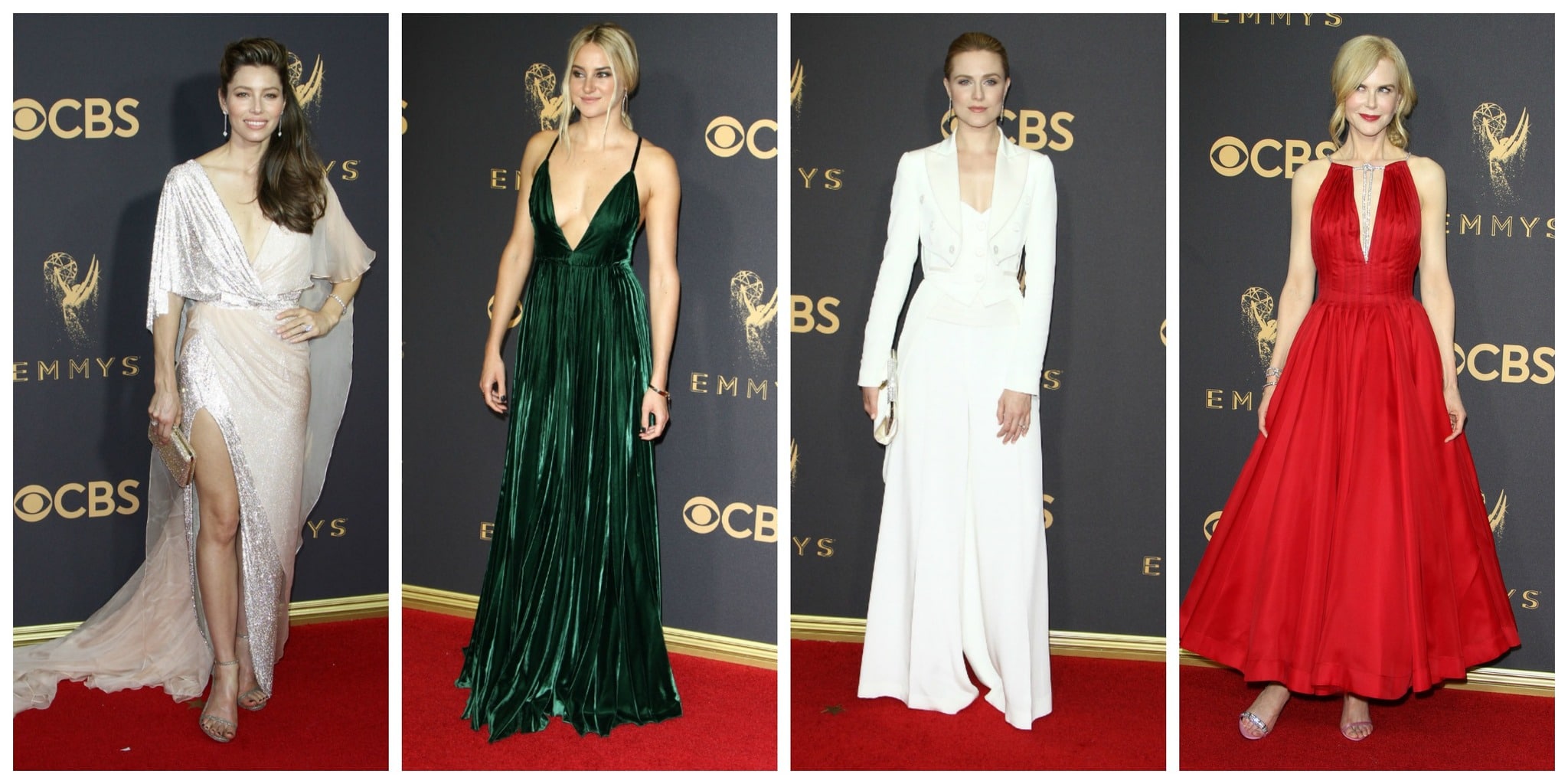 The 2017 Emmy Awards were last night, and between all the political jokes, rudely cut-off speeches, strides toward true diversity, and appearances from the TV greats, there was plenty of gorgeous fashion to be seen.
Below, I'll take you guys through my personal fashion faves — the looks I think were the best of the night. Read on for my Emmys 2017 best-dressed picks!
One note about today's list. You'll notice that I did away with "least favorite look". I was waffling over this choice, but ultimately I felt bad doing it, which guided my choice. In addition, I truly don't think the idea of "worst dressed" jives with what CF stands for, namely ensuring every woman feels fabulous in whatever she wants to wear.
So, read on for my favorite looks of the night and some other notable looks we need to discuss!
Top Five Best Dressed
Here are my favorite looks of the night, in no particular order:
Millie Bobby Brown in Calvin Klein by Appointment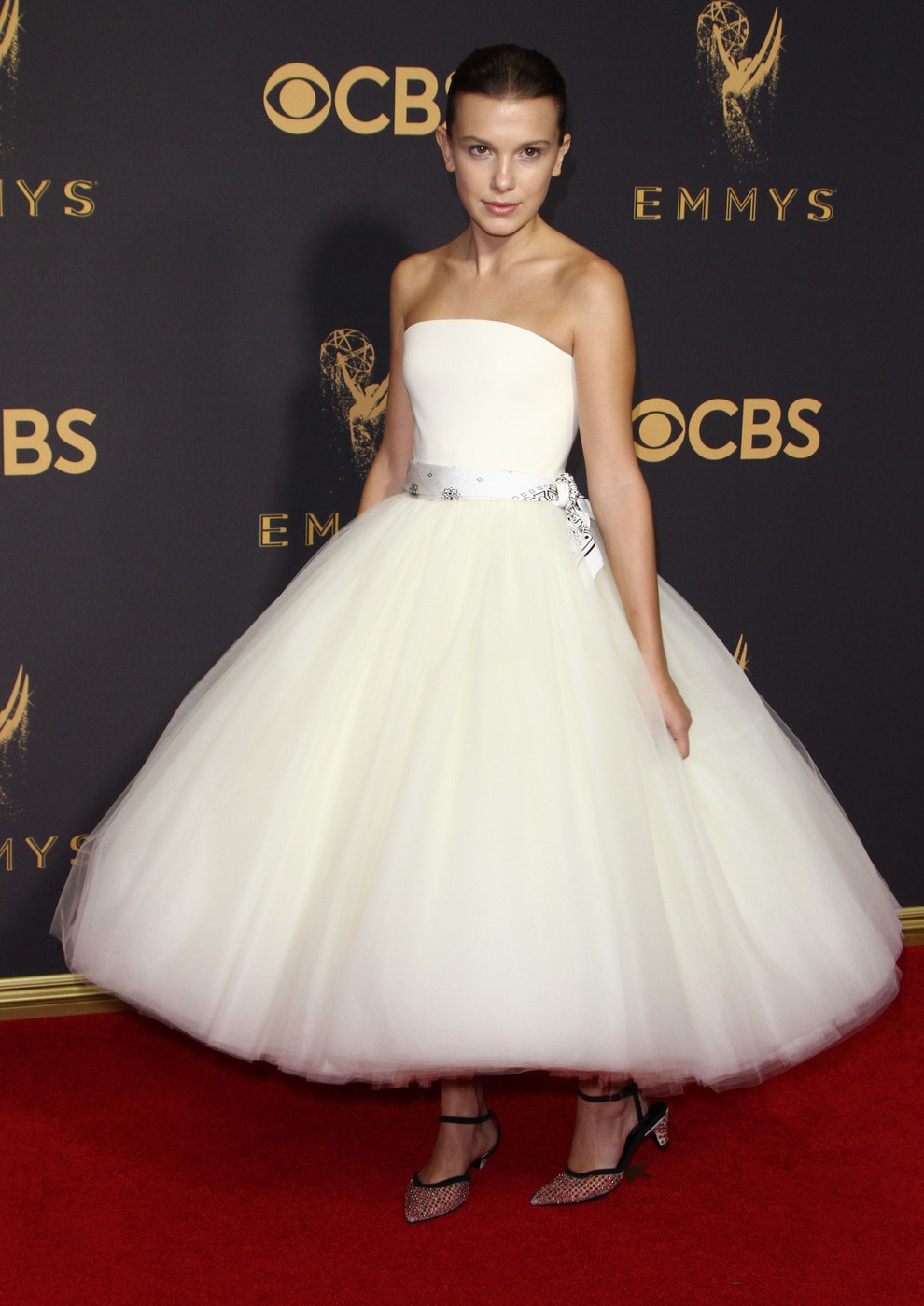 Millie Bobby Brown may only be 13 years old, but her style is miles ahead of not only her peers but women twice her age. She looked darling in a Raf Simons-designed Calvin Klein by Appointment gown.
I especially love the details on this look, from the satin bandana as a belt to the sparkly ankle strap heels. Additionally, the lack of jewelry kept this simple, sweet, and age-appropriate. It's the perfect look for Millie's fun personality.
Yara Shahidi in Prada
Had you told me yesterday morning that something "woodland fairy chic" would make my best-dressed list, I would have laughed. But Yara Shahidi killed it in a look that could be described as just that.
Yara looked young, fun, and fashion-forward in this glittering Prada gown. She made our best-dressed list for the SAG awards this year, and her reign at the top shows no signs of stopping. Yara is totally a young fashion icon to watch.
Jessica Biel in Ralph and Russo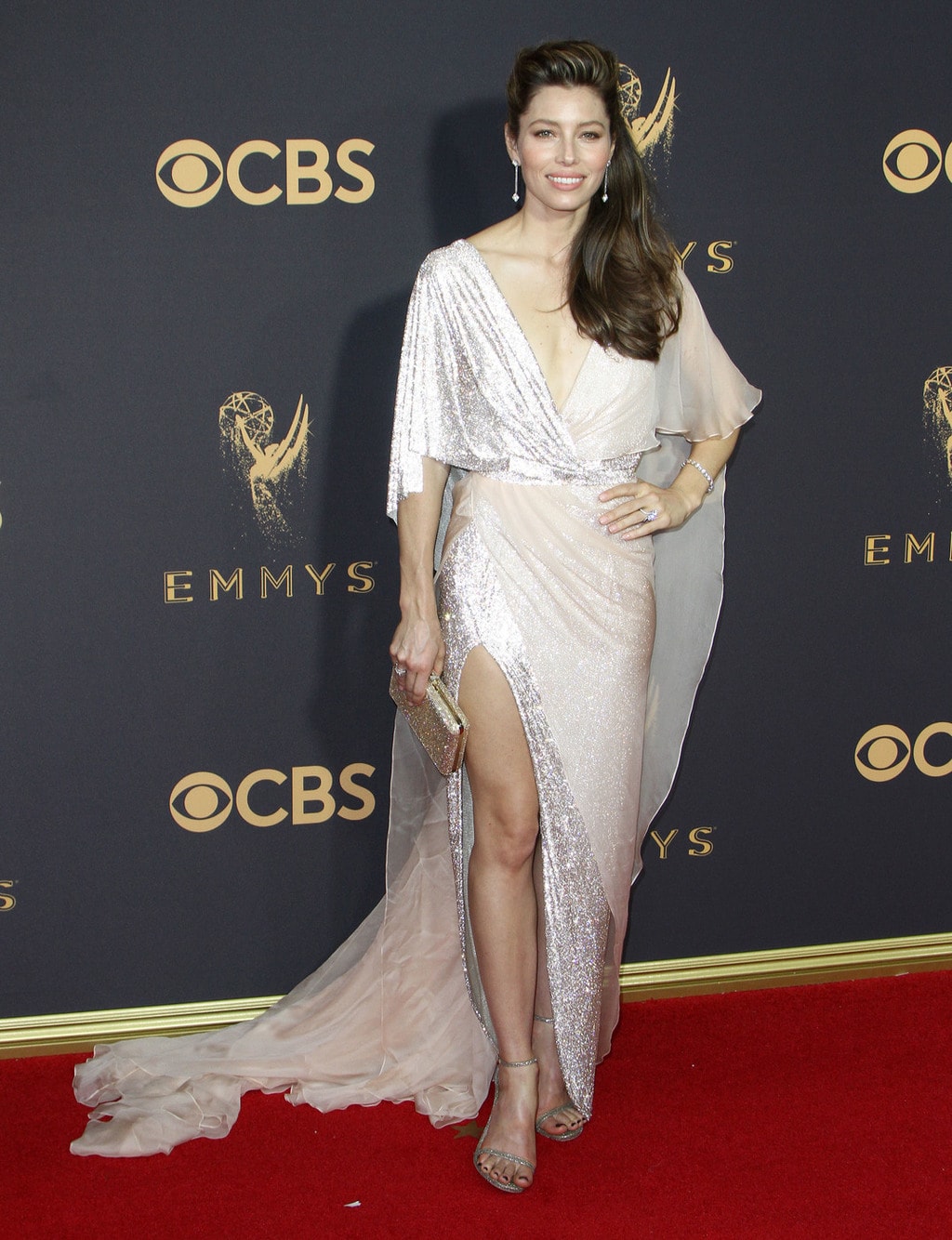 Jessica Biel doesn't usually wow me on the red carpet, but this dress blew me away. I wasn't the hugest fan of her ultra-voluminous hair, but the gorgeous Ralph and Russo gown more than made up for it.
This photo totally doesn't do her gown justice — when you see it on video, it's a gorgeous blush pink that complements Jessica's skin tone. (Here, it appears to wash her out a bit.) This was a slam dunk for Jessica Biel.
Issa Rae in Custom Vera Wang
Issa Rae is a fashion icon to watch. (If you're not already watching Insecure on HBO, you need to be!) As the lead actress in a hit TV show AND the new face of Cover Girl, Issa's star is on the rise, and her look from last night was perfect for an up-and-coming red carpet icon.
Rocking Custom Vera Wang, Issa showed off one of the hottest trends of the season, head-to-toe red. It's certainly a bold choice, but Issa pulled it off to perfection.
Evan Rachel Wood in Moschino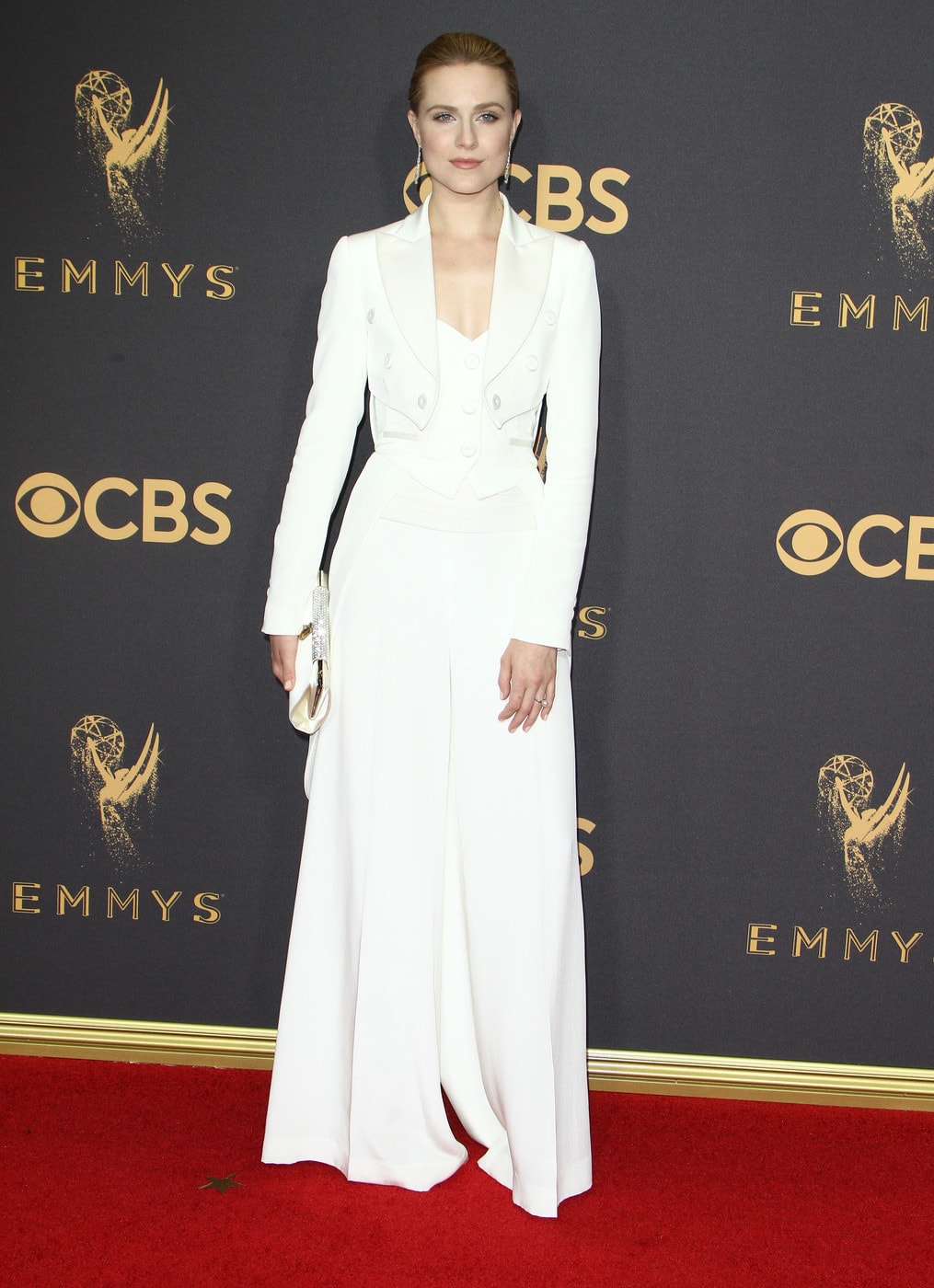 True to recent form, Evan Rachel Wood rocked yet another amazing suit on the red carpet, this time by Moschino.
I loved this Jeremy Scott-designed wide leg tuxedo. How gorgeous! If you ask me, Evan doesn't need to wear anything but suits ever again. She rocks them like no one else. This look was no exception — just perfect.
Other Noteworthy Looks
Shailene Woodley in Ralph Lauren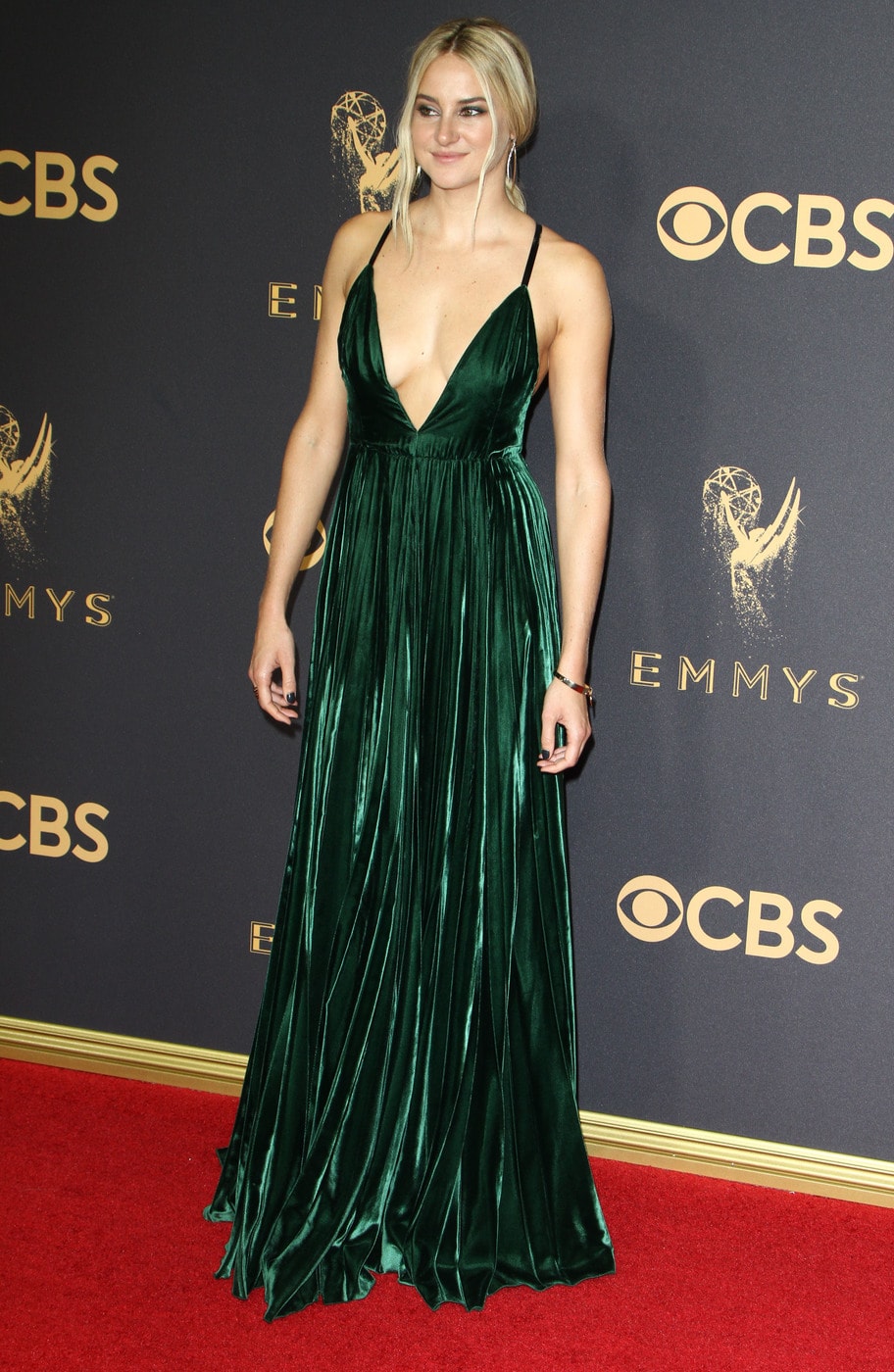 J'adore Shailene Woodley's green velvet gown by Ralph Lauren. It might be the most perfect "fall" gown ever. It's simple, luxurious, and sexy in an effortless way.
I also love this gown because it's ideal for Shailene's boho chic sense of style. It's nice to see stars stay true to themselves on the red carpet, and this look was Shailene to a T.
Tessa Thompson in Rosie Assoulin
Once again, if someone would have told me I'd be obsessed with a metallic rainbow gown at the beginning of the night, I would have laughed. However, Tessa Thompson blew me away!
Tessa pulls off this Rosie Assoulin look like no one else could. It's so high-fashion and unexpected on her. On a night when so many people went for white or metallic gowns, it was great to see such a bold use of color.
Sofia Vergara in Mark Zunino
Calling all Ballet fans! Sofia Vergara channeled Swan Lake to perfection in this gown by bridal designer Mark Zunino.
Sofia explained on the red carpet that she loves Mark because he knows how to dress a woman with curves, a fact that's certainly obvious just looking at this dress. It fits Sofia perfectly, almost like it was custom molded to her body.
Nicole Kidman in Calvin Klein by Appointment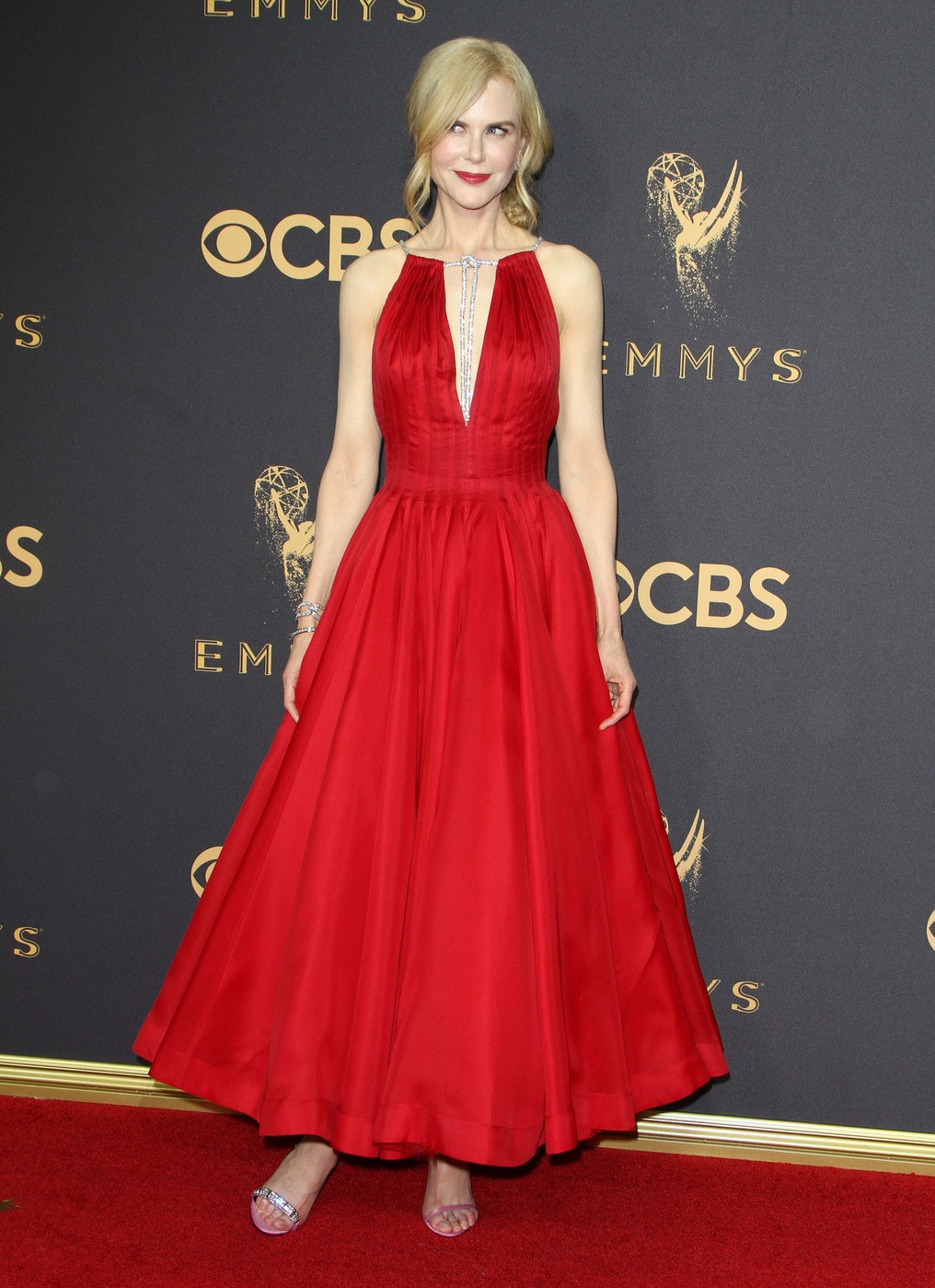 Nicole Kidman won big last night, taking home the Emmy for Lead Actress in a Drama Series. She also wore the perfect look for such an exciting night — this dramatic gown from Calvin Klein by Appointment.
There's a lot to take in with this look. First, note that Nicole's lip color perfectly matches her gown. Pro move. Second, take a look at Nicole's shoes! Not only are they pink, which is "supposed" to clash with red but in fact looks awesome, but they're also mismatched! Love, love, love the mismatched shoe look. It's such a fun little risk for a red carpet.
Basically, the details on this make it perfect. It's the ideal look for an Emmy award winning leading lady.
Priyanka Chopra in Balmain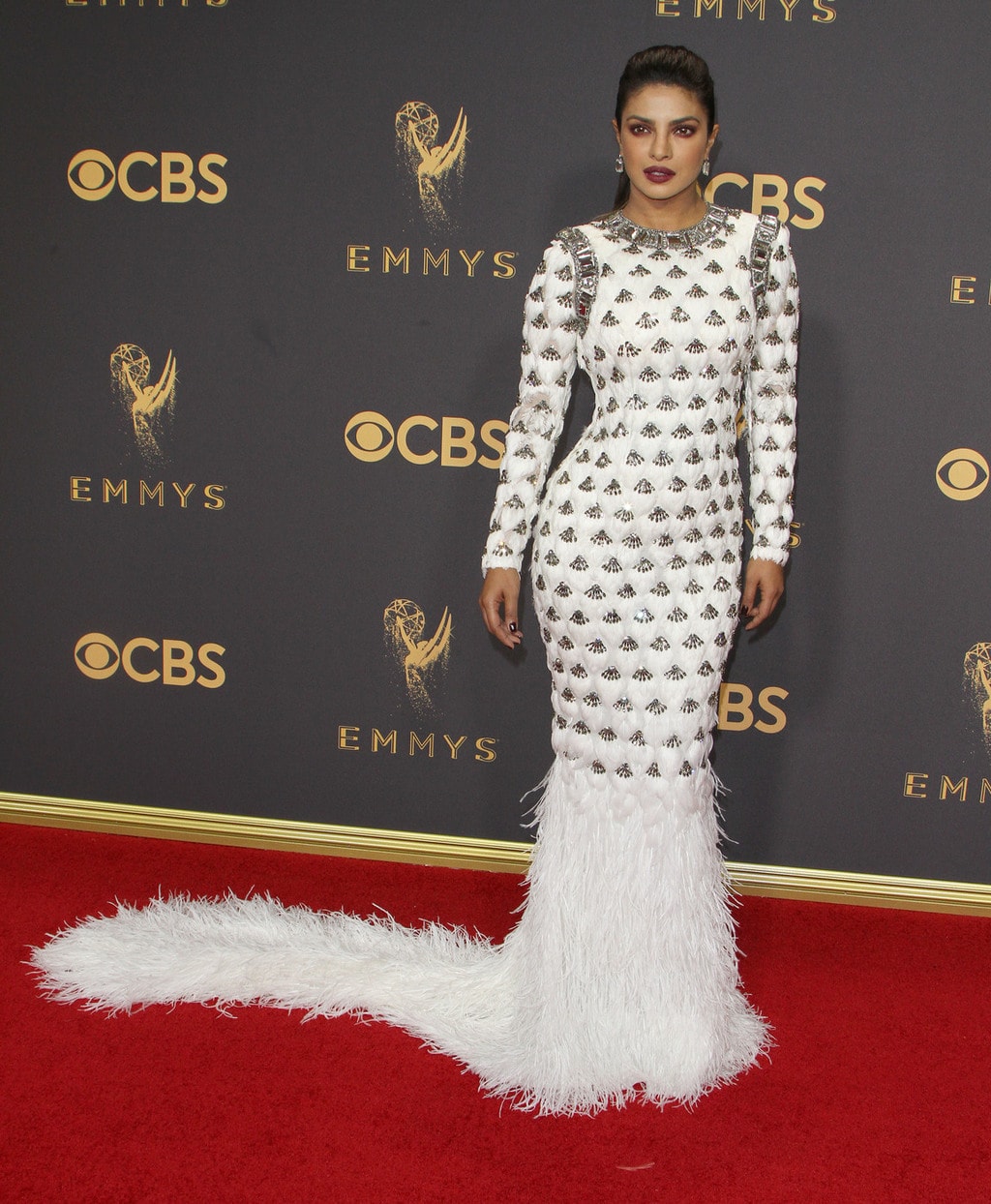 This was another look I wouldn't have loved on anyone else. Priyanka Chopra looked white hot in this bejeweled, feathered Balmain gown. This gown has a lot going on, but I love how Priyanka balanced it out with sleek hair and monochromatic makeup.
And those emerald cut diamond earrings! Swoon.
What was your favorite Emmys 2017 look?
Did your favorite make my best dressed list? Who rocked your favorite look of the night? Tell me below in the comments.