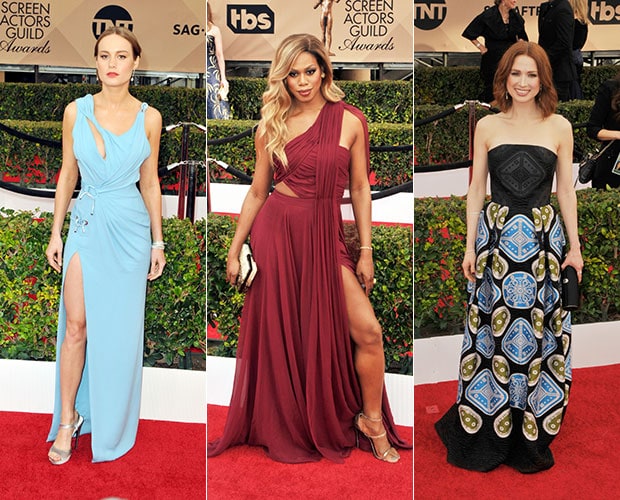 Awards season is well under way! This Saturday, the 2016 Screen Actor's Guild Awards took place in Hollywood and there were tons of gorgeous red carpet looks to love. In case you missed them, we're recapping all the best ones below:
Top 5 Best Dressed
In no real order (although I will admit Alicia Vikander was my favorite of the night), here are my top 5 favorite looks:
Alicia Vikander in Louis Vuitton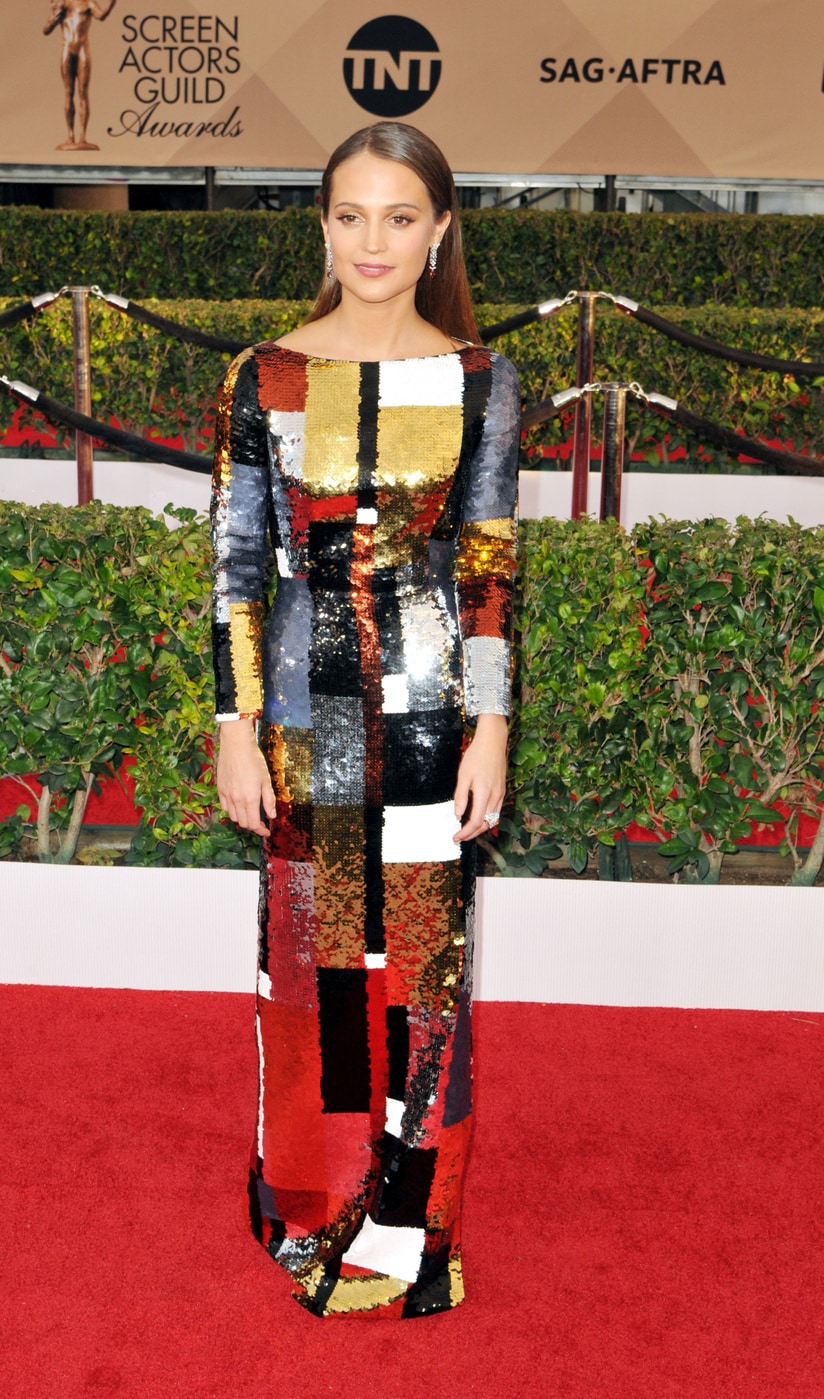 Female Actress in a Supporting Role winner Alicia Vikander stunned once again in Louis Vuitton. (She's the current face of the brand so she's been wearing the house to every red carpet.) This time around, she opted for a gorgeous sequined gown with a modern block pattern.
I absolutely loved this look because it was so unique – I've never seen anything similar on a red carpet! Alicia pulled it off flawlessly, accessorizing with drop earrings and a serious statement cocktail ring.
Kiernan Shipka in Erdem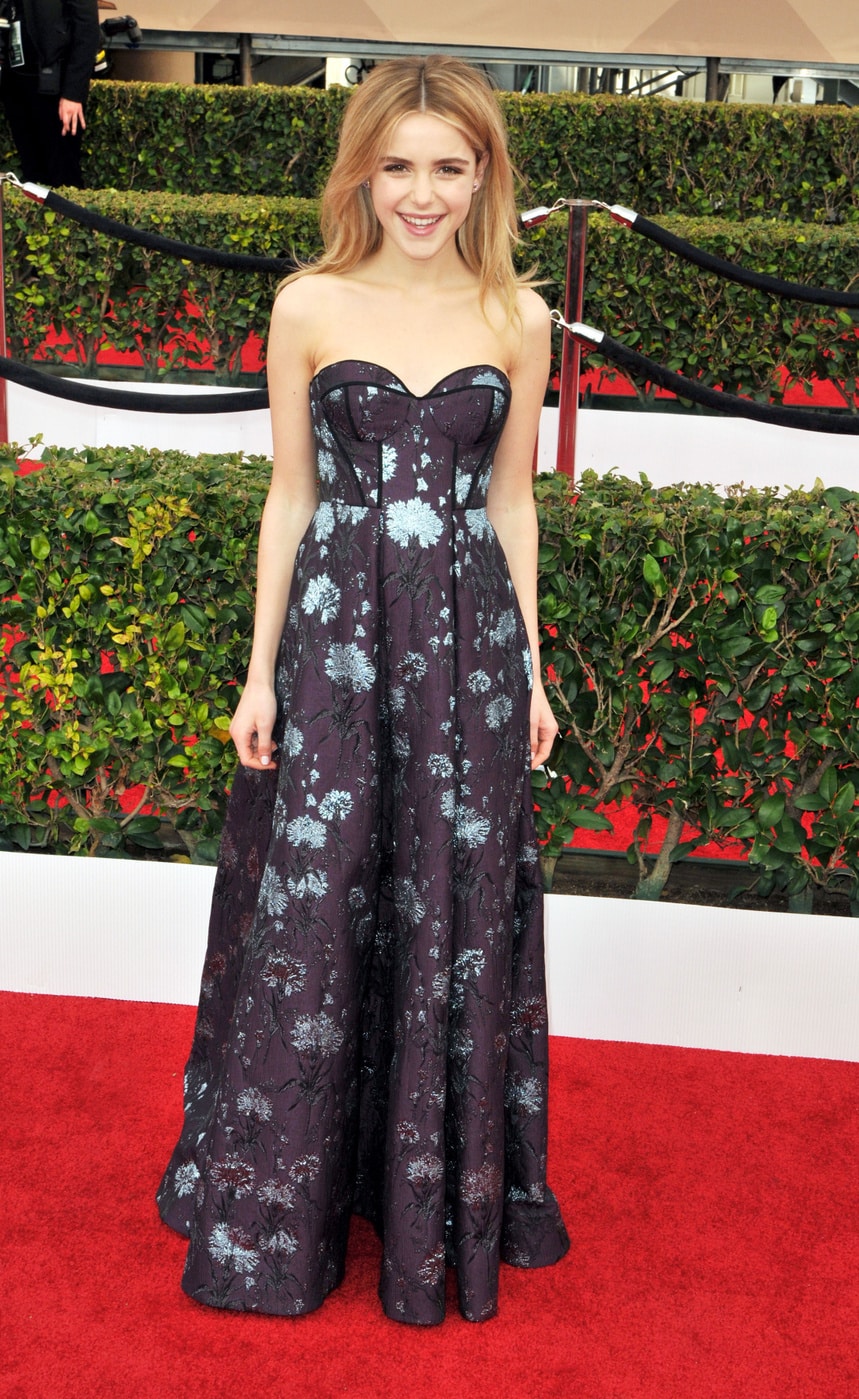 Mad Men star Kiernan Shipka looked every bit the Hollywood princess in strapless flower printed Erdem. The purple and turquoise gown boasted a sweetheart neckline and gorgeous fitted bodice. Kiernan paired her look with messy, undone waves and minimal makeup.
This look blew me away when I first saw it on my TV screen – who knew that Kiernan was such a fashion icon? She looked comfortable, beautiful, and age-appropriate, which can be a tough balance to strike. She'll definitely be one to watch on future red carpets!
Eva Longoria in Julien Macdonald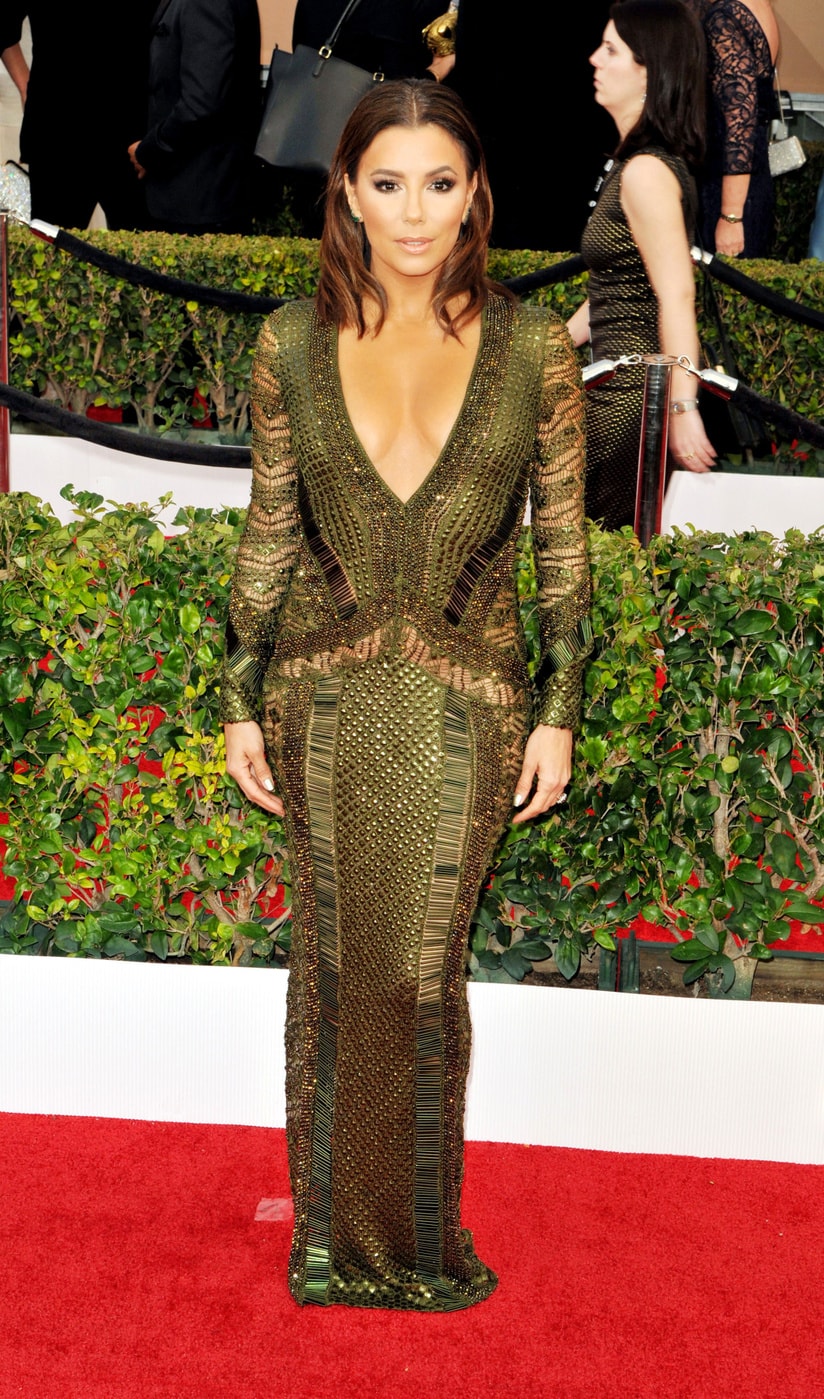 Eva Longoria smoldered in a super sexy embellished Julien Macdonald gown with a deep V cut and open back detailing. Eva accented her look with sleek waves and emerald earrings.
For how much this dress had going on (beading, sequins, cutouts, a low neckline), it was surprisingly balanced due to its monochrome coloring. I also love that Eva chose matching earrings to keep the look going. For such an overtly sexy look, it was surprisingly sophisticated. Well done, Eva!
Laverne Cox in Prabal Gurung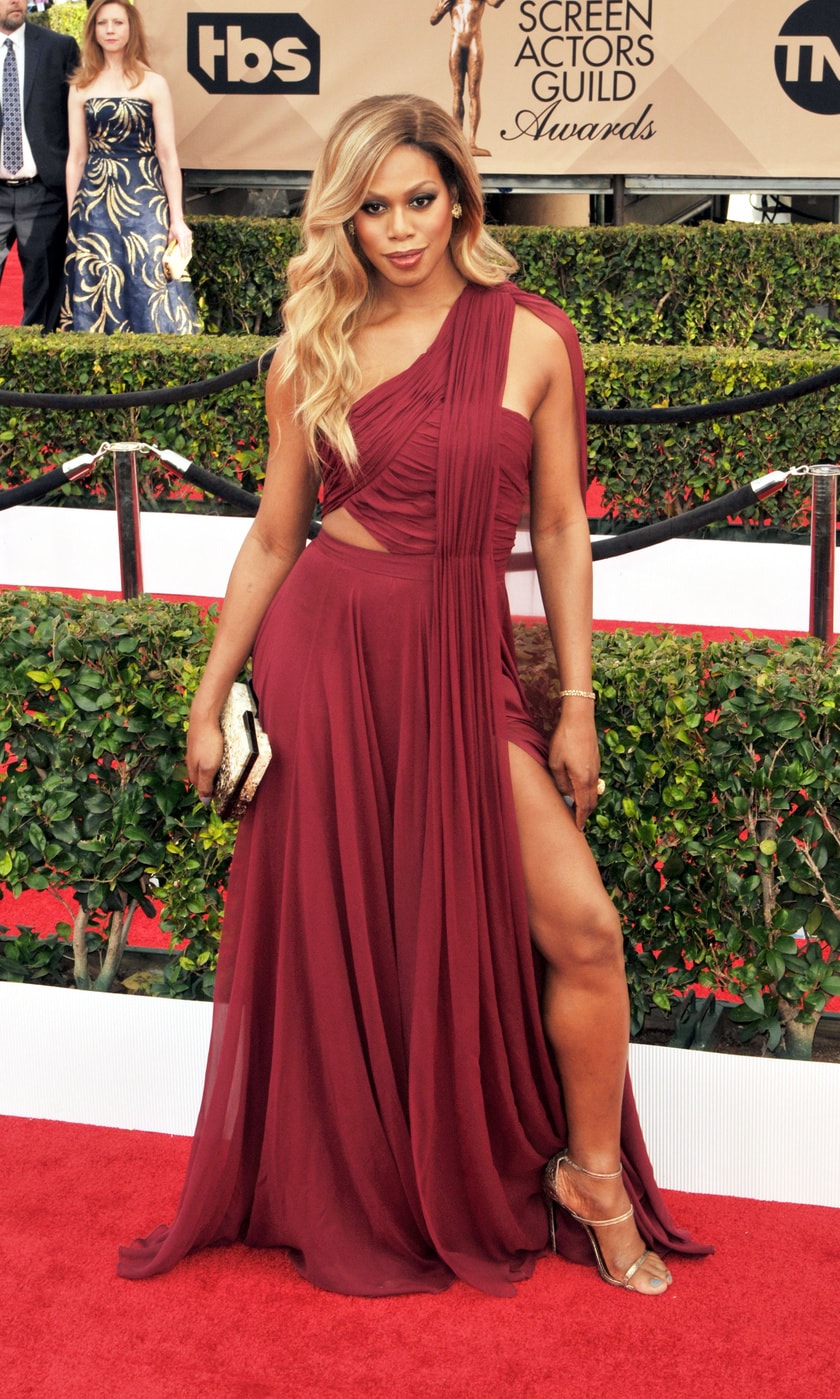 Orange is the New Black star Laverne Cox looked incredible in a grecian-inspired Prabal Gurung gown. Her draped dress included a seriously sexy thigh-high slit, which showed off Laverne's killer metallic heels.
Laverne is always one to watch on a red carpet and this week she knocked it out of the park for me. From the gorgeous draping of her gown to her sparkling metallic accessories, everything about her ensemble screamed old Hollywood glamour. There's nothing I don't love about this look.
Other Noteworthy Looks
Brie Larson in Atelier Versace
Every fashion commentator was buzzing about Brie Larson's unconventional Atelier Versace dress. Featuring knotted rope detailing and a coral suspender detail on the back, this pale blue gown stood out from the crowd in a major way.
This look had commentators on the fence – some liked the unique choice and others said they just didn't get it. Personally, I liked this look and appreciated that Brie took a risk. The gown's color was lovely with her skin tone and its fit was spot on. Plus, let's be real: She's so gorgeous that she can pull off anything. Did you like Brie's look, too?
Viola Davis in Zac Posen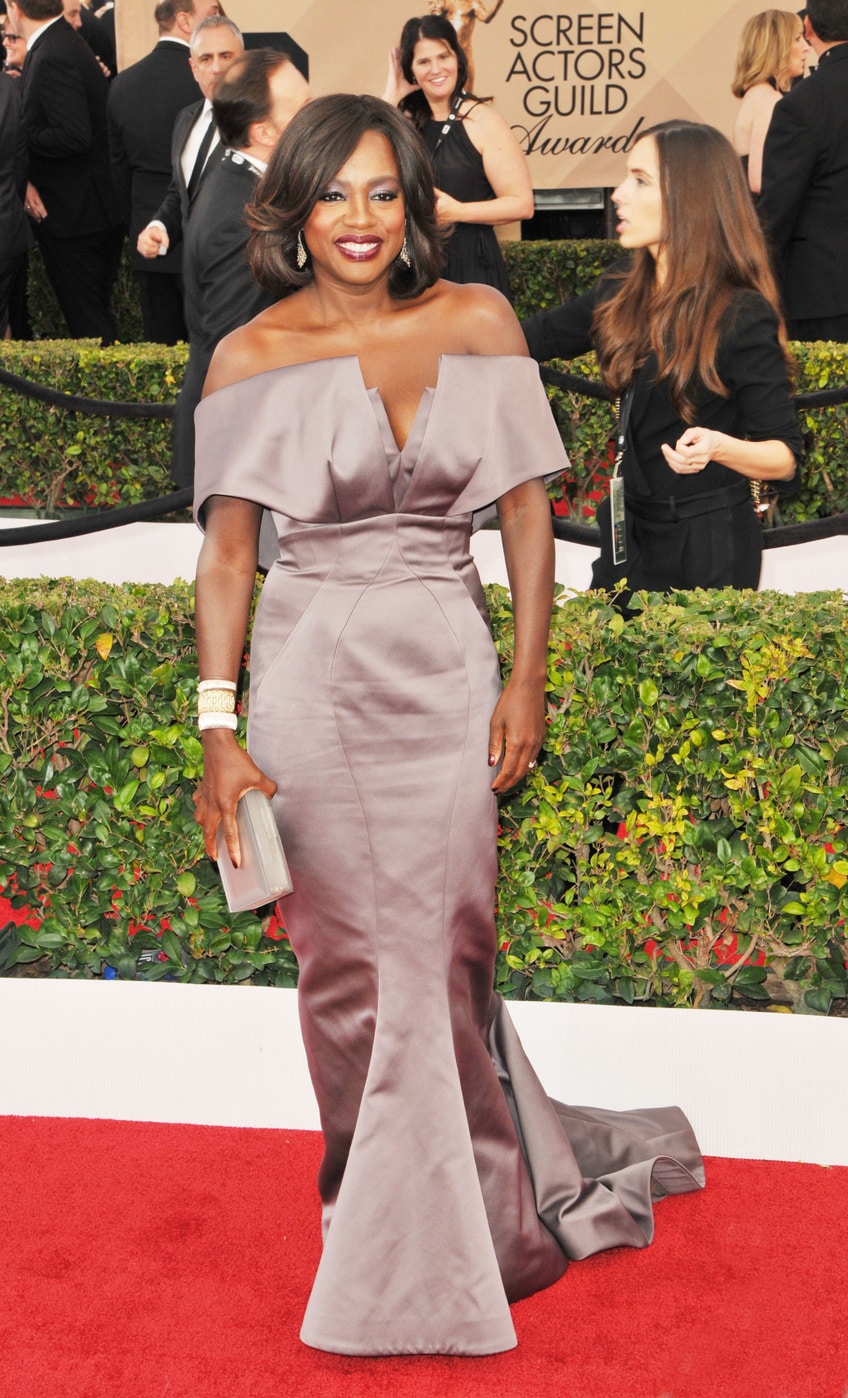 Fashion darling Viola Davis wowed once again in a dove gray satin Zac Posen number. She accessorized her off-the-shoulder, mermaid cut gown with a big stack of bangles, statement earrings, and a lucite clutch.
While this wasn't my favorite of Viola's recent looks, I thought she looked fantastic as always. She rarely makes a fashion misstep and this dress looked beautiful on her. If there's anything negative to say, this was maybe a bit safe and predictable, but we don't need Viola to be a boundary pusher when we have the next actress around…
Julianne Moore in Givenchy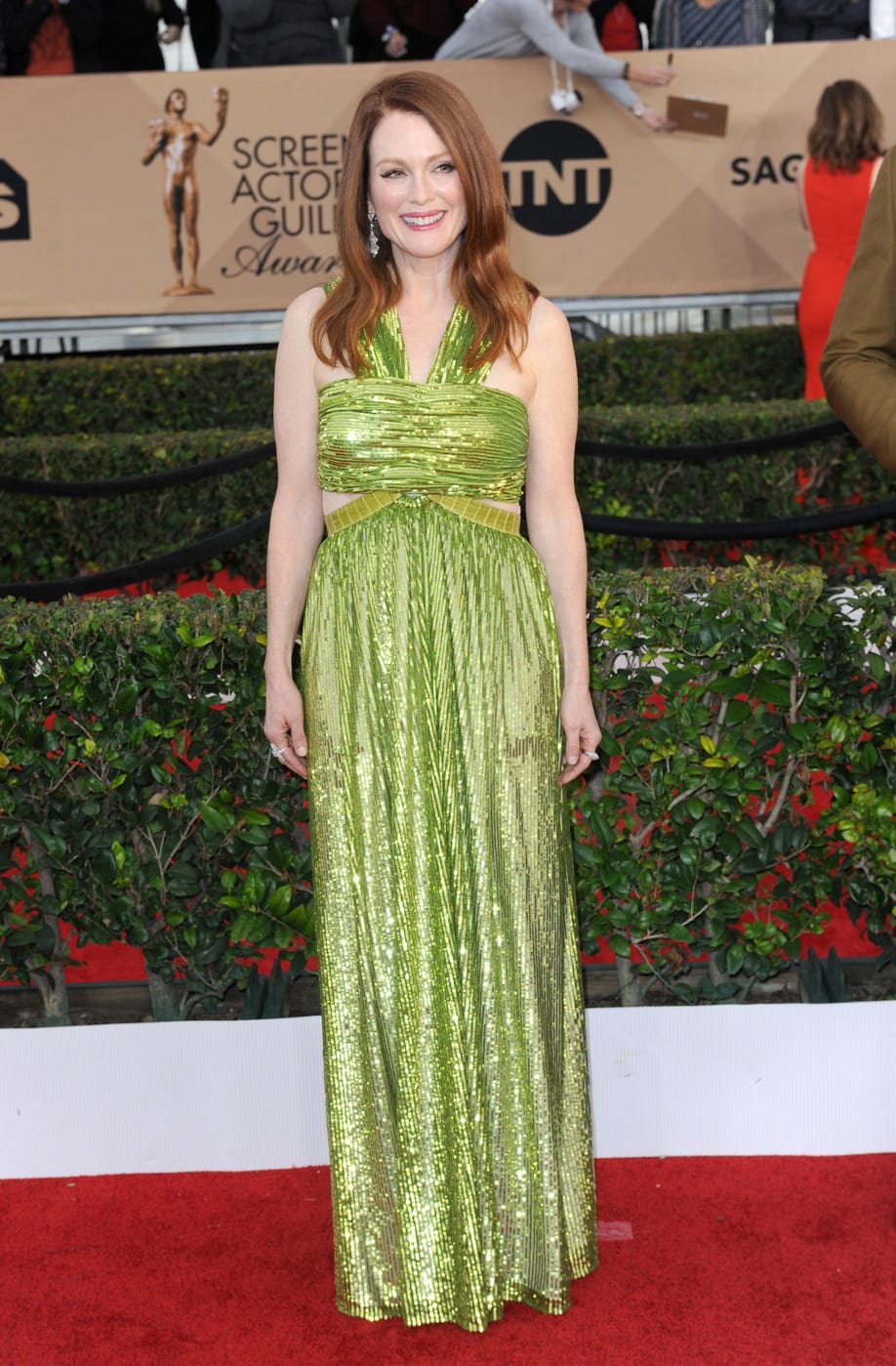 Julianne Moore caused a major stir in a pea green beaded Givenchy frock that had the fashion world divided. Rarely one to play it safe, Julianne took a major risk in this bold, eye-grabbing gown.
This dress ended up on both best- and worst-dressed lists all over the internet, but for me it was just okay. I like the '70s vibe on Julianne (reminds me of her character in Boogie Nights), so I liked this fabric choice. The cut wasn't my personal favorite, though – I would have preferred this in a more streamlined silhouette. How do you guys feel about it?
Ellie Kemper in Peter Pilotto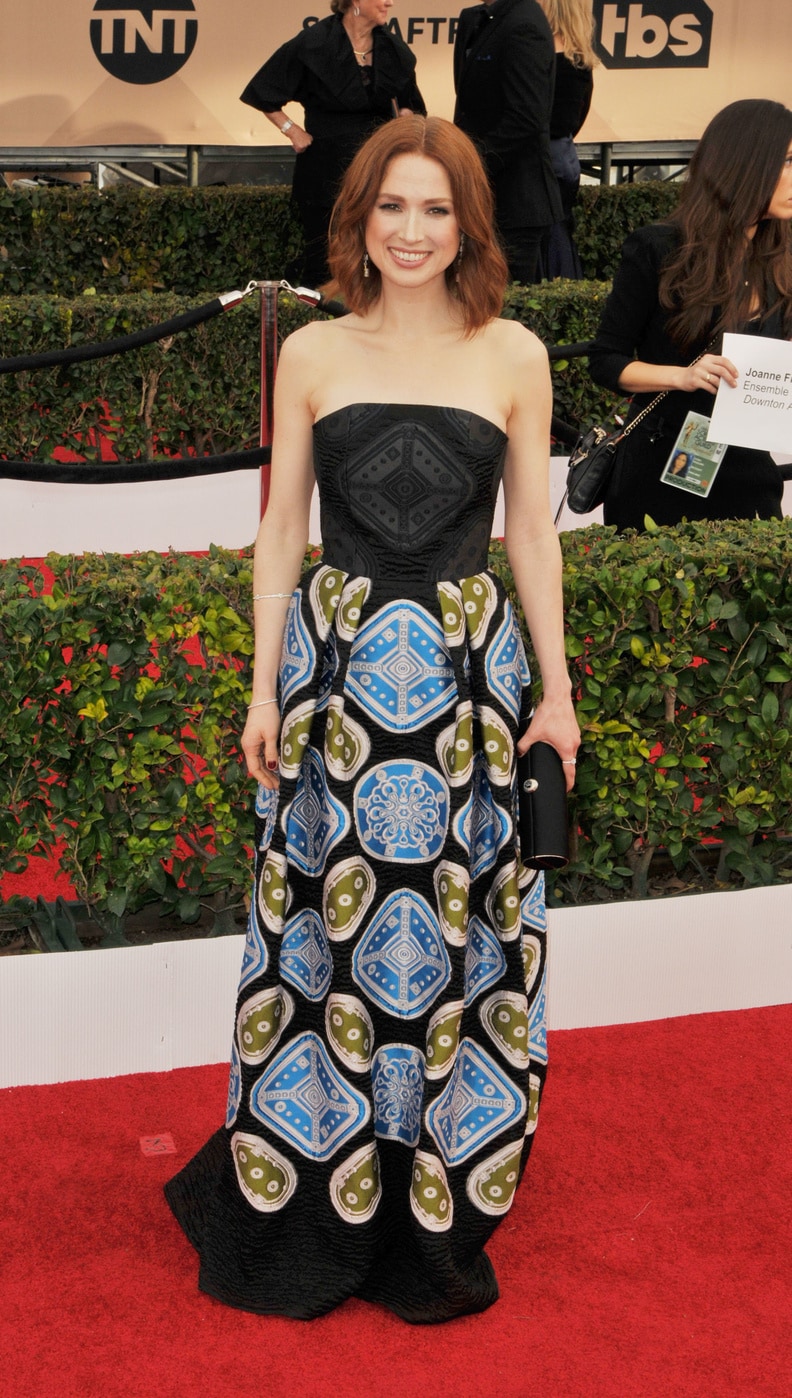 Unbreakable Kimmy Schmitt star Ellie Kemper chose a printed strapless Peter Pilotto gown for Saturday's ceremony, accessorizing with pretty drop earrings and a simple clutch.
Ellie's look, for me, was a pleasant surprise. I don't think of her as a fashion girl, but she definitely piqued the fashion world's interest on Saturday. Additionally, this is NOT the kind of print I would normally like on a gown, but I loved it on her. The colors looked great with her skin and hair, and the slightly hippie chic vibe worked with her style. This was just lovely, all around.
Least Favorite Look
Nicole Kidman in Gucci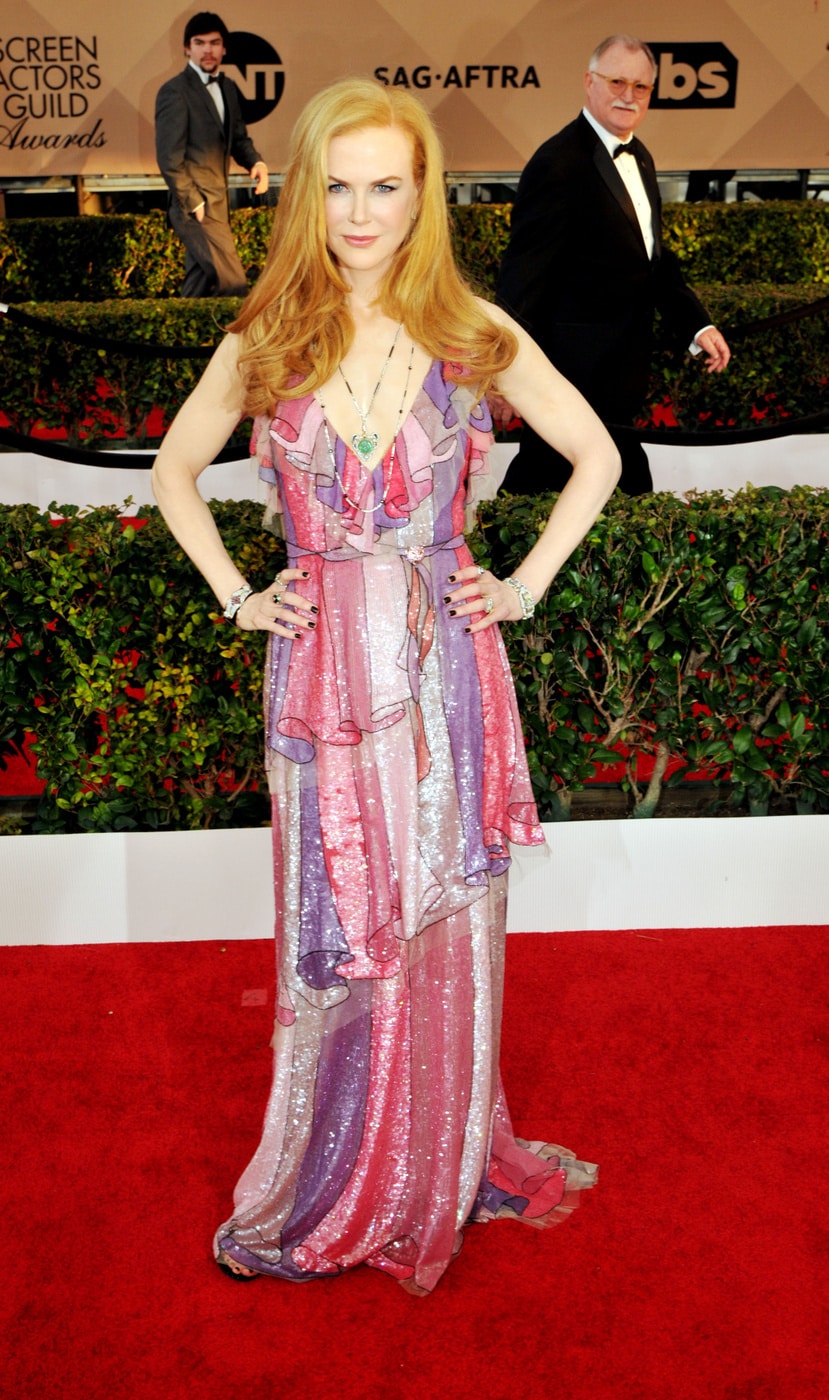 If you watched the broadcast, you knew this one was coming. Nicole Kidman shook up the red carpet when she arrived in this unique sequined ruffle Gucci gown.
While I loved Nicole's accessories – her layered necklaces were fabulous – her gown had too much going on for my taste. Had it been sequined but not striped, or striped but not ruffled, it might have worked, but with so much happening, Nicole was lost in the madness.
What do you think?
Who was your best-dressed pick of the night? Which look was your least favorite? Let's discuss our faves in the comments section!