As we're sure most of you know, the 84th annual Academy Awards were held last night, so naturally there's lots of fabulous red carpet fashion to discuss! Keep reading to see some of our favorite (and least favorite) looks from the 2012 Oscars.
Top 5 Best-Dressed
Here are my picks for best dressed at this year's Academy Awards, in no particular order:
Milla Jovovich in Elie Saab Couture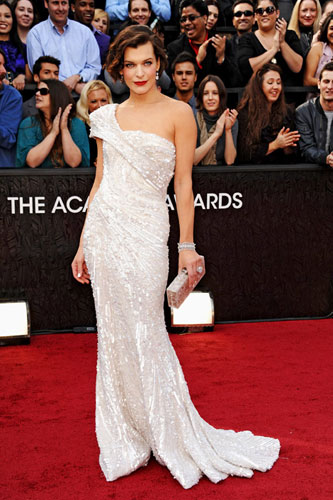 Photo: ELLE
White gowns and sculptural, one-shouldered frocks were both big trends last night and this Elie Saab dress worn by Milla Jovovich combined both for an ultra-glam look. Milla channeled Old Hollywood with this sparkling gown and continued that vibe by having her hair styled in a retro 'do. She completed the look with a rectangular box clutch and some simple, yet elegant jewelry.
Rooney Mara in Givenchy Couture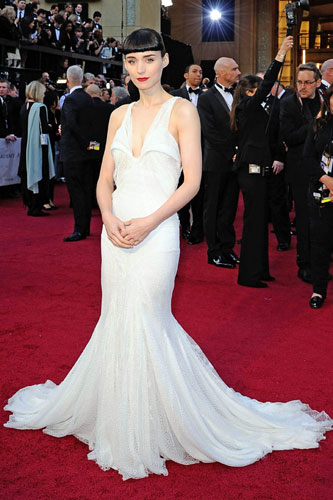 Photo: ELLE
Fashion darling Rooney Mara was quite the fashion procrastinator yesterday — she didn't even choose her gown for the Oscars until the morning of the ceremony! However, we think she definitely made the right choice with this stunning Givenchy couture mermaid gown that featured a plunging neckline and long train. Rooney also wore her hair in a sleek updo, which she paired with a bold red lip, then decided to forego all the fancy accessories and walked the red carpet sans jewelry for a clean look.
Michelle Williams in Louis Vuitton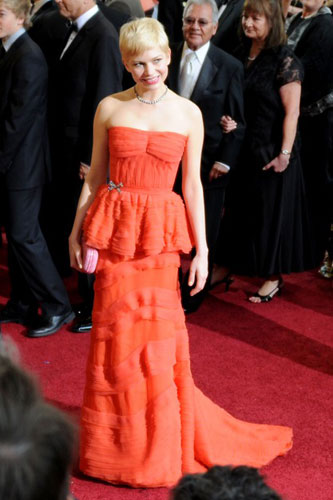 Photo: Pacific Coast News
Michelle went all out for fashion's biggest night with this coral-colored Louis Vuitton gown, which featured an adorable ruffled peplum detailing. Michelle amped up the femininity by adding a sparkly bow brooch to the gown, then added a simple diamond necklace. For the finishing touch, Michelle wore pretty pink lipstick and carried a matching pink clutch.
Gwyneth Paltrow in Tom Ford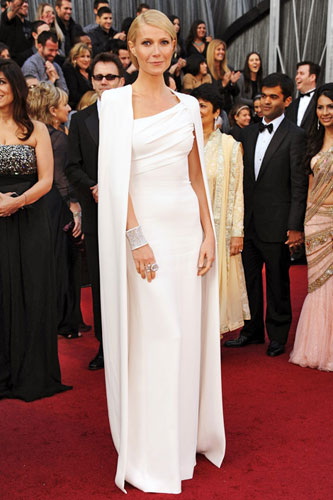 Photo: ELLE
Gwyneth certainly made a fashion statement in this Tom Ford cape/gown combo and we absolutely loved it! This stark white gown was both classically elegant and modern, while the cape added a dramatic touch. Gwyneth kept her hair low-key and makeup fresh faced to add to the minimalist look. What do you think — are capes a new red carpet fashion trend?
Emma Stone in Giambattista Valli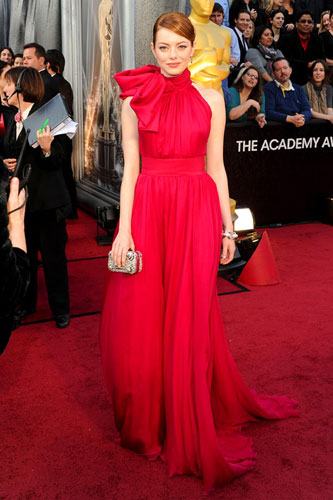 Photo: ELLE
Last night, Emma proved that redheads can wear red in this lovely little Giambattista Valli number that featured a high neckline accentuated with an oversized bow. Some fashion commentators did point out the similarities between this tie-neck gown and Nicole Kidman's gown from the 2007 Oscars, but I think Emma rocked this fashion-forward frock in her own unique way with a chic braided bun, soft pink lipstick and some super-sparkly jewelry.
Other Notable Ensembles
Whether you loved 'em or hated 'em, here are four more looks that garnered some buzz on the red carpet last night:
Jessica Chastain in Alexander McQueen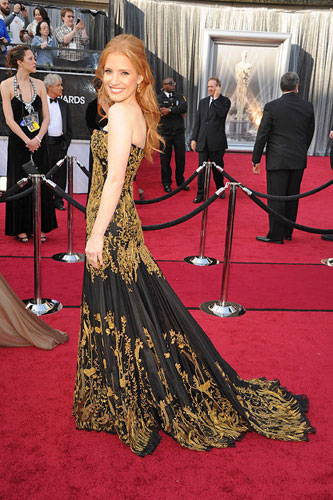 Photo: ELLE
The lovely Jessica Chastain looked exquisite last night in this strapless Alexander McQueen gown. The ornate detailing is fantastic and we really love the contrast between the black and gold. Jessica complimented her gown with $2 million dollars worth of Harry Winston jewelry (lucky girl!) and wore her hair wavy and pulled back halfway for a romantic look. Did you like this McQueen gown as much as we did?
Octavia Spencer in Custom Tadashi Shoji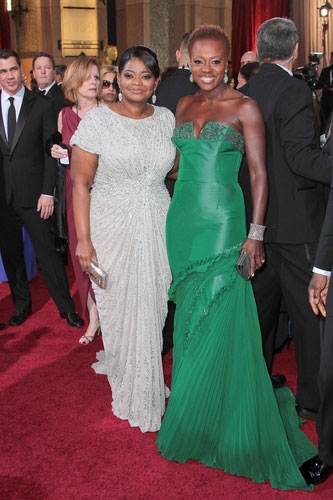 Photo: PR Photos
Oscar winner Octavia Spencer (pictured above left with costar Viola Davis, right) seems to love her Tadashi Shoji gowns and for a good reason — they look amazing on her! She killed it last in this sparkling custom-made Tadashi gown that featured super-flattering starburst-patterned beading. Octavia accessorized with some glitzy drop earrings and a matching clutch for a glam red carpet look.
Angelina Jolie in Atelier Versace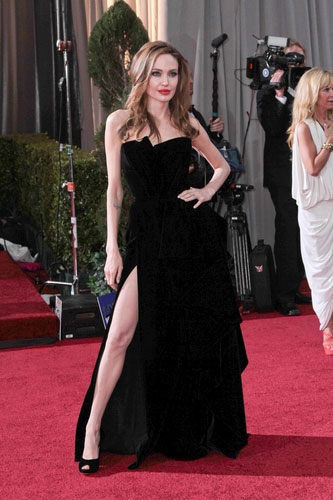 Photo: PR Photos
I didn't really care for Angelina's look when I first saw it on the red carpet, but then I took a closer look at the photos — this Versace gown is g-o-r-g-e-o-u-s. The luxe velvet offsets the sculptural detailing beautifully, while an extra-high slit showed off Angie's right leg quite prominently. (And landed her gam its own Twitter account!) She completed her look with a classic red lip and a natural-looking wavy 'do. What do you think of Angelia's red carpet fashion choice?
Cameron Diaz in Gucci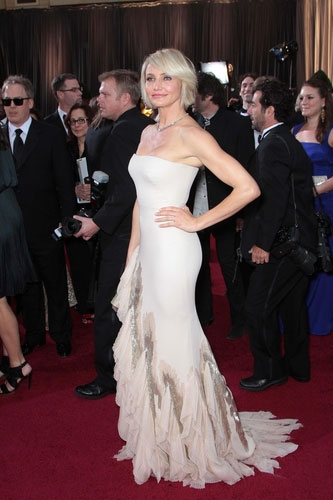 Photo: PR Photos
Late arrival Cameron Diaz had fashionistas on the fence in a sparkle-embellished beige Gucci gown, accessorized with Tiffany and Co. jewelry. While we liked her simple look, many fashion critics panned the choice, citing reasons ranging from her undone hair to the gown's lack of drama. What do you think – are you a fan of Cameron's look, or did stylist Rachel Zoe miss the mark on this one?
Least Favorite Look
Of course, not every red carpet look can make the best-dressed list. Here's one look that I simply didn't care for at last night's event.
Stacy Keibler in Marchesa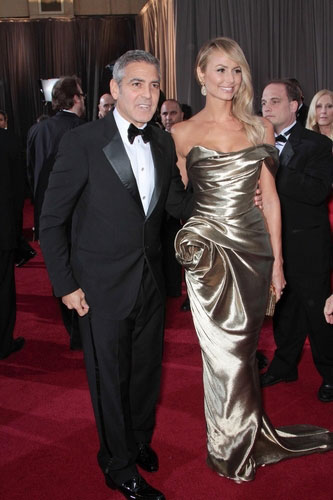 Photo: PR Photos
George Clooney's date seemed to be channeling the Oscar statuette last night in this gold Marchesa gown and unfortunately it didn't work for us. The gold lamé fabric made the gathered rose detailing on the hip look odd, plus her accessories and make-up also seemed a little one note — I wish she had added a pop of color somewhere! What did you think of Stacey's red carpet look — did you like it or loathe it?
Your thoughts?
Now that you know what we think, tell us your opinion. Did you watch the Oscars last night? Who wins your pick for best-dressed? Any looks you didn't like? Be sure to leave a comment and let us know what you think!