Fashion ads are often more creative and visually inspiring than they get credit for. One of my favorite things about receiving the September Vogue is checking out all the cool ad campaigns designers come up with – which models will be featured? How will they show the clothes? Who is the photographer? How is the concept going to grab our attention?
Kim had the great idea to feature unique and interesting fashion ad campaigns in a new column here. First up, the new Stella McCartney campaign featuring Disney characters.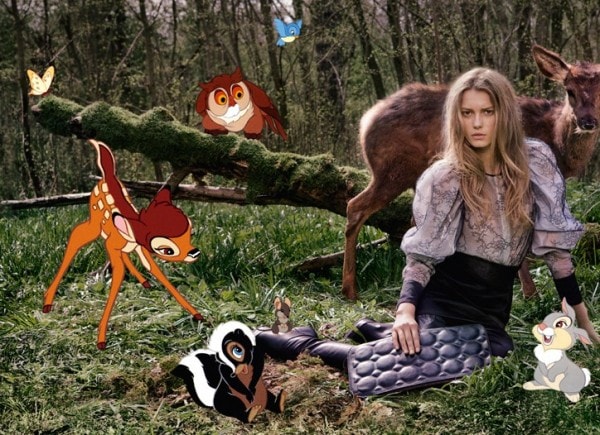 (source: WWD)
As you flip through your September issues this month, some familiar furry friends will be waiting to greet you. This season, Stella McCartney and photographer Ryan McGinley have teamed up with everyone's favorite woodland creature, Bambi, for the Stella McCartney Fall 2009 ad campaign. "The clothes in the campaign are looking quite fierce, and we wanted to contrast them with the innocence of Bambi" says Stella.
(source: WWD)
Joining Bambi in the spread are his pals Thumper the rabbit and Flower the skunk. The campaign features photographs of model Sigrid Agren in the woods of Worcestershire, England. Layered on top are illustrations of Bambi and friends. Intrigued?
Personally, I'm loving the boots that Sigrid is rocking and her disheveled grungy look. But while I do love Bambi, I think the illustration of the characters takes away from the whole feel of the campaign a bit. There seems to be more attention paid to the characters rather than the clothes.
What do you guys think? Are you into the whole cartoonish feel? Or do you think the addition of Bambi was a bad decision? If you like the ad, or you want to see it in person, it can be found in this month's French, Italian and British Vogue, along with V and Another Magazine.
Either way, let us know your thoughts on this ad in the comments section!