TV Fashion Recap is a biweekly column featuring the best of TV fashion. Every other week, we recreate our favorite outfits from the most recent episodes of all of the hottest shows. Stay tuned; we may feature your favorite show next!

Every other week, I break down the best of TV fashion, featuring my favorite looks from the last two weeks. This week, I was inspired by New Girl, Gossip Girl, and Arrow. Read on to check out the outfits!
1. New Girl (Season 2, Episode 6): Jess's Striped Sweater and Flats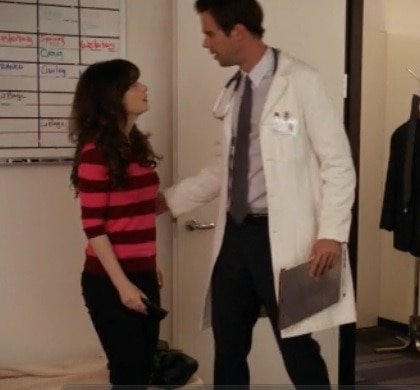 (Photo Credit – Screenshot)
Fox's New Girl is a comedy staring the lovable Zooey Deschanel as a bubbly, "adorkable" woman named Jess. Upon catching her boyfriend cheating on her, she moves in with three guys she's met through a roommate ad on Craigslist. The show focuses on their various romantic relationships and budding friendships. It's light-hearted and fun, and I'd definitely recommend it.
Jess is somewhat dorky, but very cute. She's a recently unemployed elementary school teacher with an impenetrable sense of optimism and enthusiasm that the guys can't crack — no matter how hard they try. She's also got a great sense of fashion, gravitating towards girly, yet casual clothing.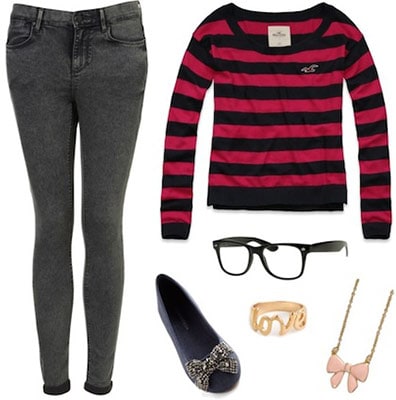 (Product Information: Jeans – Topshop, Sweater – Hollister, Glasses – Amazon, Flats – Modcloth, Ring – Baublebar, Necklace – River Island)
Jess's cute and comfortable look is perfect for class. Start with a red and brown striped sweater, and add dark-wash jeans and a pair of embellished black flats. Add minimal, girly jewelry — this "love" ring definitely reflects Jess's sweet personality, and the pink bow necklace is cute, yet small enough to be understated. Finish with thick-rimmed glasses – even though Jess isn't wearing them in this scene, they are among her staples.
2. Gossip Girl (Season 6, Episode 4): Ivy's Burgundy Jeans and Edgy Jewelry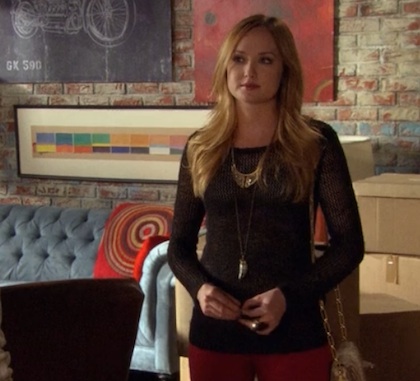 (Photo Credit – Screenshot)
The CW's long-running show Gossip Girl follows two It-girls, Blair and Serena, in the upper class society of New York City as they struggle with relationships, success, and of course, keeping more than a few scandalous secrets. Oh, and did I mention that all the clothes on the show are absolutely amazing?
Gossip Girl's Ivy Dickens is a con artist posing as Serena's cousin, but she's come to genuinely care about the family she's been conning. She's willing to do anything to stay with them; after all, she didn't have a great family life growing up. She's insanely manipulative and scarily vengeful, but she's also very caring and sensitive. Ivy's also one of my favorite fashionistas on the show – she tends to take classic looks and add edgy, trendy elements to make them all her own.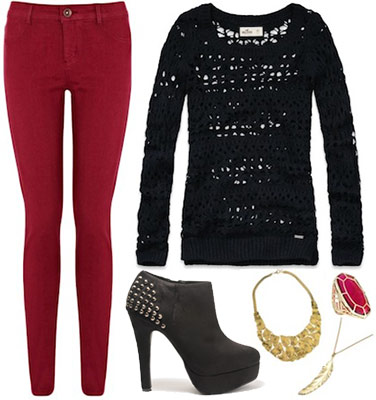 (Product Information: Pants – Oasis, Sweater – Hollister, Collar Necklace – AX Paris, Ring – Kendra Scott, Feather Necklace – Harvey Nichols, Boots – Forever 21)
Ivy's look is super versatile; it would be great for a night out with friends, but is still casual enough for daywear.
To get this look, start with a black knit sweater over a neutral tank. Add oxblood skinny jeans, which are huge for fall. Next, slip on a pair of booties; these gray ones are perfect because the studs add an unexpected element. Layer two necklaces like Ivy does: a long feather pendent necklace contrasts well with a short, chunky collar necklace. Finish with a large cocktail ring; this gorgeous fuschia one adds a pop of color and is beautifully detailed.
3. Arrow (Season 1, Episode 5): Laurel's White Blouse and Gold Jewelry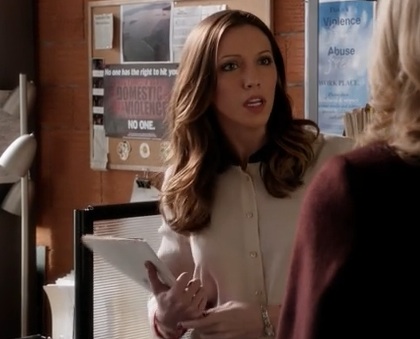 (Photo Credit – Screenshot)
The CW's new show Arrow is one of my new favorites. It's based on DC's comic book character, the Green Arrow, and it follows billionaire Oliver Queen after he returns from a five year stay as a castaway on a supposedly deserted island, where he was repeatedly tortured and eventually learned to become a Katniss-style killing machine.
Now, Oliver is back in Starling City, and in addition to maintaining his playboy persona, he spends his time taking down villains and corrupt businessmen with a green hood and a bow and arrow. Further complicating things is his ex-girlfriend, Laurel, an optimistic lawyer who blames him for the death of her sister, but still finds herself attracted to him. Having seen Oliver shirtless, I can't blame her.
Laurel is extremely caring and believes strongly in the law; she spends her days trying to take down the corrupt and defending the innocent. She's consumed in her work, trying to work through her grief and forget Oliver. She's savvy and classy, and her style reflects that – she always looks flawless, and her wardrobe consists mainly of tailored silk blouses and sky-high heels.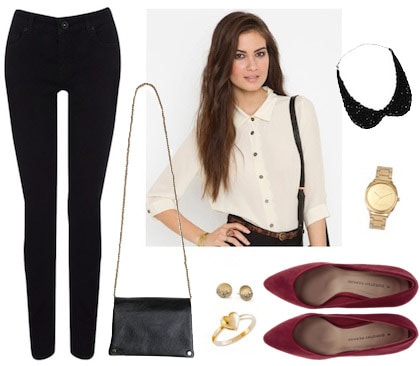 (Product Information: Pants – John Lewis, Blouse – Nasty Gal, Purse – Swell, Earrings – Piperlime, Ring – JCrew, Necklace – Amazon, Watch – ASOS, Heels – Dorothy Perkins)
To recreate Laurel's polished look, start with a semi-sheer white blouse and add black skinny jeans for perfect contrast. To mimic Laurel's detailed black collar, slip on a Peter Pan collar necklace; this one has a gorgeous shape and the perfect amount of sparkle. Sling a small cross-body clutch over one shoulder, and slip on some delicate gold jewelry: this gold watch is oversized and trendy, but still great for everyday wear. Don't forget a pair of colorful pumps; these dark red heels are to die for!
Your thoughts?
What do you think of these looks? Which one is your favorite? Did we miss any amazing outfits from the past week of TV? Which shows do you think deserve a spot on the next TV Fashion Recap post? Leave a comment below and tell us what you think!