TV Fashion Recap is a biweekly column featuring the best of TV fashion. Every other week, we recreate our three favorite outfits from the most recent episodes of all of the hottest shows. Stay tuned; we may feature your favorite show next!

Every other week, I break down the best of TV fashion, featuring my three favorite looks from the last two weeks. This week, I was inspired by the 2012Summer Olympics Opening Ceremony in Londonand the MTV show Teen Wolf.Read on to check out the outfits!
1. 2012 Summer Olympics Opening Ceremony: Neutrals, Lace, and Leather

(Photo Credit – Screenshot)
London wowed the world with the 2012 Summer Olympics Opening Ceremony. Between the guest appearance from James Bond (Daniel Craig), the Queen's surprise jump from an airplane, and the phenomenal choral music, I was immediately hooked.
But the real treat was Isles of Wonder, a grand interpretation of the Industrial Revolution's effects on the UK, directed by Danny Boyle. It used beautiful vocals, frenzied drumming, and large props to demonstrate the pandemonium of the time period, and then sped on through Britain's recent history. Highlights included a silent tribute to soldiers killed during the World Wars, a colorful Beatles-themed marching band, and an assembly line forging an Olympic ring. Even if you aren't a sports fan, it is definitely a must-watch.
The costumes were amazing and detailed, and I couldn't help but notice that the clothing demonstrating rural England and the Industrial Revolution contained many trends that remain popular today. There were lots of neutrals, loose pieces, mixed metals, leather, and knitted fabric — all of which are hot now and for fall.
Outfit Inspiration 1: Sweet Summer Look
(Product Information: Cardigan – Tilly's, Tank Top – Abercrombie, Bracelet – Armani Exchange, Purse – River Island, Skirt – Lipsy, Feather Ring – Aldo, Earrings – Piperlime, Necklace – Rare London, Shoes – Piperlime)
In Isles of Wonder, the dancers and musicians wore lots of white, loose materials and neutral colors. The men favored cardigans and vests, while the women wore flowing skirts. The props they carried were primarily metal or leather. Pastels and purples were also key components of the heavily layered costumes.
To recreate the vibe, start with a loose tank and a neutral skirt. This Abercrombie tank is perfect because it has delicate paneling and a ruffled neckline, while this skirt has sequin detailing reminiscent of the metalworking in the show. Add a button-up cardigan, preferably in a purple hue, to add a pop of color and a bit of structure.
Now it's time to accessorize! Delicate metal jewelry like a feather ring and bird necklace complement the outfit without distracting. These nature-inspired accessories also reference the beginning of the show, which showcased the isles' natural beauty. Slip on a pair of metallic heels to accentuate your legs, and don't forget a nice leather satchel to complete the look!
Outfit Inspiration 2: Cozy Fall Look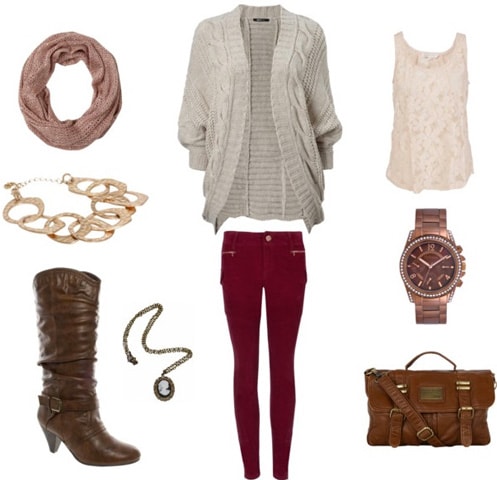 (Product Information: Scarf – River Island, Cardigan – Gina Tricot, Top – Republic, Bracelet – ASOS, Watch – Macys, Boots – Debenhams, Necklace – Medieval Collectibles, Pants – Ted Baker, Purse – Dorothy Perkins)
While watching the opening ceremony, I was really inspired by the plethora of different fabric textures. Costumes mixed leather, tweed, lace, knitting, crochet, and linen. The loose fabrics and layers are great inspiration for fall.
To capture the old-fashioned, effortless, and comfortable vibe of the opening ceremony, start with an oversized cable-knit sweater in a neutral color. This buttonless cardigan from Gina Tricot is perfect because of the interesting knit pattern and slouchy, open style. Pair it with a tank of a different texture; this beige lace top is perfect. Maroon skinny jeans add shape to the outfit and prevent it from looking too baggy.
For accessories, start with a stylish and functional brown leather satchel. Add a knitted scarf and miniature portrait necklace for a bit of the classic "British" look. Next, slip on a bronze watch and a metal bracelet reminiscent of the Olympic rings. Finish with leather boots – these are tall and structured, but have interesting slouches and buckles that tie in well with the rest of the outfit.
2. Teen Wolf (Season 2, Episode 9): Lydia's Tied Crop Button Up & Retro Skirt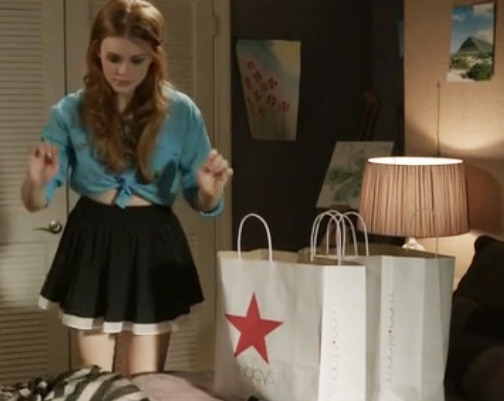 Though MTV's Teen Wolf has already been featured as a TV fashion fave, it's back by popular demand, and let's be honest — Lydia pretty much deserves a spot every week for her trendy and eclectic style.
This episode focuses largely on Lydia's birthday bash. Scott and Stiles desperately try to figure out who is controlling Jackson when he is in his reptilian killing-machine state, also known as the Kanima. Meanwhile, Scott and Allison's relationship becomes even more strained and Allison's family deals with the traumatic and ironic issue of her mother, a recently-bitten werewolf hunter slowly turning into a werewolf. Most importantly, though, we finally find out why Lydia is having hallucinations, forgetting large chunks of time, and generally going insane.
Lydia looked phenomenal (as always) in this episode, and while her terrifying hallucinations had me glued to the screen (and cringing), her crop top and ruffled skirt really stole the show. Her outfit was fun, flirty, and perfect for a summer date or evening out with friends.
Outfit Inspiration: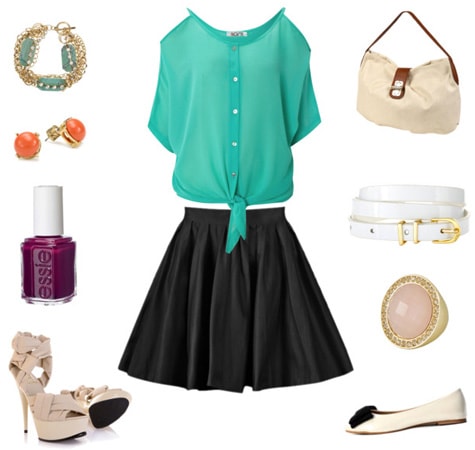 (Product Information: Bracelet – Debenhams, Top – House of Fraser, Bag – Forever 21, Skirt – Ally, Earrings – Endless, Belt – ASOS, Nail Polish – Essie, Cocktail Ring – Republic, Heels – VJ Style, Flats – Sheinside)
In this episode, Lydia paired a button-up tie front top with a black A-line skirt for a fabulous and slightly retro look. To keep the focus on her gorgeous teal top, she kept her accessories minimal and neutral. The elegant nude and gold accessories also helped to add a bit of polish and sophistication to her outfit.
To recreate this look, start with a blue or green button-up top, preferably with interesting cut outs, like this one from House of Fraser. Unbutton the top slightly, like Lydia did, to emphasize your neckline. Next, add a flouncy black skirt to mimic Lydia's retro vibe.
All that's left to do is accessorize. Start with a white belt, pretty cocktail ring, and simple bag. While Lydia paired her outfit with white Macy's shopping bags, this off-white hobo will do nicely. Finish with a pair of neutral heels or flats – your choice!
Your thoughts?
What do you think of these looks? Which one is your favorite? Did we miss any amazing outfits from the past week of TV? Which shows do you think deserve a spot on the next TV Fashion Recap post? Leave a comment below and tell us what you think!