If you're a fan of True Blood, you'll know it's almost that time of year again — season 4 of the hit HBO series premieres on June 26th. Since last year's post on dressing like Sookie Stackhouse got so much positive feedback, I decided to break down the style of some other characters from the show and hopefully get you pumped for the season premiere!
First up is Sookie's fiercely loyal best friend, Tara Thornton. Tara is a quick-witted bartender at the local hangout, Merlotte's. She's a strong-willed girl with an attitude — definitely someone you don't want to mess with! As the series progresses, we learn Tara comes from a troubled home life, which causes her to have a tough exterior. Under the surface, though, she often has to deal with her own insecurities, making it difficult for Tara to trust others. To top it all off, she's been in a string of relationships that all ended badly. Needless to say, we're hoping things will start to look up for Tara this season.
In the fashion department, Tara's wardrobe consists of casual pieces, pretty patterns and unique jewelry. Want to learn more about her sense of style? Read on to discover three elements of Tara's style and some outfit ideas to channel her look for yourself.
Laid-Back Basics
Top Row: 1, 2, 3
Bottom Row: 4, 5, 6
Tara's go-to outfits usually consist of simple and casual basics. Tank tops, jeans, tees, sneakers and shorts are definitely her wardrobe staples. However, you won't ever find Tara in short-shorts — she's a girl who loves Bermuda shorts and mid-length styles. Her everyday look is unfussy and laid-back with a touch of tomboy.
Outfit for Inspiration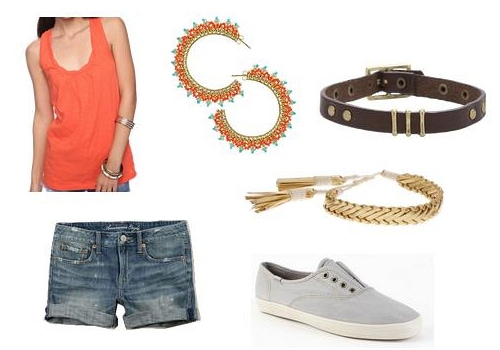 Top, Shorts, Earrings, Leather Bracelet, Gold Bracelet, Sneakers
For an easygoing look inspired by Tara, pair a bold orange tank top with some slouchy denim cutoffs. Slip-on shoes are comfortable enough to wear all day, while some pretty earrings and eclectic bracelets add a stylish touch.
Abstract Prints
Top Row: 1, 2, 3
Bottom Row: 4, 5, 6
When she's not rocking jeans and a tee, Tara wears tops and dresses with pretty, abstract patterns. These flowy and delicate pieces break up the monotony in her wardrobe and soften up her look.
Outfit for Inspiration
Mimic Tara's love of abstract prints with a breezy and bold ikat maxi dress. Some simple sandals and wooden bangles give the look a slightly bohemian vibe, while a unique geometric ring adds interest.
Shoulder-Baring Tops & Dresses
Top Row: 1, 2, 3
Bottom Row: 4, 5, 6
If you hadn't noticed from all the pictures, Tara has some amazingly sculpted arms! Therefore, it's no surprise that she shows off her gorgeous arms in figure-flattering dresses and tops. Sleeveless pieces — especially halters — showcase toned arms beautifully.
Outfit for Inspiration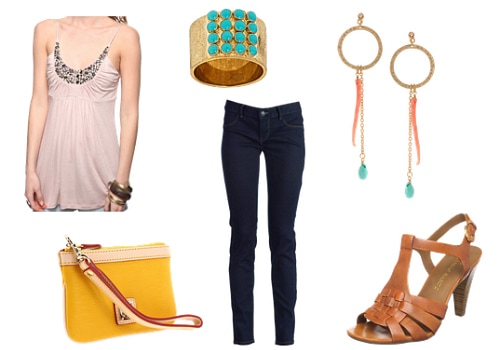 Top, Ring, Earrings, Wristlet, Jeans, Sandals
This laid-back outfit would work well for a casual night out. Pair a embellished halter neck top with some fitted jeans. Tan sandals elongate the leg, while a structured wristlet adds a bright pop of color. Finally, add some unique jewelry like these earrings and matching ring for a fun and pretty look inspired by Tara.
Thoughts?
Do you watch True Blood? What do you think of Tara's style? Is her sense of style relatable? Which of these outfits is your favorite? Be sure to leave a comment and let me know your thoughts!