This post may contain affiliate links, which means we may receive a commission if you purchase through our links. Please
read our full disclosure here
.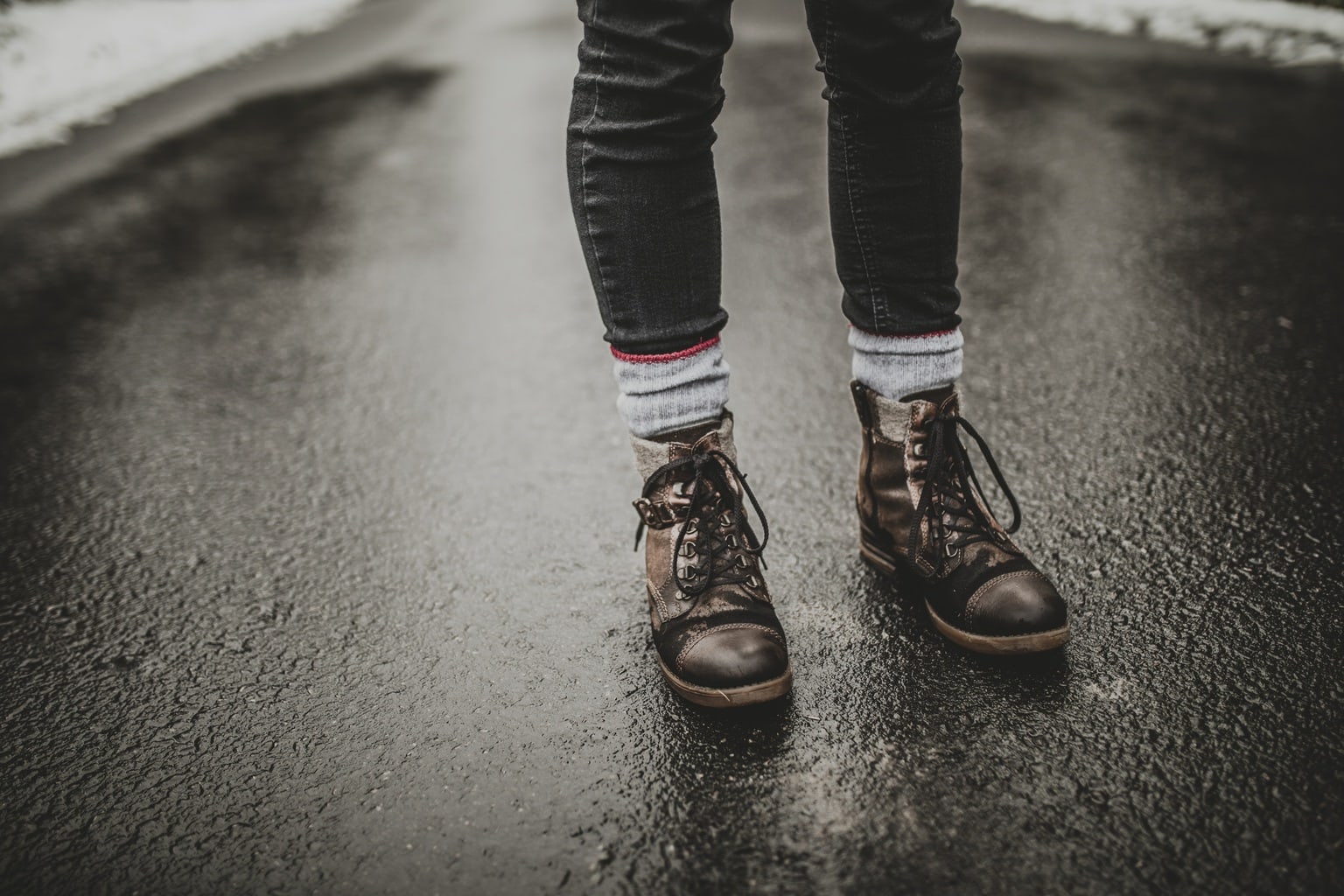 Photo Credit | All other photos taken by me.
While I have absolutely loved traveling to cities such as Paris and Madrid during my semester abroad, I knew that my time in Europe just wouldn't be complete without a pit stop in The Eternal City – Rome.
After our program ended, my friend Nicole and I (we're both graduating in May), decided to skip out on senior week festivities and instead see Italy before returning to Boston. We spent three days in Rome, then headed south to Sorrento, a gorgeous little city close to the Amalfi Coast. Like Paris, Rome is an intoxicating city full of narrow streets and delightful discoveries. Let's take a trip to some of the most famous monuments of Rome!
All Roads Lead to Rome: About The Eternal City
Rome is the capital of Italy and the 5th most populous city in the European Union. According to legend, Rome was founded in 753 B.C. by Romulus on Palatine Hill, one of the Seven Hills of Rome.
The storied city has seen the rise and fall of the Roman Empire, the dazzling creativity of the Italian Renaissance, and the 1861 unification of Italy. No wonder they call it the Eternal City.
If you plan on visiting, make sure to bring comfortable walking shoes! The abundance of history also means less-modern pavement and transportation methods. The Roman metro, for instance, doesn't really span the entire city because it's not easy to build subway tunnels due to all the ruins that are underground.
Also, keep in mind that you can be turned away from churches if your shoulders and knees aren't covered. So, remember to keep a cardigan or shawl as well as a pair of tights with you just to be on the safe side.
Colosseum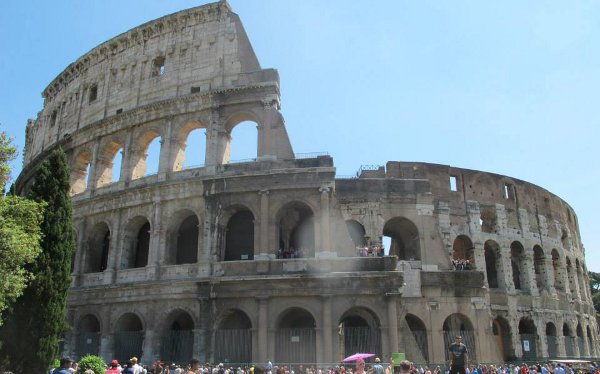 The Colosseum is, well, colossal. (Oh, how my rhetoric dazzles.) This ancient amphitheater, the largest in the world, began construction in 70 A.D. under the Roman emperor Vespasian and was completed in 80 A.D. under Titus's rule. The Colosseum, or Colosseo, could seat 50,000 people and was used for events such as gladiator matches, mock sea battles (in which the entire arena was flooded with water), animal hunts, and theatrical productions.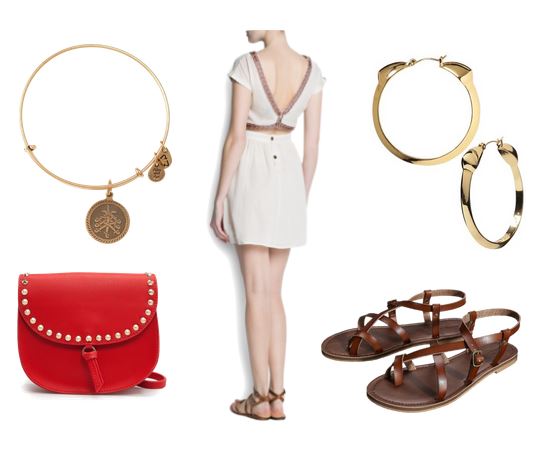 Product Information: Dress, Sandals, Bag, Earrings, Bangle
Take a trip back in time with this ancient Roman-inspired ensemble. Confession: I actually saw a girl wearing this exact dress during my visit to the Roman forums — which are right next to the Colosseum — and creepily followed her for a bit because I liked the dress so much. (I may or may not have cried a little when I was unable to find the dress in my size in any Mango store.)
The cutout back of the dress is such a fun detail, while its flowy fabric pairs perfectly with understated gladiator sandals. Add a pair of claw earrings and a sword bangle to represent the Colosseum's entertainment offerings. Finally, stow your belongings in a cute red cross-body bag for a fun pop of color!
St. Peter's Basilica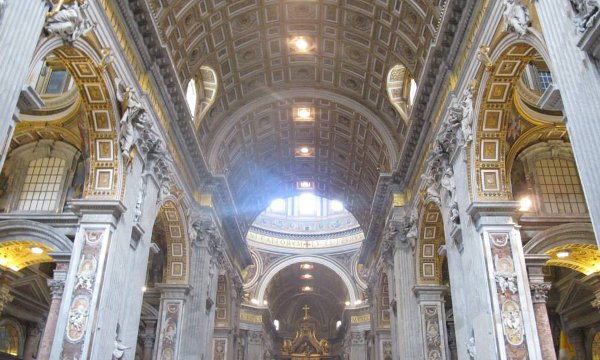 While I'm not religious, visiting Saint Peter's Basilica was seriously awe-inspiring. Even while we were waiting outside in the square, the domed exterior of the building was incredible. Inside, the jaw-droppingly beautiful statues, inlays, and carvings cover every inch of the basilica – one hardly knows where to look! According to Roman Catholic tradition, Saint Peter's burial site is located under the basilica, which was consecrated in 1626.
As with most churches in Italy, the Basilica holds its guests to a respectful dress code – shoulders and knees must be covered. Admittedly, I forgot to bring a long-enough skirt and had to buy myself a pair of 3-euro leggings, which I wore as pants. (Forgive me.)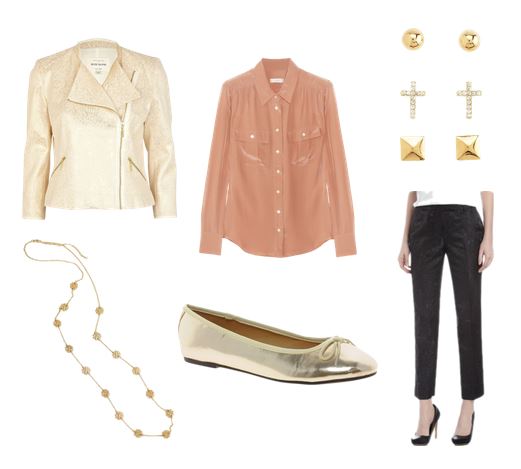 Product Information: Jacket, Blouse, Trousers, Necklace,Earrings, Flats
Look perfectly put-together in this monumental house of worship with a dusty rose blouse and crisp jacquard trousers. A sharp jacket with a slight metallic sheen adds a bit of edge to the outfit, while a pretty gold necklace recalls the gilded decoration of the basilica.
Fontana di Trevi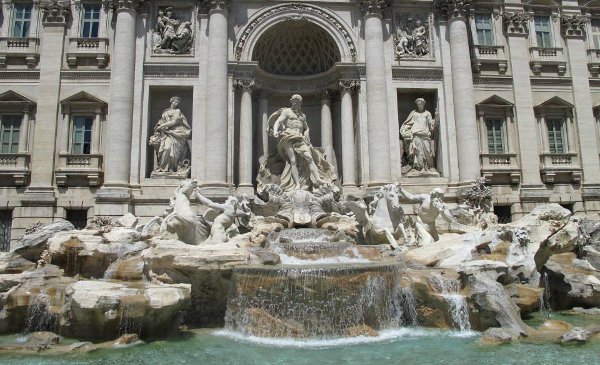 I was shocked when I saw the Trevi Fountain – it looks just like the one outside of Caesar's Palace in Vegas, doesn't it? (Joking!) In all seriousness, this fountain was one of the Roman sites I was most excited to visit, and for good reason! The enormous Baroque fountain was designed by Nicola Salvi and completed after his death in 1762.
Oceanus, the god of water, is the centerpiece of the breathtakingly dramatic fountain. According to tradition, throwing a coin into the Trevi guarantees that you'll return to Rome.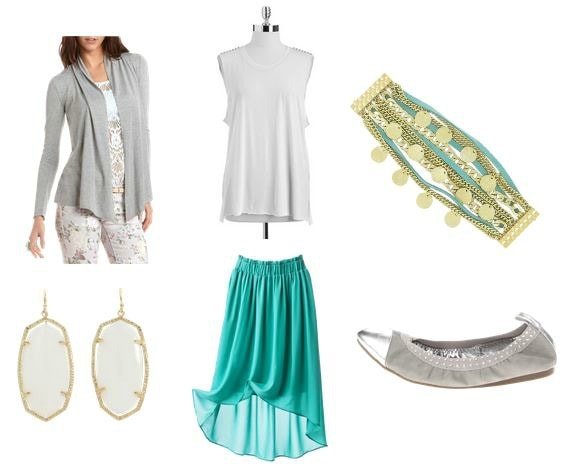 Product Information: Cardigan, Top, Skirt, Flats, Bracelet, Earrings
The Trevi is literally a fountain of inspiration: a flowing cerulean skirt references the crystal-clear water, while a white top and pale gray cardigan allude to the complex stone sculptures. Make sure to choose graceful fabrics that drape well. Metallic flats and stone drop earrings are simple but chic. Finally, slip on a jangly coin bracelet to make sure that you'll return to Rome!
Spanish Steps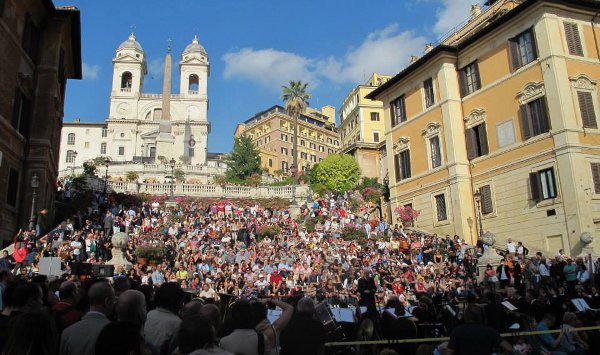 You have to feel a little sorry for the French – they were the ones who actually paid for the famous Spanish Steps! (They are named so because they connect the Spanish Embassy at the base of the steps with the Trinità dei Monti church at the top.) The Scalinata della Trinità dei Monti, as it's called in Italian, is the widest staircase in Europe, and is the perfect place to people-watch while enjoying a gelato.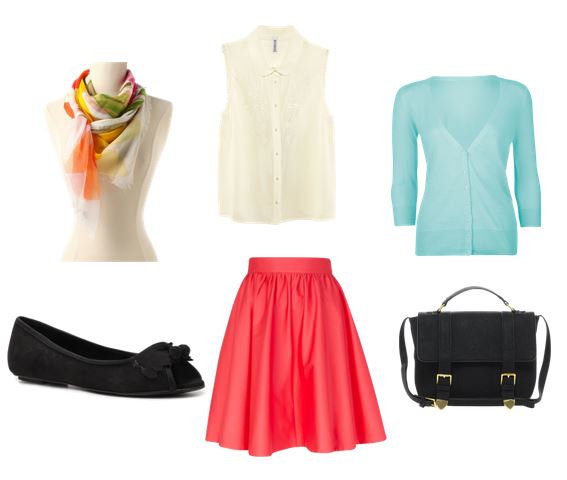 Product Information: Top, Cardigan, Skirt, Flats, Satchel, Scarf
While I have still never actually seen the movie, I don't think an inspired-by Rome post is complete without an outfit referencing Roman Holiday!
Audrey Hepburn would surely approve of this sweet and classic ensemble. A Peter Pan blouse and high-waisted skirt are perfectly complemented by a sky-blue cardigan and pretty peep-toe flats. A chic scarf and preppy satchel finish off the look.
What did you think?
Would you wear these outfits? Have you been to Rome? What was your favorite place to visit? Have you seen Roman Holiday? (It's on my to-watch list!) Let me know in the comments!