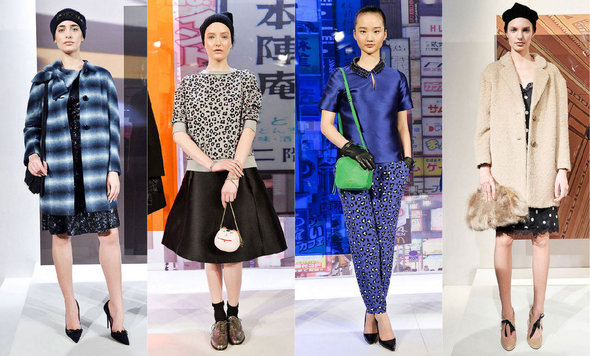 Kate Spade New York Fall 2014 RTW | ELLE
Kate Spade New York's Fall 2014 collection blended relaxed yet professional elements to create looks that were fun, put-together, and perfect for college girls! There were blazers, cropped pants, and party-ready looks in vibrant hues, along with more subdued colors for neutral-loving fashionistas. I consider this collection to be a true embodiment of a rainbow. From cobalt to navy, yellow to camel, and pink to black, there were shades (and prints!) for every taste.
Are you lusting over these sophisticated yet fun looks, but aren't too into such a hefty price tag? Keep reading for three cheap but chic outfits inspired by KSNY's fall collection:
1. Classic Chic with a Twist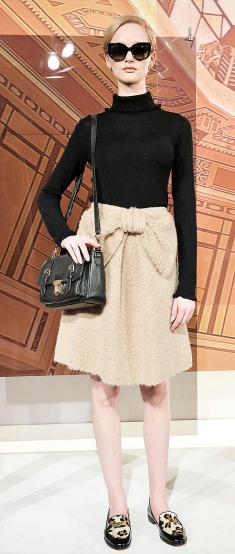 Photo: ELLE
When I first laid my eyes on this getup, I almost sobbed because of how sophisticated and ladylike it was. The neutral colors and clean lines evoked that sort of elegance that'll never go out of style. However, I was also aware of the more contemporary trends that further elevated this outfit, such as the gorgeous cat-eye sunglasses and the skirt's fun, giant bow.
Get the Look: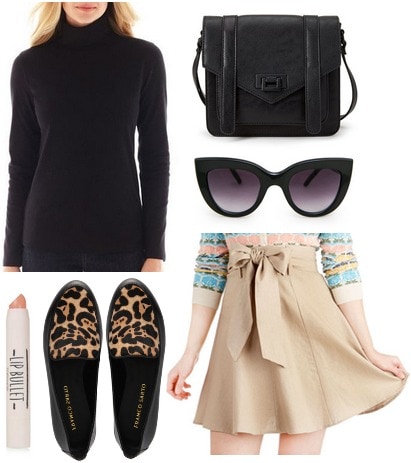 Product Info: Top- JCPenney, Skirt- Modcloth, Shoes- DSW, Sunglasses- Mango, Bag- Forever 21, Lipstick (in "Crave")- Topshop
To recreate this outfit, start with this Modcloth skirt that has the same cute bow detail as the Kate Spade one. Pair with a simple black turtleneck and slip on a pair of cat-eye sunglasses. Grab a black bag with a snap-closure detailing and sleek leopard-print loafers. Finish the look with a sophisticated neutral lip.
2. Sparkles and Cobalt

Photo: ELLE
I love a bright skirt, so when this cobalt blue skirt popped out at me, I knew I had to recreate the look for less. This is definitely one of the quirkier outfits from this collection and features a lot of unique details. Who knew sparkles, cobalt blue, and polka dots would work so well together?
Get the Look: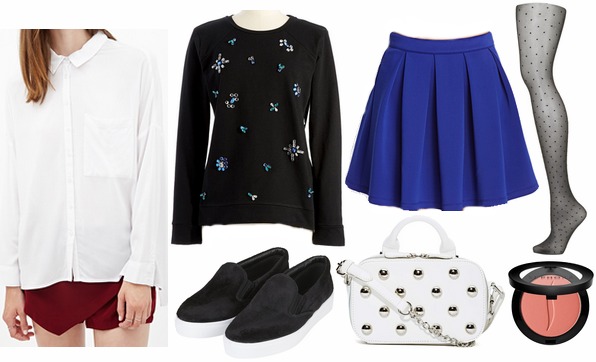 Product Info: Top- Forever 21, Sweatshirt- Lord and Taylor, Skirt- Forever 21, Tights- Topshop, Shoes- Topshop, Bag- Nasty Gal, Blush (in "Sunbaked")- Sephora
For this outfit, start with a cobalt blue pleated skirt and polka dot tights. Slip on a crisp but lightweight button-down and add a sweatshirt with sparkly jeweled detailing. Continue to channel Kate Spade and choose slip-on sneakers. To complete the ensemble, carry a cute bag and sweep on a bit of blush. This layered look is perfect for those cool fall days.
3. (Leopard) Lady in Red

Photo: ELLE
Red and I just get along so well; it's one of those colors that makes you stand out and it pretty much looks good on everyone. It's a fiery color that is best styled with classic or fierce details, so the gold chains and giant leopard print were the perfect complement to the red leather skirt.
Get the Look: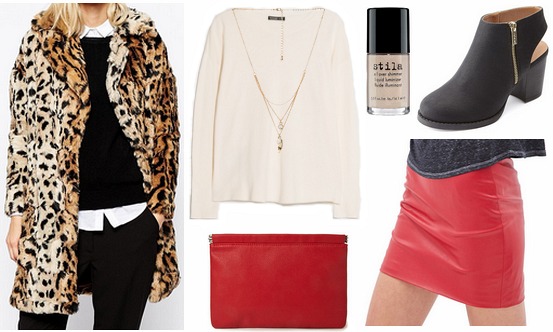 Product Info: Sweater- Mango, Skirt- Forever 21, Jacket- ASOS, Clutch- Forever 21, Shoes- Charlotte Russe, Necklace- Forever 21, Highlighter (in "Kitten Shimmer")- Sephora
Get inspired by the designer outfit and pair a red, faux leather skirt with a cream-colored sweater. Slip on a gorgeous faux fur jacket in a fierce leopard print, then accessorize with a red clutch and a delicate gold necklace. Choose slingback booties instead of red pumps to add a little more edge. Finally, dab on some highlighter to get the model's fab, dewy face.
Your Thoughts?
What did you think of this collection? Has Kate Spade inspired your fall wardrobe? Which one of these outfits is your favorite? Would you wear any of them? Are there any designers you'd like to see featured in upcoming weeks? Remember to let me know your thoughts in the comments below!