The "Fabulous Find of the Week" column gives you the heads up on all the hottest, most affordable items at your favorite stores!
Hey ladies! It's crazy to think that in one week I'll be back home and finals will be over. The final stretch is never easy, but I have a countdown on my computer that reminds me I'm almost done. How have you all been counting down the days until break? It's so important to keep reminders that it's almost over to stay motivated.
For this week's Fabulous Find, I have a stunningly elegant cuff bracelet. It's a gorgeous shade of light pink and works for all seasons. It's from Kate Spade and is currently marked down to $25. Sound too good to be true? It's not! Check it out below: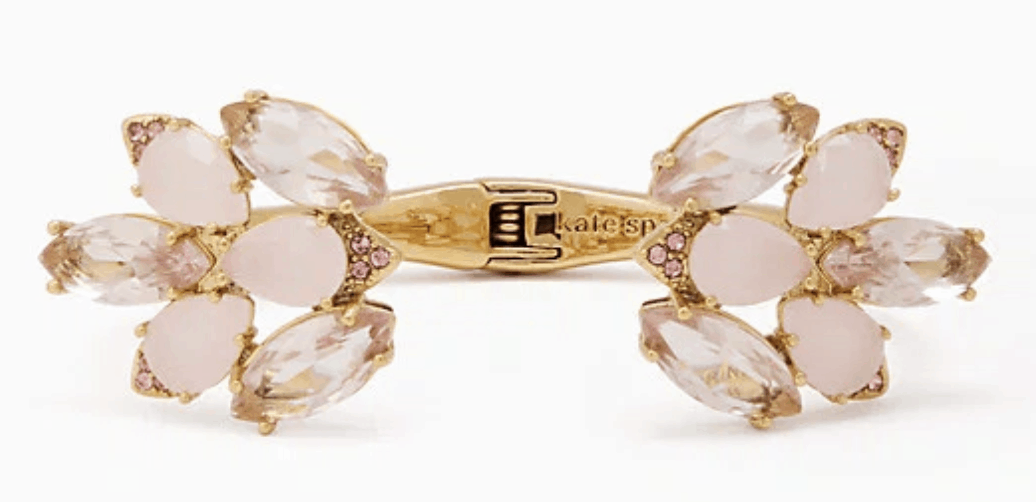 How pretty is this bracelet? Its pink and gold floral pattern will add an extra glow to any outfit. The detailing is so intricate and nobody would ever guess it came for such a low price. This is a must-have for yourself and would also make a great Christmas gift.
Also, if this cuff isn't your thing but you like Kate Spade, you should know that the brand's Surprise Sale is going on now! It has so many great and hugely discounted pieces (up to 70% off!) so be sure to check it out for other fab finds.
Sweater & Cuff Weather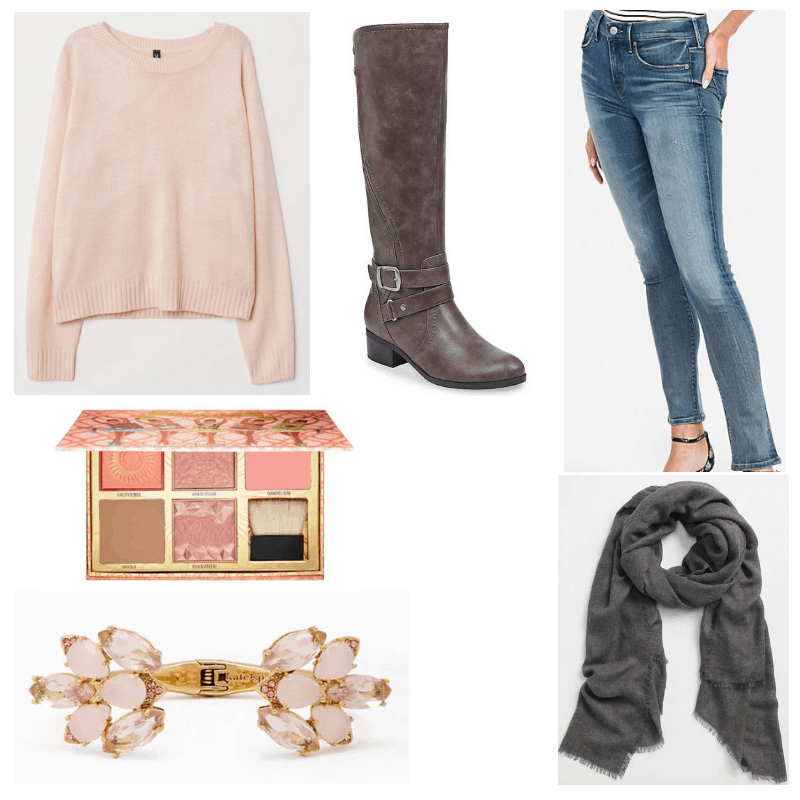 Products: Scarf – Gap, Jeans – Express, Cuff – Kate Spade, Boots – Unisa (DSW), Sweater – H&M, Blush – Benefit (Sephora)
Here's a simple and classic look you can rock for the final week or two of classes, featuring our bracelet as the statement piece.
This blush pink sweater is amazing. Not only is it very comfortable and stylish, but you can get it at H&M for only $9.99! That is such a steal, especially for something that you'll wear over and over again.
I'm also a huge fan of the boots. Riding boots featured on my list of shoes every preppy girl should own and I can't get enough of them. The taupe shade is a great variation on the traditional black or brown and will keep you looking great all year long.
Hunter Green and Velvet Pink Retro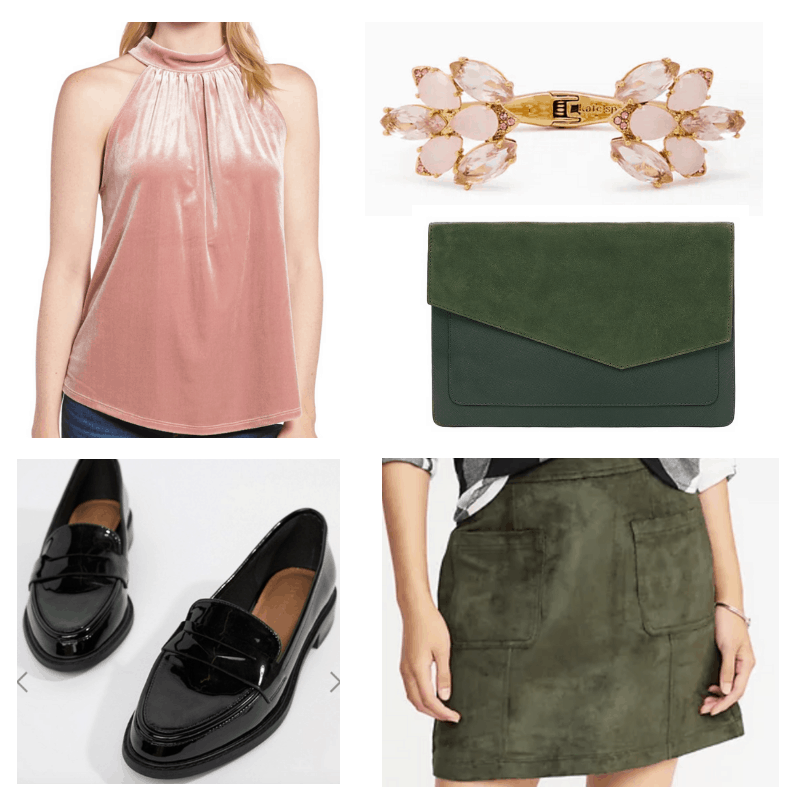 Products: Cuff – Kate Spade, Top – Gibson (Nordstrom), Loafers – ASOS, Clutch – Botkier (Dillard's), Skirt – Old Navy
This outfit is perfect for a night out with friends or a casual holiday party. I love the top! The velvet material is perfect for the season and the halter cut is very flattering and unique. You'll wear it tons around the holidays and going into the New Year.
I love loafers. They are another one of my favorite types of preppy shoes. Doesn't matter what time of year it is, loafers are in my wardrobe and I am totally obsessed with them. These shiny black ones are crazy versatile and will look great with just about any style.
Have Yourself a Floral Christmas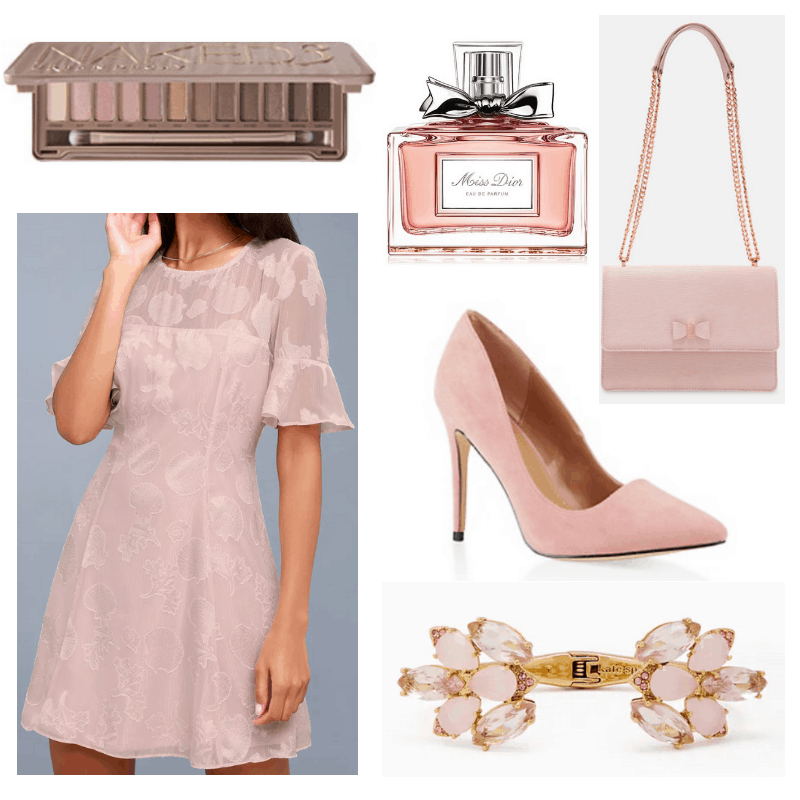 Products: Palette – Urban Decay (Ulta), Heels – Rainbow, Dress – Lulu's, Handbag – Ted Baker, Perfume – Dior (Macy's), Cuff – Kate Spade
If you follow my CF articles, you know I love pink. Although many people think of pink as a springtime color, I say you can rock it year round. Have yourself a pink holiday season in this party look!
To copy this outfit, start with a standout blush pink dress with a cool pattern. I love this one — the floaty sleeves are so cute! Next, add pink suede heels for a hint of winter fabric. Grab a bow bag for an extra preppy touch. Finish with our bracelet and a spritz of a feminine scent like Miss Dior.
What did you think about this week's Fabulous Find?
Do you like this cuff? Are you a fan of Kate Spade? What are your favorite styles of jewelry? What have been your favorite winter trends so far? Start the convo below!