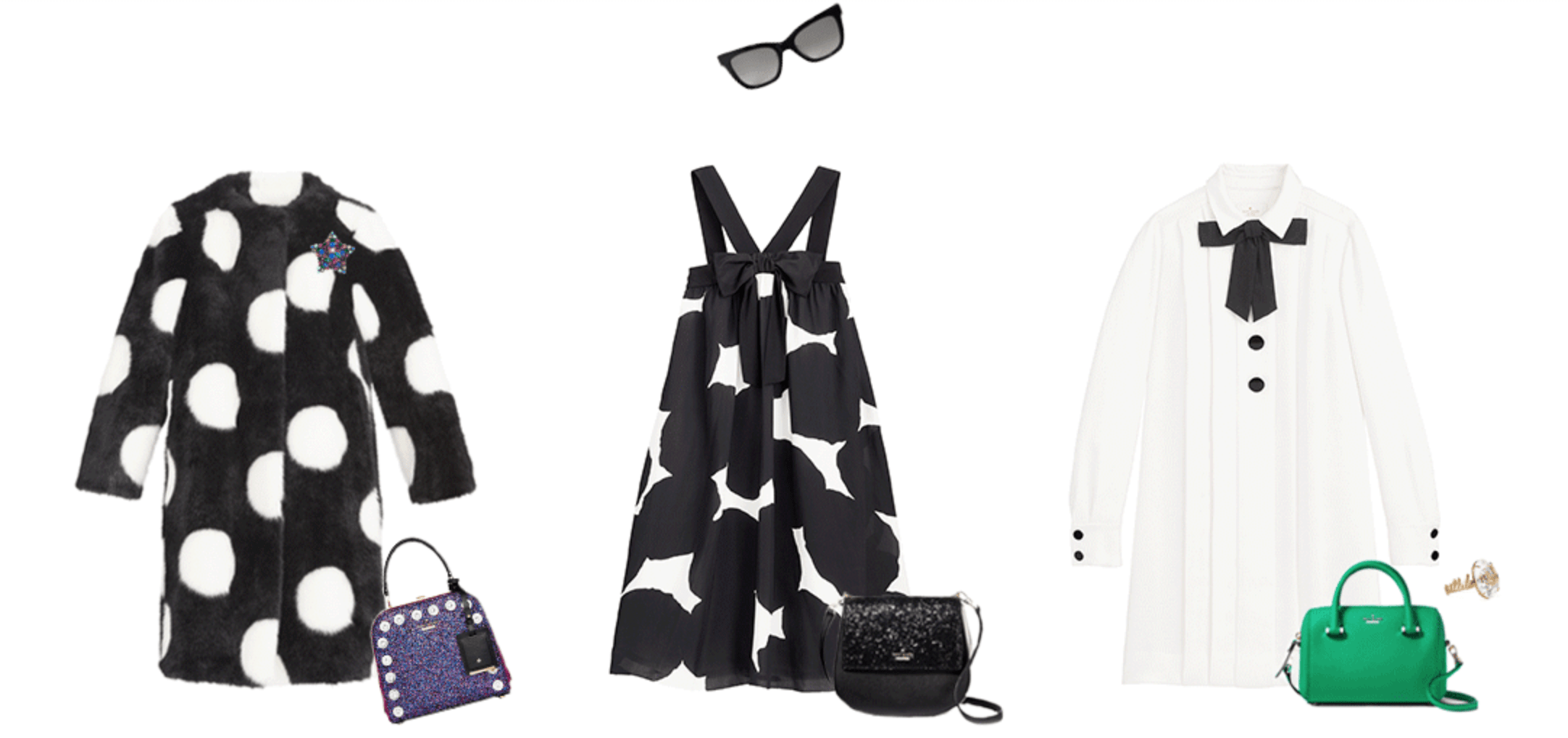 In case you missed it, Kate Spade recently launched a new collaboration with Disney in the form of the #missadventure line – which includes clothing, jewelry, and handbags all inspired by the incomparable Miss Piggy and her decadent taste in fashion.
I'm obsessed with this line because to me, it is Kate Spade at its finest: bright jewel tones, whimsical patterns, elegant silhouettes, and a seasonally-appropriate overload of glitter.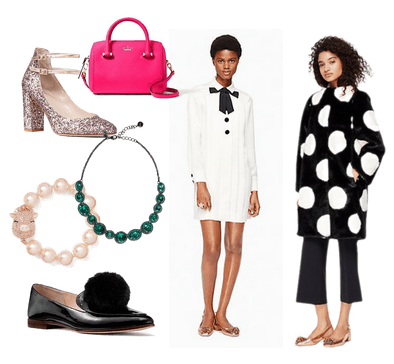 Unfortunately, I don't know about you, but I spent all of my money this month on presents (not going to lie, mostly for myself), so I do not have the funds to drop several hundred dollars on a custom-monogrammed black glitter handbag.
But never fear! In the same spirit as my two previous articles, How to Trick People Into Thinking You're Wearing Kate Spade (and part 2), I'm here to share my best dupes for colorful, sparkly, Kate Spade-worthy holiday ensembles that could fool even the brand's employees. Here's how to get the Kate Spade Missadventure look for less:
Who, Moi?
Products: Earrings, Skirt, Blouse, Shoes, Cape, Bracelet
I'd like to start off by giving props to Kate Spade for creating a line of "flying pig" themed jewelry that doesn't look tacky, because in all my time scouring the Inter-webs for believable substitutes, I could not find a single flying pig necklace, pig bracelet, or novelty pig purse that didn't look like it was won at a carnival.
Forgoing the explicitly pig-themed accessories, this black and pink floral outfit definitely would not look out of place with the rest of the #missadventure collection! These black pom-pom-toed shoes look almost identical to the ones shown above from the collection itself, and this white bow-tie blouse and black velvet cape are chic yet regal enough for Miss Piggy. One of the main colors in the collection is hot pink, so finish the look with a pink floral A-line skirt for a pop of color in an elegant silhouette. Accessorize with pretty pearl jewelry.
A Little Sparkle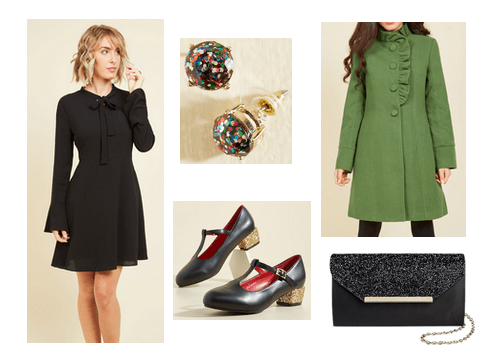 Products: Dress, Earrings, Shoes, Coat, Clutch
One of my favorite things about the holidays is all of the glitter that suddenly, magically appears in all of my favorite brands' collections. Kate Spade is the undeniable queen of this detail.
My favorite way to wear glittery pieces is to use a solid base (such as this classy LBD), then work sparkle into all of my accessories! These rainbow-glitter studs and this black sequined clutch are subtle yet festive, and these black Mary Janes accentuated with a gold glitter heel are absolutely to-die-for. Keep yourself warm and your friends jealous with a gorgeous coat in a bright color, such as green, pink, or yellow. I personally love the ruffled detail on this beautiful shamrock one!
What a Gem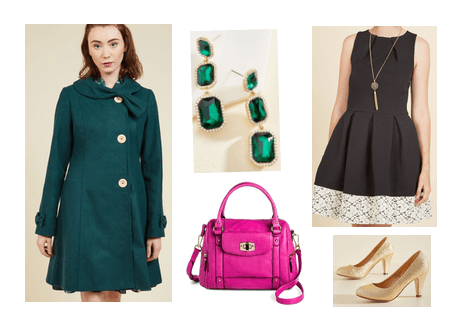 Products: Coat, Earrings, Purse, Dress, Heels
This look is based around the dazzling, holiday-ready jewelry section of this Kate Spade line – most notably the use of emeralds (the color and the gemstone!).
I love this emerald coat, especially the bow collar detail, as well as these eye-catching faux-emerald earrings. A black dress with lace-edged detail makes the perfect base to the colorful extravagance of the rest of the look, and these gold heels are a great way to incorporate that iconic glitter into your outfit! Finally, accessorize with a hot pink handbag that is a similar color and style to the monogrammed leather version available in the #missadventure collection.
What do you think?
As always, remember that the key to dressing like the Kate Spade brand is to have fun with color, make sure you sparkle, and, most importantly, to be confident in yourself. And, of course, if you can afford the real thing, definitely treat yourself – you'll support this amazing designer!
Do you love the new #missadventure line as much as I do? Will you be trying out any of these styles at your next holiday party? Let me know in the comments!