This post may contain affiliate links, which means we may receive a commission if you purchase through our links. Please
read our full disclosure here
.
One of the best moments of my young life can be traced to the day that I walked into a Kate Spade store wearing an outfit comprised entirely of pieces from Forever 21 and TJ Maxx and was told by the manager that "wow, your aesthetic just embodies the Kate Spade brand so beautifully".
After dying of happiness at receiving such an amazing compliment from my favorite store, I realized that I had just been handed a serious fashion weapon: the knowledge that it is entirely possible to get the Kate Spade look without spending all your money at the actual store, and that if you do this look right, even the Kate Spade employees themselves will think you're representing the brand.
Pretty exciting, right? Today I'll be showing you how to do just that, with every piece priced at $50 or less!
How to Get the Kate Spade Vibe
Before we narrow it down to more specific collections, here are some general observations on pieces and patterns that make up the Kate Spade aesthetic:
Novelty purses (purses shaped like non-purse objects)
Whimsical patterns (flowers, stripes, polka-dots)
Classic silhouettes (Peter Pan collars, A-line skirts)
Shiny, sparkly gemstone and pearl accessories
Bright, cheerful colors
I know it's not spring anymore (trust me, the 105 degree weather here in Florida is more than enough of a reminder), but I still couldn't help being inspired by the Kate Spade Spring 2016 collection, which featured just about the cutest designs I've ever seen.
The good news is that since this season is technically over, many of the pieces from this collection are now available for a fraction of the price. The better news is that I'm about to show you how to get the same look for even less money! (Though if you do have the means, we 100% recommend supporting Kate Spade by buying the real deal!)
Sweet Treats
One branch of the Spring 2016 collection was based on the theming of a whimsical carnival, featuring bright pastels, candy-colored accessories, and a to-die-for purse collection that included bags shaped like carousels, popcorn buckets, and ice cream trucks.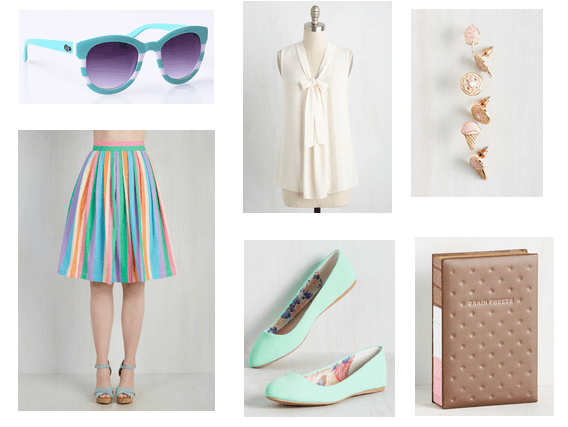 Products: Sunglasses, Skirt, Blouse, Flats, Earrings, Journal
My all-time favorite color combo is mint and pink, so this feels like the perfect time to rock it. It just feels like ice cream to me, you know? Adorable mint sunglasses? Check. Complementing-shade-of mint-flats? Check. Ice cream accessories to represent the novelty side of the collection because I can't afford heels shaped like ice cream trucks? Double check, in the form of some precious carnival treat earrings (including cotton candy, donuts, and ice cream cones!) and a journal shaped like an ice cream sandwich.
This skirt is a viable substitution for a pastel-striped model offered by Kate Spade themselves – the only main difference is that the stripes are vertical instead of horizontal! Finally, add a cream pussy-bow blouse to create a neutral base for the candy-colored sweetness of the rest of the outfit.
Flowers and Bees
The next part of the collection was based on sunflowers and bees, with a primarily yellow-and-black-based color palette punctuated with bold accessories including bags shaped like beehives, jewelry with bee details, and flowery prints.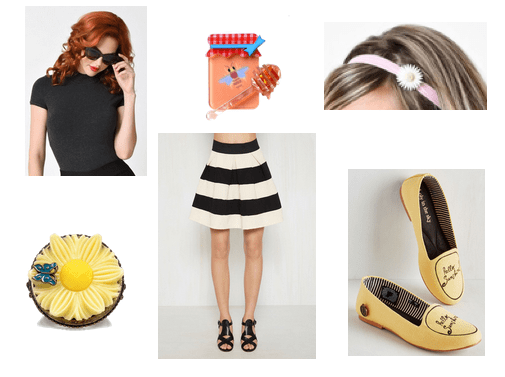 Products: Shirt, Ring, Brooch, Skirt, Headband, Shoes
This look is almost too easy to copy for less. Black and yellow are one of those universally flattering color combinations, and this palette is simple to replicate with a simple black top as a base, a striped A-line skirt for that retro silhouette, and some adorable yellow shoes proclaiming "Hello sunshine!" (in almost the exact same color and font as a watch offered by Kate Spade itself depicting the same phrase!).
For the actual flowers-and-bees portion, accessorize with a cute yellow daisy ring, a brooch shaped like a jar of honey, and a daisy headband in a sweet pastel pink. There's obviously no pink in the original collection, but I always love to add an unexpected dash of color to an otherwise two-toned outfit such as this one.
Alice in Wonderland
All you really need to know about this collection is that it involves a blue wicker teapot handbag that it took every fiber of my being to not spend all my rent money on.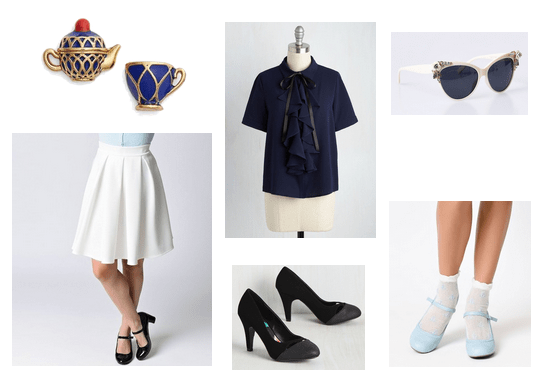 Products: Earrings, Skirt, Blouse, Heels, Sunglasses, Socks
If you need help with shopping self-control like me, distract yourself with some much less expensive pieces that match the blue, black, and white aesthetic of this collection. Rock a chic navy blouse with some exquisite ruffling, adorable lace socks with a pale blue flower pattern, and some two-toned black heels that offer subtle visual interest.
This white skirt comes from a collection from Unique Vintage that has everything you need to fulfill all your Alice in Wonderland-inspired dreams at a fraction of Kate Spade's price, and pairs gorgeously with these gorgeous white cat-eye shades with interesting flower details around the rim. Finally, substitute that teapot purse for some more affordable teapot and teacup earrings.
What do you think?
And there you have it! Which part of the collection is your favorite? Do you think these looks would be able to trick even the most loyal Kate Spade fans? Let me know in the comments!