The "Fabulous Find of the Week" column gives you the heads up on all the hottest, most affordable items at your favorite stores!
Hey girls! Did you all have a great Thanksgiving? I know I did! My family came from Brazil to visit me and it was amazing to have them for Thanksgiving and my birthday. I hope you all enjoyed Black Friday as well. The sales this year were AMAZING! I got my hands on so many incredible pieces for amazing prices.
Today we're talking winter essentials. For this week's Fabulous Find, I have found the perfect pair of winter mittens. Not only are they super stylish and able to be converted from mittens to gloves, but they're from one of my all time favorite brands: Kate Spade. They're currently on sale for 30% off, too! Seem too good to be true? Check them out below: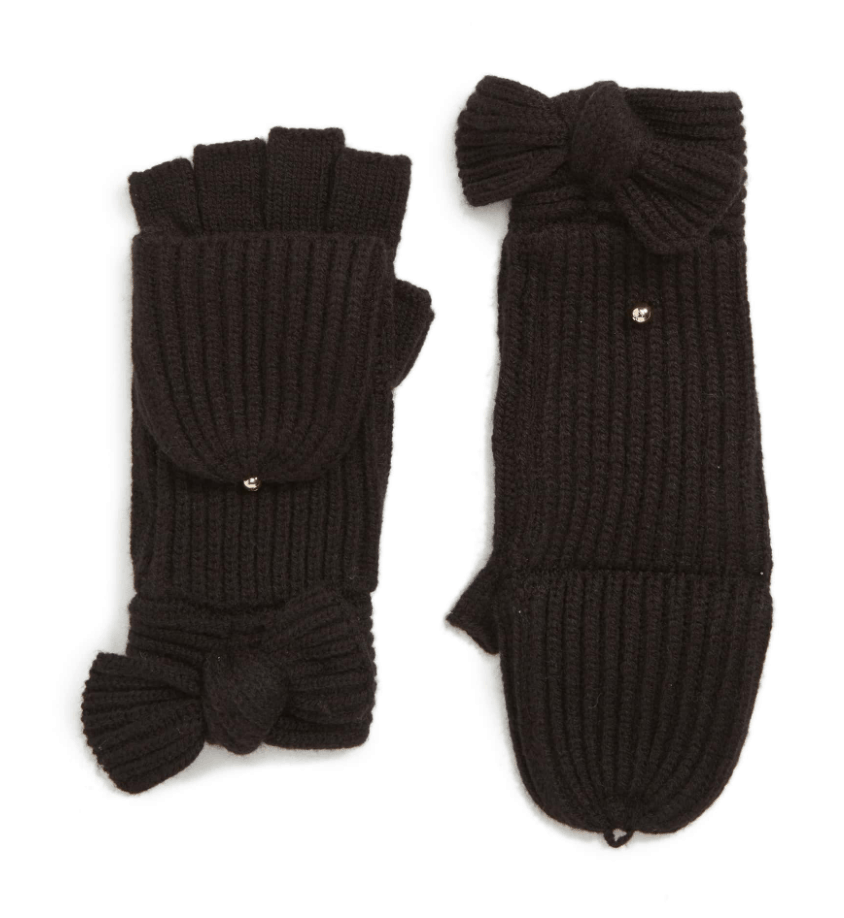 These convertible mittens are perfect in every way! They're elegant, ladylike, and have a timeless design. They're black which means they'll go with anything and you can wear them with all your outfits. You won't have to worry about texting with them on because they convert from mittens to fingerless gloves. You'll be able to keep your snap streaks and also stay warm at the same time. My favorite part is the bow on the front.
If you're wondering what to wear with black mittens or just want to see some winter outfit ideas, here are three ways I'd style these classic mittens for winter:
Scalloped Edges & Ruffles Galore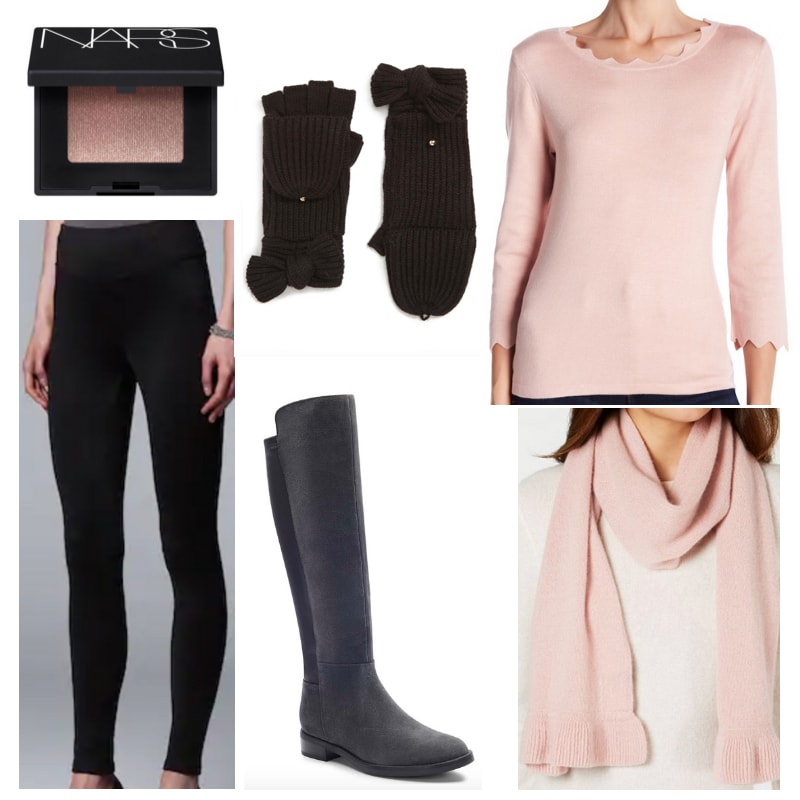 Products: Scarf – Charter Club (Macy's), Leggings – Simply Vera Wang (Kohl's), Eyeshadow – NARS, Mittens – Kate Spade (Nordstrom), Sweater – Philosophy Apparel (Nordstrom Rack), Boots – Blondo (Nordstrom)
This is the perfect outfit for going to class, featuring my favorite shade of pink, blush. Blush pink is so delicate and goes well with everything! I'm obsessed with the sweater. The scalloped detailing is stunning and makes a simple sweater look fabulous. Plus, it's on sale for under $17 so it's practically a steal!
The Simply Vera Wang leggings are also a must have. Originally priced at $32, they are now only $12. They're high-waisted and super flattering. I personally own a pair and love them. They're perfect for day to day use and never fail to keep me looking great.
Black, White, and Silver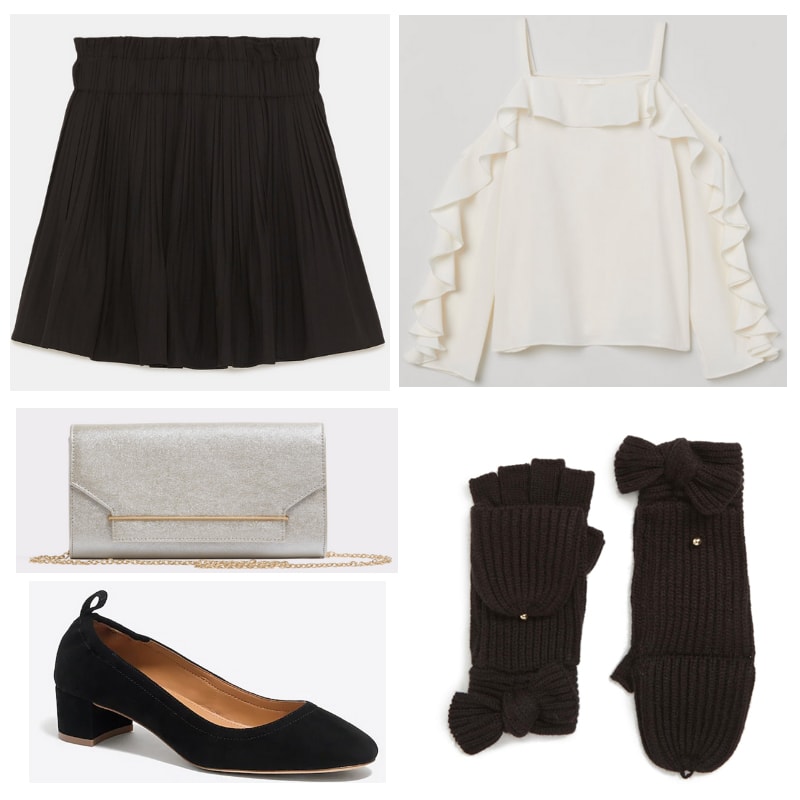 Products: Ballet Heels – J.Crew Factory, Top – H&M, Mittens – Kate Spade (Nordstrom), Clutch – Aldo, Skirt – Zara
This outfit is perfect for Sunday brunch or going out for drinks with friends. It has casual vibes but is also dressy so you can pull it off for a number of occasions. My favorite piece in this look (besides the mittens of course) is the top. I love the ruffle detailing on the sleeves. Not to mention, it's currently on sale for under $10! Be sure to check out that great deal.
I'm also a huge fan of the J.Crew Factory ballet heels. Ballet flats are one of my favorite styles of shoes and I wear them so often all year round. Adding the heels keeps the timeless design and the comfort, but dresses them up a bit!
Out for Dinner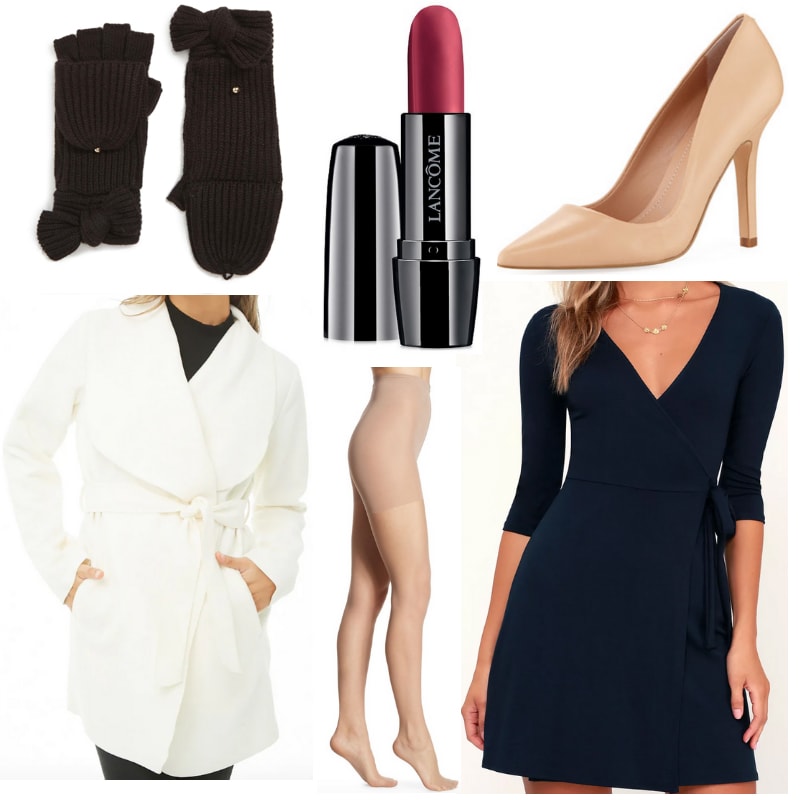 Products: Tights – Donna Karan (Saks 5th Ave), Mittens – Kate Spade (Nordstrom), Dress – Lulu's, Lipstick – Lancôme (Macy's), Coat – Forever 21, Heels – Charles by Charles David (Neiman Marcus Last Call)
This is the perfect outfit for going out to dinner with friends or maybe that special someone. I love the coat. The design is timeless and the color will have you ready to stroll through a winter wonderland.
Wrap dresses are a must! Kate Middleton showed us all the power of a good wrap dress and this Lulu piece is the perfect example. Navy is a versatile color that you can wear all season and the fabric is so soft! You'll be wearing this one for years.
What did you think about this week's Fabulous Find?
Do you like these gloves? Are you a fan of Kate Spade? What are your favorite winter accessories? What have been your favorite winter trends so far? Start the convo below!