Chanel Fall 2014 RTW | ELLE
When pictures of Chanel's Fall 2014 RTW collection first emerged, all I could think was "A Chanel show? On a supermarket runway?" Once I got past the whole supermarket thing (and fully appreciated Karl Lagerfeld's creative decisions because hey, it's Karl Lagerfeld), I was in love.
From matching sets to Chanel's iconic tweed, there were so many gorgeous pieces in a variety of colors that reached the opposite ends of the spectrum. Almost every look featured sneakers (a continuation from Chanel's Spring 2014 Couture collection) and each was impeccably styled, right down to the grocery baskets some models carried. This season was definitely one where Chanel deserved all of the hype.
Are you also in love with these Chanel looks, but definitely not into the price tag? Keep reading for three budget-friendly outfits inspired by this fab collection:
1. Pretty in Pink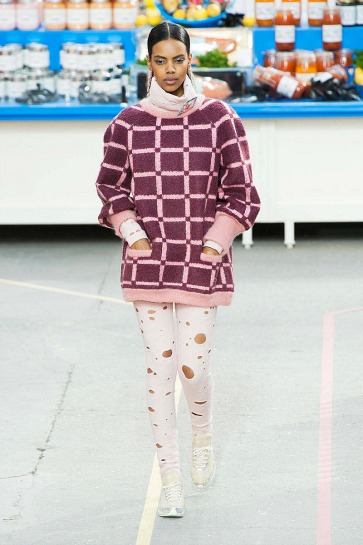 Photo: ELLE
One of the comfiest-looking outfits that walked down the runway, this look mixes preppy pink with a Sporty Spice feel. The varying shades of pink, from a pale blush to a purple-pink, look cool rather than over-the-top. In addition, the sparkly sneakers and silver eyeshadow continue the chic yet trendy vibe.
Get the Look: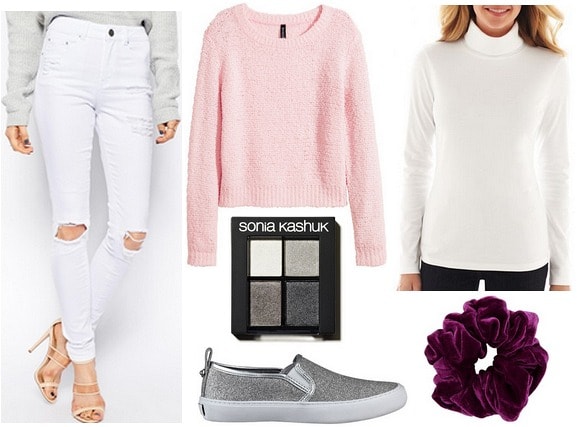 Product Info: Shirt- JCPenney, Sweater- H&M, Pants- ASOS, Shoes- Guess, Scrunchie- New Look, Eyeshadow (in "Up In Smoke")- Target
If you're not ready to dive right into all the pinkness of the original look, don't fear! For this recreation, we chose a white turtleneck and distressed white jeans to channel the leggings in the original look. Wear a slouchy pink sweater over your turtleneck, then slip on sparkly silver sneakers.
Finish the look with a silver smoky eye and a scrunchie in a similar hue as that purple-pink in the original sweater. Yes, a scrunchie. They're making a comeback!
2. Black & White Forever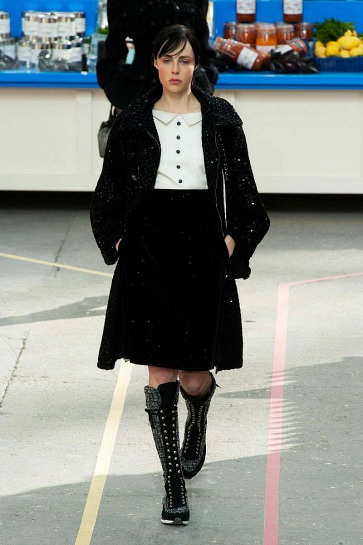 Photo: ELLE
I admit, I am the first to gravitate towards a black-and-white outfit (as you can probably tell from my previous posts), but there are a couple of reasons for that: it's flattering, sophisticated, and I can guarantee you, it will probably never go out of style.
What's so great about this particular B&W outfit from Chanel is its sporty vibe – just look at those knee-high sneakers! – and we love the bright orange eyes and flushed cheeks that add a dash of color to the look.
Get the Look: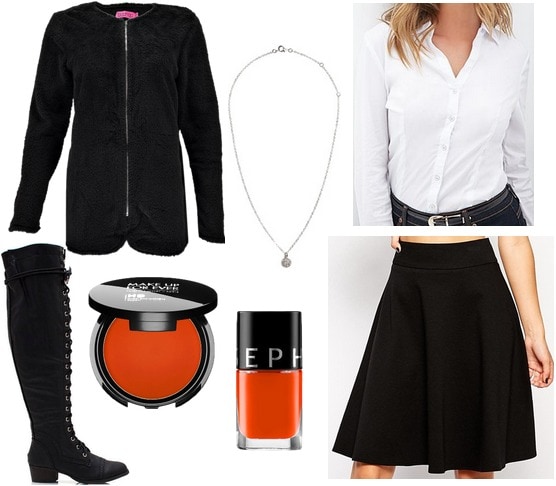 Product Info: Shirt- Forever 21, Skirt- ASOS, Jacket- Boohoo, Shoes- Go Jane, Necklace- H&M, Blush (in "Tangerine")- Sephora, Nail Polish (in "Trick Or Treat")- Sephora
To get a similar look for a fraction of the price, start by tucking a white-button down into a black, knee-length skirt. Grab a soft, zip-up jacket, then accessorize with a delicate pendant that's reminiscent of the subtle sparkle in the Chanel outfit. Add a pair of knee-high lace up boots, then apply a bit of orange-hued makeup to complete this getup.
3. Yearning for Yellow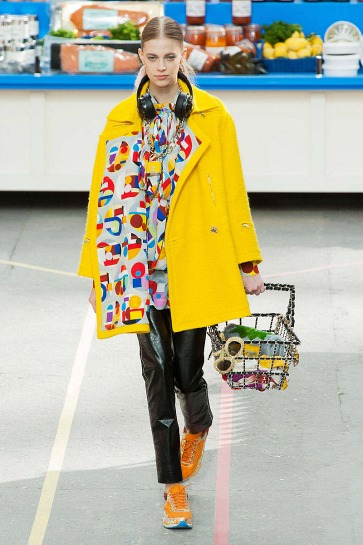 Photo: ELLE
Even though it's one of my favorite colors, I tend to avoid wearing yellow. However, this look is definitely changing my mind! The bright yellow coat and bold orange sneakers are mixed with a busy print, but grounded by sleek, black leather pants. This ensemble is THE prime example of how to play with color in a sleek and polished way.
Get the Look: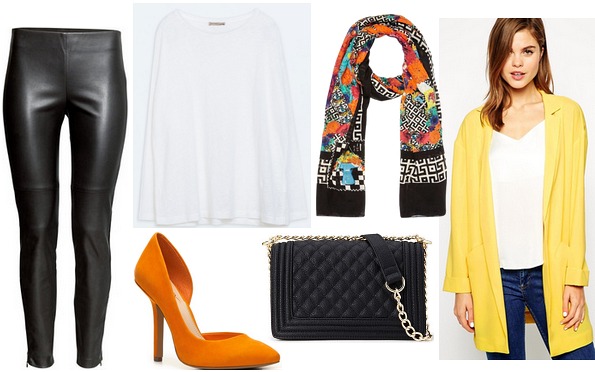 Product Info: Shirt- Zara, Pants- H&M, Coat- ASOS, Scarf- River Island, Bag- Forever 21, Shoes- DSW
To recreate this look, pair leather-look pants with a simple white long-sleeved tee. Slip on a bright yellow coat, then add a trendy multi-colored scarf. Continue to channel Chanel by tossing on this cute crossbody bag, which is reminiscent of their much-loved quilted bag. By switching out sneakers for a pair of fierce orange heels, we think this ensemble would be perfect for a dinner date on a chilly night!
Your Thoughts?
What did you think of this collection? Are you inspired by Chanel's Fall 2014 runway looks? Which one of these outfits is your favorite? Would you wear any of them? Remember to let me know your thoughts in the comments below, along with any fall collections you'd like to see in upcoming weeks!