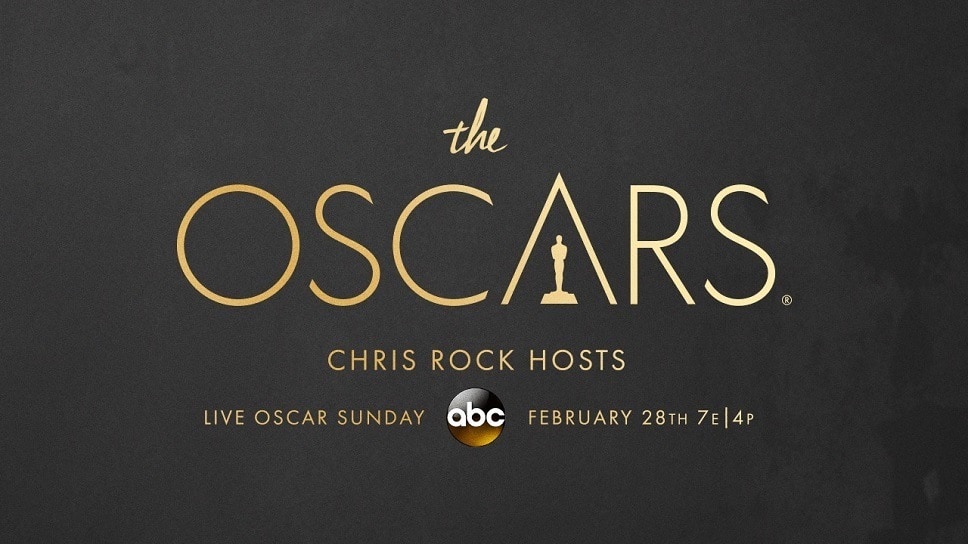 The 88th Annual Academy Awards aired last night and we have some red carpet fashion to discuss this morning! There's so much fashion to cover so let's get into it:
Top 5 Best Dressed
In no particular order (except for the first look), here are my picks for the best dressed celebrities from last night's event.
Saoirse Ronan in Calvin Klein Collection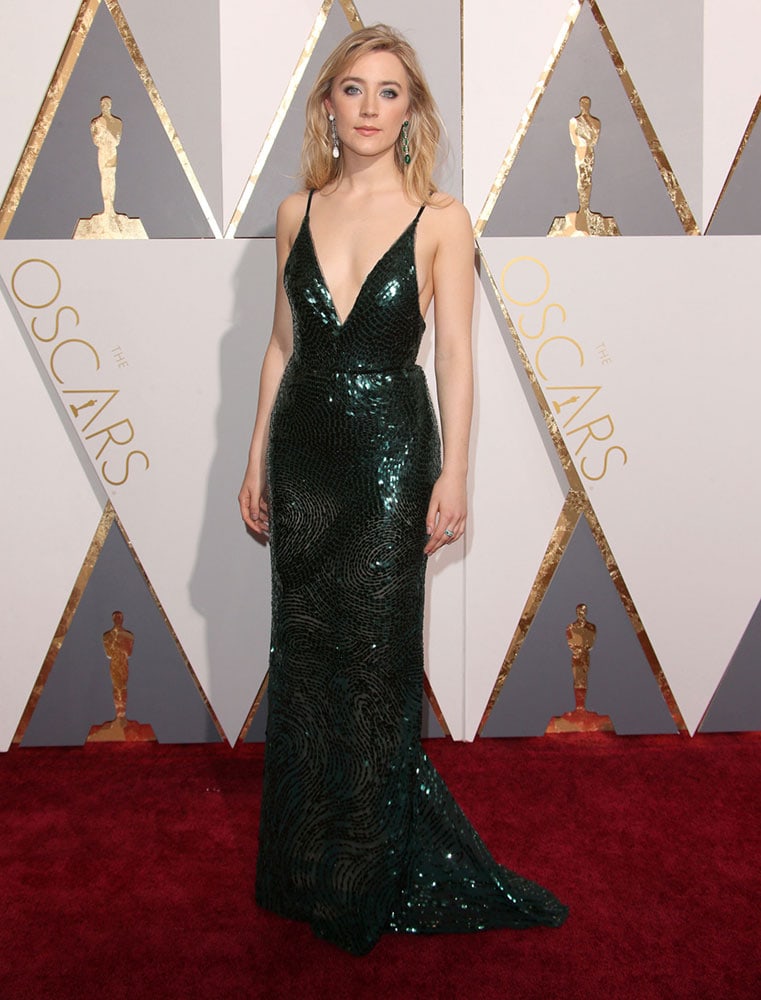 Paying tribute to her Irish heritage, Best Actress in a Leading Role nominee Saoirse Ronan rocked the red carpet in an emerald green sequined Calvin Klein gown. She teamed her look with slightly messy waves, which gave her look a relaxed vibe. She also wore cool mismatched earrings for a fun, unexpected touch. This was by far my favorite look of the evening – well done, Saoirse!
Cate Blanchett in Armani Privé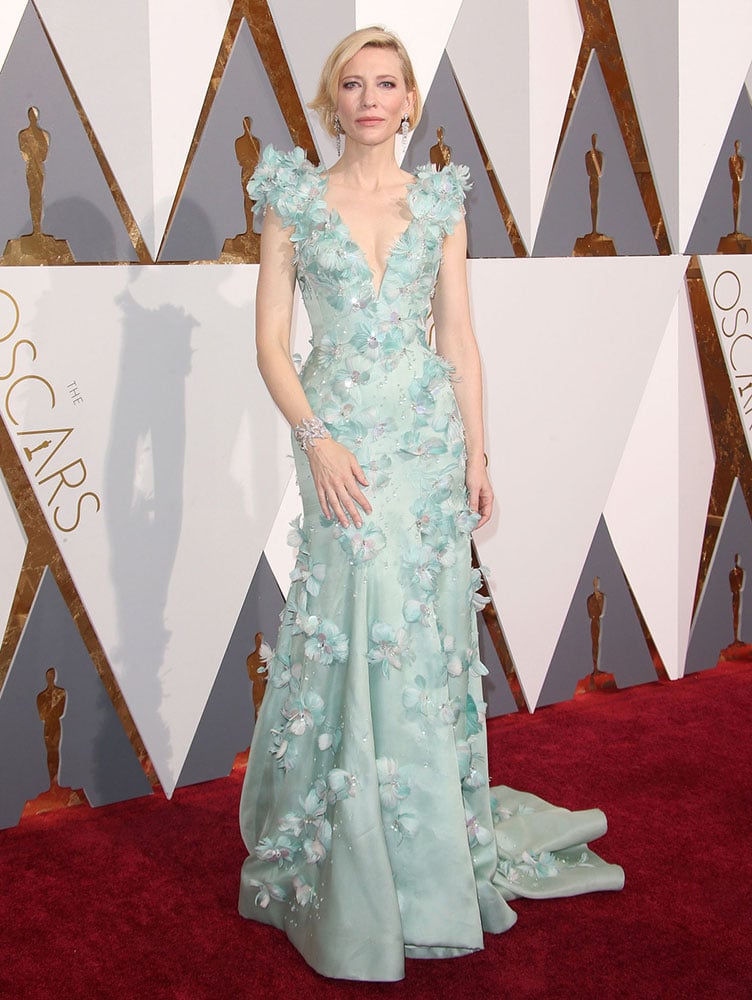 Cate Blanchett is always a red carpet risk-taker and she didn't disappoint last night, turning every head in a flower-embellished Armani Prive gown. This was a definite love-or-hate look but I personally loved it. This color is fantastic on Cate and the gown gave off an ethereal vibe. I'm not sure most stars could pull off a dress like this, but Cate absolutely rocked it.
Alicia Vikander in Louis Vuitton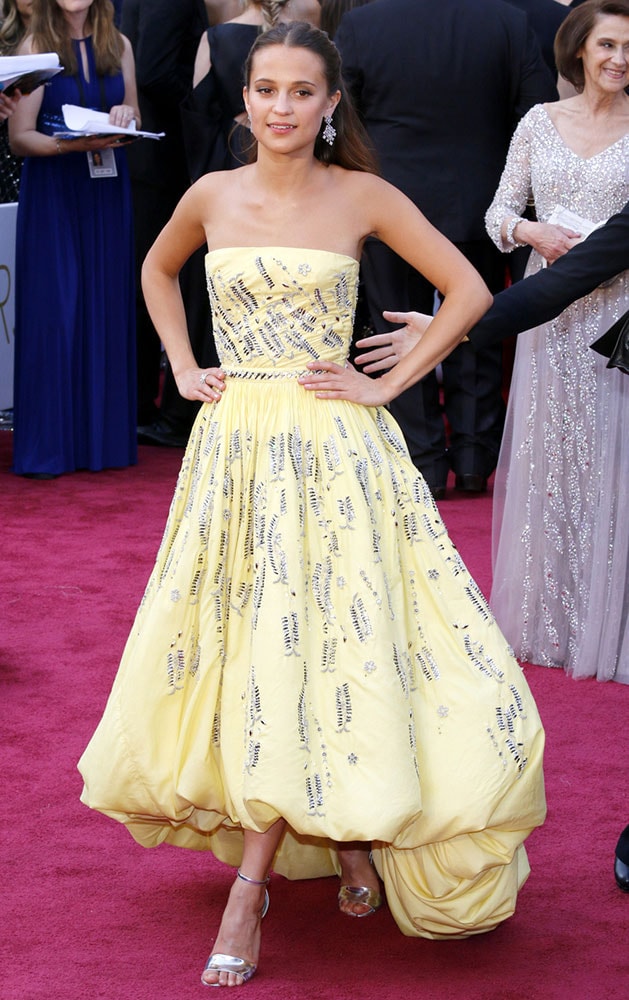 Best Supporting Actress winner Alicia Vikander took a major risk – that majorly paid off – in a strapless yellow Louis Vuitton gown. As the current face of the brand, it was natural that Alicia would once again wear LV, and the brand custom-made this dress for her.
While some commentators didn't like the bubble hem and quirky embellishments on this gown, I personally loved the combo. Alicia is a fresh, young star and I love that she didn't play it safe. She even drew Beauty and the Beast comparisons, which is about as flawless as you get.
Daisy Ridley in Chanel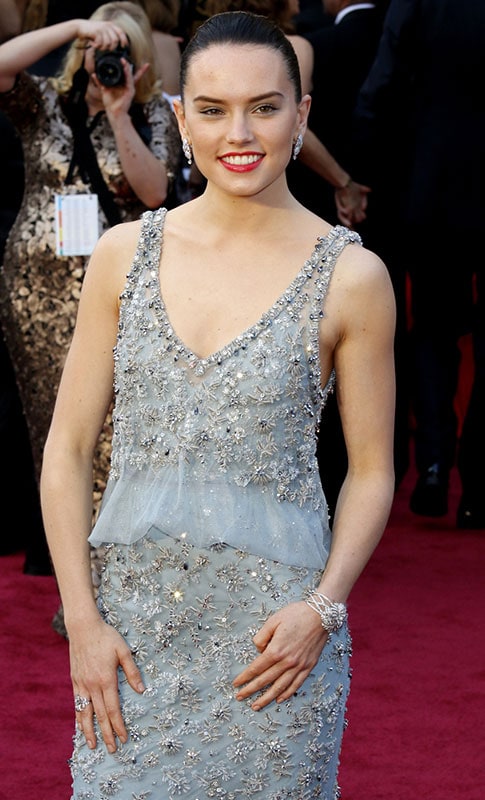 Star Wars actress and presenter Daisy Ridley hit the red carpet in tea-length light blue Chanel last night, and I couldn't have been more excited about her look. From the beading to the peplum detail to THAT COCKTAIL RING, this is a knockout look befitting a rising star.
Jennifer Lawrence in Dior Haute Couture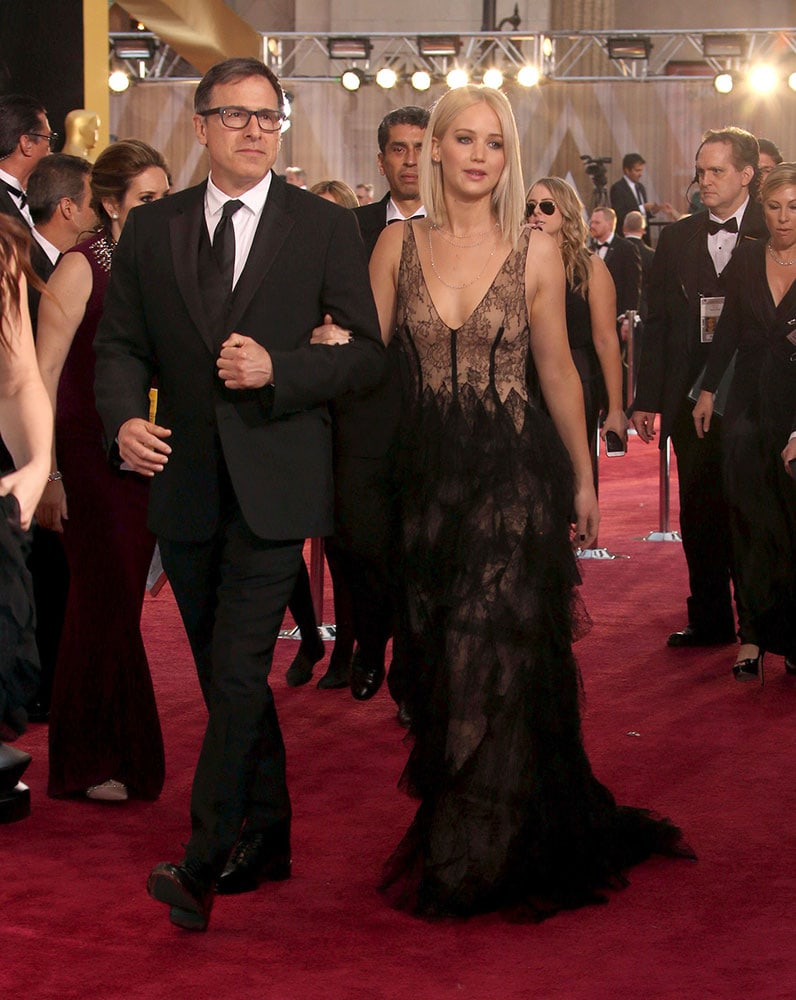 As per usual, Jennifer Lawrence hit the red carpet in Dior. She actually arrived late to the red carpet so we didn't see her look until it surfaced on Twitter during the ceremony.
For me, this was definitely worth the wait – from the sheer bodice to the ruffled lace detailing to Jennifer's gorgeously sleek hair, there's nothing out of place here. Everything is perfectly fitted and styled to a T.
Other Noteworthy Looks
In case you missed them, here are some other looks that got us talking last night.
Brie Larson in Gucci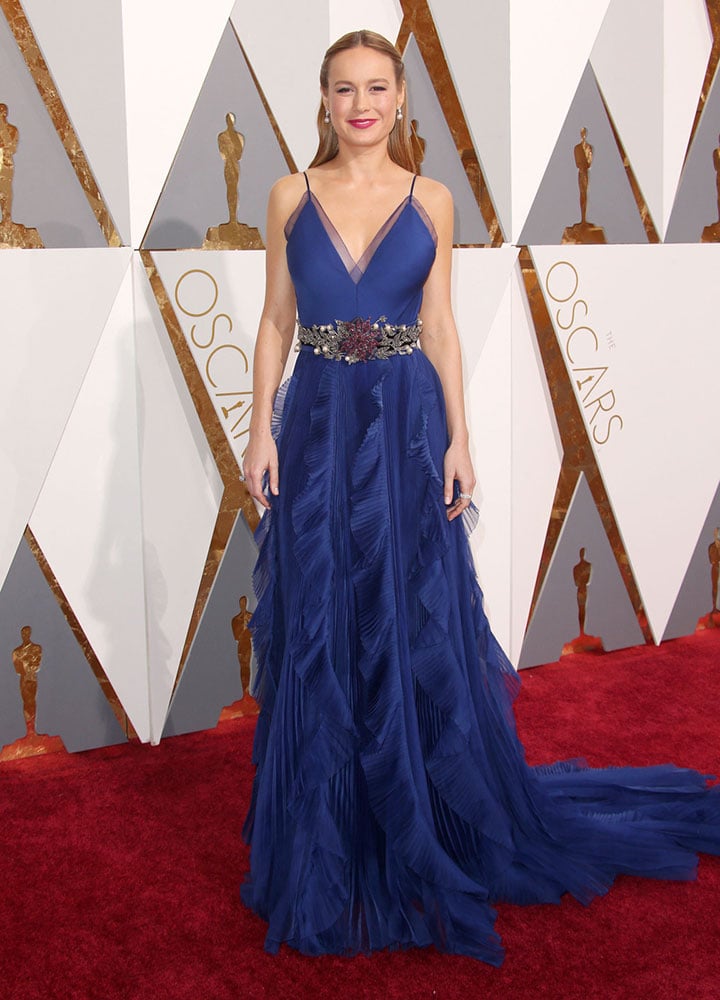 Best Actress in a Leading Role winner Brie Larson wore a Gucci gown befitting a star last night. This dress was a bit polarizing – some loved the ruffles and jeweled waist, while others, including myself, thought it had a little too much going on.
Truthfully, this isn't my favorite look from Brie, though I will say the color is gorgeous on her skin tone. What do you think of this look?
Priyanka Chopra in Zuhair Murad
Presenter Priyanka Chopra looked stunning in a strapless white Zuhair Murad gown featuring sheer panels and a metal belt.
I absolutely loved this look; Priyanka is one of the most gorgeous celebs out there and this choice really accented her natural beauty. If I have anything negative to say about it, it's that it didn't feel fresh as it was so similar to the gown Olivia Culpo wore during the E! News Oscar pre-show. It's not Priyanka's fault, but the sense of deja vu took away some of the luster for me. Was Priyanka your best-dressed?
Rooney Mara in Givenchy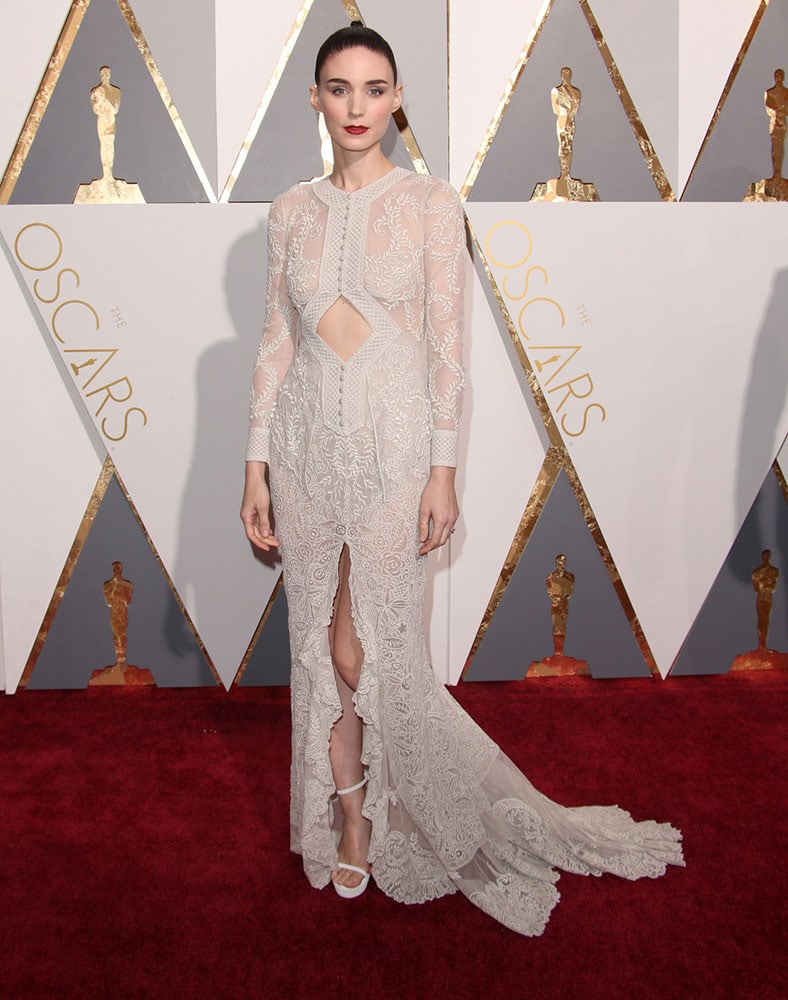 Rooney Mara looked gorgeous as usual in a white cutout-detailed Givenchy dress befitting her usual cool-girl minimalist style. She accented her ensemble with a multi-topknot hairstyle that some compared to Rey's look from Star Wars: The Force Awakens.
I absolutely loved this look – Rooney looked beautiful and true to herself, and her unexpected hairdo was such a perfect accent. I have nothing bad to say about this.
Rachel McAdams in August Getty Atelier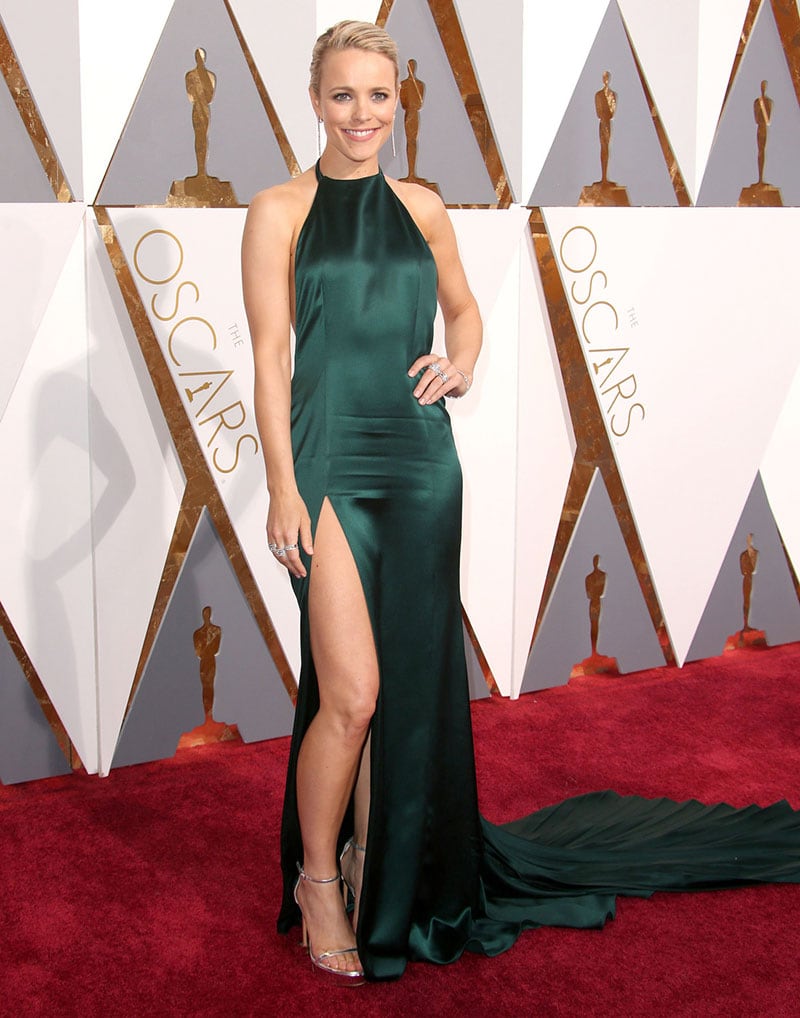 Nominee Rachel McAdams kept her look simple but eye-catching in an emerald green backless August Getty gown. She kept accessories to a minimum, adding some cool rings and a single jeweled bracelet. Fun fact: Rachel's ultra-stylish sister picked this gown for her! Too cool.
Least Favorite Look
This year there weren't many lackluster looks to choose from, but of everything, this was my least favorite.
Heidi Klum in Marchesa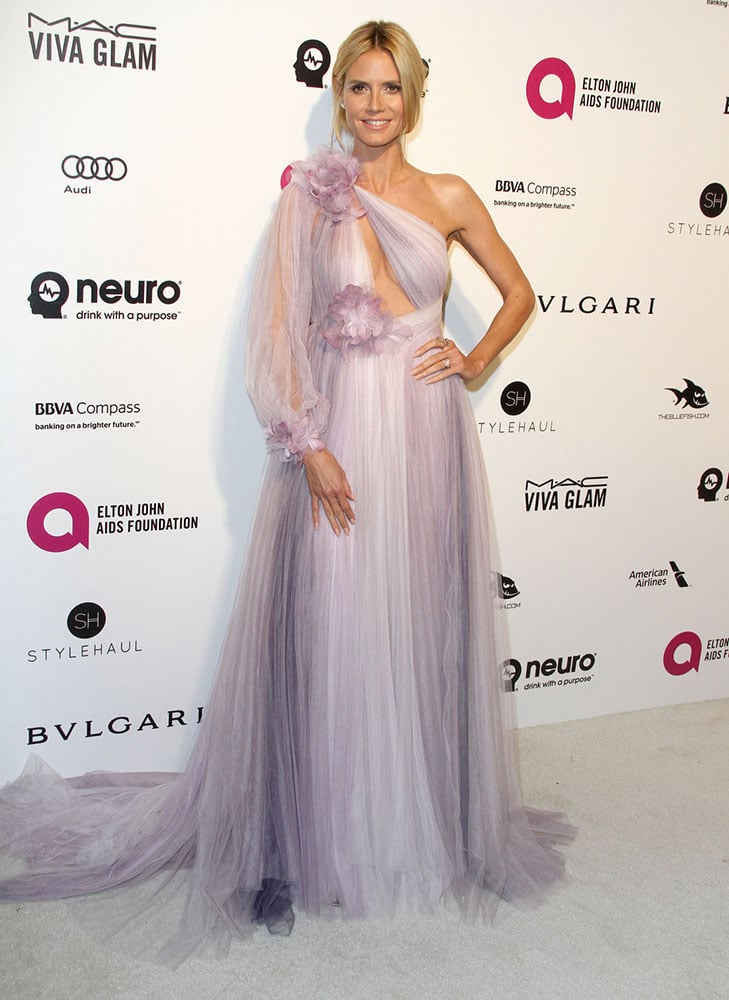 Model Heidi Klum once again wore my least favorite look of the night. I truly do admire her sense of fashion risk-taking but I didn't understand this lavender Marchesa gown. In particular, the top half confused me – there was just too much going on, from the one-armed silhouette to the floral embellishments. There was so much volume that Heidi was lost in the shuffle.
As with the canary yellow Versace dress she wore to the Emmys, this was another Heidi choice that baffled me.
What do you think?
Did you watch the red carpet arrivals last night? Which looks were your favorite and least-favorite? Let's talk in the comments!