Tonight, Sunday January 15th, marks the 69th Annual Golden Globe Awards ceremony and thus begins the time of year we like to call "Awards Season." Since many of the fashions seen at these awards shows are translated into everyday wear, I thought it would be a fun theme for this week's quiz.
(After you're done taking this one, visit our personality quiz section to check out some of our past quizzes.)
Just take this fun quiz below to find out which awards show represents your style. Once you get your answer, find your letter and corresponding result below for a sample outfit based on your personality type.
Quiz: Which Awards Show Represents Your Style?
Quiz Results – No peeking!
Below are the results of the quiz. Don't look if you haven't taken it yet! I've created one outfit for each result to help give you some ideas for what to wear. Enjoy!
Mostly A's: Academy Awards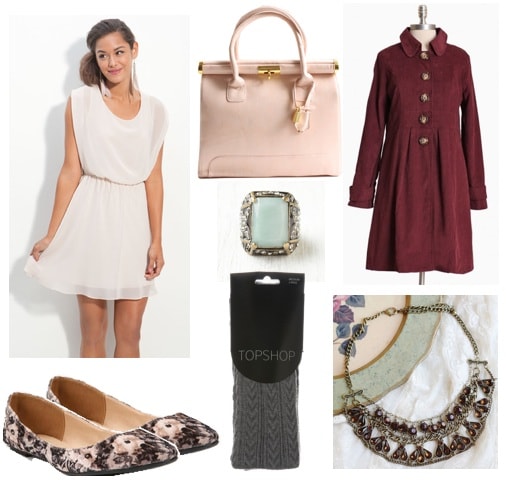 Product Information: Dress, Bag, Coat, Necklace, Tights, Ring, Shoes
On this night the most celebrated movie stars attend this prestigious ceremony dressed in their absolute best. For this outfit inspired by the elegance and grace of the Academy Awards, I started with this white blouson dress. Add on a dazzling jeweled statement necklace to give the look a sense of refinement. To keep warm, throw on a pair of cable-knit tights and an elegant coat. Finish the look with a structured bag, floral flats, and a pretty cocktail ring.
Mostly B's: Golden Globes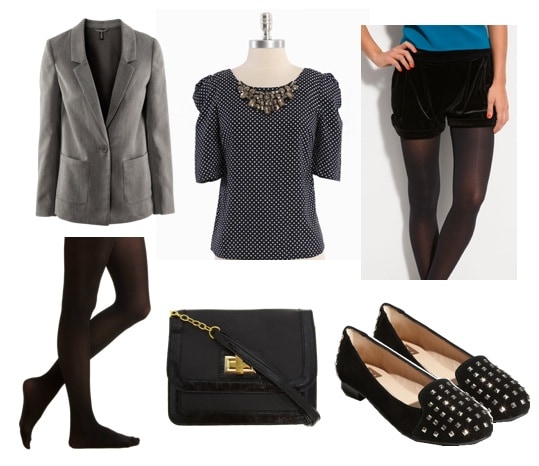 Product Information: Jacket, Top, Shorts, Shoes, Bag, Tights
While the Golden Globes are a formal event, those in attendance have a little more flexibility with their looks in comparison to the dress code that is expected at the Academy Awards. For a refined and unique look inspired by the Golden Globes, I chose to pair this pretty polka dot top with a pair of black velvet shorts. Add on some opaque tights and a grey blazer for a pulled-together look. Finish with a pair of studded loafers and a simple bag.
Mostly C's: Grammys
Product Information: Jacket, Top, Pants, Bag, Three-finger Ring, Chain Ring, Loafers
Because the Grammys honor the best in music — an industry that celebrates individuality, creativity, and personal expression — their loose dress code allows the artists to express themselves through fashion. For a Grammy-worthy outfit, start with this showstopping bright pink jacket. Pair this standout piece with a black top and some velvet pants for textural dimension. Finish the look with a pair of leopard loafers, some cool rings, and a black tote.
What do you think?
What was your result? Do you think it matches your personal style well? Did you like your outfit? Which one is your favorite? Please leave us a comment below and let us know what you think!