A favorite holiday among people young and old, Halloween provides an opportunity for everyone to channel their inner child. Between dressing up as something other than yourself, choosing a perfect pumpkin to carve, and, of course, eating a ton of candy, there are so many reasons to love October 31st.
For this week's personality quiz, we thought we'd do a Halloween personality quiz inspired by our favorite Halloween icons. To help get you in the spirit of the holiday and to see what Halloween icon you are, continue below.
Just take this fun quiz below to find out what Halloween icon represents your personality. Once you get your answer, find your letter and corresponding result below for a sample outfit based on your personality type.
Quiz: What Halloween Icon Are You?
Quiz Results – No peeking!
Below are the results of the Halloween quiz. Don't look if you haven't taken it yet! I've created one outfit inspired by each result. Enjoy!
Mostly A's: Candy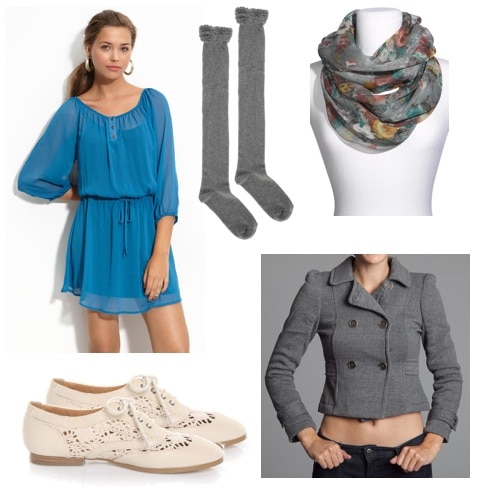 Product Information: Dress, Socks, Scarf, Jacket, Shoes
Like tasty Halloween candy, you are fun, energetic, and love to make people smile. This bright blue dress is reminiscent of the bright colors of candy and has a fun, upbeat vibe. The floral print on this scarf is a subtle reminder of the multi-colored wrappers that you find in your candy bag after a night of trick-or-treating. Grey knee-high socks and a grey jacket help to keep the cold out. Finish the look with some pretty lace oxfords.
Mostly B's: Haunted House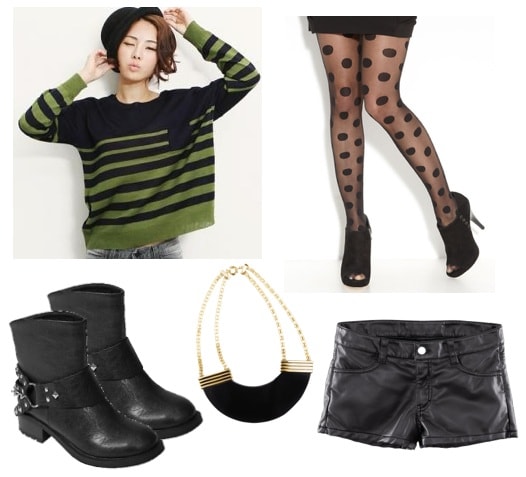 Product Information: Sweater, Tights, Shorts, Necklace, Boots
Haunted houses are a scary but entertaining Halloween tradition, and they perfectly reflect your love of spooky fun. For this outfit, I loved the idea of pairing a black and green striped sweater with a pair of (faux) leather shorts for an edgy look. These polka-dot tights are a fun way to play with mixing prints, however if you prefer, a plain pair of black tights would work just as well. Complete this look with a statement necklace and some moto boots.
Mostly C's: Jack-o-Lantern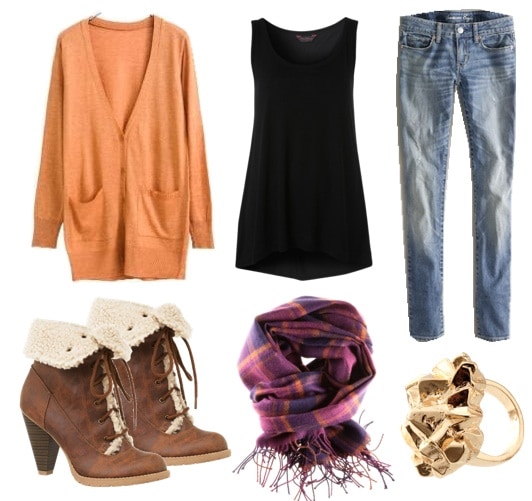 Product Information: Sweater, Top, Pants, Ring, Scarf, Shoes
Jack-o-lanterns are common Halloween decorations that grace the porches of houses across America in October. For an outfit inspired by these iconic decorations, I had to bring in a pumpkin orange color to the look and this cardigan serves that purpose. Wear the cardigan over a solid black tank and throw on a multi-colored scarf to keep the outfit from looking too literal. Some light wash skinny jeans are a classic option to wear on the bottom. Finish the look with some faux shearling-lined boots and a cool gold ring.
Mostly D's: Trick or Treater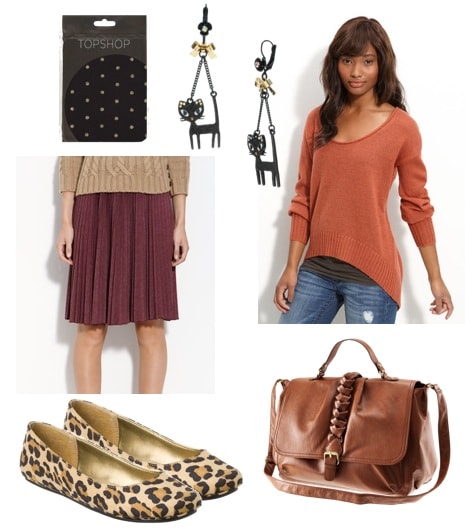 Product Information: Tights, Earrings, Sweater, Bag, Shoes, Skirt
Between dressing up in a costume and going door-to-door collecting candy, trick-or-treating brings out the kid in all of us. The costumes that trick-or-treaters wear are often flashy, so a fun way to recreate this feeling without being too literal is to wear two solid non-neutral colors together. I love the combination of this burnt orange sweater and maroon pleated skirt. An over-the-shoulder bag is a nod to those you use to collect your candy when trick-or-treating. Lastly, I added some feline-inspired pieces – leopard ballet flats and black cat earrings – for a nod to another iconic Halloween symbol.
What do you think?
What was your result? Do you think your result represents your personality well? Do you celebrate Halloween? What are you going to do to celebrate? What is your favorite thing about this holiday? Which outfit is your favorite? Please let us know what you think by leaving a comment below!