We're back this week with another personality quiz. Similar to the one we did back in spring, this quiz will suggest which fall 2011 trend you should try based on your personality type.
Just take this fun quiz below to find out which fall 2011 trend best matches your personal style. If you take the quiz here on the site, the widget will automatically total up your answers for you. If you print the quiz, total up the letters you got and find which one you selected the most. Once you get your answer, find your letter and corresponding result below for a sample outfit based on your personality type.
Quiz: What Fall 2011 Trend Should You Try?
Quiz Results – No peeking!
Below are the results of the quiz. Don't look if you haven't taken it yet! I've created one outfit for each result to help give you some ideas for what to wear. Enjoy!
Mostly A's: '60s Mod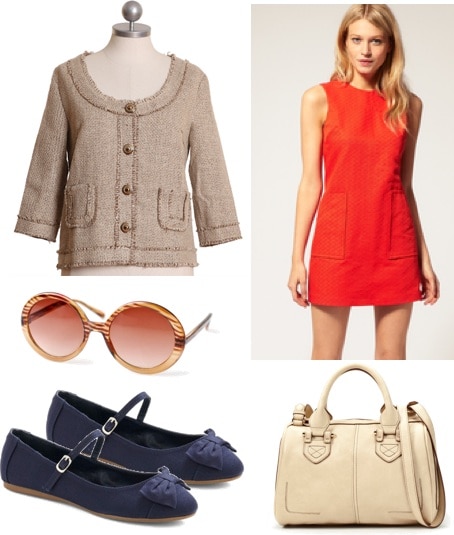 Product Information: Jacket, Dress, Bag, Shoes, Sunglasses
They say all things old become new again and this season's '60s mod trend is no exception. Try out this trend with a dress in a retro silhouette like the one above. A tweed jacket with an a-line silhouette continues the look's structured but flirty feel. Finish the look with a structured bag, some blue flats, and some iconic circle sunglasses.
Mostly B's: Bright Pants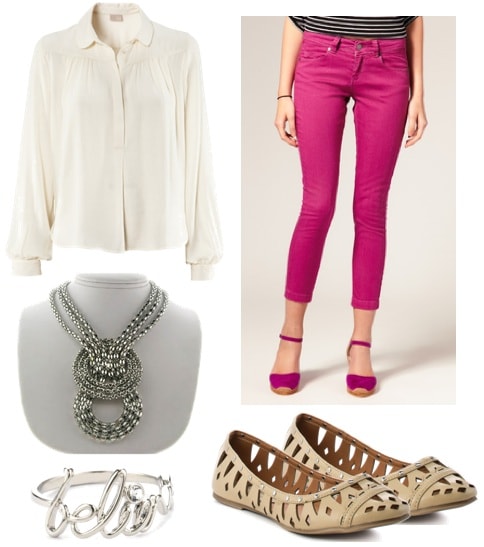 Product Information: Top, Pants, Shoes, Ring, Necklace
A pair of bright pants is a great way to stand out in a sea of blue and black jeans, and this bright pink pair is a perfect fall option. (And if pink isn't your color of choice, any other color would work just as well.) Keep the rest of your look simple with a classic white button-up and neutral flats. Throw on this statement necklace on top of the shirt for a cool new look.
Mostly C's: Chunky Sweaters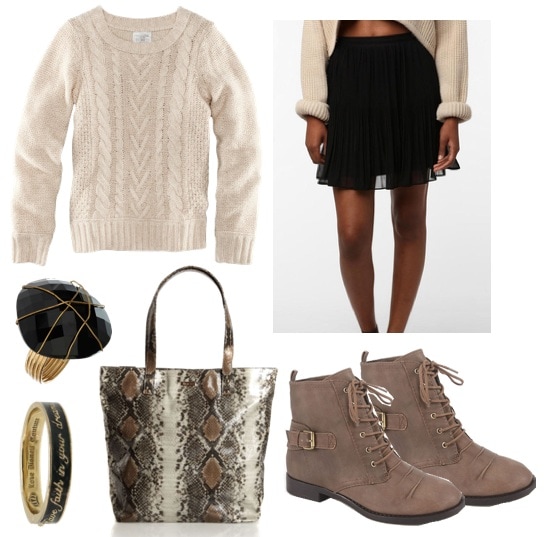 Product Information: Sweater, Skirt, Boots, Bag, Circle Ring, Cocktail Ring
This season, you can easily combine comfort and style with a chunky knit sweater. Start the look with a cream-colored sweater. A black accordion pleated skirt is a versatile choice and looks great paired with a cozy sweater. Rugged ankle boots are also fall staples and they pair nicely with this outfit. Lastly, grab a snake print tote and accessorize with some fun rings.
Mostly D's: Polka Dots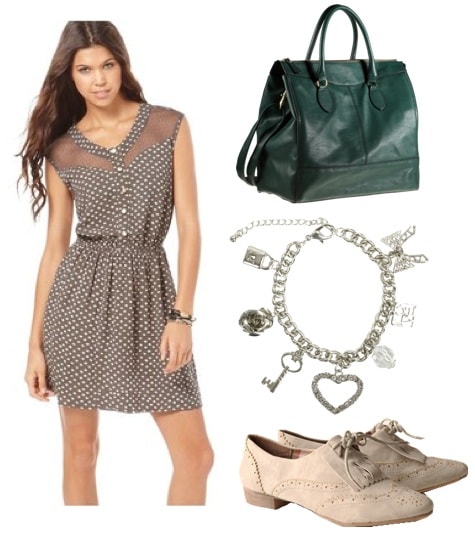 Product Information:Dress, Bag, Bracelet, Shoes
There is something about polka dot print that feels so girly and fun. Capture this same spirit in a flirty polka dot dress like the one above. I wanted to keep this look simple, so all you need to add are some neutral oxfords and a simple charm bracelet. For a pop of color, try a structured bag in a beautiful dark teal color — it's one of Fall's hottest hues.
Mostly E's: Tartan Plaid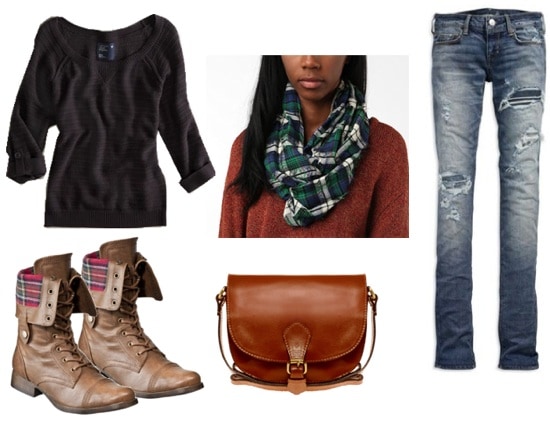 Product Information: Sweater, Scarf, Jeans, Bag, Boots
Historically, tartan plaid used to just represent the different clans in Scotland. Today, it has been revamped into a hip fall print for fashionistas everywhere. We've already shown you a few different ways to wear this trend so I thought I'd use this green and blue scarf to show you how you can wear it as an accessory. Since this look is all about the tartan plaid, I wanted to make the print stand out by pairing it with some basics. A black sweater and skinny jeans are exactly that. Tuck your jeans into these cool boots lined with tartan plaid — such a cool detail! Finish the look with a cognac messenger bag.
What do you think?
What was your result? Did you like the quiz? Will you be trying these new trends? Which trend is your favorite? Which outfit do you like the best? Please be sure to leave a comment and let me know what you think!