This post may contain affiliate links, which means we may receive a commission if you purchase through our links. Please
read our full disclosure here
.
Welcome to the latest edition of Looks from Books, which aims to prove that you can look smart, while still being book-smart, too. Fashion inspiration can be found between the lines of your favorite stories, well-designed book covers, and awesome characters… if you read closely enough. Classic literature, fun chic lit, YA novels, sci-fi, childhood faves, graphic novels, fairy tales, Shakespeare — if the book is in print, then there's a good chance I'll be covering outfits inspired by the letters on the page! Suggestions and feedback are always welcome. Enjoy, and read on!
(For more posts in the Looks from Books category, check out earlier posts on The Sisterhood of the Traveling Pants, The Fault in Our Stars, Where the Wild Things Are, and Matilda.)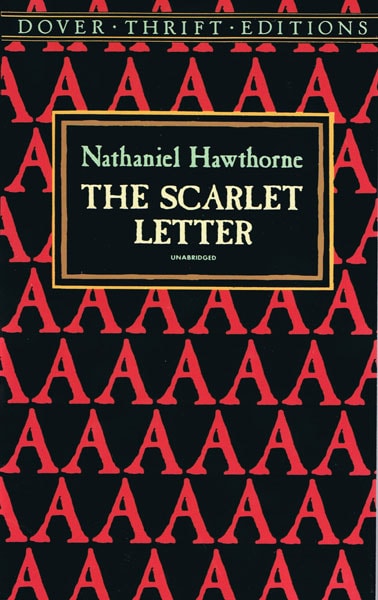 The Scarlet Letter by Nathaniel Hawthorne — $3.50 at Amazon
This week's Looks from Books takes a look at an American Literature classic. Nathaniel Hawthorne's prose may not seem like the most entertaining thing to power through, but if you've already started The Scarlet Letter, you need to keep reading and give it a chance!
This book is filled with guilty consciences, illicit loves, stinging betrayals, and the scorn of a community. Hester Prynne didn't have much occasion for adorable dress (it's not like the old school Puritans were into fashion trends), but on top of all those interesting elements listed above, The Scarlet Letter is filled with fashion inspiration, too!
Bookworm Basics
The Scarlet Letter is set in an early colonial Puritan settlement and tells the story of one woman, her actions, and the repercussions that arise and ripple throughout the community. In short, Hester Prynne has an adulterous affair with a respected pastor and this sets off a chain of events that highlight the strict austerity of the Puritan community. The dramatic secrets and the death at the end of the novel made this one of the most interesting books I read as part of my high school curriculum!
Nathaniel Hawthorne added numerous historical allusions into the novel to make the 1640s Salem setting more authentic. References to witch trials, Ann Hutchinson, and John Winthrop are scattered throughout the fictional tale.
The Scarlet Letter got a modern day makeover in the form of the recent film Easy A! Watching the movie on its own is great, but watching it after reading the book is even better. Plus, the movie has Emma Stone. And Penn Badgley. And a song and dance number. What's not to love?
Pretty Puritan Pastor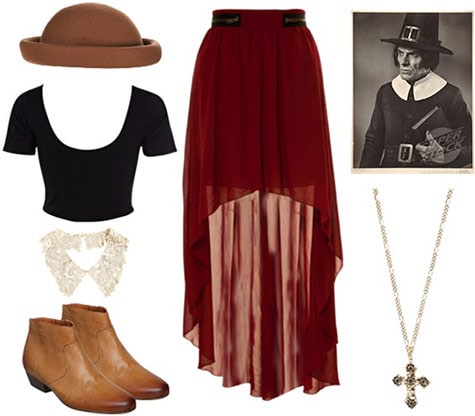 Boots, Collar, Scoop Tee, Hat, Skirt, Necklace
The minister Arthur Dimmesdale plays a key role in the novel from early on! Going into detail about his actions in the book would ruin the plot (spoiler-free is always the way to be), so all you need to know is that he is a main character and that The Scarlet Letter is just as much about him as it is about Hester.
For an inspired look that doesn't feel too costumey, play around with somber colors and plain fabrics. Floral prints and loud, bold stripes have no place here! The lace collar and scoop neck tee add modern, trendy touches that complement the structure of the clunky puritan wedges and old-fashioned hat. A crucifix necklace worn under the lace collar, or wrapped around your wrist as a bracelet, is the finishing touch. Don't forget a smile so you don't look like the grumpy guy in the picture!
Hester Prynne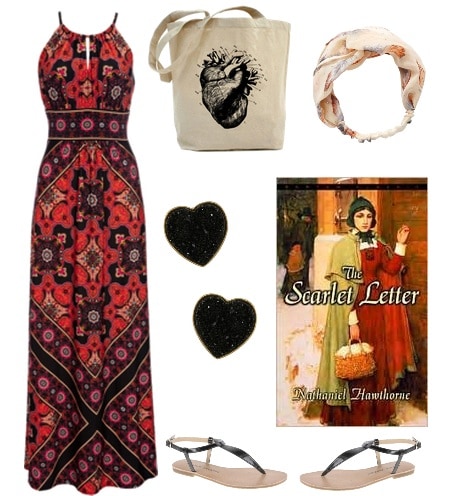 Dress, Studs, Sandals, Tote, Headwrap
Hester Prynne's single mistake leads to the merciless shunning she is forced to endure. Despite the cruelty of her neighbors, Hester makes the best of her situation, choosing to live a life of humility and charity while raising her daughter Pearl in solitude. Using her beautiful sewing skills, Hester makes, tailors, embroiders, and designs dresses for the ladies of Salem and her daughter, while only wearing the coarsest of garments for herself.
Fitting with the Puritan style of dress, this maxi dress limits skin exposure while still looking fun and stylish thanks to vibrant prints and geometric patterns. A canvas tote bag would be perfect for hauling around sewing supplies like Hester (or school supplies, if you prefer), and still looking good while doing so. The head wrap and sandals complete this boho-esque look.
The Scarlet Letter Come to Life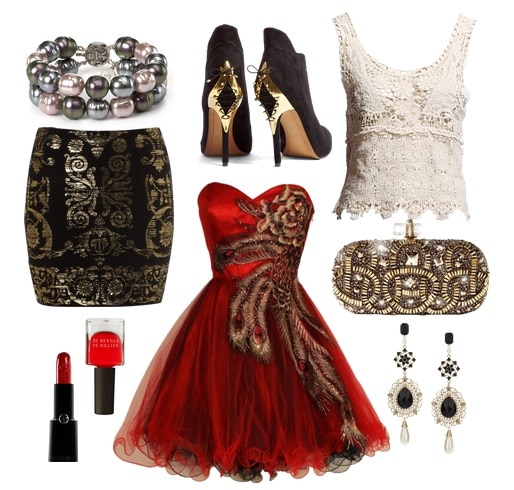 Bracelets, Skirt, Lipstick, Nail Polish, Dress, Heels, Shirt, Clutch, Earrings
Hester's little daughter Pearl is described as "the red letter came to life". A physical reminder of her sin, Hester chooses to decorate Pearl the same way she decorates her scarlet letter. Pearl's flighty, impish, and extremely mischievous nature lead many to wonder if she's part witch!
Rich and opulent fabrics are a play on Pearl's precious name. The intense embroidery and baroque-inspired features are typical of the splendid items that Pearl's character wears in the novel. Pearl's love of attention and the dramatic are reflected in the fearless shades of dark red, as well as the crazy expensive gold-encrusted clutch. Rock your favorite ruby lipstick and an outfit filled with rich detailing and you'll instantly evoke thoughts of a scarlet letter.
What do you think?
Have you seen Easy A? Do you prefer Looks From Books posts on more contemporary works or classics? How do you feel about the representation of emotions such as remorse and love in the novel? Are there any other books you would like to see featured? Share any thoughts, suggestions or comments below!