This post will show you some YA book outfits inspired by our favorite Young Adult book covers.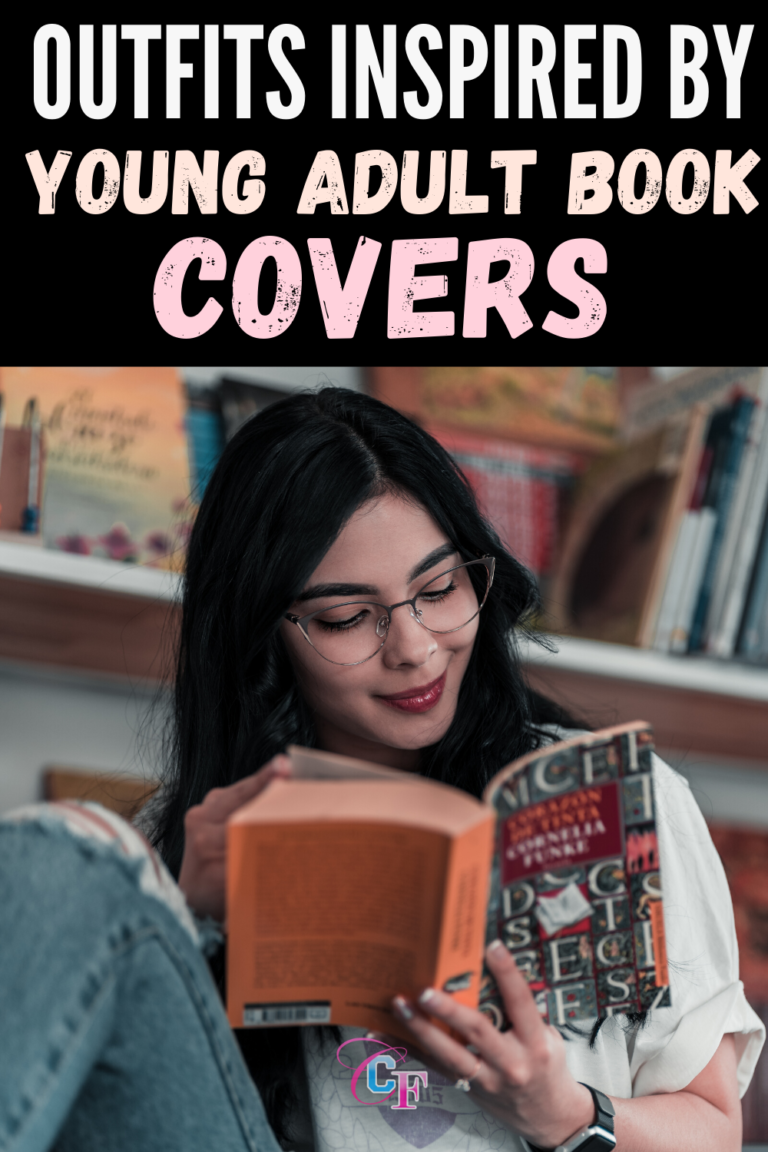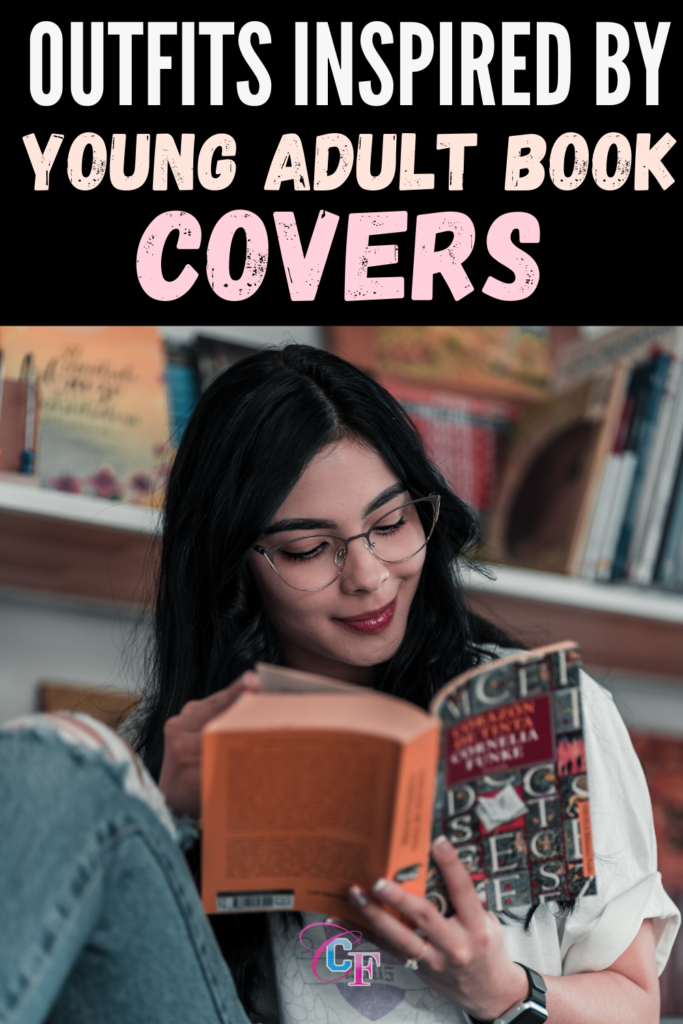 The only time when the old adage "Don't judge a book by its cover" doesn't hold true is, ironically, when it comes to books.
Before we even look at the blurbs on the backs of books, the cover has already caught our eyes.
A trend I've noticed a lot in book covers lately is having the characters on the cover. I think that's a cool way to get us interested in the character that we'll be following, especially of they have a striking feature (or striking outfit).
With this in mind, today I wanted to feature some fashion inspired by book covers.
Specifically, I've chosen some of my favorite covers from the Young Adult genre. So without further ado, let's jump right in.
Here are some outfits inspired by Young Adult book covers.
Outfit 1: Legendborn by Tracy Deonn
Okay, to say that the cover of Legendborn is amazing would be an understatement. A girl with big, beautiful hair is staring unflinchingly at you while wielding some wild-looking magic. Does it get any better?
Legendborn, a modern retelling of the Legend of King Arthur, was published in 2020 and is the first novel by Tracy Deonn.
The story follows 16 year old Brianna Matthews. After her mother dies in an accident, she wants to escape. A residential program for bright high-schoolers at UNC Chapel Hill seems like the perfect opportunity — until she witnesses a magical attack her very first night on campus; a flying demon feeding on human energies. Oh, and there's a secret society called "Legendborn" that hunts the creature down, and a wizard called a "Merlin" who tries to wipe Bree's memory but doesn't succeed and instead unlocks Bree's own magic…
This book made me laugh and cry. Amidst all the magic, it dealt with so many real life issues such as grief, intergenerational trauma, and micro-aggressions. I would recommend this book to everyone.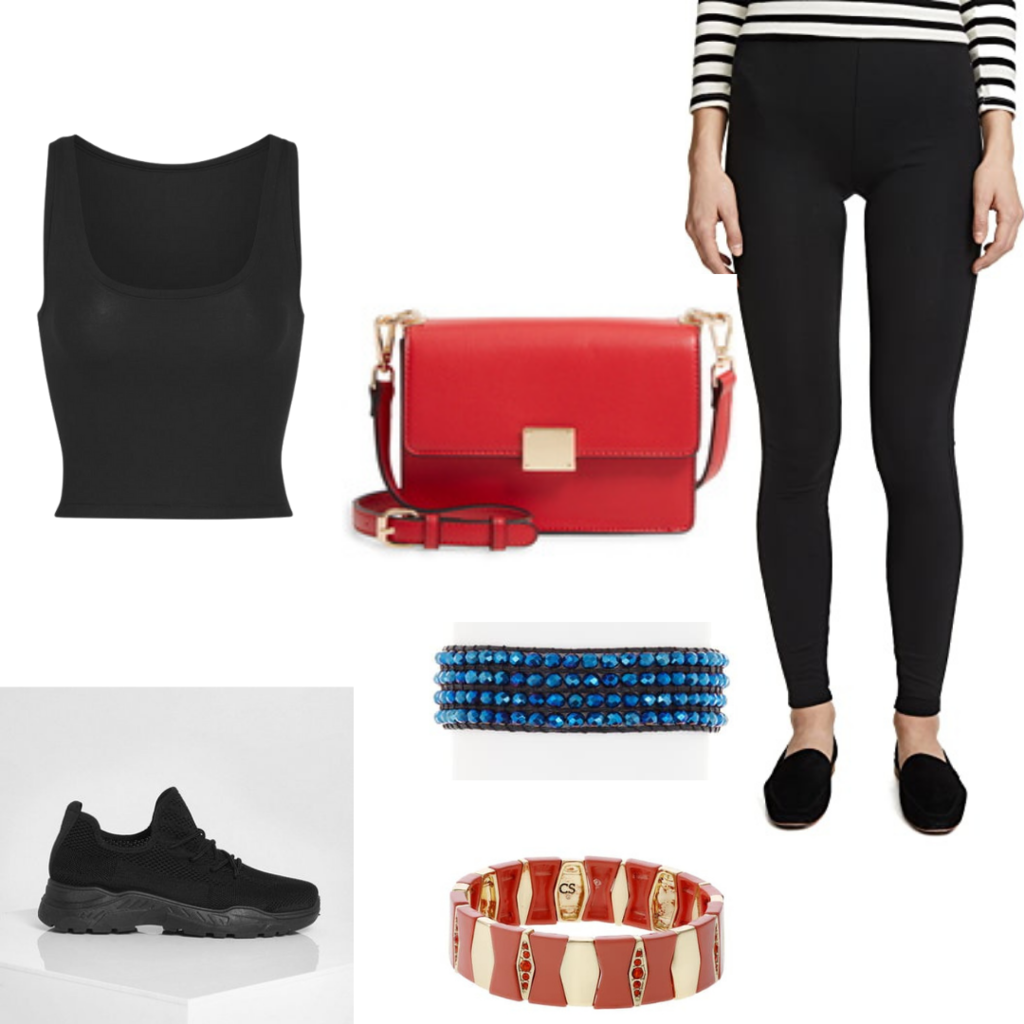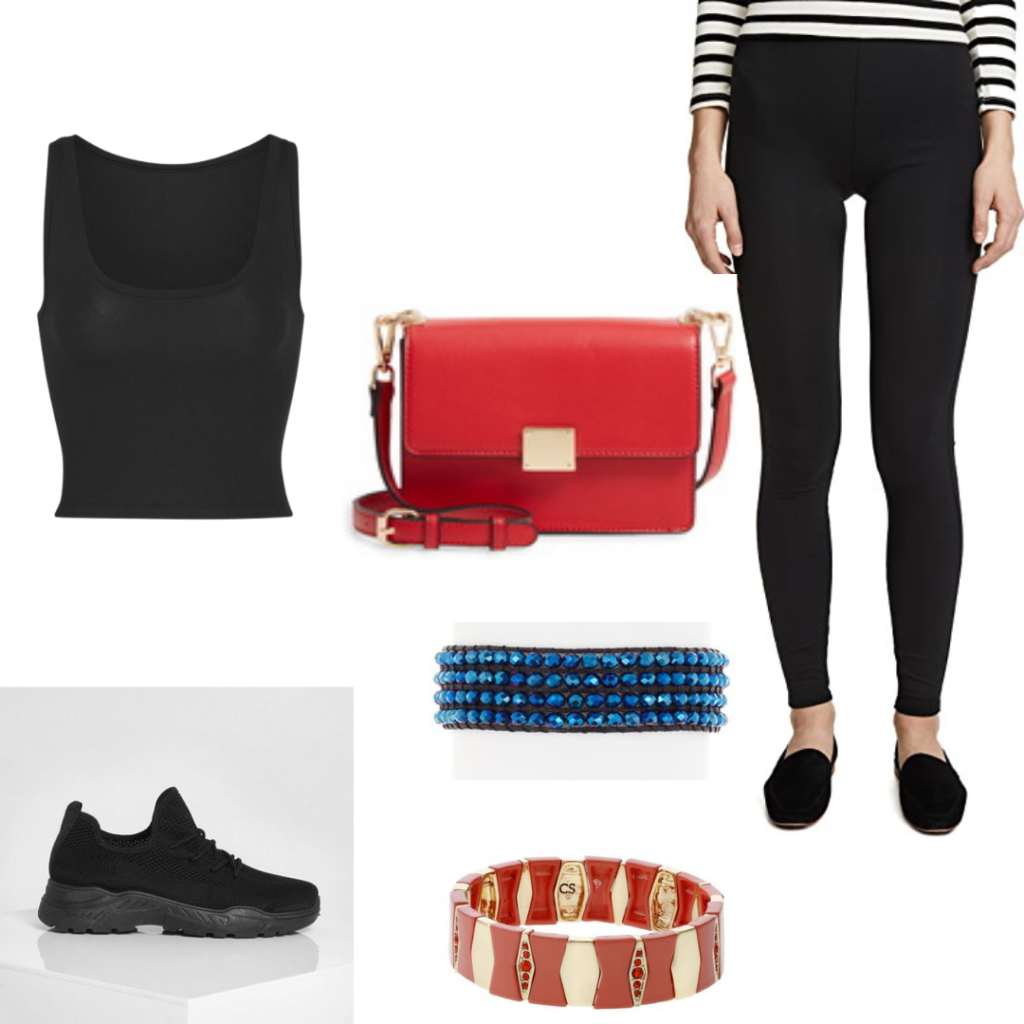 Products: Tank top, Leggings, Sneakers, Red bracelet, Blue Bracelet, Handbag
For this YA book outfit, I started with a black tank top to match the one Bree wears on the cover. It's perfect for lounging around or for a workout.
Although you can't properly see them on the cover, I would guess that Bree's wearing leggings and the simple black leggings are a perfect match to the top.
The red handbag has a stylish yet practical appeal. You could wear it with a formal outfit or when going out for an errand. It adds a pop of color to the look without being overly formal.
Lace-up knitted sneakers are a perfect match for this athletic looking outfit.
Lastly, there are two bracelets; one red, one blue to represent the magic that Bree wields on the cover. You might not be able to wield magic, but you can sure feel magical with these accessories.
Outfit 2: Wings of Ebony by J. Elle
I love the purple and yellow color scheme on this cover, a nice contrast between dark and light.
In Wings of Ebony, Rue is a half-god, half-human living in Ghizon, a hidden island of magic wielders. Miserable and desperate to see her sister on the anniversary of their mother's death, Rue breaks Ghizon's sacred Do Not Leave Law and returns to Houston, only to discover that Black kids are being forced into crime and violence. An evil is rising that threatens to steal everything from her and those she loves.
To begin, in this look there's a black hoodie, which on the cover has a mysterious feel to it. But even if you're not half god, half human and trying to blend in, a hoodie is always a good college wardrobe essential.
The black t-shirt is great as an extra layer under the hoodie for warmth or comfort.
I chose the purple legging to pay homage to the purple in on the cover. These leggings are insanely comfy and even have belt loops if you need them.
The purple gold-plated bead earrings are another nod to the cover and are just so pretty. Round earrings are perfect for standing out from the crowd.
Finally, there's the gold bracelet from Saks Off 5th. It reminded me of the gold warrior bracelets that Rue wears in the book. Beautiful and bold.
Outfit 3: Rent a Boyfriend by Gloria Chao
From all the shades of pink to the Taiwanese couple, this cover is just so cute. It's great and important to see own-voice stories, especially as we fight against the rise of anti-Asian racism.
In Rent a Boyfriend, Chloe Wang is nervous to introduce her parents to her boyfriend, because the truth is, she hasn't met him yet either. She hired him from "Rent for Your 'Rents," a company specializing in fake boyfriends trained to impress even the most traditional Asian parents.
Drew Chan's passion is art, but after his parents cut him off for dropping out of college to pursue his dreams, he becomes a Rent for Your 'Rents employee to keep a roof over his head. But Chloe starts to fall for the real Drew, who her parents would not approve of, her carefully curated life starts to unravel.
This book was hilarious, but oh so relatable, challenging the model minority stereotype and instead touting the virtues of being your own person. This YA book is especially perfect for CF readers because Chloe and Drew are college-age.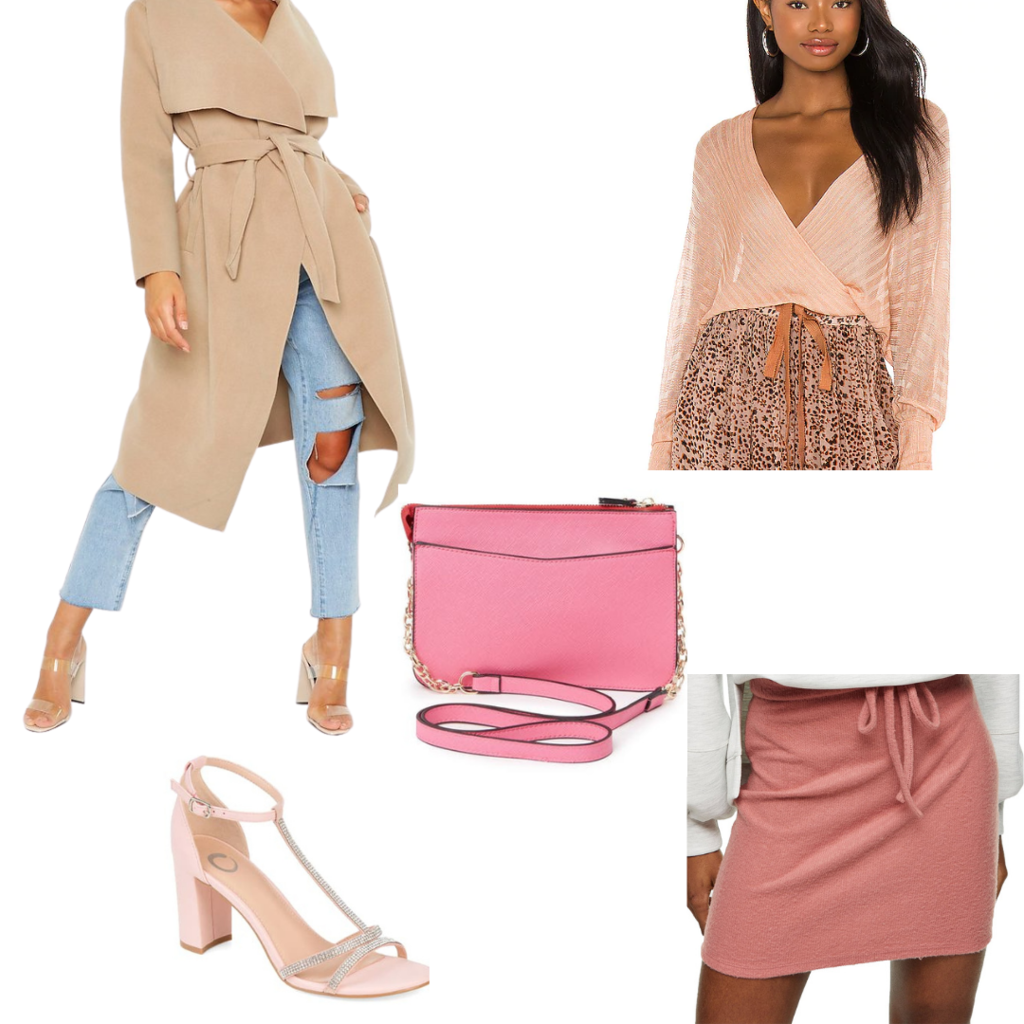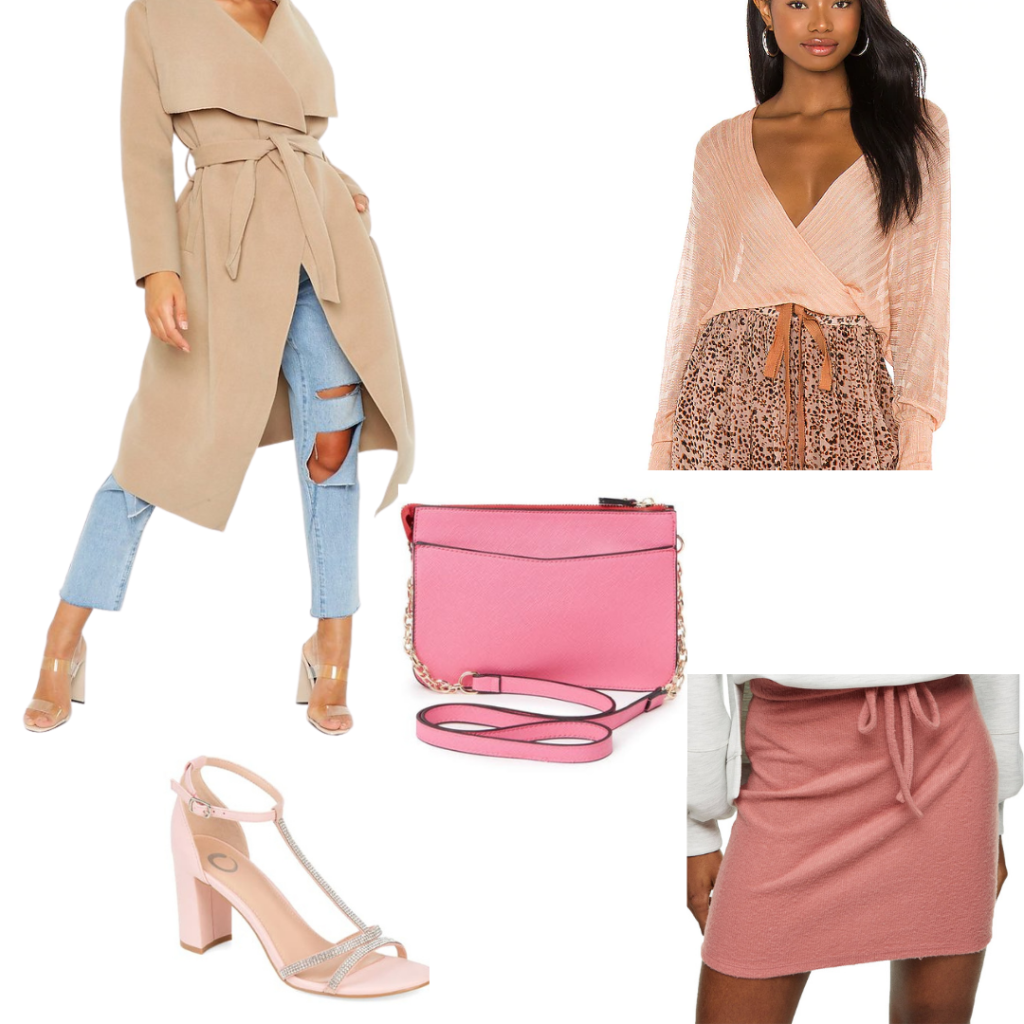 Products: Waterfall Coat, Wrap Sweater, Skirt, Heels, Clutch
For this YA book outfit, it's all about shades of pink.
First, the coat is the main event on the cover and this waterfall coat from Asos is sure to make a statement.
The elegant pink wrap sweater is so airy and romantic looking. Perfect for a book about fake-dating.
The fluffy mini skirt from Nordstrom is so different from other mini skirts I've seen before, but now that I've seen it, I love it. It also has a sweet romantic air to it.
The pink convertible clutch is a richer shade than any of the other pieces, so it offers a great amount of contrast.
To top it off, we have a pair of sparkly pink pumps.
Outfit 4: The Selection by Kiera Cass
Every single book in this series has a swoon-worthy dress on the cover but I decided to go with the first one for its Bridgerton vibes. The blue ruffles are fit for a princess and the fact we see the dress from all angles is a real treat.
The Selection follows America Singer, who is chosen to compete with 34 other girls for the hand of Prince Maxon. It's a once in a lifetime opportunity, but for America it's a nightmare, because she must turn her back on her true love Aspen and live in a palace that is frequently attacked by rebels. But when she meets Prince Maxon, she starts to question all the plans that she had for herself.
This book is older than the other ones, being published in 2012, but it's a still a great read that I'd highly recommend.
The blue flower patterned dress will have you feeling like a princess or at least a member of the Selected. It's simple yet has a regal quality to it.
I chose a pearl necklace because pearls, to me, seem like a very royal type of jewelry. Necklaces play a role in the novel because America's most prized possession is a songbird necklace from her father.
The light blue clutch is practical but classy and looks like something a modern day princess would have on hand.
Lastly, we have a pair of blue heels with embellished ankle straps. They are opulent and fit for a queen.
What do you think of these YA book outfits?
What are your your favorite book covers? Would you like to see a part two? Let me know in the comments below.