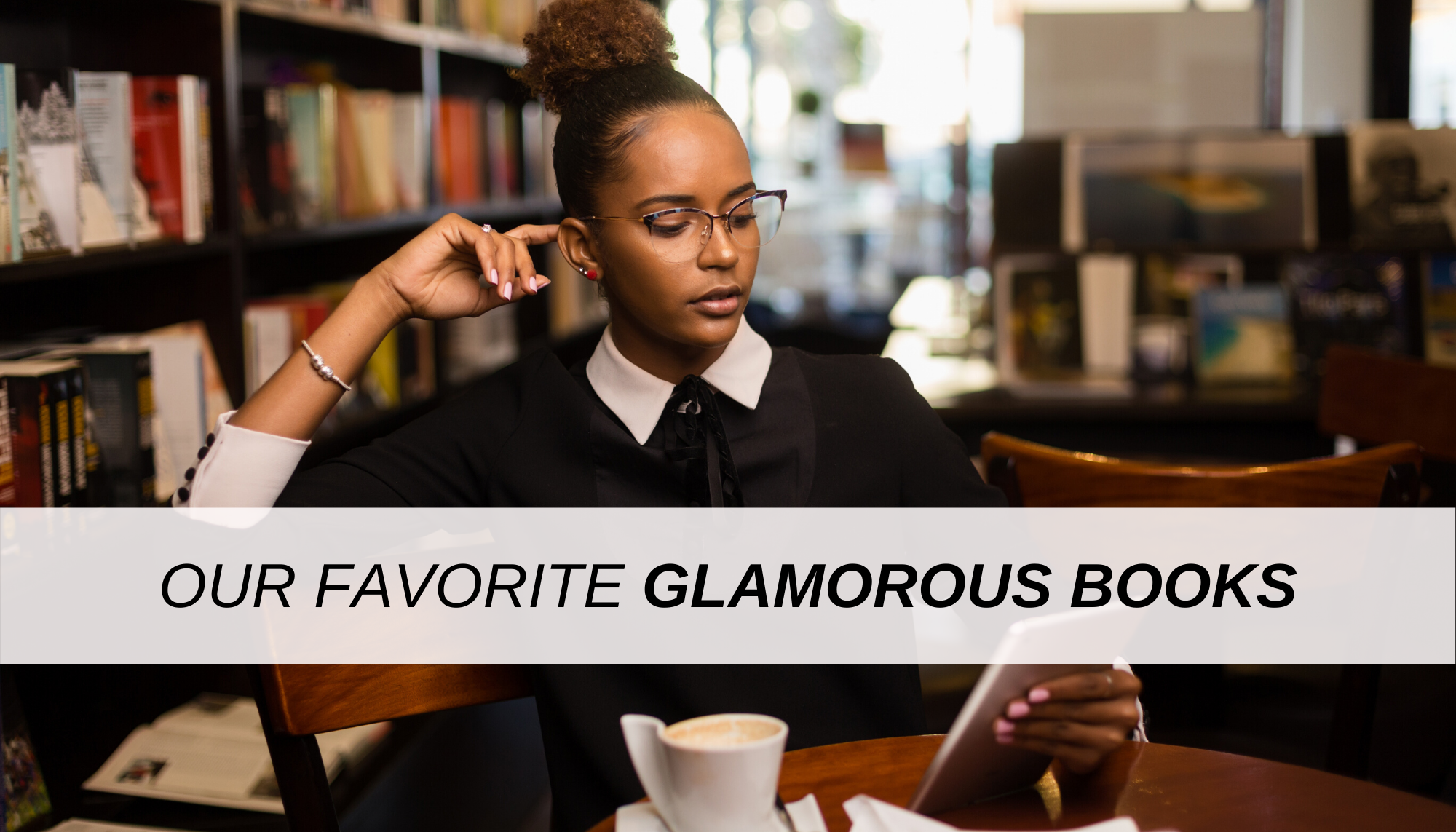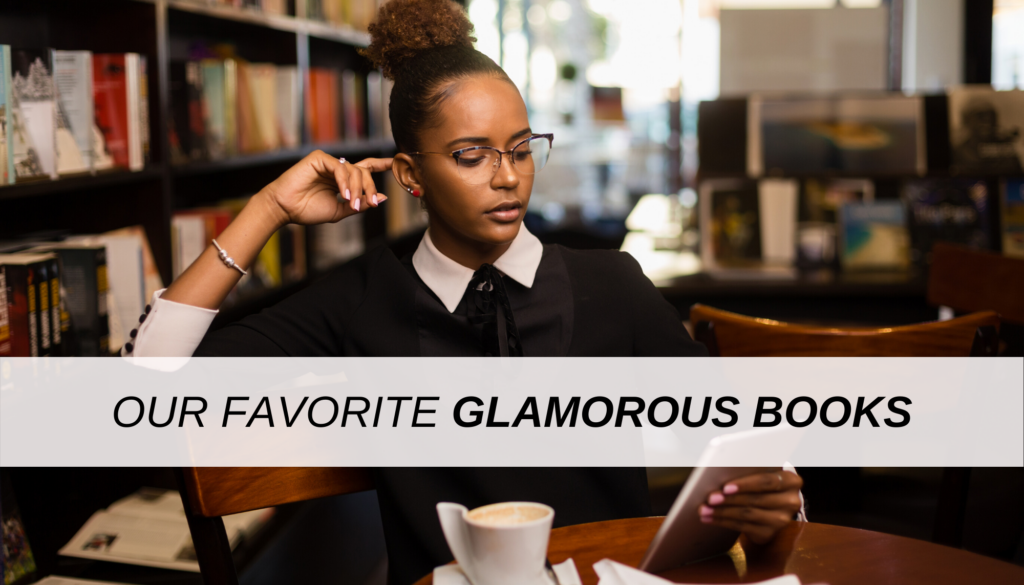 College is one of the most glamorous times of your whole life. When else do you have the chance to put on outrageous makeup and sparkly clothes to dance the night away with your friends… for multiple nights in a row?
To me, getting ready was one of the best parts of going out; I loved the magic of getting to turn myself into whoever I wanted to be.
Unfortunately, essential social distancing means that no one is really getting ready to go anywhere right now.
It's hard missing out on all the shiny, beautiful parts of the outside world– but there are some books that are full of the glamour we're missing. All of these magical, gorgeous, glamorous books remind me of the brilliant world we'll get back to soon.
If You Want Models, Fashion, and the 90s…
Champagne Supernovas tells the glitzy, real-life story of how '90s icons Kate Moss, Marc Jacobs, and Alexander McQueen became the biggest names in fashion.
This book is the holy grail of glamour; not only does it give a behind-the-scenes look into the supreme fashion moments of the decade, but it also delves into the personal lives behind the runway, so the book is studded with stories from some of history's greatest parties and juiciest romances.
Even if you're the kind of fashion girl who doesn't love the morning after stories, you'll still fawn over this book. I've never read anything that better captures the joys and intricacies of fashion.
Champagne Supernovas goes into glorious detail about the actual clothing being made and worn by its characters, and any girl who loves the grungey, minimalist fashion of the '90s will definitely find inspiration in its pages.
If you'd give anything to put on something slinky and head to a club downtown, this glamorous book is the closest you can get right now.
If You Want Rockstars, Crazy Parties, and Spicy Love Triangles…
Published in March of 2019, Daisy Jones & The Six ended up on countless "best of the year" lists, and for good reason.
Told through a series of interviews, Daisy Jones tells the story of the rise of a fictional band in the '70s, and Taylor Jenkins Reid absolutely nails the combination of rockstar style and real, developed characters.
On one hand, Daisy Jones doesn't shy away from the truth of life for world-renowned musicians; the book is full of hard parties, fights between bandmates, and bad behavior. On the other hand, the book revolves around the band's quieter, more human experiences– when they fall in love, or have children, or really focus on their music. The combination of outrageous behavior and heart-filled moments balances perfectly.
Daisy Jones is a great pick-me-up for anyone who needs something that will grab their attention and then soothe them with a wholesome ending.
It's sexy, sweet, and very glamorous, and if you can't actually be a '70s rocker, Daisy Jones is the next best thing.
If You Want NYC's Music Scene, YA Lit, and Teen Romance in the City…
Sometimes (in quarantine especially) you just need to lose yourself in some juicy young adult lit. If you're a big music girl who wants to spend an evening as a wild teen in NYC, the glamorous book Nick & Norah's Infinite Playlist will get you there in no time.
Nick & Norah follows two college-aged kids who are traveling from underground club to underground club on the first night they meet each other; they're both music buffs chasing a fresh new sound who (eventually) start focusing a little less on the music and a little more on each other.
Don't fear– the romance isn't gooey or unrealistic. Instead, the relationship-building between Nick and Norah blends in seamlessly with the book's sense of adventure. You almost don't even notice their growing chemistry in the midst of all the fabulous places they're visiting and all of the rad music they're listening too.
Nick & Norah just feels like the city– it's bright and flashy and very, very authentic. If you miss heading into your favorite city, or you just miss live music and a full crowd, Nick & Norah delivers on the vibe you're looking for, along with the romance everyone is missing in quarantine.
If You Want California Heat, Beautiful Girls, and Beautiful Writing…
Fair warning — White Oleander is definitely the most serious, grown-up book on this list.
It's also my favorite book of all time.
Set in California, White Oleander is the coming of age story of a girl who is placed in the foster system when her mother, a gorgeous poet, kills an ex-lover.
This one sounds dark, and it is. But right now, the world is dark, and if you want a book about how to find beauty even when things are burning, White Oleander is your best bet.
This glamorous book is all about beauty — what it is and why it matters. The main character is a visual artist, and the book is narrated through an artist's eye. Everything is described to be lush and hot and miserable and gorgeous.
Unlike the other books on this list, White Oleander isn't a book about crazy things happening; most of the events take place in various houses, and there are no models or rockstars. But if you're stuck at home, sometimes nothing can be better than being reminded of the fierce beauty of survival.
If You Want Real Rock Stars, London, and a Whole Lot of Champagne…
Blur was one of the biggest bands of the '90s — just not in America. In the UK, they ruled the scene, practically creating Britpop music and famously feuding with the band Oasis (of "Wonderwall" fame).
If none of that means anything to you, don't worry. Reading Bit of a Blur, which is the memoir of Blur bassist Alex James, doesn't actually require any knowledge of British pop — all you need is a love of rockstars, the '90s, and champagne.
If you liked the rock and roll focus of Daisy Jones and the London look of Champagne Supernovas, Bit of a Blur is the perfect combination in one glamorous book. There's music, models, and loads of club-hopping, and Alex James is such a relaxed writer that even the craziest stories are completely readable.
Bit of a Blur is, more than anything, a look into '90s British culture, and if you're a huge Anglophile looking for backstage gossip from a man at the center of everything, it's the book for you.
If You Want a Juicy Plot, Endless Clothes, and a Movie You Love…
The movie is a fashion-girl classic, and the Lauren Weisberger novel the film is based on is just as good.
If you're not in the mood to just read the script of The Devil Wears Prada movie, don't worry; the book has some key differences that make it interesting to read and compare to the film.
At their hearts, though, both the book and movie tell the dishy, captivating tale of an up-and-coming journalist working as an assistant for a ruthless, HBIC editor at a foremost fashion magazine (who is, legend has it, based on Vogue's Anna Wintour).
The Devil Wears Prada tells an interesting glamour story, as it starts from the perspective of a woman who doesn't care about fashion at all and tracks her path into the heart of the fashion industry. This book serves glamour in all forms — the glamour of fabulous clothes, the glamour of New York, the glamour of a high powered job…
If you want your style with a dose of culturally iconic characters (or, want your style with a dose of the truth about life in the fashion industry), The Devil Wears Prada perfectly combines a plot full of real movement and people with endless, beautiful descriptions of high fashion clothing.
If You Want a Great Series to Start, Your Fav TV Show, and Teen Drama…
Almost every glamour girl I know has watched Gossip Girl, and for good reason; the TV show (which is watchable on Netflix) tells the story of the richest, hottest teens of New York, and watching them wear ball gowns to galas while entering and exiting love triangles was always dreamy and indulgent.
But before the TV show made a splash, the drama (and the clothes) existed in Cecily Von Ziegesar's You Know You Love Me, the first book in the Gossip Girl series.
The books in the Gossip Girl series are similar to the TV show, albeit with extended storylines. If you're a fan who wants to know more about some skipped over scenes — summers, vacations, the later years — these glamorous books can fill some of those holes.
While books can't replicate the sheer pleasure of looking at Serena Van Der Woodsen's outfits, there is still plenty of glamorous action. Parties to attend, lovers to have, money to spend…
In full honesty, these books are mega trashy. But sometimes that's what you want! If you just want to escape for a little bit into a world of big money and big parties, these books are the ticket.
If You Want Celebrity Stories, Real Advice, and a Burlesque Flair…
Some of my friends are getting through a lonely quarantine by reading about other people's fun; some of my friends, however, are using their time to plan for their future glamour by researching new style inspiration.
If you're part of the latter group, you definitely want to page through Dita Von Teese's Your Beauty Mark, which is not just a how-to guide on Dita's look but is also full of genius ruminations on glamour.
To be clear, Dita has a very specific idea of glamour– she's famous for being a world-class burlesque dancer, after all. But even if you don't subscribe to her style of over-the-top, classical glam, any fashion-forward girl will love her advice on some style staples; her book has tips on the perfect cat-eye, red lip, and chignon, among others.
Even more than I loved her beauty advice though, I adored Dita's tips on how to discover and cultivate a personal style. As a person made famous for having a very distinct look, her thoughts on how to find your own look are invaluable.
Pick up Your Beauty Mark if you want to leave quarantine with some improved beauty skills or with an improved beauty outlook.
If You Want Classic Literature, '20s Style, and Party Inspiration…
I know, I know– you either read F. Scott Fitzgerald's The Great Gatsby in high school English or you lied to your teacher and said you read it.
Either way, Gatsby may not be the first thing you think of when you think of glamorous books. But this slim novel focused on the lives of the wealthy in the Roaring '20s is excellent inspiration for fashion girls who lean a little bit upscale or vintage.
The Great Gatsby is known to contain some of the best party scenes in literary history, and the '20s are known as one of the most fashionable periods in American history; the combination results in an incredibly glitzy, over-the-top read.
If you miss sorority formals, masquerade parties, or anything that called for some formality and magic, Gatsby is perfect. Also, it is genuinely one of the best American books ever published.
The good thing about The Great Gatsby is the wealth of different versions that accompany the book. After you read the book, watch the 2013 Baz Luhrmann film and revel in the giant fireworks, gorgeous costumes, and Lana Del Ray. Then, come back to the book again, and reread about the good (and bad) sides of elegant, upscale living.
And If You Want French Fashion, a History Lesson, and Haute Couture…
Robin Givhan's The Battle of Versailles is a glamorous book for the serious fashion girls; it details a contest held in the Palace of Versailles in 1973 between classical French fashion designers and new up-and-coming American designers.
If your favorite time of the year is Paris Fashion Week, you'll squeal every time a designer is mentioned — some of the "newbies" included in this book are the now household names Oscar De La Renta and Donna Karan, who were pitted against the fashion elite of Christan Dior and Yves St. Laurent, among others.
For those who are missing a bit of drama, The Battle of Versailles is also full of excitement, as the book dives deep into the battle between American and French designers — no spoilers, but Givhan does a great job of ratcheting up the tension.
For history majors who have read every issue of Vogue, The Battle of Versailles brilliantly combines old-school glamour with a more modern, contemporary bite.
What books do you read when you need some glamour? Which book on this list looks the best? Let me know in the comments!