This post may contain affiliate links, which means we may receive a commission if you purchase through our links. Please
read our full disclosure here
.
Welcome to the latest edition of Looks from Books, which aims to prove that you can look smart, while still being book-smart, too. Fashion inspiration can be found between the pages of your favorite stories, on well-designed book covers, and in your favorite characters… if you read closely enough.
School is out, and so is the sun, so why don't we plan a little get-together? Today, we're taking inspiration from a classically "perfect hostess" – Mrs. Dalloway, from Virginia Woolf's seminal modernist classic of the same name.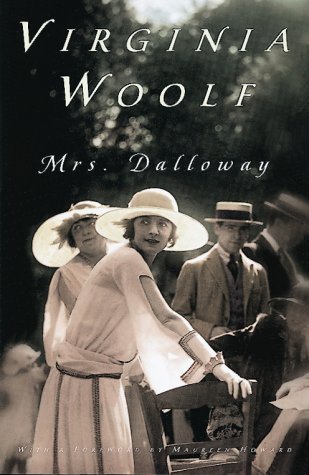 Book Cover via Amazon
Inside Cover
Mrs. Dalloway is a classic work of modernist fiction, originally published by Virginia Woolf in 1925.
Following a day in the life of not just the titular heroine, but many other inhabitants of London in a single day in June, Mrs. Dallowaybobs and weaves through the consciousness of multiple characters throughout the course of the narrative, including the party planner herself, her independently-minded daughter Elizabeth, Dalloway's past lover Peter Walsh, and WWI veteran Septimus Smith.
The novel has consistently been lauded by literary critics since its release, and remains one of Virginia Woolf's best-known works. Named by Time Magazine in 2005 as one of the "100 Best English-Written Novels Since 1923", Mrs. Dalloway is often praised for its innovative and fluid impressionist stream-of-consciousness style, accurate depictions of the inabilities of WWI veterans to reintegrate into civilian life, and commentary on inter-war society and the growing feminist consciousness of the time period.
A Fashionable Literacy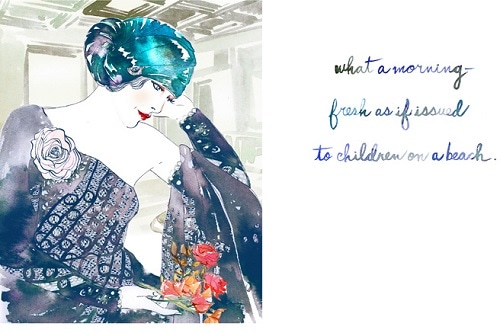 A fashion illustration of Mrs. Dalloway in the recent release Well-Read Women: Portraits of Fiction's Most Beloved Heroines || Photo via ELLE
Mrs. Dalloway was adapted for film in1997. The screenplay was written by Eileen Atkins and Vanessa Redgrave starred as Mrs. Dalloway. Game of Thrones' Lena Headey tackled the role of the younger version of Dalloway's best friend, Sally Seton, while Septimus Smith was played by Sherlock's Rupert Graves.
Additionally, the novel inspired a movie involving women who have been touched by the work – 2002's The Hours. The film follows a day in the life of three conflicted women: an unhappy 1949 housewife named Laura (Julianne Moore), a modern-day party hostess (Meryl Streep), and Virginia Woolf herself (Nicole Kidman).
However, the novel has been making news recently not for its past, but the present of those who read it: issues revolving around Mrs. Dalloway's depictions of suicide and depression made some students at the University of Santa Barbara call for the university to integrate "trigger warnings" for students about potentially disturbing topics in the required reading in class material, calling into question the "worthiness" of difficult topics in the popularized literary canon.
How to Add Mrs. Dalloway to Your Wardrobe
By integrating key elements from the novel into your own look, you, too, can pay homage to some of Woolf's best writing, without looking like an extra who stumbled onto the Great Gatsby set.
"The Perfect Hostess"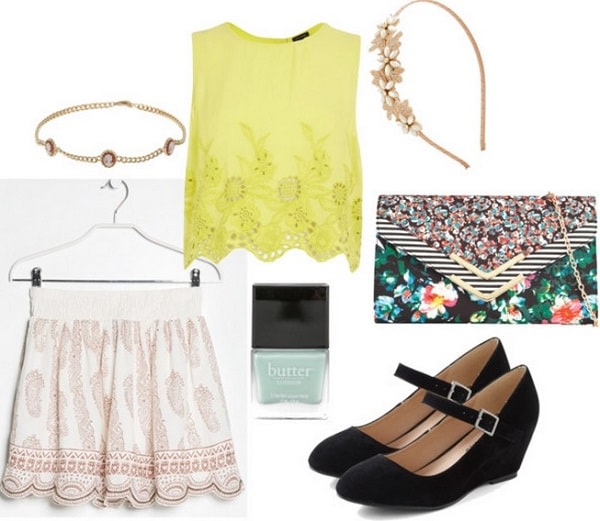 Product Information: Top – River Island, Headband – Modcloth, Clutch – Aldo, Shoes – Modcloth, Polish – Butter London, Skirt – Mango, Choker – Topshop.
The narrative of Mrs. Dalloway may wind through the minds of many other characters, but their thoughts always ends up relating back to Clarissa Dalloway herself, and her status as an ideal of the upper class, while the lady herself finds herself instead thinking back to the days of her youth. At once assuming the fashions of the modern woman, while nostalgic for the brightness of her youth, Clarissa travels beneath the beautiful trappings of her glittering world to find deeper meaning within, overlaying the past and the present to seek out the truth in her life.
Channel the adherence to the modern with an affinity for the past by integrating both trendy and vintage-inspired pieces into a look inspired by Clarissa. An embroidered shirt updates a stuffy style with a new cut and bright coloring, while the playful paisley skirt makes it party-ready, just like Clarissa. Staid black Mary-Janes, an embellished headband, and a delicate cameo choker make the old new again, while a sweet nail polish and floral clutch bring it all into into the modern era.
Fluidity and Feelings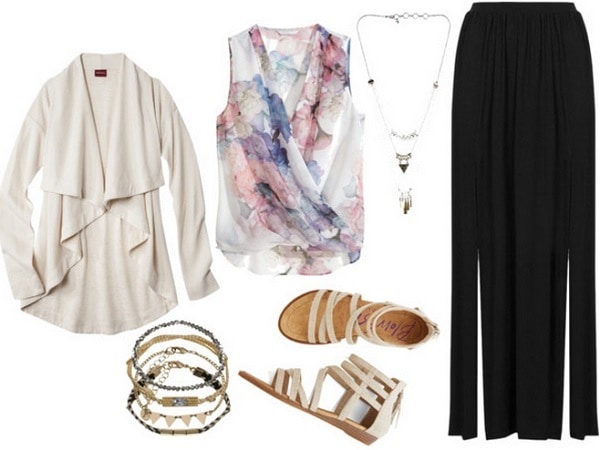 Product Information: Cardigan – Target, Top – H&M, Necklace – Zappos, Skirt – Topshop, Shoes – Modcloth, Bracelets – Accessorize.
With its fluid prose and disregard for typical temporal delineations, the novel follows some of the major tenants of modernism, utilizing a cross between an omnipotent and first person narrator in an unrestrained flow through the personal thoughts of people in passing them on the street. This kind of fluidity can sometimes be confusing in reading – whose head am I in again? – but results in a no-holds-barred glimpse into the lives that intersect in the city, and will cause you to consider the people you walk by every day more closely.
Integrate these innovative stylistic elements of fluidity and overarching narratives by creating a look out of flowing fabrics and lots of layering. A watercolor wrap blouse, slitted maxi skirt, and shawl cardigan keep things loose and moving, while piling on layered necklaces and stacked woven bracelets bind everything together with beads and bangles. Strappy sandals finish off the look with more crossed connections.
Soldier and Civilian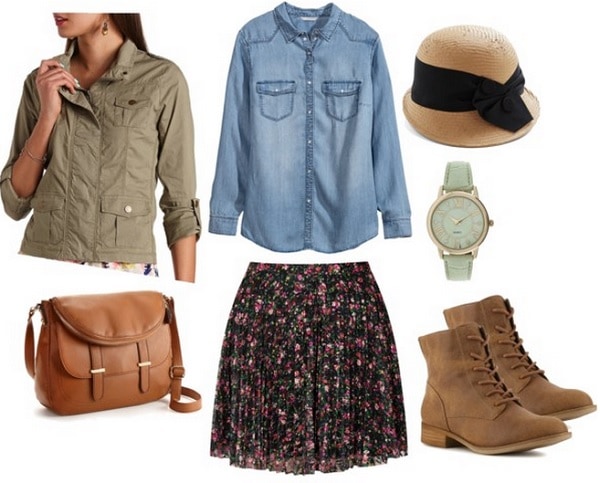 Product Information: Jacket – Charlotte Russe, Shirt – H&M, Hat – Modcloth, Watch – JCPenney, Boots – DSW, Skirt – Topshop, Bag – Kohls.
One of the central figures in Mrs. Dalloway is Septimus Warren Smith, a veteran of the recently-ended World War. His part in the story provides documentation of the widely-untreated mental afflictions plaguing soldiers as they returned from battle in a more accurate way than leading doctors in the burgeoning field of psychoanalysis were able to until about half a century later. Septimus' inability to reintegrate into the already-confusing city life is contrasted against the struggle of his wife Lucrezia, a foreigner unable to make her own way without the societal tie of her husband. The dynamics between the two make up some of the most tragic social commentary in the novel.
Channel Septimus and Rezia in your own look by mixing up rough-and-ready pieces with feminine city basics. Sturdy boots, a denim shirt, and a utility jacket are tough basics, while a sweet satchel, floral skirt, cloche hat, and mint watch bring in more of a feminine touch.
(Of course, the plights of recently-returned soldiers isn't just an old concept: look to organizations like The Soldiers Project for opportunities to help make a soldier's homecoming easier today.)
What Do You Think?
Have you ever read Mrs. Dalloway, or any of Virginia Woolf's other works? Have you ever taken a class on them? Have you seen the movie adaptation or The Hours? What did you think of the themes and ideas presented? What did you think of the outfits and styling tips? Let me know in the comments below!