This post may contain affiliate links, which means we may receive a commission if you purchase through our links. Please
read our full disclosure here
.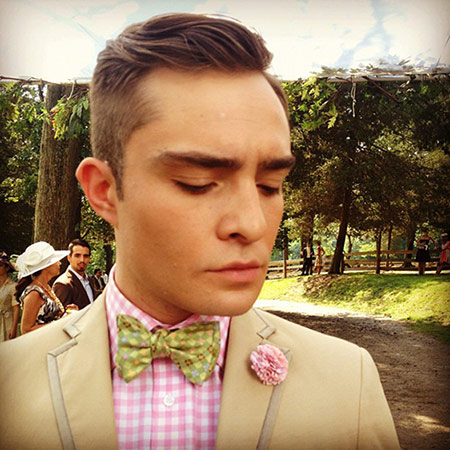 Photo Credit: Kelly Rutherford on Instagram
It's day three of our walk down Gossip Girl memory lane, and that means it's time to talk about the fashionable world of Charles Bass.
Ah, Chuck. That smirk, that scarf, those daddy issues! And man, can the boy dress. Always dashing but never too flamboyant, Chuck's wardrobe has grown beyond the loud colors and wild prints of an insufferable rich kid, to the impeccable closet of a dignified, refined young man. Let's take a look at the outfits!
Naughty Schoolboy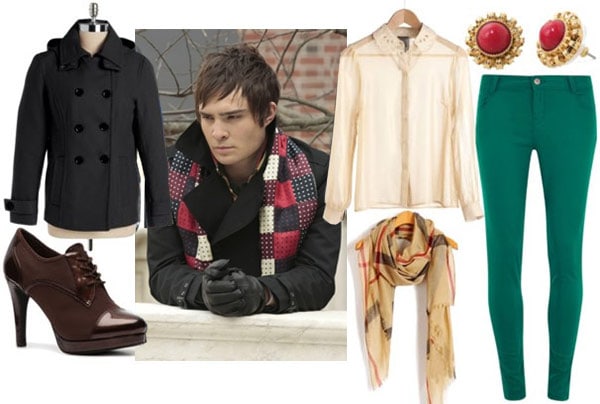 Peacoat, Blouse, Pants, Scarf, Oxfords, Earrings | Photo: The CW
It's hard to imagine that there was ever a time when Chuck dressed like an average dude (aside from his signature scarf, obviously). But while at St. Jude's, Chuck actually followed the dress code. With a few added twists, of course.
Get the NYC prep look by experimenting with bold, classic colors and shapes. Chuck's early color scheme seems to be a nod to Ed Westwick's British roots, so stick to navys, deep reds and greens, with subtle pops of light yellow. Pair a basic collared blouse with emerald skinny pants, and don't forget your scarf! I chose a preppy plaid print, but I think Chuck would be open to plenty of experimentation. Accessorize with brown oxford pumps and bold red studs. Top the whole thing off with a stunningly simple black peacoat.
Bold & Preppy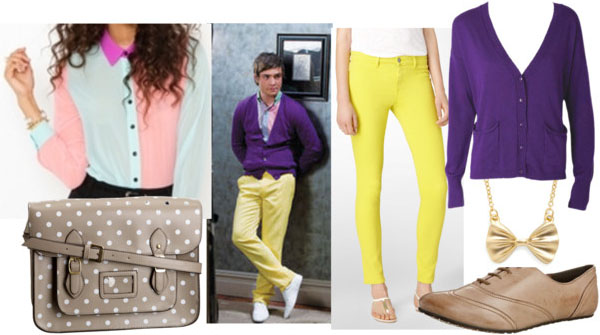 Blouse, Pants, Cardigan, Bag, Brogues, Necklace | Photo: The CW
As time wore on, Chuck really started to distinguish himself from Nate and Dan's classic uniform look. He kept the preppy style, but really brightened things up, color-wise. And when I say bright, I mean bright. If you didn't know him any better, Chuck's outfits might look a little clownish, but we know the truth. It takes a man with real taste to wear baby blue, shocking yellow and deep purple all in one look!
Snag Chuck's preppy brights by experimenting with color. Purple and yellow look amazing together because they're opposite from each other on the color wheel, so don't be afraid to mix them. Rock bold yellow skinny jeans and a royal purple cardigan layered over a pastel collared blouse and you'll be Chuck's new protege in no time. Accessorize with classic pieces that have a preppy twist, like tan brogues and a polka dot cross-body bag. Complete the look with a bow-tie-shaped necklace.
Real (Business)Men Wear Pink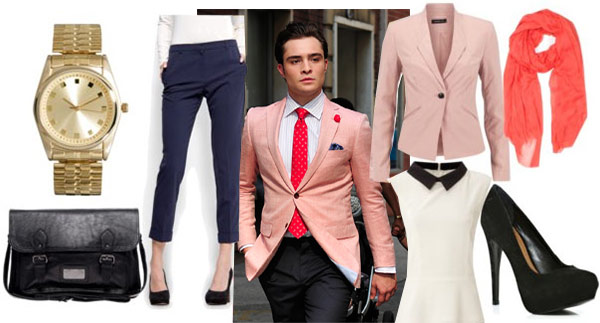 Blazer, Blouse, Pants, Scarf, Pumps, Bag, Watch | Photo: Pacific Coast News
In the wake of his father's death (or so we thought…) Chuck gained control of the family business, and seriously matured in both style and attitude. Though I like to think his fashion inspiration was all Blair's doing, you have to admit, Mr. Bass came into his own.
Get Chuck's smart but still playful look by rocking a baby pink blazer over a white peplum blouse. This gives you the perfect balance between fun and sophisticated. Navy chinos keep the look business-like, while a coral scarf livens things up a little. Keep your accessories polished and classic – a structured black satchel, matching pumps, and a heavy gold watch complete this menswear-inspired look.
Bass Industries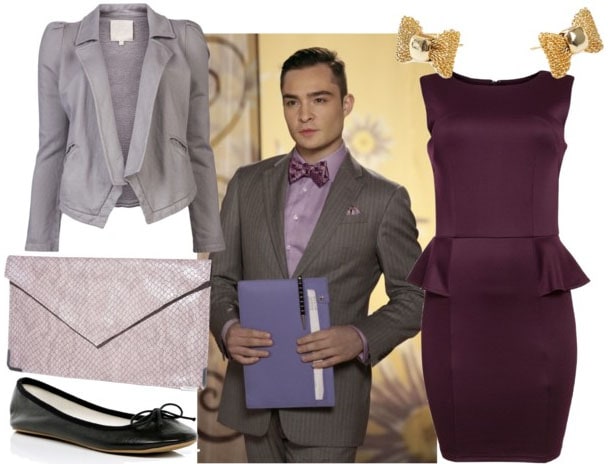 Dress, Blazer, Clutch, Flats, Earrings | Photo: The CW
Chuck's maturation continued throughout the later seasons, as he lost his company, and Blair, over and over again. (Seriously, you guys? Get it together.) Gone were the days of bright hues and fun accessories galore – they were replaced by somber (but stylish) suits with subtle pops of color. Guess he really is all grown up!
Channel Chuck's well-tailored look with a gorgeous plum-colored peplum dress worn under a structured gray blazer. Keep your accessories simple but classic. Black ballet flats and gold bow studs radiate simple elegance, while a lavender snakeskin-print clutch adds that subtle pop of color that Chuck rocks so well.
Your thoughts?
What's your favorite Chuck look? What do you think will happen to him in the finale? Be sure to leave me a comment and let me know what you think – I'd love to hear your thoughts!