For a hot second in middle school, I was a bit of a goth kid. I wore a lot (A LOOOOT) of black, wore my hair long and straight, and shopped at Hot Topic with my similarly black-clad friends. It was a good fit for me; as an introverted kid already deeply entrenched in writing, literature, and art-making, I found friends with similar interests who introduced me to new obsessions, like anime, graphic novels, and tarot cards, and their styles influenced mine. They showed me how to wear eyeliner and lipstick. The important things, you guys!
I moved out of that style phase pretty quickly as I discovered fashion magazines and… other stores at the mall? But there are parts of it that have stuck with me forever: my penchant for dark clothes and all-black outfits with edgy elements, or creepy-weird jewelry and accessories.
So imagine my happiness when, in the last couple of seasons, tons of goth-inspired trends have emerged: leather body harnesses, brooding florals, black lipstick! And some of this year's fall runways, like Emporio Armani, Erdem, and Katie Gallagher, showed looks that draw from all these trends, ushering in an fresh, edgy, and feminine look I can only describe as 'grown-up goth.'
In this Fashion Inspired by Art post, I'm going to show you how to rock this look using the dark, twisty, and feminine sculpture "Maman" by Louise Bourgeois: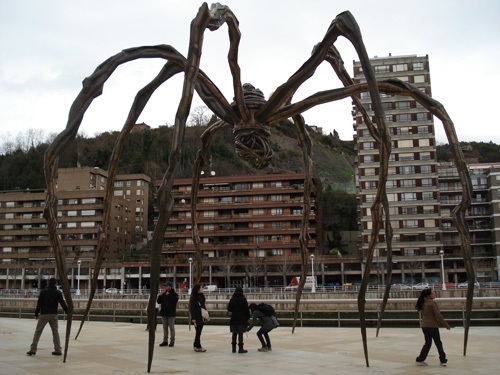 Louise Bourgeois' "Maman." | Photo Credit
About Louise Bourgeois and "Maman"
Louise Bourgeois was born in 1911 in Paris to an upper-middle class family. Her family life was difficult as a child, due to her father's affair with her governess; her tenuous relationship with her father would go on to inspire many works of art. Bourgeois enrolled in the Sorbonne in 1930 and studied art until 1938, when she met her husband and moved to the United States.
She slowly gained recognition throughout the next four decades, exhibiting with big name artists like Mark Rothko, Franz Kline and the De Koonings. She is one of the first women to have a retrospective at the Museum of Modern Art, (after Georgia O'Keefe, natch) and she represented the United States in the Venice Biennale and the Whitney Biennial many times. She continued to make art until her death in 2010, including a collaboration with Tracey Emin in early 2010.
Bourgeois is recognized as the originator of 'confessional art'. Many of her sculptures and paintings focused on her childhood memories and her anxiety about the future, and easily evoked themes like loneliness, womanhood, and depression through psychic imagery that's both creepy and comforting.
Her most recognizable work is easily "Maman,"a tribute to Bourgeois' mother who died when Bourgeois was only 21; her mother was a weaver of tapestries, and Bourgeois always associated her weaving, cleverness, and motherly qualities with spiders. Bourgeois was reportedly so distraught with her mother's death that she threw herself into a river, only to be rescued by her father.
Outfits inspired by "Maman"
While I would never accuse Bourgeois of being a goth or a Gothic artist, I can see why my inner goth kid is drawn to her work; her palette is dark, her symbolism is twisty and powerful, and her themes are difficult and sad. At the same time, her work is also incredibly elegant and sophisticated; there are no unnecessary flourishes or details to detract from the work's message.
This philosophy can be applied to the 'grown-up goth' look: sleek, sophisticated, and unfussy silhouettes combined with dark colors and edgy accents.
Slayer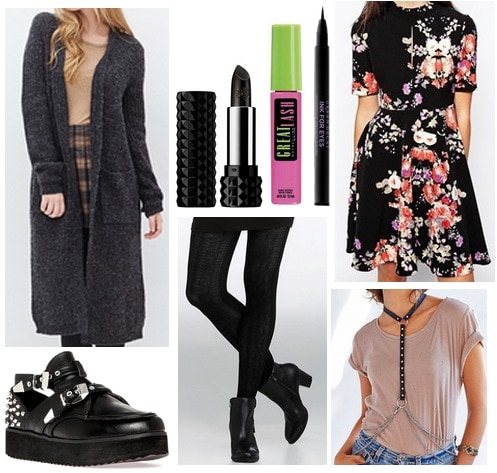 Duster, Lipstick (in Slayer), Mascara, Eyeliner, Dress, Creepers, Tights, Harness
The easiest way to channel this edgy and elegant look is to update an easy outfit formula – like a comfy cardi and a floral dress with tights – with killer accessories, like creepers and a leather harness. If the harness is too intense for you, a daintier body chain will achieve a similar effect without being too in-your-face.
I think an outfit like this looks best with a bold black lip and a complementary cat eye, but if a solid black lip intimidates you (I totally understand!) you can try lining your lips with the black and filling the rest of your lips in with a red for a vampy ombre look.
Immortal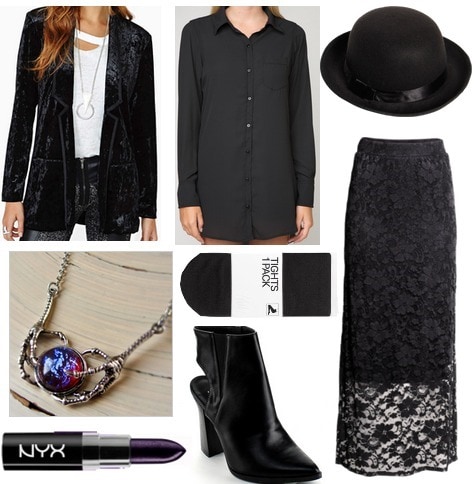 Blazer, Blouse, Bowler, Necklace, Tights, Skirt, Lipstick (in Immortal), Booties
The sophisticated goth ensemble draws a lot of inspiration from both boho and rocker styles, especially when it comes to luxe textures. So, if you already have a lot of velvet, lace, and faux leather pieces, creating looks like this one should be a snap.
A simple silky button-down becomes edgy and unexpected when paired with a black velvet blazer and a full-length lace skirt. Pointy-toed booties and a bowler hat add fashion-forward flair, while a metallic purple lippie provides an unexpected but gothy element. Pick up the purple in your lipstick with an edgy opal necklace.
Diva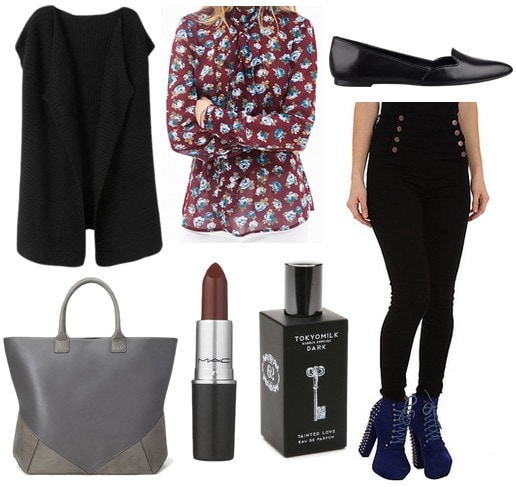 Vest, Blouse, Flats, Bag, Lipstick (in Diva), Perfume, Jeans
For a more subtle yet glam outfit, pair high-waisted jeans that have a steampunk-y detail with a floral tie-front blouse and a long, sleek vest. Finish with polished pointy-toe flats and a monochromatic bag for an ensemble that could totally work for the office.
A swipe of deep burgundy lipstick adds a perfect gothic punch, while a spritz of a complex but delicious perfume elevates the look from luxe to super-luxe.
What do you think?
Were you a goth kid in middle school/ high school? How do you feel about Louise Bourgeois "Maman"? Would you ever wear dark lipstick? Let me know in the comments below!