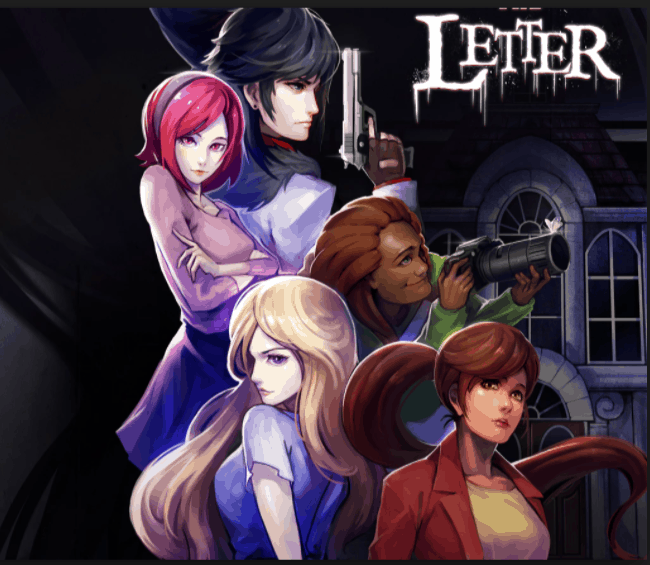 After about 40 hours of playing this game, I can now say that The Letter might be the best visual novel on I've ever played. The Nonary Game series was good. Danganronpa was even better. But The Letter was an experience that honestly cannot be topped.
For those of you that don't know what visual novels are, they're games that read like books and limit gameplay to simple choices that dictate where the story will lead next.
Why is this one so special, though? Oh, for a zillion reasons.
First of all, the game is just gorgeous. It features seven playable characters who all have these wonderfully designed animated sprites. The backgrounds are all beautifully painted as well. Overall, the art style is just great, which is just one of the many reasons you should buy this game.
In addition, the game also has full voice acting which is quite refreshing in a visual novel.
Finally, the game was completely funded via Kickstarter, which is great because most Kickstarter games don't make it this far. I love supporting independent games like this!
The Letter is about seven people who fall victim to a cursed chain letter that threatens their sanity as evil lurks about, only around them, but within them as well.
Below I'll show you how to channel the style of 'The Letter' in your wardrobe, via the styles of our very unique protagonists:
'The Letter' Video Game Fashion: Isabella Santos
Isabella Santos is one of my favorite characters in the game. She is a strong-willed Filipino woman with a not-so-nice home life who supports her sick father by working in real estate.
Although she makes decent money through her work, she has abandoned her long-held dream of being an artist. Instead, she makes money at her current job to help her family in the Philippines.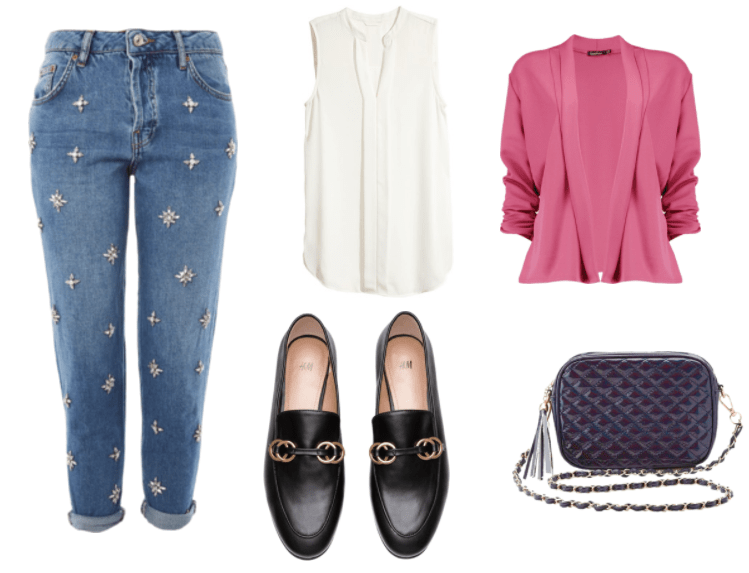 Products: Jeans – Topshop, Shoes – H&M, Bag – Charlotte Russe, Blazer – Boohoo, Top – H&M
To recreate Isabella's look, I designed an outfit that highlights the artsy side of her personality while looking business-casual. (She works in an office, after all.) This would be a great casual Friday ensemble for a creative office.
I started by pairing some embellished boyfriend jeans with a white button-front tank. These two basic pieces are easy to build off of.
I added in some pops of color by throwing in a vibrant pink blazer and a holographic purple crossbody bag to reference her upbeat, vibrant personality. Lastly, I finished the look off with some simple black loafers that are classically cute and quite comfy as well.
'The Letter' Video Game Fashion: Zachary Steele
Zachary Steele is our resident filmmaker and photographer. Though he doesn't come from a great upbringing due to the death of his parents, he still finds happiness through his work and his friends who support him.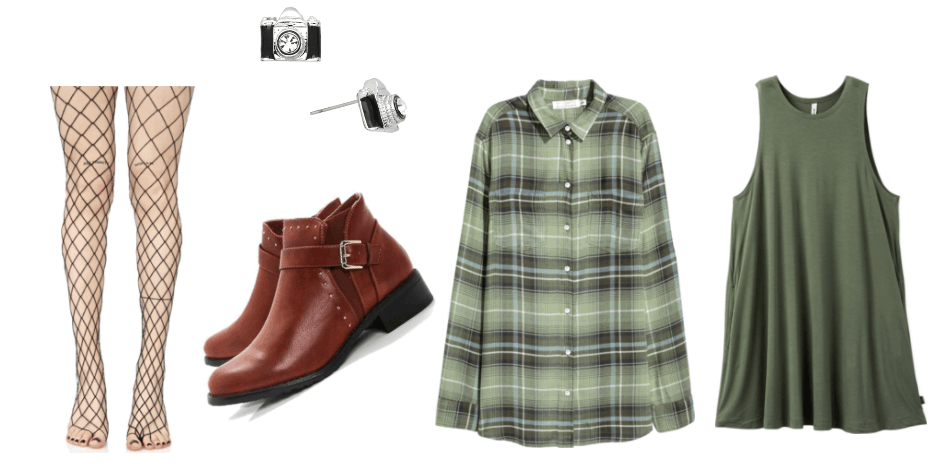 Products: Flannel – H&M, Dress – RVCA, Boots – Boohoo, Fishnets – Dollskill, Earrings – Popmap
For Zach's look, I went for something cute and cozy with a bit of an edge. Green is his primary color, so I built his outfit around the color green, beginning with a green flannel and a similarly colored green tank dress. Wear the flannel unbuttoned over the dress for a cute, casual look.
Zach's personality comes into play with the fishnets and the uniquely shaped camera earrings — he's a photographer who loves to take chances with his work. I tied everything together with a pair of studded brown ankle boots.
'The Letter' Video Game Fashion: Hannah Wright
Hannah is a high society heiress and socialite. She was born into money, however, her wealth was actually what made her so lonely during her childhood. Her parents were always gone, trying to earn increasingly vast sums, leaving Hannah to fend for herself.
Now, she's married and isn't lonely anymore. However, Hanna still craves attention from everyone around her due to the attention she missed in her childhood.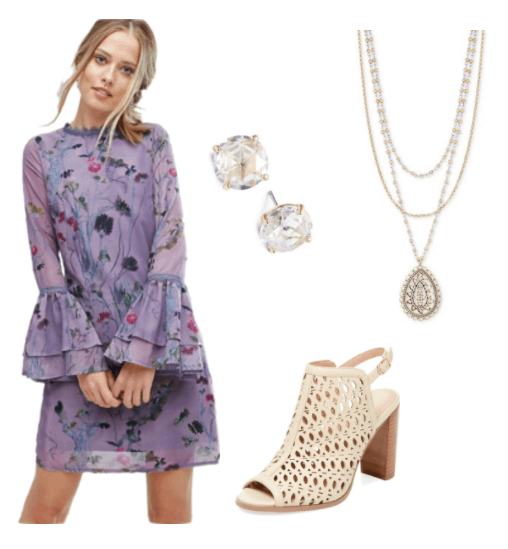 Products: Dress – ASOS, Booties – Gilt, Earrings – Saks Fifth Avenue, Pendant – Macy's
Although Hannah is high-maintenance and comes from a posh living environment, her style is still a lot of fun. I channeled her love of fashion into this cute outfit.
I started off this look with a bell sleeved mini dress in a pretty floral print. Even though it is a bit pricey (which Hannah wouldn't mind), it is quite an attention-grabbing statement piece that would be a fun way to treat yourself.
I threw in a pair of neutral toned cream peep-toe heels because they also are quite fun, but they don't take away too much attention from the dress. I finished the look by accessorizing with some crystal studs and a pendant similar to the one Hannah never takes off in the game.
What do you think?
Have you heard of The Letter? What did you think of it? How do you feel about visual novels in general? What look was your favorite? Let me know in the comments!