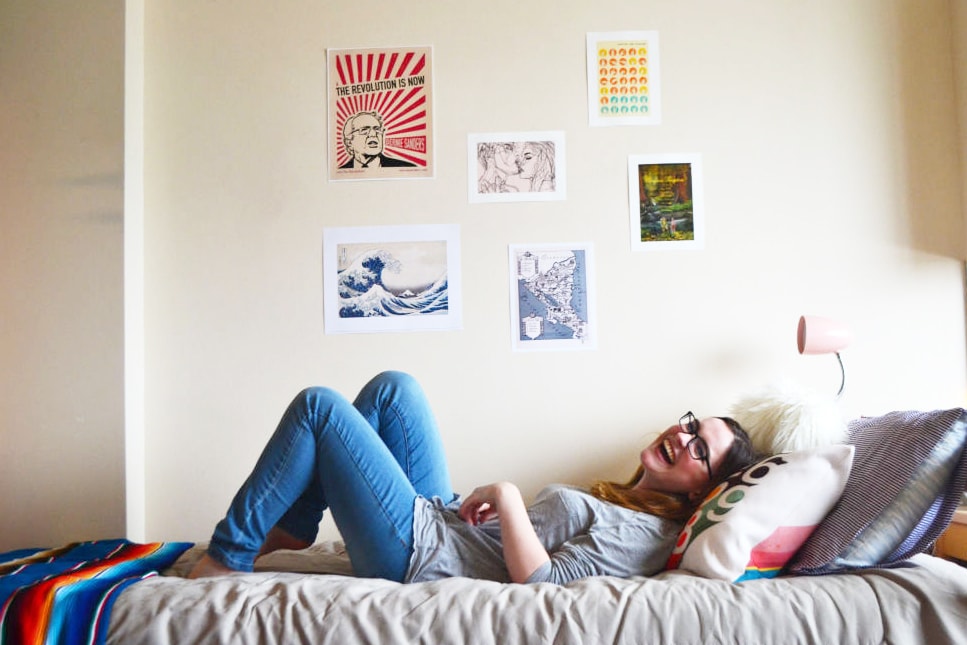 My walls at home have seen a lot of art, from J14 posters of Hannah Montana to Twilight movie posters, to my own art from high school and random world maps I've acquired. Nothing ever had a theme, but every piece displayed an aspect of who I was and where I was at in my life. I was a little more deliberate with what pieces I chose when I went off to college. Finding art can be hard, especially pieces that work together cohesively.
Need some college dorm wall art inspiration? Here is a quick roundup of unique wall art ideas and where you can look to find pieces for your own designs.
1. Removable Wallpaper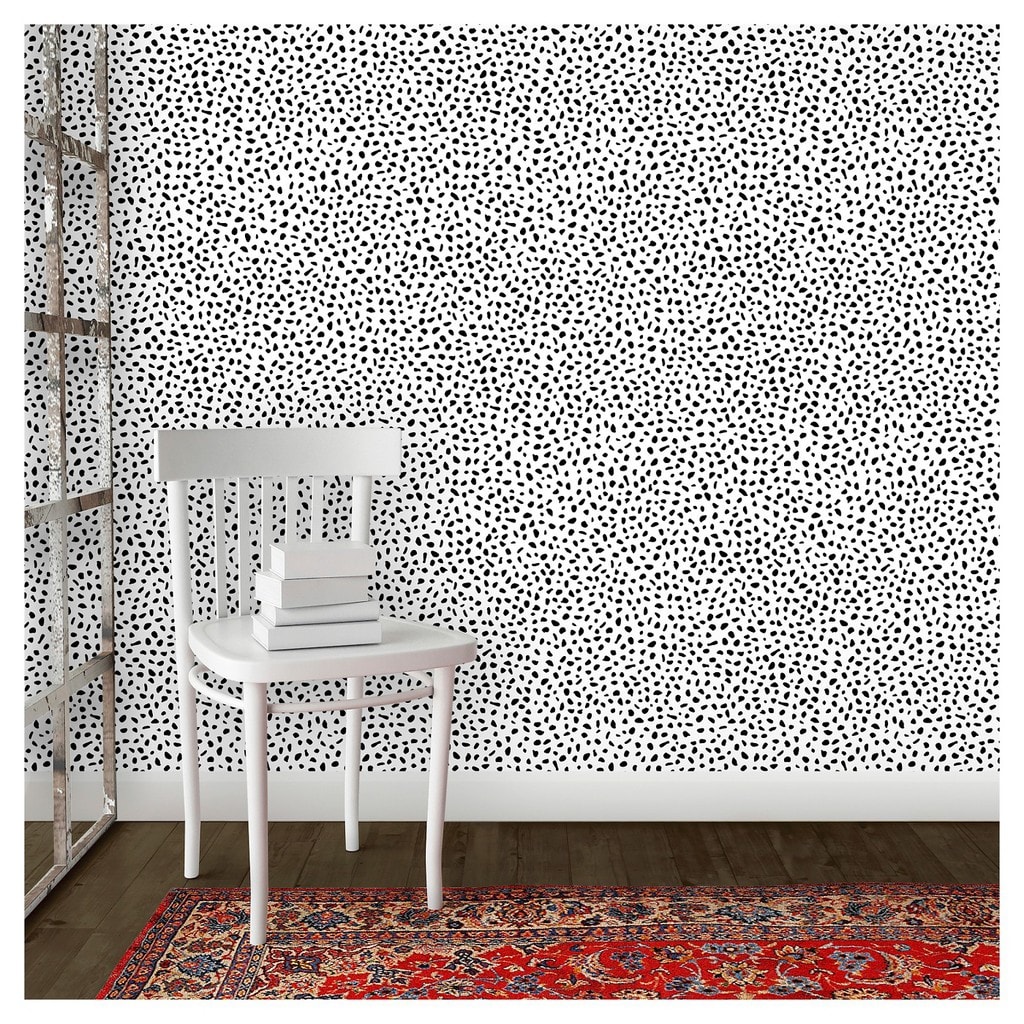 Removable wallpaper is a way to create an entirely new look for your dorm in one second. Removable wallpaper is something we rarely think of, but it can be a way to transform the look of your room and play into your room's theme. Or you can go neutral — this polka dot wallpaper from Target could go with a million different room vibes. While not "art" per se, removable wallpaper is a way to make your room stand out among the hundreds of other standard issue rooms. (Just be sure to check with your school to make sure they don't have a rule against it!)
2. Neon Lights
Neon lights and signs are an incredibly cool and on-trend way to make your college dorm room stand out, especially when accompanied by other lights or as the centerpiece mixed in with some cool photographs. Neon signs also don't have to break the bank, as smaller pieces are available for girls on a budget. Here are a bunch of neon signs, many for under $50, available to buy on Amazon and ship to your door!
3. Styled Bookshelves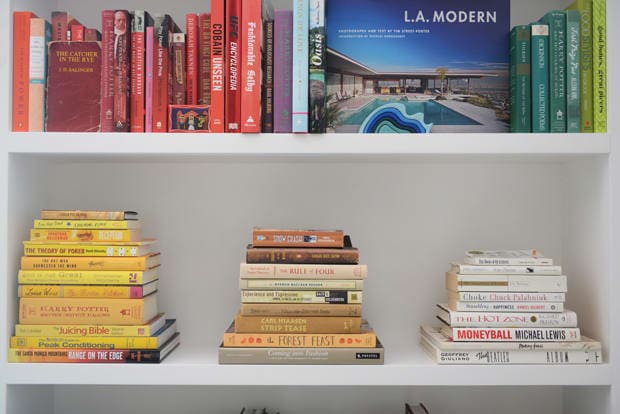 Cupcakes and Cashmere's Emily Schuman has always decorated her bookshelves non-traditionally and I love it. While this may not work if you have a shared room, if you have a single space, or a lot of shelves, try color coding your books instead of alphabetizing them. Creating an intentionally ombre look gives you an excuse to bring books you love from home, and makes school books less of an afterthought.
Another way to make bookshelves a design moment is by coordinating your knickknacks. Creating spaces for cool bottles, vases, lights, art and other things breaks ups up the practical stuff and makes it look like you put effort into a normally overlooked part of a room. Here's a great tutorial on styling your bookshelves to perfection.
4. Mirrors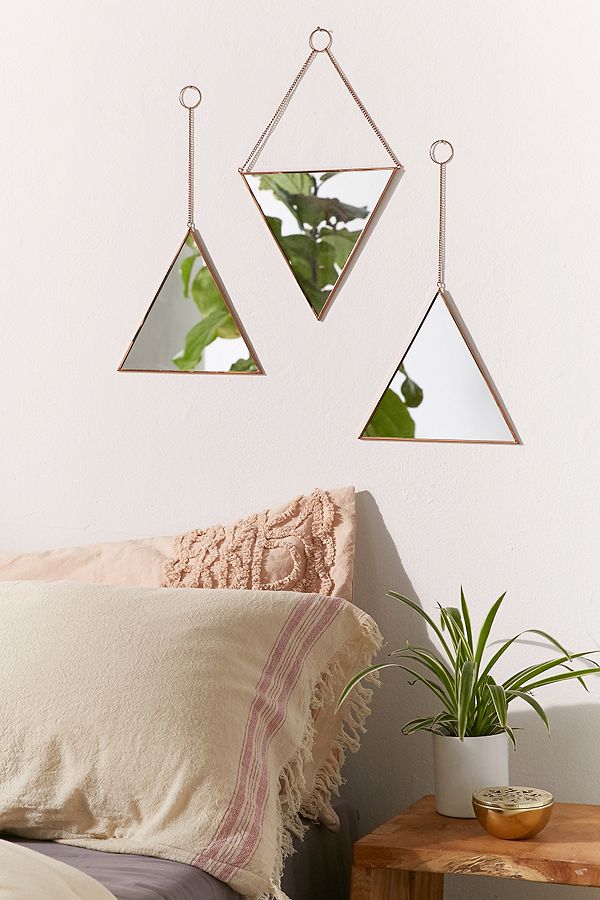 Mirrors are not only your best friend for checking your makeup and taking cute #ootd pics; they're also amazing at making a room look larger. (So key for dorms!) While it may seem vain to buy a ton of mirrors to use as college dorm wall art, decorating with them is a tried and true design tip. You can often find mirrors at thrift stores and garage sales, and mixing up the sizes, or placement in the room can elevate you to a whole new level. If you want a ready made set, these triangular mirrors from UO are super stylish.
5. Tapestries
Many people buy tapestries for their dorms because they're a great decoration that looks good, can be inexpensive, and takes up a lot of space, creating less of a need for other pieces. Wall hangings like the one above can be either DIY'd or bought and give texture and color to an otherwise plain wall. If woven wall hangings aren't your vibe, tassel or bunting styles are just as stylish. (Again, check with your RA to make sure tapestries or fabric wall coverings are allowed — some schools prohibit them due to fire code!)
6. Clocks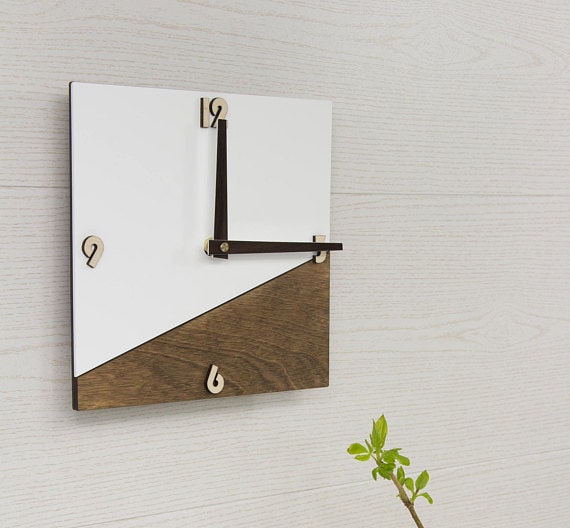 A super cool clock like this one from Etsy helps you to be on time for class, and creates a natural look for your wall. Etsy, Society6, Redbubble, Target, and Walmart all have clocks for all kinds of themes depending on if you want natural, industrial or quirky. Having a statement piece like a clock without a lot of distracting extras can make your wall look clean and classic, separate from other, more common dorm looks.
7. Obviously… Art!
Last but obviously not least, you can always decorate with real art! It doesn't have to be expensive to get art for your walls: You can find great art from thrift stores, Redbubble, Etsy, Minted, Society6, and even stores like Target and Walmart. Also, you can always make your own art to hang. Many collages don't want you to put any anchors in the walls so if you choose to frame your pieces you can attach them to the walls via Command picture hanging strips.
What are your favorite college dorm wall art ideas?
What kind of art do you like best? When decorating your dorm, are you chasing a theme, or picking pieces individually and working from there? Let's talk about it in the comments below!