This post may contain affiliate links, which means we may receive a commission if you purchase through our links. Please
read our full disclosure here
.
This week's Fashion Inspired by Art is inspired by a lesser-known painting from an artist that has been featured before: Katsushika Hokusai's"Canary and Peony." Read on to learn more about this wood block print and to see three chic outfit ideas inspired by this work of art:
About Katsushika Hokusai's "Canary and Peony"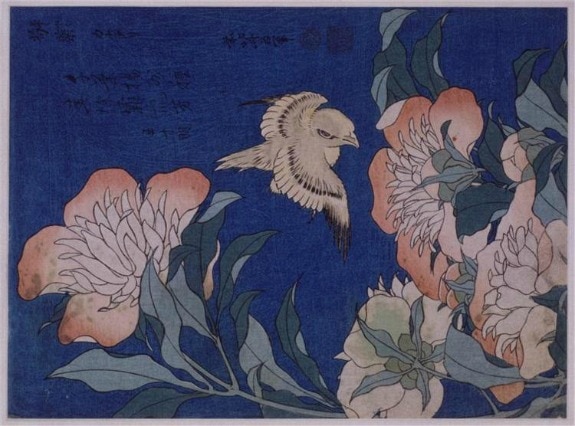 Katsushika Hokusai's "Canary and Peony" (1834) via Wikipaitings
Katsushika Hokusai (1760–1849) was a Japanese printmaker and ukiyo-e painter. His most famous piece of work was "The Great Wave off Kanagawa," which he created rather late in his career. Unlike artists of a similar medium, Hokusai painted mostly landscapes and images of daily life, rather than courtesans and actors.
Not only was he wildly popular in Japan, but Hokusai found admirers abroad in Europe, many of whom were famous artists as well. Along with an illustrious solo career, Hokusai illustrated novels, participated in public spectacles (he allegedly painted a 600 foot long painting of a Buddhist priest), and also taught.
Towards the end of his career, Hokusai transitioned to painting more detailed works while keeping a refined style, focusing on flora and fauna. "Canary and Peony" was one of these woodcuts.
Outfits inspired by Katsushika Hokusai's "Canary and Peony"
Floral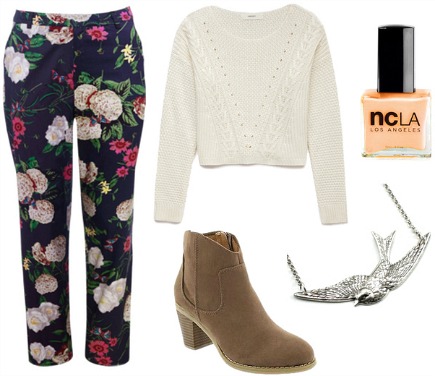 Trousers, Sweater, Boots, Nail Polish, Necklace
Channel Hokusai's woodprint with some floral trousers paired with a cropped knit sweater and neutral boots. Brighten up your outfit with a bird necklace, which represents the other subject of his painting, as well as a cheerful orange nail polish that's based on the shade of the peonies.
Flight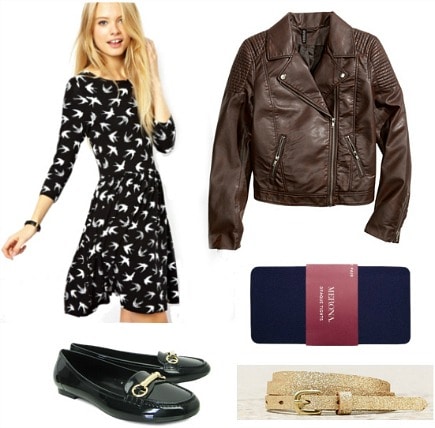 Dress, Loafers, Jacket, Tights, Belt
For this ensemble, start with a cute bird print skater dress, a nod to Hokusai's painting. Despite the (outdated) rule, there's no reason not to mix black, navy, and blue, so add a brown leather jacket and navy tights to stay warm. Finish off the look with some smart patent loafers and a glittery gold belt.
Spectacle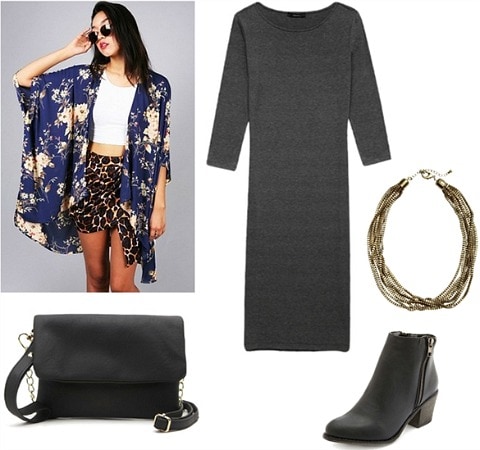 Kimono, Bag, Dress, Necklace, Boots
Hokusai was an extremely talented artist, but he was able to stand out thanks in part to his knack for promoting himself through public events. Get an equally dramatic look with a patterned kimono jacket. Paired with a long sleeved midi dress and dark florals, the kimono silhouette can be worn all year round. Keep the rest of the outfit simple with a smooth leather bag and matching ankle booties.
What do you think?
Do you like Hokusai's work? Which of his paintings do you like the most? Is there some other Japanese artist you like? What do you think about the inspired outfits? Which one is your favorite? Let me know in the comments below, I'd love to hear your opinions!