Even though fall is my favorite season, I still love winter. I love bundling up and dressing in layers, I love how beautiful snow is, I love the holidays. By February, though… I'm ready for spring. It's cold. It's dreary. And if I have to scrape off my car again I will FLIPATABLE.
February is also when I can't be bothered to wear colors. (I'm not doing so hot on that new year's resolution, I know…) This February, my go-to color seems to be gray. I love gray, but some days I run a real risk of wearing a real-life groutfit.
So, in this Fashion Inspired by Art post, I'm going to let you in on my secret for stylish gray outfits; pairing your gray clothing with other neutrals for a muted but unexpected look. To illustrate this, I'm featuring one of my favorite works of art that uses washes of India ink: Hasegawa Tohaku's "Pine Trees."
About Hasegawa Tohaku and "Pine Trees"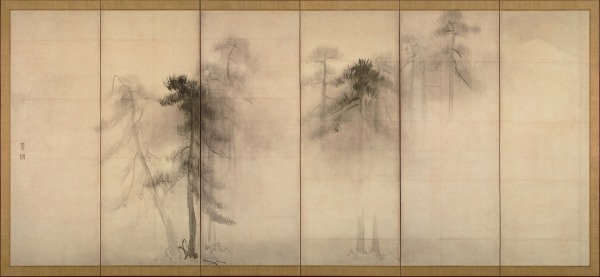 Hasegawa Tohaku's "Pine Trees" (1580) via Wikimedia Commons (Click image to enlarge.)
Born in 1539 to a family of cloth dyers, Hasegawa Tohaku began painting at a young age and was earning a living as a painter of Buddhist images by the time he was 20. In his 30s, he moved to Kyoto to study under Kano Shoei, the current head of the Kano school.
At this point in time, the flashy and opulent Kano style was in vogue, but Hasegawa found inspiration in India ink scrolls from earlier periods, which led him to develop the style he's know for today. He was particularly inspired by the work of Sesshu Toyo, and later studied under his successor; he even attempted to become the style's fifth successor. When he wasn't selected, he opened his own school; the Hasegawa school, which continued until the 18th century.
His most recognizable and popular pieces are the "Pine Tree" screens, the left of which is shown here. (Check out the right here!) It was recently declared a National Treasure of Japan, and is arguably one of the first Japanese paintings to depict only pine trees.
Many scholars feel that the trees, masterfully painted in several washes of diluted India ink, are meant to represent mountain pines obscured by a dense, misty summer rain, but it's always reminded me of the way the landscape disappears in heavy snow.
Outfits Inspired by "Pine Trees"
I've always loved paintings like this because I adore how lovely grays look against creams and browns. Black and white ink paintings and drawings are lovely, too – their crispness is refreshing and bold – but they're somewhat predictable.
Combining charcoal and graphite grays with warm neutral tones – like tan, cream, and camel – is somehow both familiar and comfortable, but also unexpected and stimulating.
Cream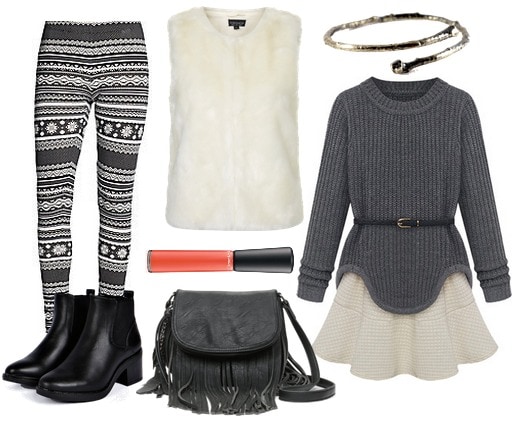 Leggings, Booties, Vest, Lip Gloss (in Precious Fruit), Bag, Bracelet, Dress
Don't you love when the clothes make your job easier? This dress pairs a lovely charcoal gray sweater with a textured, flouncy cream skirt – perfect for those mornings when you just need to grab something and go. Accessories, like a faux fur vest and a fringed bag, kick the look up a few notches, while a pair of cream-and-gray Fair Isle patterned leggings give the outfit a bit of youth, sweetness, and, uh, warmth. 'Cuz it's still really cold out.
A final edgy touch, like a branch-shaped bangle (an elegant nod back to our inspiration), rounds out this cute, textured look. Throw on a pair of your favorite tried-and-true black booties and a swipe of coral lip gloss for a little color, and you're ready to tackle any cold and dreary February day.
Camel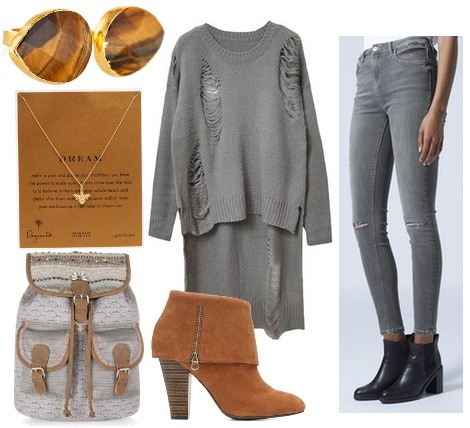 Ring, Necklace, Backpack, Sweater, Booties, Jeans
Even though the border of "Pine Trees" is a lovely camel color, I honestly don't think I'd ever have thought of this combination if it wasn't for my kitten, Gidget. She's a dilute tortie, and dude and I constantly tell her what an adorable little kitten princess she is, because torties are obvi the cutest cats ever. I realized I could also look like a pretty tortoiseshell princess by combining camel-colored accessories with my army of gray sweaters.
Monochromatic outfits are great for exploring interesting silhouettes, so I paired these edgy, gray ripped jeans with a trendy gray hi-low sweater. The foldover booties give this look its major camel element, while the gray patterned backpack adds a camel accent and another trendy touch. Finish the look with a dainty gold necklace and a statement ring with Tiger's Eye, a gorgeous caramel-y stone, for a touch of boho glamour. This outfit would look even more killer with a camel boyfriend coat or a drool-worthy leather backpack.
Blush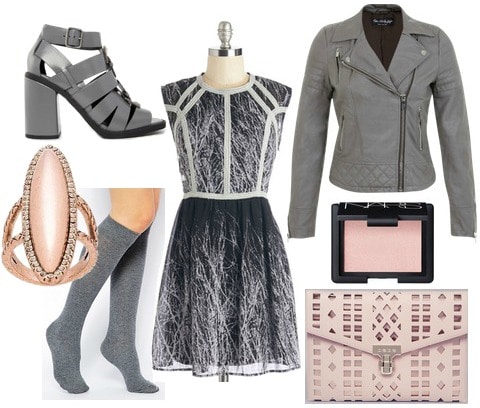 Heels, Ring, Socks, Dress, Jacket, Blush, Clutch
So, I don't know if you guys think blush is a neutral or not, but it is definitely a neutral to me – plus it looks so coy and cool against cool grays, like the graphites in this flirty outfit.
Start with your base – a graphic, gauzy dress with a soft tree pattern, just like "Pine Trees." Add matching gray faux leather accents, like a quilted biker jacket and strappy heels over knee-high socks. Then, add your beautiful blush pieces – a faux leather cutout clutch and a rose gold cocktail ring. Finish with a soft, pastel blush, and you have a look that's absolutely perfect for a winter dinner date.
Black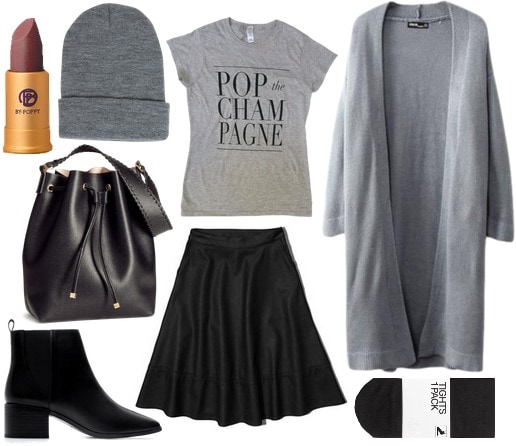 Lipstick, Beanie, Bag, Booties, T-Shirt, Skirt, Cardigan, Tights
Okay, so black is an obvious choice to pair with gray (especially cooler grays!), but I couldn't leave it off this list. There's something so Blair Waldorf-y about this combo. It exudes polish and class, but still gives you some wiggle room for edgy or urban elements.
A fail-proof combo of a t-shirt, cardigan, and a flouncy skirt gets a trendy update with a duster cardigan, a midi skirt, and a statement tee. Add a pair of black tights and black booties, and you have a cool, neutral and unexpected colorblocked look. Sleek accessories, like a black bucket bag, a beanie, a muted Marsala lipstick, and even a gray tweed jacket only enhance the polished, cool-girl vibe that I like to think Blair would wear in a heartbeat.
What do you think?
What do you think of "Pine Trees"? How many gray sweaters do you own? What's your favorite table flipping gif? Do you think Blair would wear my Blair look? Let me know in the comments below!