The romance of Valentine's Day has come and gone, but that doesn't mean it's too late to treat yourself (and your wardrobe!) to a little luxury. In fact, the trends over at Fashion Week have graced us with quite the fancy forecast — if you were wondering when the right time was to start adding a hint of extravagance to your outfits, it's now!
This week's Fashion Inspired by Art features "Water Serpents II", one of many lavish and sensuous paintings by Gustav Klimt. Covered with flowers of blushing pinks and purples, it's the perfect painting to draw inspiration from as we start to transition our wardrobes to spring.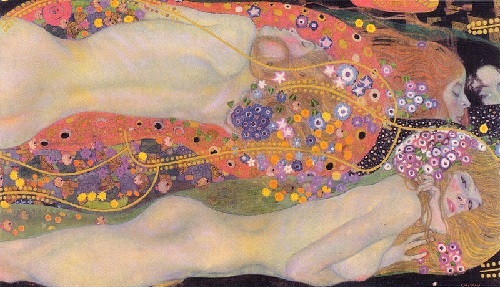 Gustav Klimt's "Wasserschlangen II" (1907) via Wikimedia Commons (Click image to enlarge.)
Read on to learn more about Klimt, and to see three outfits inspired by his entrancing painting.
About Gustav Klimt
Born in the Austrian Empire on July 14 1862, Gustav Klimt was known as one of the key members of the Vienna Secession Movement. His symbolist artwork centered on the female body, and employed elements of eroticism. He died on February 6, 1918, and though many paintings were left unfinished, Klimt received posthumous success.
In his Water Serpents series, Klimt painted images of women in water. Due to its sensual nature, his work was likely to be considered unacceptable for the public eye. However, by adding a mythical title and adorning the painting with various patterns, Klimt was able to display the painting in Vienna without having to worry about media censorship.
Klimt's paintingsencompass an abundance of colors, patterns, emotions, and unexpected combinations of all of the above. In that same vein, Paris Fashion Week has presented us with daring ways to mix patterns and colors, whether it be on the brighter or darker end of the spectrum. With spring and its new trends approaching, it's a wonderful opportunity to start experimenting.
Since Klimt's paintings addressed subjects of an inviting and pleasurable nature, these outfits will focus on adding a touch of luxury to everyday looks — and because winter is still around for most of us, you can guarantee that I've kept warmth in mind, too!
Outfits Inspired by Gustav Klimt's "Water Serpents II"
Deluxe Duos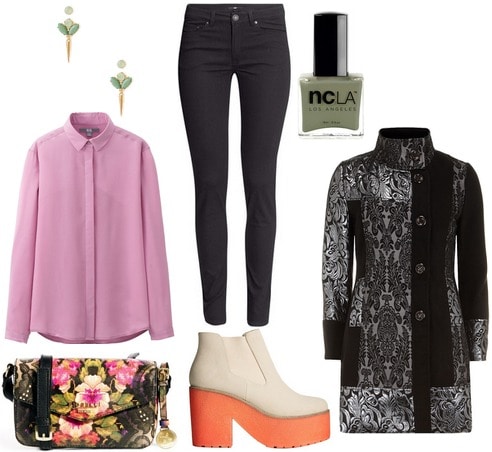 Earrings, Blouse, Bag, Pants, Shoes, Nail Polish, Coat
Perfect for a chilly night out after a long week of midterms, you can celebrate completing all that hard work by not only looking extravagant, but by feeling extravagant as well with this first outfit — the blouse is silk, and the high buttoned neck of the coat will keep you extra toasty.
I've chosen a pair of simple dark jeans to go with the patterned coat. This creates a steady foundation upon which to wear various colors, such as the lilac of the blouse with the hint of coral on the boots.
I also focused on emphasizing the concept of multiple pairs in this set, as Klimt's painting includes three figures. (There's even a hint of a fourth one at the very right of the image!) The color of the blouse displays a similar shade to the flowers on the bag, the jewels on the earrings accompany the nail polish, and the patterned bag and coat both provide contrast against the pieces of a singular color.
If you want some extra allure, trade the pale green nail polish for a sparkling gold. It'll still match your earrings!
Blossoming Bordeaux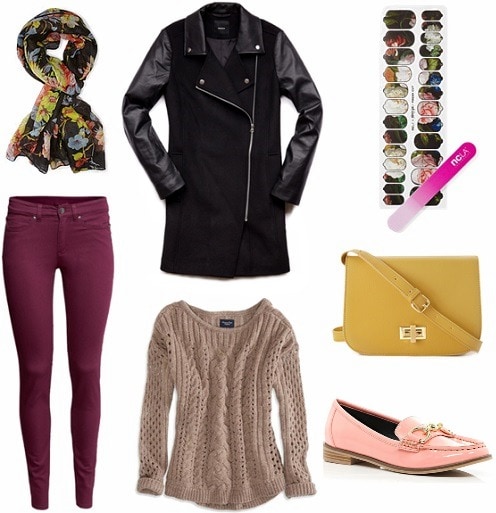 Scarf, Pants, Coat, Sweater, Nail Wraps, Bag, Shoes
You already know about that old 'matching your bag to your shoes' trick, so why not try matching your scarf to your nails with this great nail set from Nasty Gal? The dark coat and neutral sweater of this casual outfit make it easier for the seamless inclusion of several patterns. While both are floral in nature, each has its own unique design.
"Water Serpents II" involves a medley of pinks and purples. The concentration of these pattern-free shades in the bottom half of your outfit avoids competition with the statement scarf. The wine-colored pants are a comfortable alternative from your everyday denim, and the pink loafers provide a refreshing change from winter's dark footwear. And if there's anything that screams spring, it's the color yellow — with this bag, you'll literally be carrying it with you.
Rainy out? Swap the loafers for these boots to make your walk across campus less of a hassle. You can also try this cute umbrella!
Splendid Shadows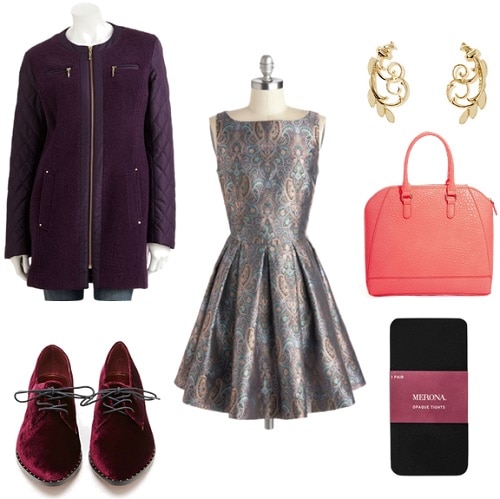 Coat, Shoes, Dress, Earrings, Bag, Tights
Outfit three is for those interested in a more subtle way of channeling the elaborate Klimt: it's a quieter, darker nod to some of the key colors found in "Water Serpents II". If you aren't particularly into loud or colorful patterns, this patterned dress is just as eye-catching with its slightly metallic take on paler colors. Take a closer look at the intricate paisley design – it's gorgeous!
The velvet oxfords add extravagance to your step, and you'll stay warm with these tights. Still in the mood for boots? Check out these velvet lace-ups. If the venue you're headed to leans a little more towards the fancy side, give these suede pumps a try.
Apart from the plush, quilted sleeves, my favorite thing about this deep purple coat is the use of gold zippers – it stands out so well, and matches the baroque earrings. And don't worry about winter gloom – the bright pink bag adds the bright playfulness of spring to the array of deep colors in your outfit.
Final thoughts:
Clothes with baroque and jacquard elements can help elevate your everyday basics. While this trend is not new in the fashion world, designers continue to put together new ways to present it on the runway and align it to upcoming fashion seasons.
Klimt's works are rich in color and pattern, not to mention their capacity for expressing human emotion. With Klimt's grand gallery at your arsenal, and with all these embellished garments sprouting with the new season, you can make this your most majestic and memorable spring yet.
What do you think?
What's your favorite way of adding a look of luxury to your outfit? Klimt's work has been featured here on College Fashion before — are there any more of his pieces you find inspiring? Which of these three outfits do you like best? I'd love to hear your input in the comments below!