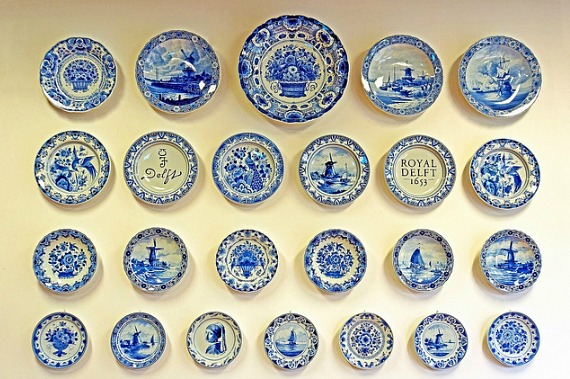 If your holidays are anything like mine, they can be a little crazy. I have no fewer than three Xmases to attend, plus holiday work parties, house parties, and out-of-town friends to see. It's lovely to be busy and social, of course! I love hanging out with my friends and family, but it can be exhausting, especially for an introvert like me.
And, honestly, the worst part? Putting together multiple chic, appropriate, and festive outfits. Don't get me wrong: I LOVE putting outfits together. It's just not exciting anymore; there's nothing new or unexpected about dressing for the holidays. Seriously, I will scream a little if I have to procure another ugly sweater for another ugly sweater party.
I was musing this conundrum while Xmas shopping this week, when I stumbled upon these mugs in Anthropologie. I was struck by how much they reminded me of Delftware, but also how beautiful the vibrant blue and crisp white looked together – it reminded me of fresh snowfall at night. And there it was – the inspiration for not only my next holiday look, but my next Fashion Inspired by Art post: blue and white holiday looks inspired by Delftware.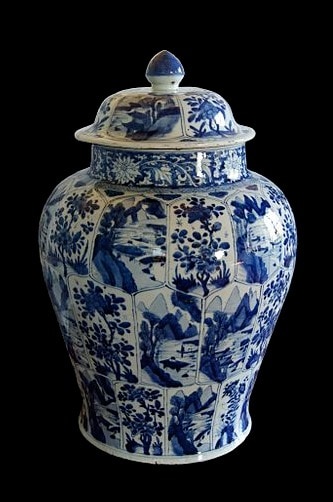 Delftware, circa 17th century, via Wikimedia Commons
About Delftware
Delftware refers to a specific kind of pottery made in Delft, a city in the Netherlands, (also home of painter Johannes Vermeer) as early as the 16th century. This pottery was made to emulate Chinese porcelain; to achieve the iconic white of this porcelain, the earthenware pots were dipped first in a tin-based glaze, painted on, and then dipped in a clear ceramic glaze.
In the early 16th and 17th centuries, only the richest of Dutch families could afford to collect imported Chinese porcelain, so the creation of Delftware filled an economic gap for the middle and upper-middle classes. By the end of the 17th century, however, Dutch Delftware had replaced Chinese porcelain in popularity and was collected by wealthy families all over Europe.
Delftware refers to not only decorative items such as vases and tiles, but also functional items like plates, mugs, and tea sets. While many early forms of Delftware included scenes from Dutch life, including windmills, pastoral scenes, cityscapes, seascapes, and even religious iconography, many later forms seek to replicate the scenes of Chinese porcelain, featuring pagodas, mountain scenes, Asian foliage, even geisha.
The popularity of Delftware declined in the 18th century, and many factories that produced them went out of business; out of nearly 30 factories in the height of the Delftware craze, only one remains: Royal Delft.
Despite, this the legacy of Delftware is clear. It continues to inspire ceramicists, craftsmen and artists around the world. Delftware-inspired table settings and mugs can be found anywhere from Target to Bergdorf's to Urban Outfitters. When British Airways commissioned designs for their planes' tailfins inspired by countries and their cultural symbols, designs inspired by Delftware were selected.
Outfits Inspired by Delftware
Fancy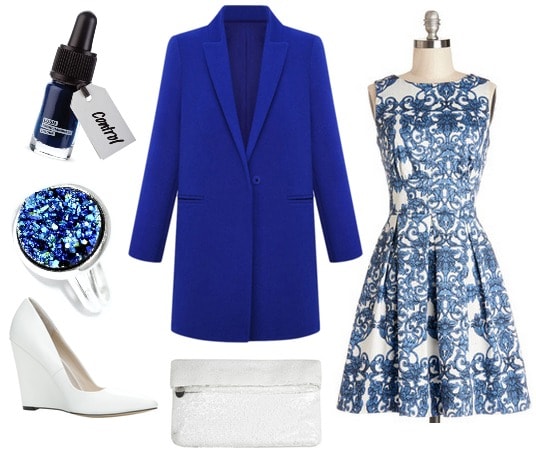 Eyeliner, Coat, Dress, Ring, Heels, Clutch
Whether it's for your internship's swanky holiday party, a dinner date at a fancy restaurant, or just a classy New Year's Eve party with your friends, this outfit is glamorous, festive, and fashion-forward.
A poofy, pleated dress with a pattern evoking delftware is polished enough for even the fussiest of restaurants or parties, while a sparkly white clutch and a blue druzy ring add small elements of holiday glitz. A simple pair of white wedges and a striking cobalt coat elevate the outfit, but a swipe of blue eyeliner adds an unexpected and youthful touch that keeps the outfit from being too stuffy.
Casual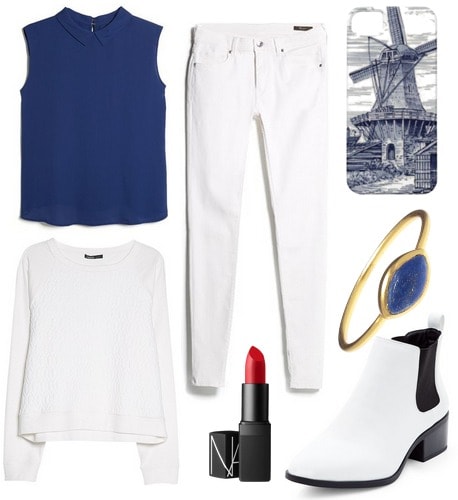 Blouse, Pants, iPhone Case, Sweater, Lipstick, Bangle, Booties
For a last-minute shopping sesh with your bestie or a coffee date with a high school friend who's in town for the holidays, you'll want to look sharp and stylish without looking like you're trying too hard. For an effortless, casual, and chic look, inject dashes of deep blue into a winter white outfit.
A classic go-to outfit – an oversized sweater, skinny jeans, and Chelsea booties – gets a chic update with crisp, matching, monochromatic white, while a silky navy collar adds an unexpected and preppy element. A lapis bracelet adds another touch of blue, while a bright red lipstick adds polish and contrast.
Cozy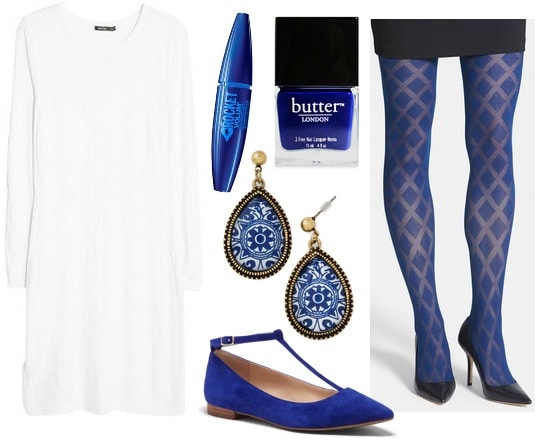 Dress, Mascara, Nail Polish, Tights, Earrings, Flats
Cozy nights abound in the holiday season, from hot cocoa cuddle sessions with your bae, to extended family dinners, to movie nights with your girls. While a sweater dress, leggings, and Uggs certainly do the trick (no judging!), you can feel just as comfy and cozy while looking cute and festive, too.
A long, lacey shift paired with patterned blue tights certainly won't give you as much coverage as leggings, but they'll feel similar and give off a fancier vibe. Pair the outfit with cute t-strap flats, a pair of dangly blue-and-white earrings, two coats of a bright blue nail polish, and a swipe of mascara for a cute look that's perfect for all your indoor winter adventures.
Fun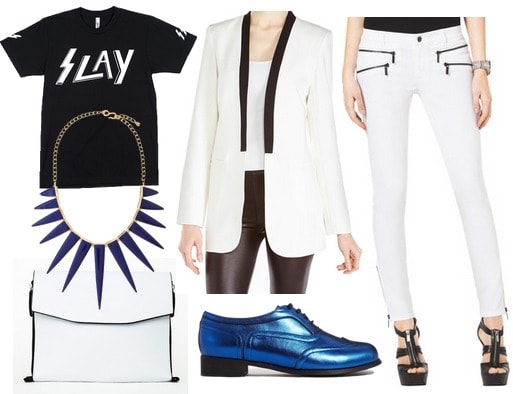 T-Shirt, Blazer, Jeans, Necklace, Clutch, Brogues
What's a winter break without a night on the town with your girls? Whether you're bar-hopping on New Year's Eve, going to a concert in the city, or attending your coolest friend's house party, an edgy outfit with a wintery vibe will serve you well.
Start with a white tuxedo-style blazer and cool zippered jeans, add a graphic t-shirt for a casual vibe, and finish with killer metallic brogues for a pop of color. Accessories like a spiked necklace and a zippered clutch add to the cool and eddy vibe of this look.
What do you think?
What do you think of Delftware? Is blue an appropriate color for the holidays? How would you wear blue and white to your next holiday outing? Let me know in the comments below!