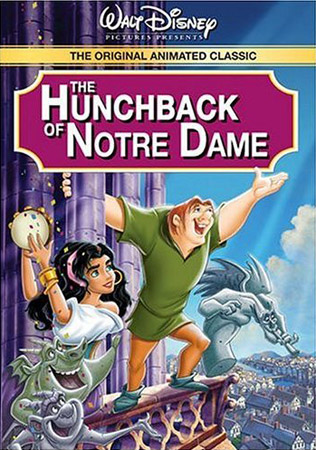 Esmeralda is the raven haired gypsy heroine from Disney's The Hunchback of Notre Dame. While irresistibly beautiful and charming, she is also brave enough to stand up for what she believes in, even when it puts her life in danger. Not only is Esmerelda's personality uplifting, but her gypsy fashion sense is inspirational.
Like the previous articles in this series, the purpose of this article is to use a childhood idol as inspiration for outfits that you can actually pull off as a college student. All it takes is a little creativity!
For more Disney-inspired looks, check out our past articles on Walt Disney's Snow White, Walt Disney's Sleeping Beauty, Walt Disney's The Little Mermaid, Walt Disney's Cinderella, Walt Disney's Princess Jasmine, Walt Disney's Princess Tiana, Walt Disney's Pocahontas, Belle from Disney's Beauty and the Beast, Jane Porter from Disney's Tarzan, and Megara from Disney's Hercules.
About Esmeralda
Esmeralda is a gypsy woman living in Paris in the 1400s. Life as a poor gypsy has not been easy for Esmerelda, but she gets by with her talent for dancing.
At the Feast of Fools, Esmerelda becomes furious when she witnesses a man being humiliated by the townspeople. They tell him he has "the ugliest face in Paris" and then proceed to tie him up and throw food at him. Esmerelda is empathetic to the young man, because she knows the harsh effects of discrimination. Her people are stereotyped as horrible and evil by the rich aristocrats, especially Judge Claude Frollo. Esmeralda cannot take the man being tortured, so she stands up for him and gets the mob to stop harassing him. This infuriates Judges Claude Frollo, and he orders the police to arrest her.
Luckily, Esmeralda escapes the guards and ends up in the Notre Dame church, which is a sanctuary, and a place where the guards cannot arrest her. It just so happens that the young man she rescued at the Feast of Fools lives in the church. His name is Quasimodo, and he is known as the Hunchback of Notre Dame. He also happens to be under the care of the vicious Judge Frollo. The judge raised him to believe that he was a monster. Esmeralda soon befriends Quasimodo, and convinces him that he is just as beautiful as any other person, because it's what is on the inside that matters.
In addition to being beautiful and kindhearted, Esmeralda also shows how courageous she is by escaping from the church with the help of Quasimodo and Phoebus (Judge Frollo's Captain of the Guard, who just so happens to fall in love with Esmeralda) and, after almost being burned at the stake, helps to defeat Judge Frollo and save her people from his harsh discrimination.
Esmeralda's Everyday Outfit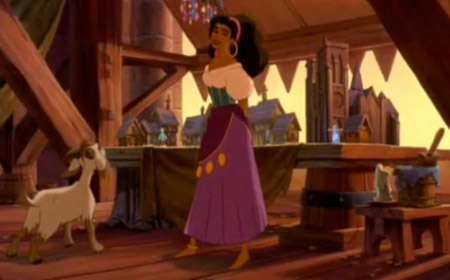 The outfit Esmeralda usually wears isn't exactly what most would call "everyday." Numerous bold colors and contrasting textures add lots of interest to her look. In order to capture the essence of her outfit, I used a gorgeous teal dress with feminine ruffles along the side and hem, paired with a magenta cardigan. Also, I chose gypsy-like earrings to complement the pink headscarf.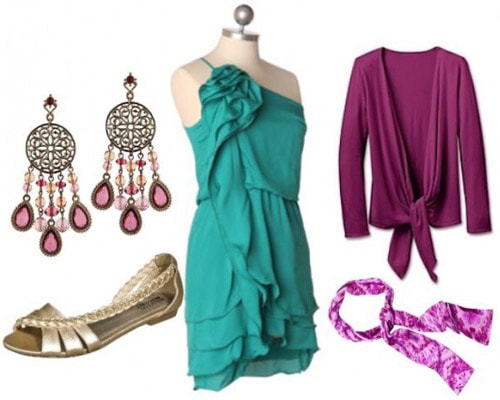 Earrings- 1928 Jewelry, Shoes- Target, Dress- Shop Ruche, Cardigan- Athleta, Headband- Chick Downtown
Feast of Fools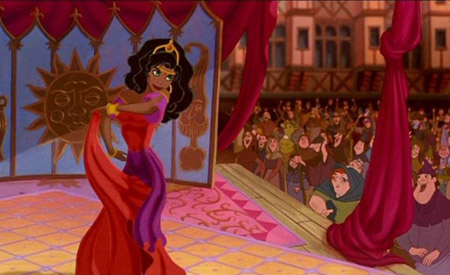 Esmeralda captivates the crowd at the Feast of Fools with her dazzling dance moves and exquisite outfit. To emulate Esmerelda's dance costume, I chose a red dress (which is one of fall's hottest colors), lots of jewelry, and a scarf, because Esmeralda always piles on plenty of accessories. I also used an eye-catching sequined clutch to grab everyone's attention in the best possible way.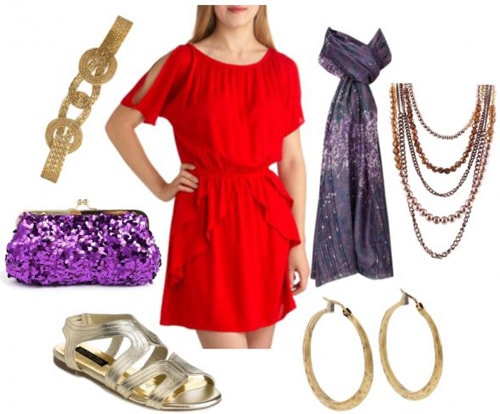 Belt- Arden B, Clutch- Lori's Shoes, Shoes- Debenham's, Dress- Modcloth, Scarf- John Lewis, Necklace- 1928 Jewelry, Earrings- Lucky
Not Quite Burned at the Stake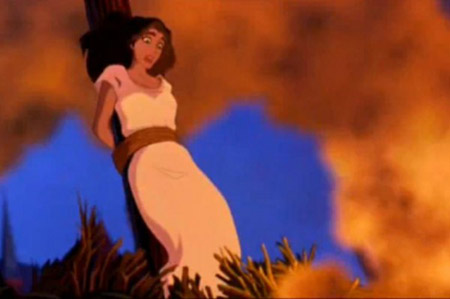 The day that Esmeralda is arrested and ordered to be executed (which fortunately, does not happen) she is pictured wearing a simple white dress with a rope belt that is far more subtle than her everyday clothes. If you love the way Esmeralda dresses but don't think you can pull it off, this is a great outfit to be inspired by.
To create a similar look, I used a simple white lace dress with a beautiful ruffled collar, tied with a simple skinny brown belt. Since Esmeralda never wears shoes, I included a pair of barely-there, yet still fashionable, teal sandals. Finally, I finished the look off with plenty of gypsy-inspired jewelry.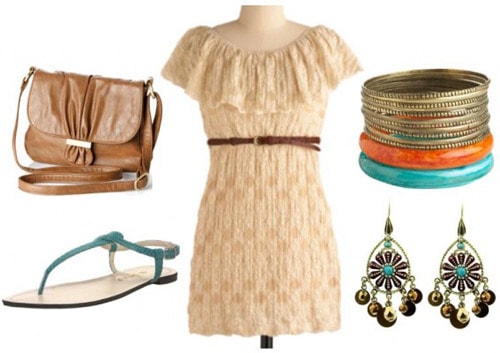 Bag- Monsoon, Shoes- Endless, Dress- Modcloth, Bangles- Wet Seal, Earrings- 1928 Jewelry
Another Not-So-Typical Outfit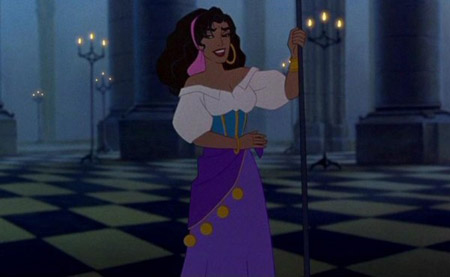 Since Esmeralda is most often pictured wearing this outfit, I decided to create a second look inspired by her everyday style. This one is less casual than the first outfit I created.
For this look, I used a textured teal skirt, a corset-style white top, and a gold sequined shrug. To polish it off, I added a few purple accents as accessories and a necklace that reminded me of the coin embellishments on Esmerelda's sash.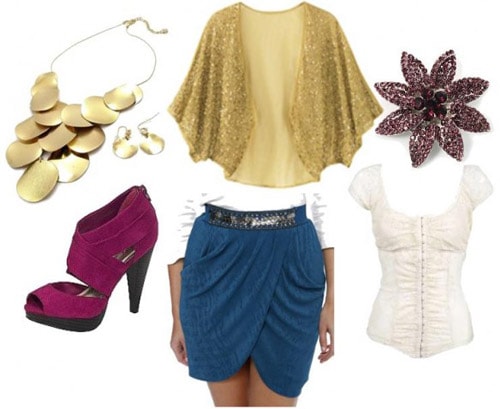 Necklace and Earrings Set- Fantasy Jewelry Box, Shoes- K Mart, Shrug- Newport News, Skirt- Forever 21, Brooch- Avalaya, Top- Vanity
Thoughts?
Are you inspired by Esmeralda? Which look is your favorite? Which Disney characters would you be interested in seeing posts about in the future? I want to know what you think, so be sure to leave your thoughts in a comment!