Over the past few months, we've been choosing one reader at a time to showcase in our CF Reader Spotlight feature. While it's easy to find inspiration in celebrities or fashion models, it's often more inspiring to see real style worn by real college students, just like you, from around the world. So thanks to everyone who has participated in this series so far – your responses have been spectacular!
Now it's time to meet this week's spotlight, Dawn. As you'll see, she luckily lives in a warm climate where the shorts-plus-bare-legs-plus-boots trend can still be pulled off, but her look can easily be made wearable for a colder climate as well. Her style is a great example of transitional dressing – or wearing your favorite summer pieces into fall. Read on and let her inspire you!
The Interview
Name: Dawn Weddington-James
Age: 26
School: Life University College of Chiropractic
Major: Doctor of Chiropractic
Class standing: 2nd year
Hometown: Atlanta, GA
Your style in three words: eclectic, unexpected, and emotional
Interests and hobbies: "Crafting, cosmetics, blogging, traveling, business ownership, collecting vintage pieces, writing (I LOVE writing), art, music, and a million other things."
Where do you get your fashion inspiration? "My emotions usually dictate what I am wearing. You can always tell what kind of day I am having or have had by what I've chosen to wear. My husband also plays a major role in my fashion sense – he's a bit more in tune with designers than I am. Most of my inspiration comes from the way I feel, nature, and everyday people. Sometimes people can surprise you with the things they put together."
Where do you like to shop? "I absolutely LOVE thrifting and consignment shops! Thrifting is my new "thing." I also love shoes – Christian Louboutin and Jimmy Choo are my favorites for heels. And one day soon I'll own some Balmain!"
What is your favorite fall trend? "Over-the-knee/thigh-high socks and boots. Sometimes I get so tired of wearing leggings – they're a great alternative."
What three items in your wardrobe can you not live without? "Heels, sexy dresses, and VS Pink undies."
What is your style philosophy? "Go for it! It may not work for some, but it could work wonders for you!"
Outfit Inspired by Dawn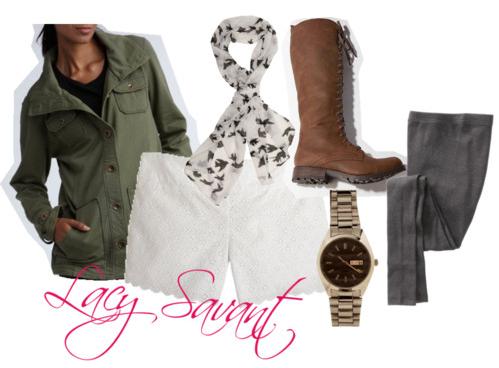 Product Information: Shorts- Delia's, Jacket- Charlotte Russe, Leggings- Old Navy, Scarf- Modcloth, Boots- Urban Outfitters, Watch- Modcloth
Dawn's ensemble is centered around her unique pair of lace shorts. To channel her look, I chose some similar white eyelet shorts – they're a great way to experiment with the lace trend. Next, stay warm with this military-inspired jacket in olive green, and some cozy cable knit gray leggings.
Now let's talk accessories. As Dawn shows us, a simple scarf can tie an entire outfit together, and not only is this patterned scarf super chic, Modcloth donned it the "Sheer-yl Crow scarf," which makes it that much more fun. Finally, since lace is so quintessentially feminine, tone it down with menswear-inspired accessories, such as these brown lace-up boots (another fantastic fall trend) and wrist watch.
The Lace Trend
Want to experiment with lace, but aren't sure where to start? Take a cue from Dawn, and try any of the lace bottoms pictured below. There are so many to choose from- skirts, shorts, maxi skirts, biker shorts, leggings, tights- all in lace!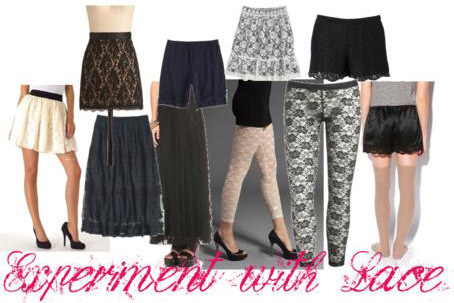 Product Information: White skirt one- Alloy, Black skirt- Modcloth, Mid-length skirt- Delia's, Maxi skirt- Forever 21, Biker shorts- Delia's, White skirt two- Delia's, White leggings- Revolveclothing.com, Black leggings- Arden B, Black shorts one- Topshop, Black shorts two- Urban Outfitters
Want more on wearing lace?
Check out these other articles we've written on the subject for more tips and fashionable picks!
Wanna be our next featured reader?
Would you like to be featured in our next CF Reader Spotlight? Do you push the fashion boundaries? Do you have a unique sense of style? We want to see something unexpected! If that sounds like you, please send an email to readerspotlight AT collegefashion DOT net and include the following:
Your name
Age/year in college
College
A picture of yourself in an outfit that you believe evokes your own personal and unique style
Your style in three words
Once we have received your entry, we will send you a short interview to complete as soon as possible. If you are chosen, you will be notified via email prior to the article's publication. Good luck!
What do you think?
Are you impressed by Dawn's style? What do you think about her look? Would you wear lace shorts? Do you like the lace-up boot style? What do you think of the lace trend? What are you wearing this fall? Feedback? Ideas? Questions? Chat with us in the comments!