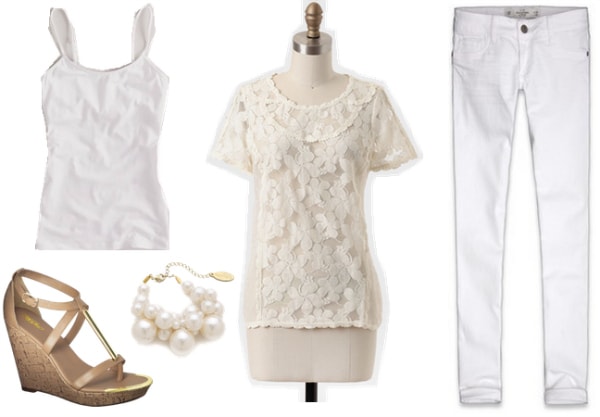 Photo Credits: 1 – Anna Kendrick, 2 – Hannah S. via Lookbook, 3 – nvme6768 via Chictopia
Little white dresses are always popular when the weather gets warm, but this season they have a new twist–lace. It's difficult to wear white lace without looking like a runaway bride (or a baby doll), but if worn correctly, white lace can add just the right touch of girlish charm to your summer wardrobe.
Lace sometimes gets a bad rap in the fashion world for being too childish (or too uptight–umm, can anyone say Victorian Era?), but a touch of white lace has a carefree vibe that works with almost any style; so even if your look is a little more urban-chic than Lolita, you can still incorporate this trend into your closet. Think you're up to the Fashion Challenge?
Tips and Tricks for Rocking White Lace
Go all out. Don't be afraid to embrace two trends at once. White lace is a great opportunity to work the sheer trend as well–just be sure to layer for appropriate coverage.
Mix and match. Use white lace to doll-up menswear inspired pieces like a tailored trouser or short. This helps prevent the runaway bride look, and also keeps you from looking too cutesy.
Go white on white. Don't be afraid to accent your white lace with, well, more white. White on white is a classic look, but a little lace adds interest. Break things up by throwing on a blazer or belting the waist of whatever you're wearing.
Get The Look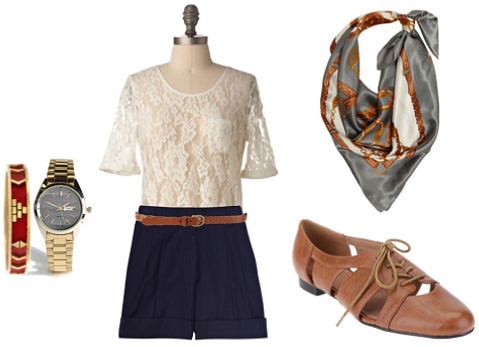 Product Information: Lace blouse – ModCloth, Silk scarf – ModCloth, Oxfords – Urban Outfitters, Pinstripe shorts – The Outnet, Belt – Forever 21, Watch – Urban Outfitters, Red bangle – Charm & Chain
For this outfit, I chose menswear-inspired pieces (pinstripe shorts, oxfords, and a boyfriend-style watch) to tone down the femininity of the white lace top. I would layer this gorgeous lace blouse over a slinky white tank and tie the scarf in a super-chic french twist around my neck. The best part about this look is that you can easily transition it into fall by adding thick tights and/or a blazer.
So, will you take the Fashion Challenge?
Do you love the look of white lace, or is this challenge too girly for your taste? Would you prefer your white lace in dress, skirt, or blouse form?
Already work this trend? Send us pictures of you in your lacy whites and we'll feature them here!* As always, we are open to suggestions for future fashion challenges and we'd love to hear from you!
* Send your outfit pictures to fashionchallenge AT collegefashion DOT net! – be sure to include your name and where you go to school, as well as a description of what you're wearing in the photo! (See examples here and here!)